Mexico's Famous Floating Gardens Return to Their Agricultural Roots
One of the capital city's iconic tourist sites doubles as an experiment in urban farming
On Sundays, the canals of Xochimilco are a riot of activity. Birthday parties, family picnics and rambunctious tourists cheerfully crowd the famous site, 17 miles from the center of Mexico City. Colorfully decorated gondola-like boats called trajineras play bumper cars as they pass mariachi bands floating to their next customer and beer vendors hawking the spicy beer concoction called michelada.
But weekdays, calm descends and the garden's age-long purpose—as a place to cultivate crops—comes into relief. Ricardo Rodriguez, a 41-year-old pioneer in Mexico's urban agriculture movement, is my guide through the quiet backside of the chinampas (floating islands) where Rodriguez helps the local farmers who are revitalizing traditional agriculture.
Rodriquez has nothing against the usual eating, drinking, and partying that goes on in the park. But he is quick to emphasize, "That's just one of the three parts of Xochimilco." The second part is the commercial farms that propagate huge fields of flowers using pesticides. But the third, he explains, is the ecological reserve of Cuemanco, where organic fruits and vegetables are grown and sold through his business, De La Chinampa a Tu Mesa (From the Floating Island to Your Table).
On a table in the center of Rodriguez's boat is a bounty of agricultural products sourced entirely from De La Chinampa's farms: salad overflowing with assorted greens, tomatoes and onions; fresh white cheese made from the milk of cows that graze here; guacamole from avocados grown on trees in nearby higher ground; and under a hefty lid, still-steaming mushroom tamales.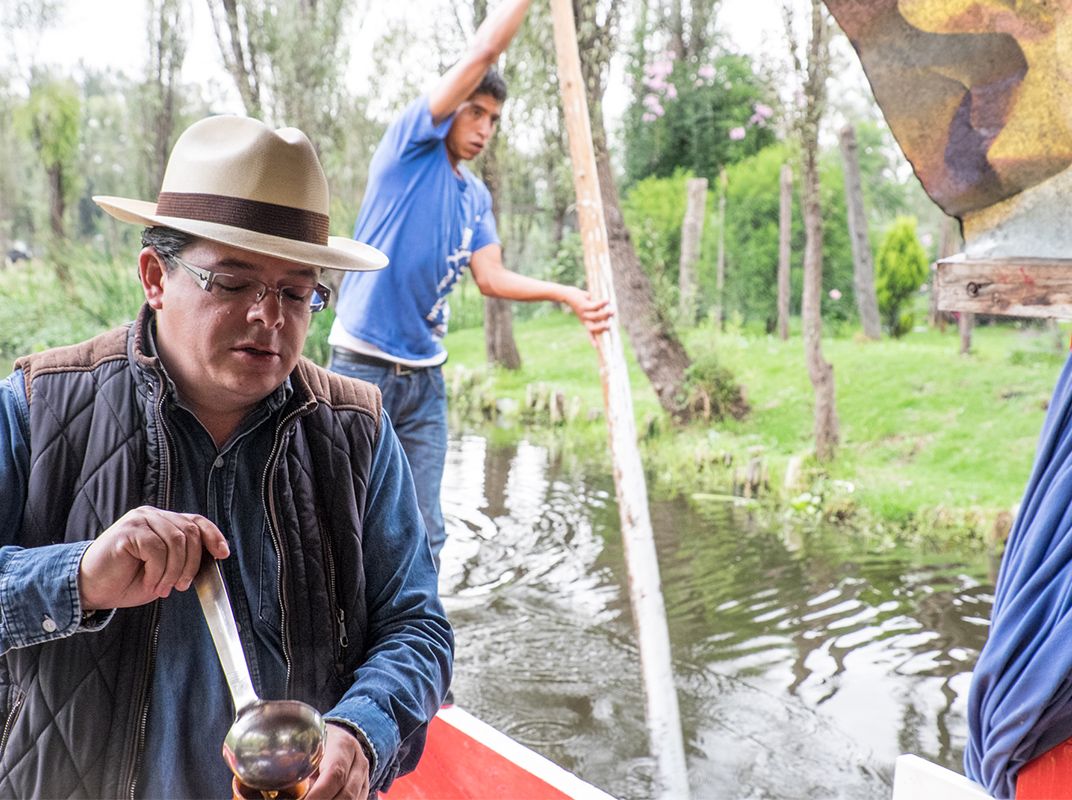 The man-made islands, built from fertile, lake-bottom soil by the tribes that settled here between the eighth and tenth centuries, once produced enough food to feed all of Mexico City. The Canal Nacional, navigable to the city center, brought produce from the islands to the Mercado Jamaica.
When the Spanish arrived in 1519, they drained many of the lakes, shrinking Xochimilco's agricultural capacity, and forbade the cultivation of indigenous products like chia, a seed favored for its nutritional properties. (A pitcher of water on Rodriguez's boat is flavored with chia.) In 1985, an earthquake that damaged much of the city further destroyed many of the canals.
Nowadays the path from organic farms on chinampas to Mexico City tables presents a challenge. The farms produce more than 70 products, including 5,000 to 10,000 lettuces and two tons of purslane each day, large quantities that necessitate selling through the wholesale market. As a result, these local, organic crops get lumped together with conventionally farmed and lesser quality products. "We are looking for new ways to sell, because the traditional ones aren't working." Rodriquez says.
One of the less traditional approaches is to offer a CSA-style home delivery subscription and online purchasing. The farms also sell directly to some leading chefs, including Jorge Vallejo of Quintonil and Enrique Olvera of Pujol.  "The people who know are chefs and media," he said, but local citizens haven't yet caught on to the advantages of De La Chinampa's offerings.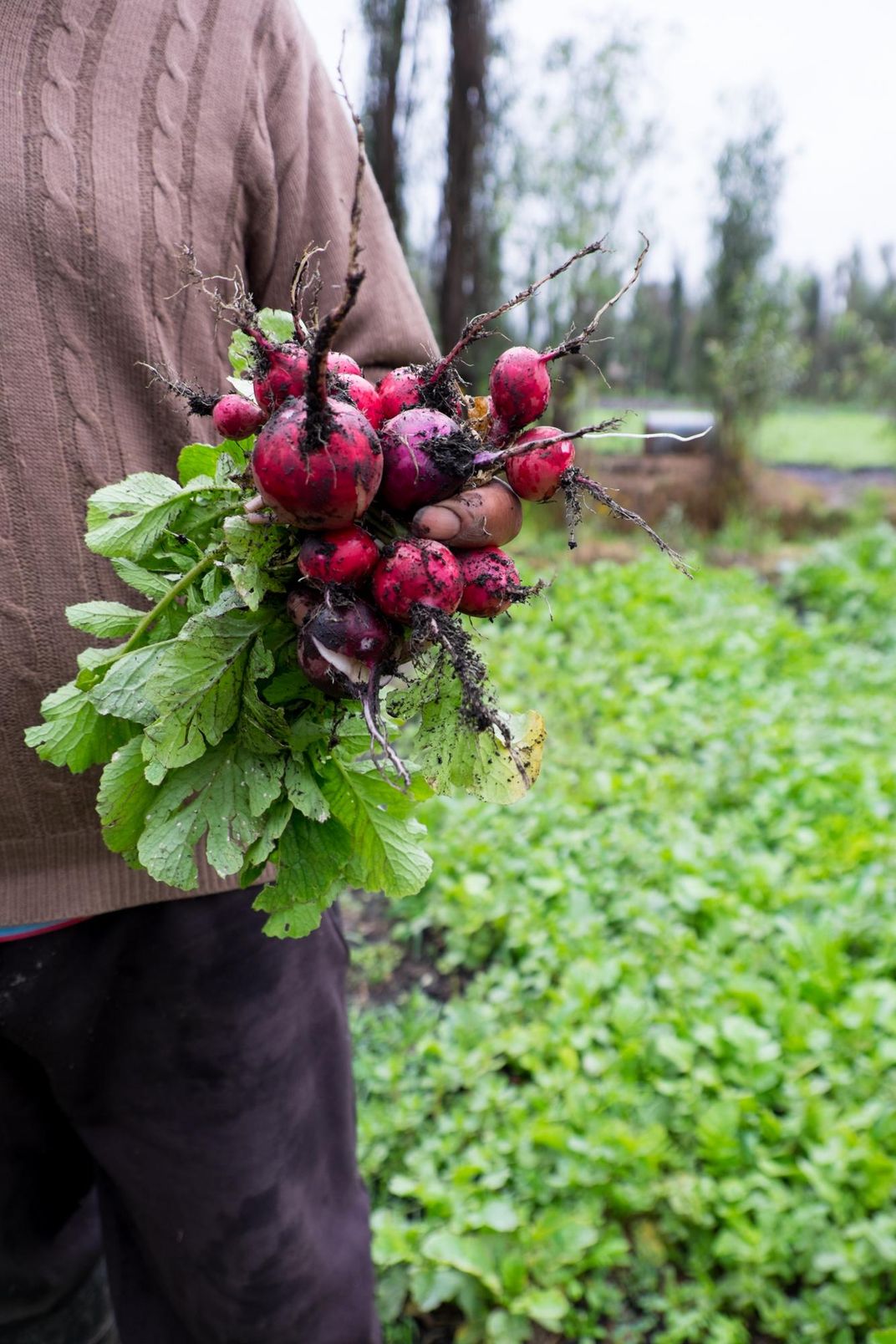 These agricultural startups must also cope with water and pollution problems.  The artesian springs that once fed 50 square miles of gardens dried up as Mexico City delivered water to its thirsty population. And while De La Chinampa's 1,235 acres of farms are within the Cuemanco reserve, and thus all organic, the canals have a reputation for pollution. The program has encountered difficulty convincing urban dwellers that Xochimilco's produce is clean and worth their pesos.
"Our work is to find channels to sell the products," says Rodriguez, but publicizing its existence and convincing customers of its worth prove as difficult as navigating a trajinera through the canals on a Sunday afternoon. When he succeeds, he says, it's the best part of the job: spreading the spirit of traditional agriculture and the flavor of fresh, organic produce around the city—and beyond.
On a serene Tuesday morning, tasting spicy and bright red radishes pulled fresh from the soft, damp, nearly jet black soil, it's hard to imagine someone unwilling to pay for this produce. Of course, Rodriguez knows that visitors see it that way and hopes that one day that attitude will spread across the capital.
Every traveler to Mexico City should make time for Xochimilco, starting with breakfast at the Sunday market for pit-roasted barbacoa (lamb) and stopping in to see some of the best works by Diego Rivera and Frida Kahlo at the Museo Dolores Olmedo on the route home.
Ricardo Rodriguez offers tours of De La Chinampa a Tu Mesa by appointment, in English and Spanish. Contact him at [email protected], call his cell phone at  +52 55 85750927, or via Facebook (the account is Ricardo Chinampa). Learn more at the website (Spanish only).