Marathoner Sets Out to Run All of America's National Parks
Autumn Ray's goal: 59 national parks before she turns 40 in four years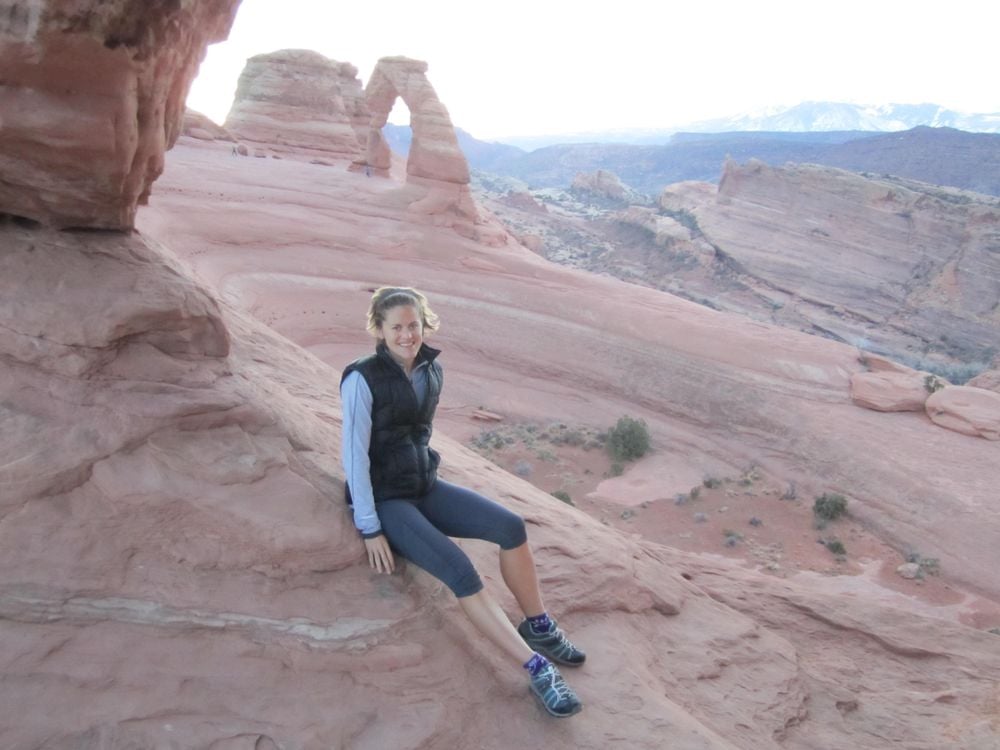 Autumn Ray trained for the 2016 Olympic Marathon Trials for six long years. Her goal: a Women's "A" standard time of 2:37:00. But on a hot, dry February morning in Los Angeles, she realized her target was too ambitious when she missed it by 14 minutes. What next, she wondered?
This spring, Ray will answer her own question with an even bigger goal—one of the biggest challenges of her running career. Over the next four years, she will run all 59 national parks in the United States before she turns 40.
Like her new national parks adventure, the story of Ray's challenge is best traced on a map. It starts in Libby, Montana, where she grew up. Ray regularly ran through her hometown—big sky country—in view of Glacier National Park. She kept running in college at Seattle University and while pursuing her M.D. at the University of Texas.
When she finished her residency and secured a job as an emergency medicine physician in Tucson, Arizona, she purchased a treadmill and ran on that. Whenever she had the chance, though, she would run outside—and when she had the time, she ran in national parks, speeding through the famous rim-to-rim stretch of the Grand Canyon and trekking through the more remote trails of Zion National Park to catch stunning views of its sandstone peaks.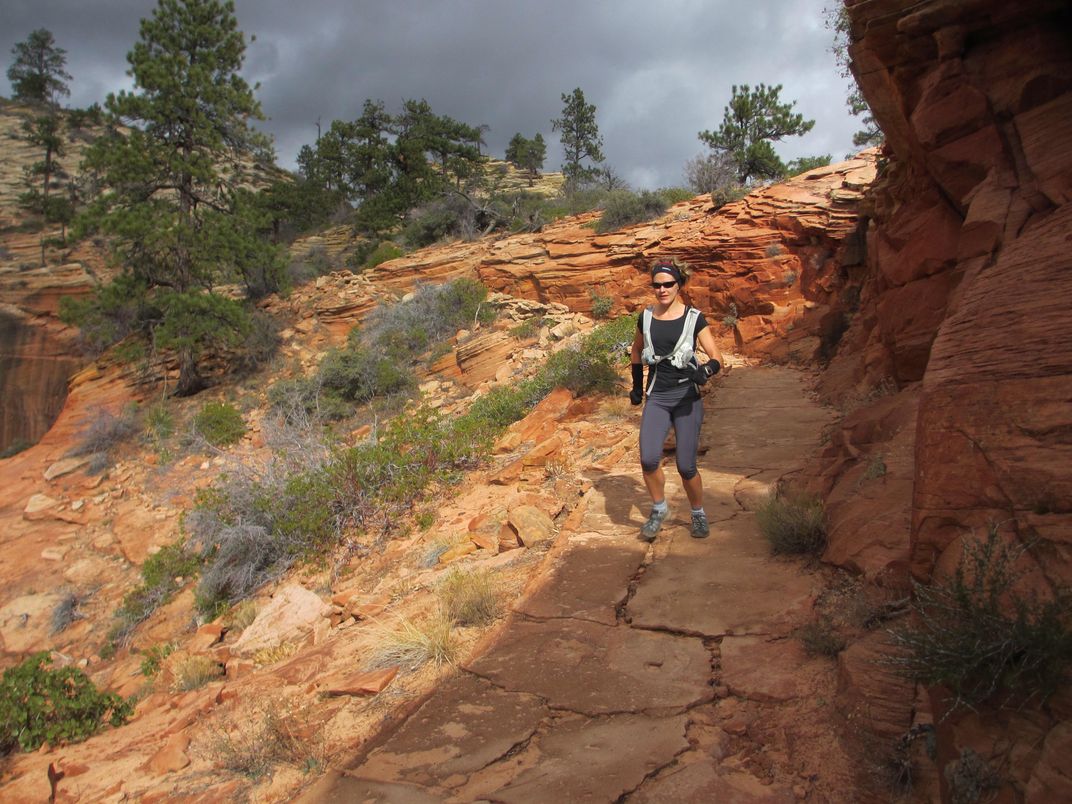 "There's a reason they're national parks," Ray tells Smithsonian.com. "They're really, really special places. There's something so unique about each of them—you don't even know necessarily until you get there."
Last April, during a late night pediatrics shift, the emergency medical physician sat down and began sketching a route to run the 43 national parks she had yet to visit. After she finished the Olympic trials, she began to think about her national parks dream more seriously. Her lease was almost up, her dog had just died and she was done with Olympic trials—why not go even bigger? A new goal began to take shape: run all 59 national parks in the United States before her 40th birthday in four years. Equipped with a teardrop camper trailer, she began her run in early March. So far, she's run the bowels of Carlsbad Caverns and the top of Guadalupe Peak.
When it comes to experiencing national parks, runners have a unique vantage point. Most people who frequent the parks choose to hike or backpack through, but runners can see more of the park and follow less trodden trails.
"When running, I see a lot in a short period of time," Ray says. "What a backpacker might cover in two to three days, I can do in a few hours."
National Park Service officials acknowledge runners to some extent—there is a "Donate Your Mileage to the Parks" promotion through Charity Miles, which lets runners earn 25¢ per logged mile for the National Park Foundation, and the National Parks Foundation partners with Vacation Races, which organizes a National Park Race Series located adjacent to the parks. But when Ray reached out to the National Park Service for help planning her trip, she met with a reluctant response and was cautioned on her plans. It can also be dangerous for even the most experienced runners to trek too deep into the parks. In the Grand Canyon, for example, a sign ominously marks the death of an experienced marathoner, a University of Chicago medical student who died on a remote trail from dehydration. Ray understands the concerns from the Park Service. "You're putting yourself out there, and they don't want to be up all night trying to find you," she says.
Careful planning and special gear will protect Ray on her runs. She'll take to the trails equipped with trail running shoes that have more traction and grip than street running shoes, a hydration vest and a substantial amount of food, along with toilet paper, a small camera and a GPS alert system.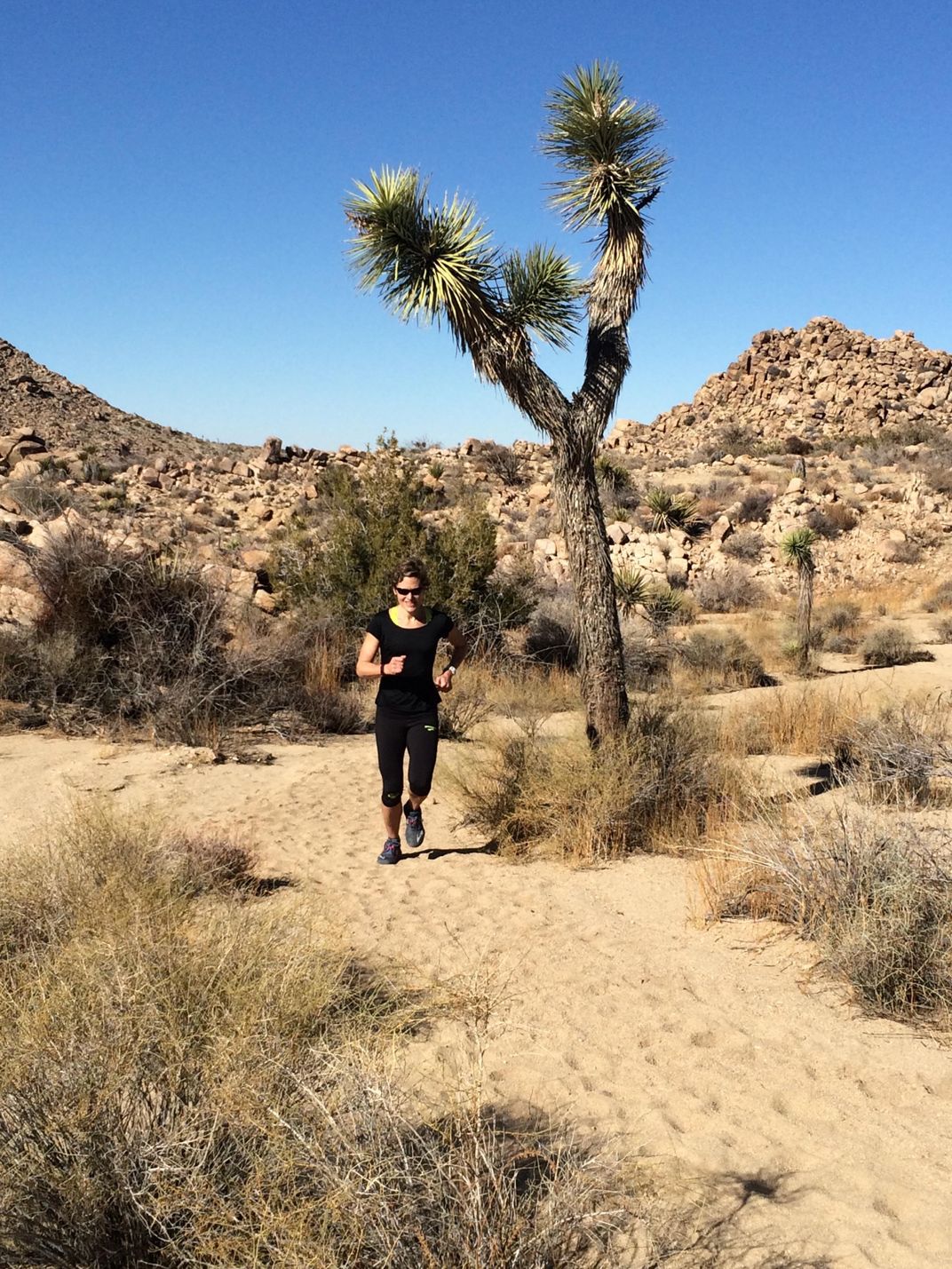 Her most anticipated parks include Shenandoah National Park, Yosemite National Park and Mount Rainier National Park, though, as she says, she's, "open to surprises." She quips that national parks are "cheaper than Disneyland," and her adventures will be appropriately frugal (financed with occasional ER shifts back in Arizona, couchsurfing with friends as she crisscrosses the country and camping once she arrives).
One thing she won't do is get bored—as someone who never owned a television, she plans to spend her non-running time reading or charting future trails to run. She'll also blog her travels at Notes From a Teardrop, even though she remains hesitant about encouraging other trail runners to descend upon national parks.
"That's my only worry—as it gains popularity, you hate to lose the uniqueness of it," Ray says. "Being able to get out in a very isolated place on your own and be in nature and experience how vast it is [isn't the same] with 20 people running down the path behind you."
Looking for a way to experience national parks running without disrupting the landscapes that make them so unique? Here are seven upcoming race destinations near national parks: