Maine - Nature and Scientific Wonders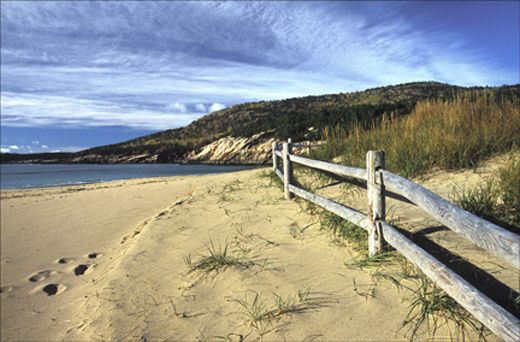 Acadia National Park (Mt. Desert Island)
This scenic wonder is the only national park in the northeast and is home to Cadillac Mountain, the tallest mountain on the U.S. Atlantic coast. Visitors come to Acadia to hike the granite peaks, bike the historic carriage roads, visit the crashing surf at Thunder Hole and relax and enjoy the scenery. Visitors can either drive into the park, or hop onto one of the frequent and free Island Explorer buses, which travel eight different routes around the island.
Penobscot Narrows Bridge and Observatory (Prospect and Verona Island)
Located near Bucksport, Penobscot Narrows Bridge is Maine's first long-span suspension bridge. The bridge's 420-foot observation tower offers a beautiful panoramic 360-degree view from a bridge tower 42 stories high—one of only three such bridge observatories in the world.
Victoria Mansion (Portland)
An outstanding example of 19th-century American architecture and design. With its original interiors and decorations, it survives as a unique example of the ornate palaces created for America's wealthiest citizens in the pre-Civil War era. Also known as the Morse-Libby House, the mansion was built between 1858 and 1860 for Ruggles Sylvester Morse. A native of Maine, Morse made his fortune as the owner of several luxury hotels in New Orleans during the 1850s.