The Los Angeles That Was Never Built
Had these 13 grand architectural plans been executed, the city would look entirely different today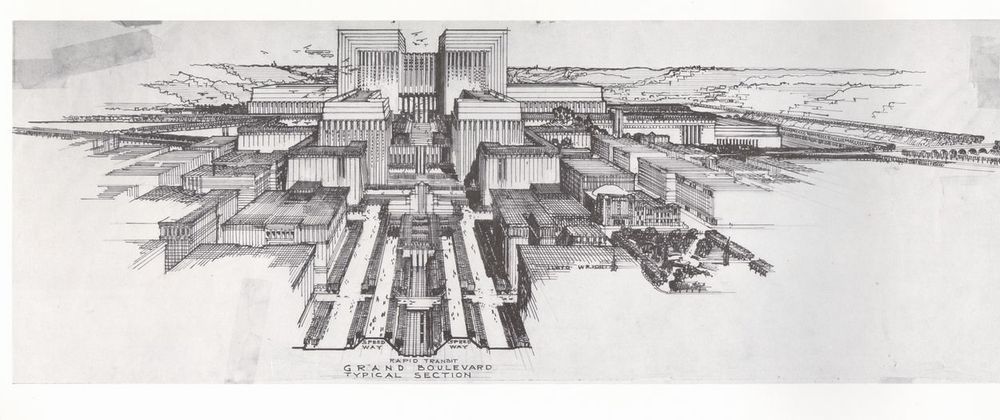 There seems to be a newfound fascination with the unbuilt. As urban planners are rethinking cities, historians of art and architecture are delving into the past, plucking from archives artistic renderings of residential communities, airports, transit systems, even theme parks that, for one reason or another, never came to fruition.
In 2004, a curator at the Art Institute of Chicago gathered 80 drawings and models detailing the Windy City that could have been for "Unbuilt Chicago." The National Building Museum, in 2011, similarly presented a slew of monuments, bridges, museums and other structures—proposed, but never executed in the nation's capital—in its exhibition "Unbuilt Washington." And, most recently, the A+D Architecture and Design Museum took on Los Angeles, playing host to "Never Built: Los Angeles," a show featuring more than 100 stymied projects.
"It blows your mind," says Sam Lubell, co-curator of "Never Built: Los Angeles" and co-author of its accompanying book. "You think LA was always going to be a freeway city, it was always going to be a sprawling metropolis, but no. Things could have been extremely different."
Designers, in the last century, dreamed up complex green spaces, aquatic theme parks and airport helicabs.
"L.A., maybe more than almost anywhere, has this amazing capacity to imagine the future. And it has the talent to do it," says Lubell. He references the film industry and aerospace. "It is just a place where people go to be different. For better or worse, they go to dream."
Lubell and Greg Goldin, a curator at the A+D Museum, salvaged some of these squashed dreams from city archives, UCLA and the Getty Museum, among other collections. The projects reveal an alternate history, an unfamiliar skyline. But, more so, says Lubell, the bold plans beg city planners, considering today's architectural schemes, to ask an important question:
Are we too timid?
Doheny Ranch, by Frank Lloyd Wright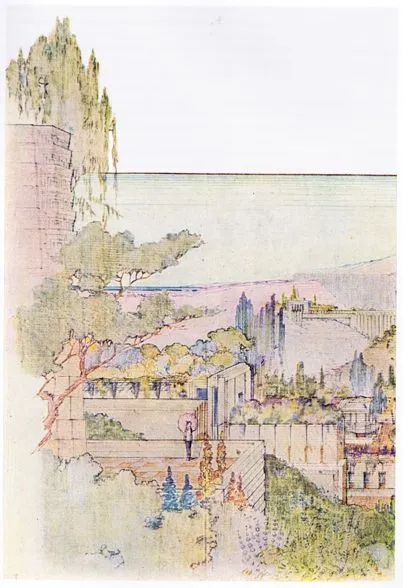 "Talk about dreamers," says Lubell. For every Guggenheim or Fallingwater, American architect and interior designer Frank Lloyd Wright had at least a couple of projects that never left the drawing board. The Huntington Hartford Sports Club was a members-only "play resort" complete with tennis courts, a swimming pool, game rooms, a dining room and a dancing hall that he schemed up for L.A.'s Runyon Canyon in 1947. But, even before that, there was Doheny Ranch.
"In the 1920s, the essence of hillside housing in L.A. was to cut and plant, just lop off the hillside and start putting boxes on top," says Lubell. "Frank Lloyd Wright was like, 'woah, woah, let's rethink this.'"
Wright was a proponent for what he called "organic architecture," meaning structures that were built to fit into the landscape's natural dips and rises. He wanted houses to be "beautiful in California in the way that California herself is beautiful."
So, in 1923, he sketched plans for a residential community-this "hanging gardens of Babylon" kind of thing, says Lubell-craftily built into the hillside of what is now Beverly Hills. Called Doheny Ranch, after the oilman Edward Laurence Doheny who owned the 411-acre site Wright had in mind, the development had beautiful walled gardens, retaining walls and bridges. Doheny, however, was entangled in the infamous Teapot Dome scandal, and the project was shelved.
L.A. Civic Center, by Lloyd Wright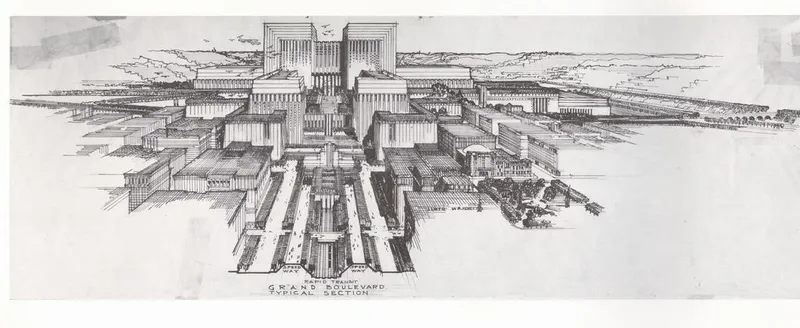 "Frank Lloyd Wright was not the only one of the Wrights to be thinking big," says Lubell. "His son, Lloyd Wright, was equally ambitious and innovative."
In 1925, the young Wright, who lived and worked in southern California, submitted this futuristic plan for a civic center to a design contest aimed at reimagining downtown Los Angeles. Meant for an area along the city's Grand Avenue, the multi-tiered complex consisted of City Hall at the top of a hill and other major civic buildings stepping down, with giant terraces and greenery.
"All of the circulation was going to be underground," says Lubell. "People would be walking above, but there were these speedways for car, train paths and rapid transit subways underneath that."
LAX Master Plan, by Pereira & Luckman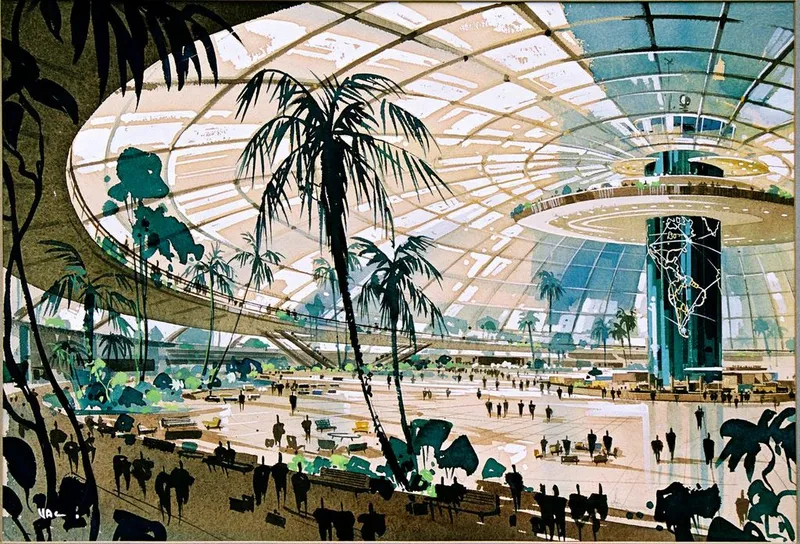 In 1952, the firm Pereira & Luckman drew the original master plan for the Los Angeles International Airport. The building had a giant glass dome at its center and six long terminals radiating from it. "It would be the grand entrance to Los Angeles," says Lubell.
But, the airport was not built by these specs—for a number of reasons. According to Lubell, L.A.'s Building Department thought the proposal was too radical, airlines did not want to share terminals and air conditioning the glass enclosure was challenging. "It is sort of like a terrarium," he says.
Instead, LAX's iconic Theme Building, a mid-century modern structure topped with a restaurant and propped by two parabolas forming four legs, took the place of the dome. The airport's nine terminals extend outward, like arms, from a horseshoe-shaped drive that bends around the Theme Building.
LAX Skylounge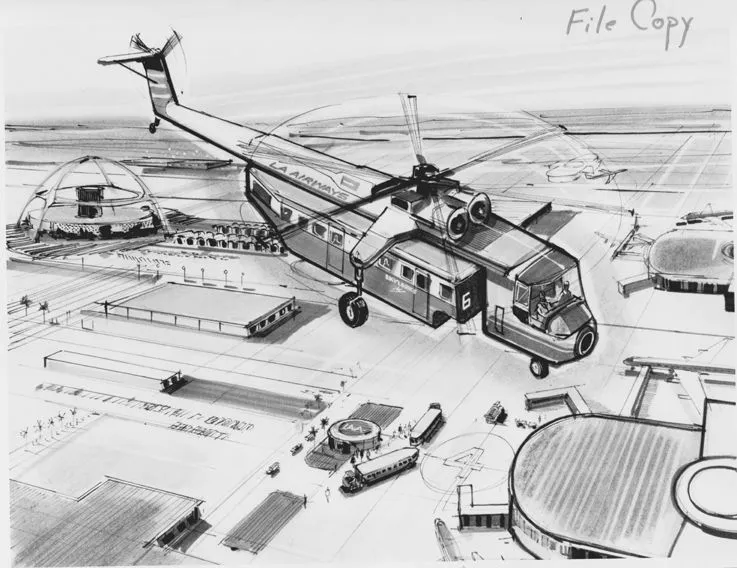 According to LAX records from the late 1960s, designers envisioned Sikorsky helicopters that would literally pick up buses at the airport, hooking them to their undersides, and fly them to a "metroport" in downtown Los Angeles. "It was a way to get around the already sprawling spaces of Los Angeles," says Lubell, of the helicabs, formally called "skylounges." "It obviously didn't happen."
Santa Monica Bay Village, by DMJM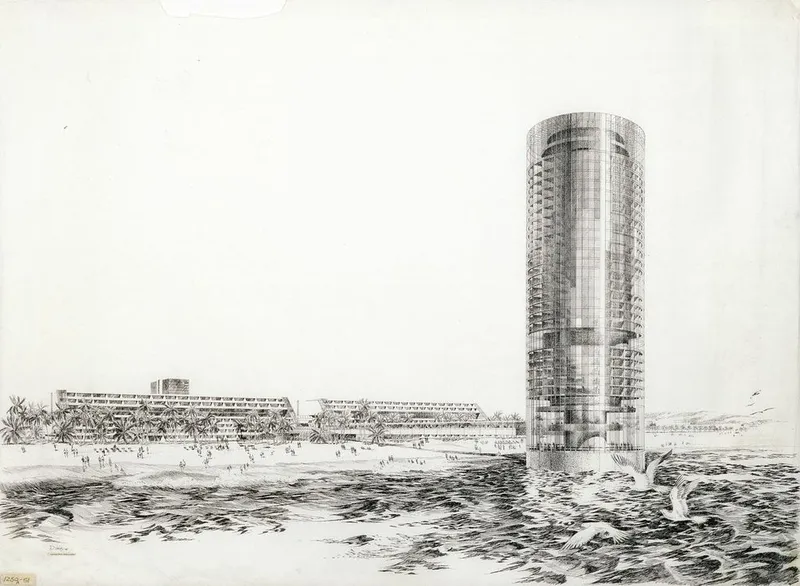 Greg Goldin, Lubell's co-curator, likes to call this structure the "floating compact disc holder." Dating from the 1960s, the beach hotel was hand-sketched by Carlos Diniz, a rock star of artistic rendering pre-computer graphics.
"There are so many artistic licenses that he takes that I enjoy. There was going to be a causeway. He just got rid of it. And if you look closely, for scale, there are some people. The birds sort of look like giant pterodactyls," says Lubell. "You can argue that anything that was never built was better than what was actually built."
Skylots, by Harlan Georgescu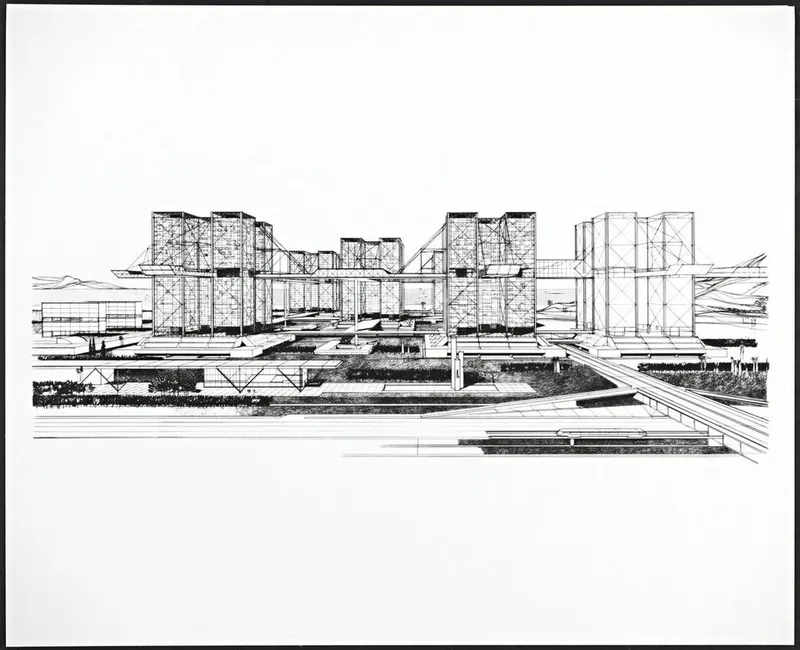 Harlan Georgescu immigrated to the United States from Romania in 1947. After a stint teaching architecture at the University of Nebraska, Lincoln, he and his family moved to Los Angeles, where he busied himself designing mostly single-family homes. On the side, he was always toyed with a bold project he called Skylots.
"He was sick of his commute. He predicted that L.A. was going to become this megalopolis sprawling basically from San Diego to L.A. without interruption, which it sort of has," says Lubell. "Basically, in one fellow swoop, he was going to make L.A. a vertical city."
Skylots, designed in the mid-1960s, was a plan for vertical residential towers with mixed-use space underneath to allow for self-contained living. The towers would have lined either side of the 405 Freeway, from Brentwood to Laguna Beach, and would house some 5 million people.
"The majority of the projects we were looking at were things that were very close to happening. This is not one of those projects," says Lubell. "This is an example of visionary thinking at its most visionary."
Natural History Museum of Los Angeles County, by Steven Holl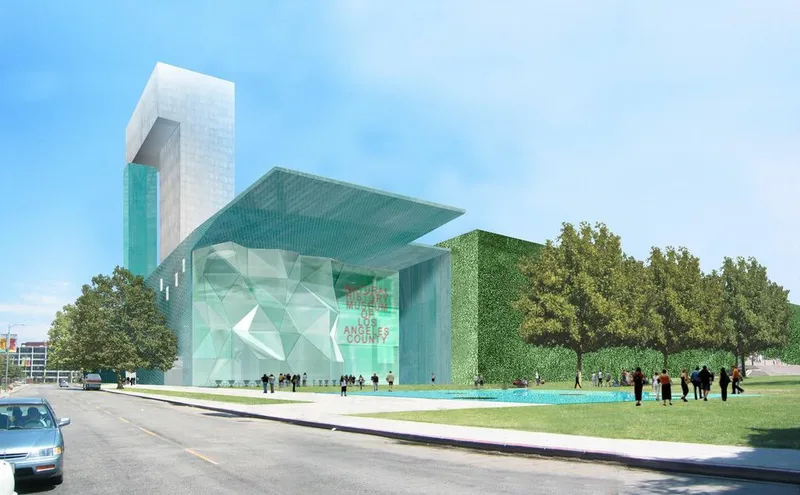 In 2002, the Natural History Museum of Los Angeles County selected New York-based architect Steven Holl to lead a massive renovation that would cost upwards of $200 million. Holl chose to restore the museum's 89-year-old Beaux-Arts structure and a few of its halls, but knock down any additions that were made to the building after the 1920s. He planned to construct a new tower rising from the museum, with an observation deck, café, offices and meeting rooms. And, he intended to wrap much of the museum's exterior in greenery. Holl devised an angled green roof, featuring living exhibitions, that would lead visitors down to L.A.'s Exposition Park.
The plan was stalled when a bond measure didn't pass, explains Lubell. In the past four years, however, the museum has undergone a more conservative renovation. Just last year, 3.5-acres of Nature Gardens opened on the north side of the museum as well as an indoor Nature Lab, where visitors can participate in biodiversity-themed activities. "A lot of these things don't die completely," he adds. "They just come back in less ambitious forms."
Disneyland Burbank, by the Walt Disney Company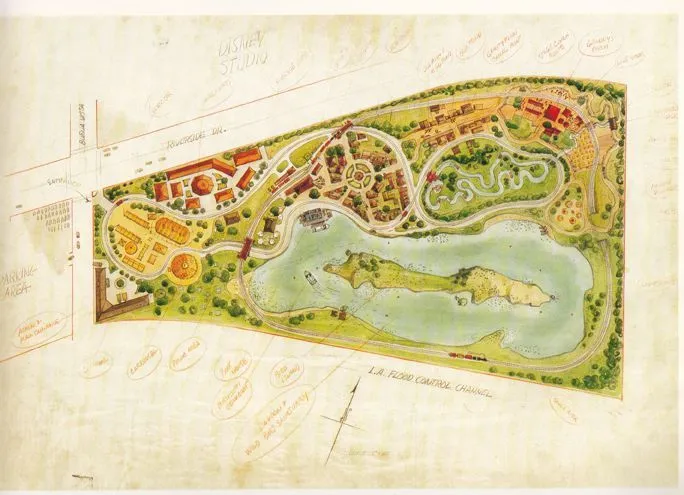 Disneyland opened in Anaheim, California, on July 17, 1955. But, a first pass at the amusement park had actually been designed for Burbank, about 35 miles to the northwest and home to Walt Disney Studios. The original 1952 plan was meant to be a departure from the largely seedy parks of the time. The sketches show a sort of half-baked version of what ultimately came to be, according to Lubell. It didn't have a castle, surprisingly. But, the park had car paths and trains, canal boat rides, a carousel, stagecoaches, main street architecture and a large lake containing "Bird Island."
"Burbank didn't get it. They thought it was going to be another carnival, and they didn't want to put up with the carnie atmosphere," says Lubell. "City council voted it down unanimously."
Disney Sea, by Ehrenkrantz, Eckstut and Kuhn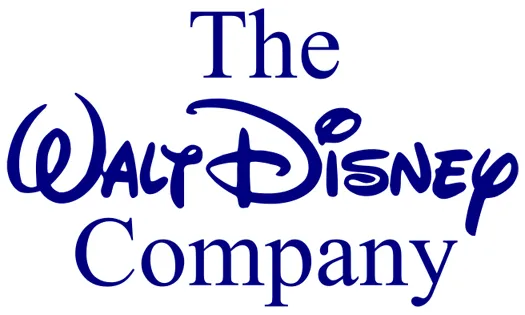 "This rivals the craziest proposals of anything unbuilt," Lubell prefaces. Around 1990, the firm Ehrenkrantz, Eckstut and Kuhn dreamed up Disney Sea, a marine theme park in Long Beach. Built basically on a landfill, Disney Sea was slated to have the world's largest covered Plexiglas aquarium, a cruise ship element and a replica of Mount Etna—"just because," says Lubell.
Disney poured millions of dollars into the project, but after some initial approval, Long Beach and the coastal commission squashed the plan, deeming it an environmental catastrophe. Today, a version of this scheme, called Tokyo DisneySea, exists in Urayasu, Japan.
Parks, Playgrounds and Beaches for the Los Angeles Region, by Olmsted & Bartholomew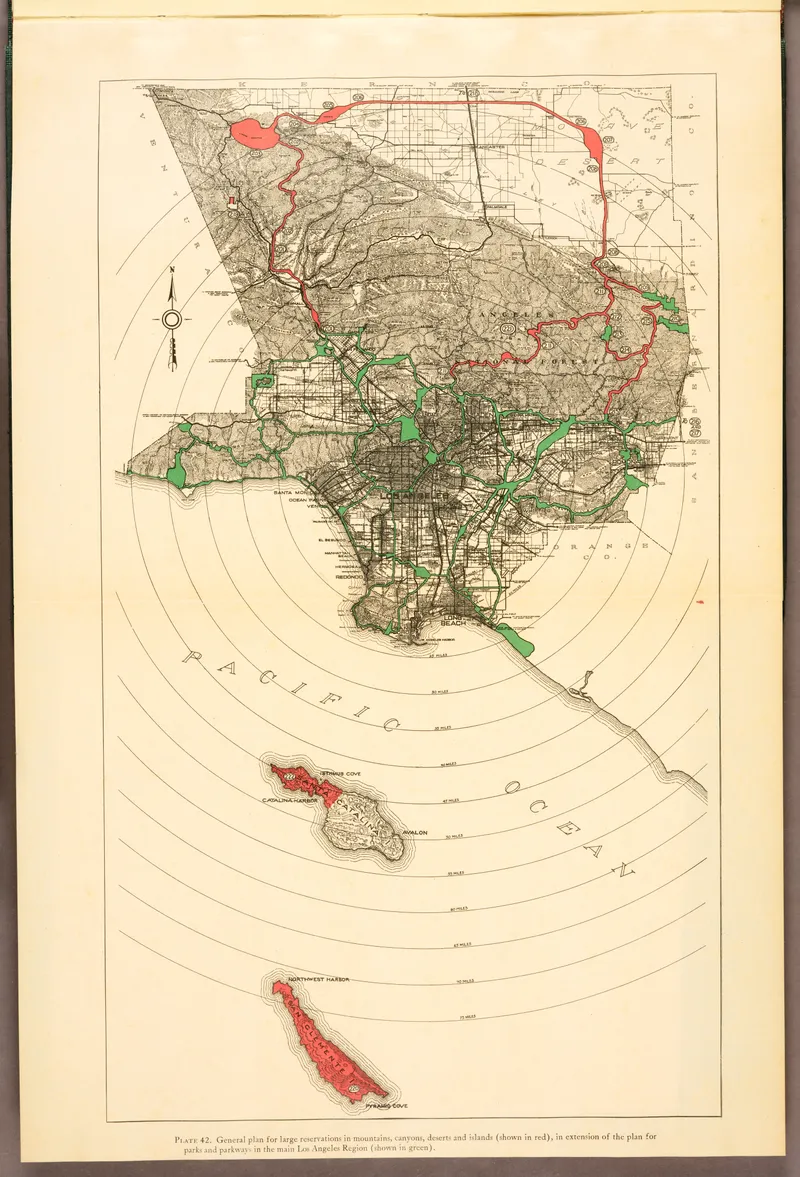 Stepbrothers John Charles and Frederick Law Olmsted, who ran a successful landscape architecture firm in the first half of the 20th century, collaborated with urban planner Harland Bartholomew on a 1930 report entitled, "Parks, Playgrounds and Beaches for the Los Angeles Region." At the time, the Los Angeles Chamber of Commerce was thinking that parks might draw more residents to the area. But, the designers' plan was more ambitious than what it had in mind.
"Basically, it is a ring of parks interconnected by tree-lined parkways and then with even smaller pocket parks," says Lubell, "hundreds of thousands of acres of interconnected parks, the entire coastline basically from Malibu to Long Beach."
The Chamber of Commerce quickly buried the report, which never showed up on the agenda of any council meetings. It only resurfaced, Lubell explains, when historians Greg Hise and William Deverell published a book about the plan, called Eden By Design, in 2000. A friend of one of the authors had found a copy of the report in a used bookstore.
Had the city of Los Angeles implemented the scheme, Lubell says, "It wouldn't just change the amount of park space, but it would change the conception of L.A. as a private-oriented city. You have your own house, you have your own yard." He goes on to say, "If you have this much public space, it changes everything. It changes the way you think of your city, the way you think of yourself."
Transit Plan, by Kelker & Deleuw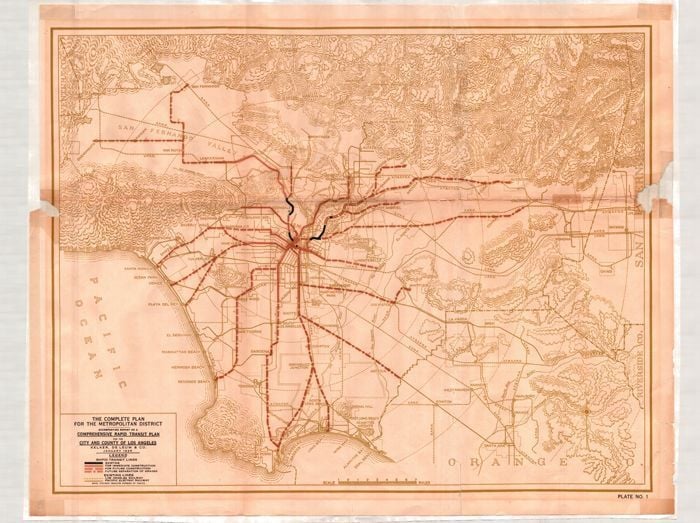 In 1925, the city of Los Angeles asked Kelker & Deleuw, a well-respected firm that studied transit across the country, to design a subway and elevated rail system that would accommodate some 3 million people. The resulting plan, consisting of more than 140 miles of track, was put to a vote. Some favored it, but others, including the Los Angeles Times, says Lubell, did not want L.A. to have the clattering, clanging elevated rails of other cities, like Chicago. Ultimately, the naysayers prevailed.
"The ills of the automobile hadn't yet sunk in," says Lubell. "Just like with the parks, they [those aligned against the transit plan] didn't quite understand how uncontrolled the city would get."
If the subway and elevated rails had been constructed, the city would have developed quite differently, along the transit lines. "It would be a different place," says Lubell. "There is no way you can really say it wouldn't have been."
Monorails, by Goodell Monorail Systems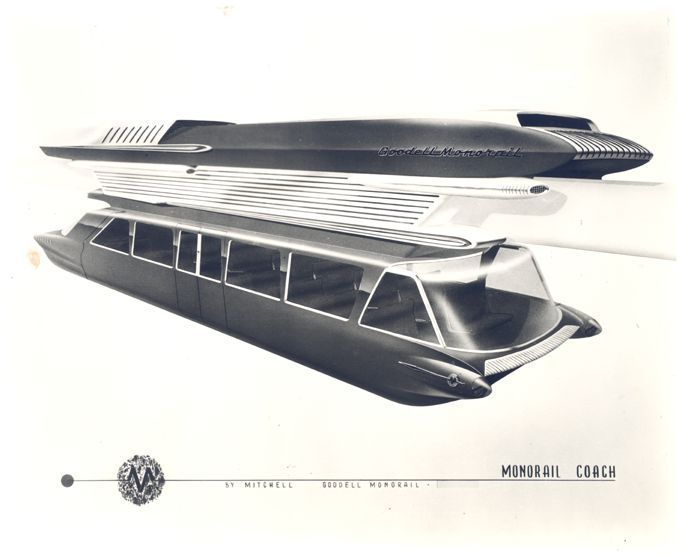 In the early 1960s, Goodell Monorail Systems proposed a monorail from downtown Los Angeles to LAX. The $40 million project would take 18 months to complete—a much speedier build than an underground system. And the cars, which resembled Cadillacs, could travel the 17-mile line at 90 miles per hour, making the travel time to the airport less than 20 minutes. It was a promising option, particularly for Los Angeles, which was trying to catch up to other cities in regards to public transportation. "But, again, people didn't want things above their head," says Lubell.
Santa Monica Offshore Freeway, by John Drescher and Moffat and Nichol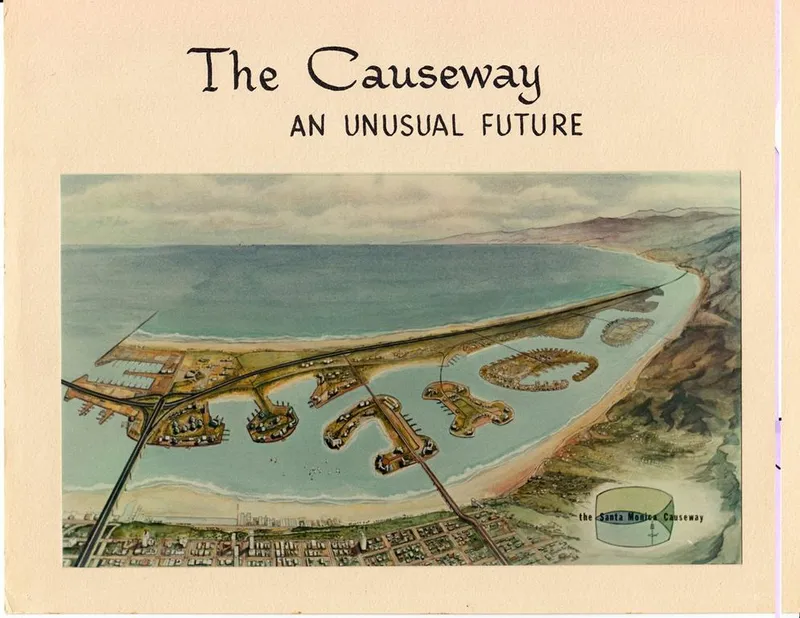 The Santa Monica Offshore Freeway, sometimes called the "causeway," was a 1965 vision for a freeway from Santa Monica to Malibu, about 18 miles to the north. The freeway was meant to ease the traffic on the well-worn Pacific Coast Highway, and it leaped from downtown Santa Monica to a string of man-made islands off the coast and reconnected to the mainland in Malibu.
"It floated through the legislature in California, and it was eventually passed by the city, the county and the state legislature," says Lubell. "The only reason it did not happen was that Governor Pat Brown, the father of our current governor, vetoed it."
You'd think Brown put the kibosh to the plan for environmental reasons. The plan to develop the coastline instigated, at least in part, the environmental movement in Santa Monica and Los Angeles, according to Lubell. But, in the end, the death knell for the project was actually a lack of funding.