Lexington Is Kim Edwards' Old Kentucky Home
Far from her Northern roots, the best-selling novelist discovers a new sense of home amid rolling hills and Thoroughbred farms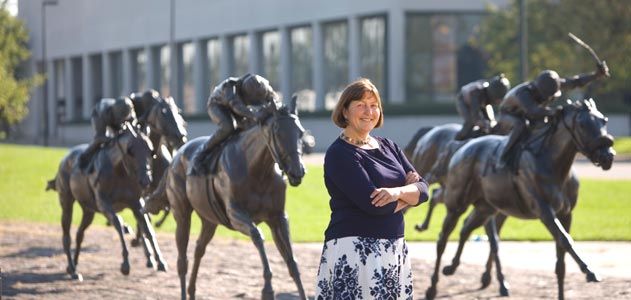 When I moved to Lexington, Kentucky, 12 years ago, I often had the sense of having taken half a step back in time. It was nothing I could pinpoint exactly. Though Lexington is small enough that I can drive to pretty much any part of town in 15 minutes, it has all the cultural amenities you'd hope to find in a city of 255,000. There's an opera house and a symphony, organic food stores, farmers' markets, art films at the Kentucky Theatre, a terrific independent bookstore, a bluegrass music festival in June and an art fair in August. In recent years, condos have cropped up all over downtown, reflecting a new interest in urban living. It is a contemporary place.
Still, the past keeps drifting up, like memory. I first drove here in the spring, when the dogwoods and the redbuds were spilling like foam and fire against the green hills, the road curving amid horse farms and framed by miles of dry stone walls. Perhaps those timeless images shaped my initial impressions. Or maybe it was finding a local institution like Wheeler Pharmacy, founded 50 years ago, which still has a soda fountain and grill and a steady stream of regulars who line up for breakfast, lunch or after-school snacks, often ordering Ale-8-One, a ginger-flavored soft drink made nearby since 1926. The baggers in the grocery store all politely called me ma'am. To my amazement, they routinely offered to carry my groceries to the car. The hardware store, now closed, smelled of dust and metal and new wood, just like my grandfather's lumber business in upstate New York, where as a child I used to play in the aisles amid the bins of nails and walls of doorknobs.
Lexington, which was named for the initial battle of the Revolutionary War at Lexington, Massachusetts, was founded in 1775 at the edge of McConnell Springs, and has expanded outward in concentric rings. My first house here was built in 1930, on what was then the very edge of town, from the same calcium-rich limestone that nourishes the famous bluegrass (no, it's not really blue, unless it's allowed to flower) and the horses that thrive on it. Our house had a wide front porch; when we sat there on summer evenings, neighbors would say hello and often pause to chat. Though Lexington is not a small town, it sometimes feels like one, with circles of acquaintance overlapping once, then again; the person you meet by chance at the library or the pool may turn out to be the best friend of your down-the-street neighbor. Maybe that's why people are so friendly here, so willing to be unhurried. After all, you don't want to engage in road rage when the person in the next car might be your child's future teacher or your dentist's father. There's a graciousness that informs life here, which I remember from my childhood, too.
Lexington is home to the University of Kentucky, where my husband and I teach, as well as to Transylvania University, the oldest college established west of the Allegheny Mountains, and several multinational companies; people come and go from all over the world. Yet a substantial number of Lexingtonians have roots that go back generations, some all the way to Daniel Boone. They grew up lifeguarding at the neighborhood pool, or they remember the construction of the Interstate and when my neighborhood, built in 1973, was still a dairy farm. If they're not from Lexington, they may have grown up in the surrounding counties and may still have a "home place," a family farm to which they remain connected.
Traditionally, Kentucky writers, most notably Wendell Berry and Bobbie Ann Mason, have drawn deeply on this sense of place. There's a high demand for land now, a constant tension between those who favor expansion and those who recognize the unique beauty of the surrounding horse farms as one of Lexington's greatest appeals. Bumper stickers argue "Growth Is Good" and "Growth Destroys Bluegrass Forever." Place matters, as does a sense of history and a feeling of connection to the land.
Although this affirmation of history tends to favor the status quo, for better or for worse, and can draw a line between those who've always lived here and those who've more recently arrived, it's also something I understand. I grew up in Skaneateles, a small town in New York's Finger Lakes region, where parts of my family have lived for five generations. I can walk the streets there and point out my father's childhood home, the houses my grandfather built, the farm where my great-great-uncle worked after he emigrated from England in the 1880s. I know every inch of that town, and being there helps me remember who I am, where I came from and what I once dreamed. As in Lexington, in Skan­eateles there was a core of people whose families had been around for generations and had no inclination to leave, people who maintained a kind of good-humored resignation in the face of waves of tourists and newcomers who swept through with visions of grand change. "Oh, they blow in, they blow up, and they blow out," I remember my father saying, with a shrug—this too would pass, and it usually did.
Like upstate New York, Kentucky is beautiful. The stunning Red River Gorge and Mammoth Caves are both nearby. There are few natural lakes here, and although I yearn for expanses of water, Kentucky is rich with streams and rivers. From my house, I can drive ten miles to Raven Run Nature Sanctuary and still be within the Lexington city limits. There are numerous hikes to take, past weathered tobacco barns, through meadows and woodlands. My favorite goes through the woods and crosses streams and ends at a dramatic cliff above a bend in the Kentucky River. Far below, kayakers drift slowly against dark water.
Leaving Raven Run, I sometimes turn toward the river instead of away, following the road as it steadily curves and twists to the water's edge. There is no bridge. However, the Valley View Ferry, which has been running since 1785, crosses back and forth on a regular basis. The ferry is now run jointly by local governments, and it's free. When my daughters were small, we sometimes took the ferry over and then back again, just for fun.
Your understanding of a place changes the longer you stay; you discover more, and your own life gets woven into the fabric of the community. I've experienced several different Lexingtons during my years here, and there is always more to learn. Sports matter, for instance, especially basketball, and it's impossible not to be affected, even if, like me, you don't really follow the teams. On game days people stream into and out of town, and unless you want to get stranded in traffic—I've known people forced to abandon their cars a couple of blocks from home because of street closures and crowds—it's a good idea to plan your day around the game. For many here, a crisp fall Saturday is not complete without a tailgate party, replete with tents, margarita machines and endless tables of food.
Of course, there are horses. At the entrance to downtown, seven life-size bronze statues of jockeys astride their horses race toward an imaginary finish line. They run in front of a fountain and a dry stone wall; in a small, green park adjacent, other bronze horses and their foals graze. Lexington will host the World Equestrian Games in 2010, and building for that is already underway at the Kentucky Horse Park, north of town. The rotunda of the Lexington Public Library boasts the world's largest ceiling clock and a five-story Foucault pendulum that is encircled with a frieze depicting the history of the horse in the Bluegrass. The clock face, based on Eadweard Muybridge photographs taken in 1872, illuminates sequentially images of horses in motion, circling the atrium. The clock, pendulum and frieze were gifts from Lucille Caudill Little, a Lexington philanthropist who dreamed about them one night and woke up determined to make them a reality.
Horses define Lexington in many ways, in the beauty of the Thorough- breds cantering across the rolling land, in the mounted police that clip-clop through town, in the vernal and autumnal excitement as the racecourse at Keeneland opens for its brief seasons and—less happily—in the social stratification between those wealthy enough to own horses and those who come here to care for them. Even those of us on the most far-flung edges of equestrian life, connected only through the occasional riding lesson, are surrounded by the beauty and mystique of horses. Take any road out of town and within minutes you are driving through the rolling green hills of horse farms, many of them world famous. They are beautiful in any season, the miles of painted wooden fences and the dark horses grazing beyond, vivid and graceful whether against the autumn hues, the snow or the lush green of summer. Surely it's no accident that races at Keeneland and at Churchill Downs in Louisville, where the Kentucky Derby is run, are held in April and early May, when central Kentucky blooms forth into spring, and the horses, so elegant and sleek, frolic amid the blush of redbuds and the frost and flame of flowering dogwood, magnolia and apple trees.
Many Lexington natives believe they live in a special place, one impossible to leave. I'm not so sure about that—or it's more accurate to say I think a more general truth exists beneath it: the place you first call home stays with you always, whether you remain or go. Even after a dozen years in Lexington, and years of travel around the world before that, my own sense of home is still rooted where I grew up: near lakes, swept with snow—a landscape imprinted on the heart. For my husband, that landscape is the subtle beauty of central Iowa.
It's always strange for me to realize that our daughters, for whom Lexington has always been home, don't share our perceptions. They think two inches of snow constitutes a blizzard, expect spring to arrive mid-March and feel a bit uneasy swimming in lakes because the water fades into darkness above a bottom they cannot see. Their days are busy with school and swim team, camping and gymnastics, one ordinary and yet totally remarkable moment leading to another. Lexington is home—it's their hometown. Writing this, I pause to wonder: What of all this will they carry with them? When they're my age, looking back through the soft edges of memory or nostalgia, what sounds and scents and images will speak to them of home?
Kim Edwards is the author of The Memory Keeper's Daughter.