L.A.'s Answer to the Yellow Brick Road
A group including the actor Jack Nicholson has tried to get Dirt Mulholland on the National Register of Historic Places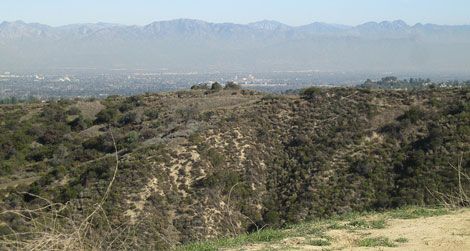 It's L.A.'s Yellow Brick Road, a show-stoppingly scenic route along the backbone of the Santa Monica Mountains, 55 miles from Dodger Stadium to Malibu, where it swan dives into the Pacific Ocean. Along the way, Mulholland Drive passes precariously-perched mid-century modern castles in the hills, the Hollywood sign and the Hollywood Bowl, L.A.'s own Mount Olympus, the Getty Center, the hippie hamlet of Topanga Canyon, trailheads in Santa Monica Mountains National Recreation Area, abandoned lookouts for the Army's Nike anti-aircraft missile system and reservoirs built by the L.A. Department of Water and Power headed from 1886 to 1928 by the man who gave the road its name: William Mulholland. An Irish immigrant and self-taught engineer, he brought water from the High Sierra to the once bone-dry San Fernando Valley north of L.A.
When I first moved to Southern California in 1998 I got to know the lay of the land by driving Mulholland, which is not for the faint-hearted. Seldom more than two lanes wide, it has more hairpin curves, steep climbs and downward glides than a roller-coaster, along with L.A. Basin and San Fernando Valley views that will kill you if you takes you eyes off the road long enough to look at them.
At the time, a little-known 8-mile stretch of Mulholland starting just west of the 405 Freeway was drivable, but unpaved—remarkable given its route across one of America's most densely-populated regions. A few years ago a group partly spearheaded by actor Jack Nicholson tried to get Dirt Mulholland on the National Register of Historic Places. The effort came to naught, but Dirt Mulholland still rambles in the tracks of coyotes through the stony, chaparral-covered heart of the Santa Monica Mountains, turning down the volume on L.A. so you can hear birdsong.
So on a recent trip to L.A. I was surprised to discover that Dirt Mulholland is now closed to motor vehicles due to damage from El Nino rains over the last decade.
That's not necessarily a bad thing if you ask Paul Edelman with the Santa Monica Mountain Conservancy, a California state agency established in 1980 that has helped to preserve over 60,000 acres of wilderness and urban parkland, including many contiguous to Dirt Mulholland. With cars and motorcycles banned, it's now the province of hikers, mountain bikers and wildlife.
In January I drove up Topanga Canyon Road from the Ventura Freeway, wandering through suburban subdivisions until I found Dirt Mulholland's western threshold. Soon the houses petered out, as did the pavement, but I kept going until I reached a yellow gate where a lone bicyclist was strapping on his helmet. There I got out of the car and walked to a precipice from which I could see the old dirt track winding across the hills, headed back to Lalaland.