Julia Child in Paris
Though the American chef popularized French cuisine, she hasn't yet received her due in the city she loved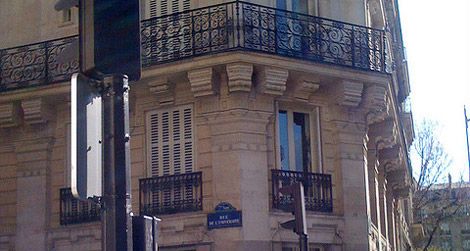 It's hard to take two steps in Paris without running into an historic plaque marking Delacroix's studio or Marie Curie's coldwater flat.
Now if a group of American expats get their way, another one will be posted on the Left Bank apartment building where Julia Child lived with her husband Paul in their post World War II frisée salad days.
Among the exponents are Walter Wells, a former executive editor of the International Herald Tribune, and his wife Patricia, who teaches and writes about cooking in France. In 1984, just after the publication of her first book The Food Lover's Guide to Paris, Patricia got a fan letter from JC and the women quickly became friends. On the way from Paris to their country house near Cannes, the Childs often stopped at the Wells' place in Provence, where Patricia and Julia gossiped while shelling fava beans in the courtyard.
Like other friends and admirers of the inimitable JC, the Wells think her passage through Paris ought to be noted with a plaque at 81 rue de l'Université, where Julia began testing recipes for Mastering the Art of French Cooking, the two-volume compendium she co-authored with Simone Beck and Louisette Bertholle that helped introduce the bland palate of Betty Crocker's America to the transcendent pleasures of French cuisine.
To Americans Child is a pop culture icon, famous for ground-breaking PBS cooking shows, a long chain of bestselling cookbooks, the 2009 film Julie and Julia, and her posthumous memoir My Life in France. In 2001 her Cambridge, Mass., kitchen was moved almost intact to the Smithsonian Museum of American History; next year marks the 100th anniversary of her birth.
But our beloved French Chef is no celebrity in France, never mind that she was inducted into the French Legion d'Honneur shortly before she died in 2004. "In France the ordinary person has no idea who she is," said her grand-nephew Alex Prud'homme, who helped her write My Life in France.
Moreover, in a city with 1,300 commemorative plaques, getting one installed at 81 rue de l'Universite—Roo de Loo, as the Childs called it—is no easy matter. Approvals are required from the building's owners, the arrondissement and the city council; other than exceptional cases, those honored must have been dead for a least ten years. Recent recipients include the film director Francois Truffaut and the writer Marguerite Duras.
"This project is important because France has never had a better ambassador to America's heartland, or a better loved one," Walter Wells told me in an email. "The goal is not to establish a shrine to Julia. It is an homage long overdue."
Meanwhile, Roo de Loo has become something of a pilgrimage site for American foodies embarked one of the growing number of French cooking programs dedicated to JC. If you pass that way you might see some of them on the doorstep trying to hear Julia whistle as she puts a capon in the oven.
Here are a few tours and classes dedicated to Julia in France:
Tour de Forks, a small New York-based tour company, offers "A Taste of Julia Child's Paris and Provence." The seven-day itinerary (priced from $2,450) begins, as did Julia and Paul, at the Hotel Pont Royal in the 7th Arrondissement.
Le Cordon Bleu in Paris added "In Honor of Julia Child" to its schedule, a three-hour lecture demonstration (about $60 per person) producing a JC meal you get to eat.
At Home with Patricia Wells has five-day courses  (from $5,000) in Paris and Provence taught by the author of The Food Lover's Guide to France. In Provence, Wells uses a La Cornue stove given to her by JC.
Cooking with Friends in France is American chef Kathie Alex's school at La Pitchoune, JC's beloved retreat in Provence. Four and five-night courses (from $2,450) include cooking classes, marketing and meals in Michelin-starred restaurants.
On Rue Tatin is headquartered in the Norman village of Louvier. JC friend and cookbook writer Susan Herrmann Loomis presides over three and five day courses there, as well as one-day classes in Paris ($350).