Jaipur via The Best Exotic Marigold Hotel
A delightful new film takes viewers to India's picturesque western state of Rajasthan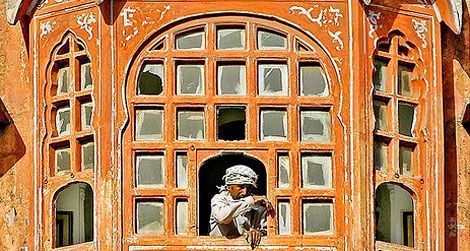 Did anybody else see The Best Exotic Marigold Hotel over the Memorial Day weekend? Somebody must have because the film, which opened on May 4, continues to do well at the box office, and that's compared with a slew of big-budget blockbusters—Men in Black 3, Battleship, The Avengers—that have come along since then. Marigold's popularity has been credited to John Madden, who also directed Shakespeare in Love, and to its 24-karat gold cast, including Judi Dench, Maggie Smith, Tom Wilkinson and Bill Nighy, all of them over 60. (The film is based on These Foolish Things, a novel by Deborah Moggach about a group of English oldsters who move to a retirement hotel in India.) But the movie's reception is also seen as proof that there's a market for movies about people who aren't young and beautiful, just interesting—as are the characters in Marigold, coping with end-of-life transitions in a drastically foreign place.
And let's not forget another major factor in Marigold's success: India, specifically the western state of Rajasthan, long a favorite with travelers for its mighty hill forts, bedizened palaces, teeming markets and lost desert villages. The hotel in the book—Moggach called it the Dunroamin—is located in the dreamy lake city of Udaipur, though the movie was filmed in Jaipur to the north. I recognized the setting immediately because I began a tour of Rajasthan there ten years ago.
It was in Jaipur—known as the Pink City for the color it was painted when England's Prince Albert came to visit in 1876—that I learned how to take wild rides in auto-rickshaws without fear, tasted my spinach paneer at a vegetarian restaurant downtown, climbed to Amber Palace built by Raja Man Singh in 1592, and had a fine gin and tonic in the style of Prince Albert at the Polo Bar in the Rambagh Palace Hotel, where the Maharani of Jaipur lived until 1957. And I only have to look as far as my bedroom to remember a daylong shopping expedition aimed at finding the perfect quilted cotton spread, decorated in woodblock prints, a specialty in Jaipur. Mine is in shades of blue—soft and beautiful, albeit somewhat threadbare now.
I went on from there to Udaipur, the Jain temple complex at Ranakpur, Kumbhalgarh Fort and Jaisalmer, the last Thar Desert outpost before the Pakistani border. But Jaipur remains most deeply etched in my memory, which is why I took so much pleasure in The Best Exotic Marigold Hotel. The $13 ticket price is a small amount to pay for a trip to Rajasthan.