Is Taking Your Pet on an Airplane Worth the Risk?
Air travel is not just stressful for animals. It can be dangerous, no matter how smooth the landing, timely the departure or friendly the flight attendants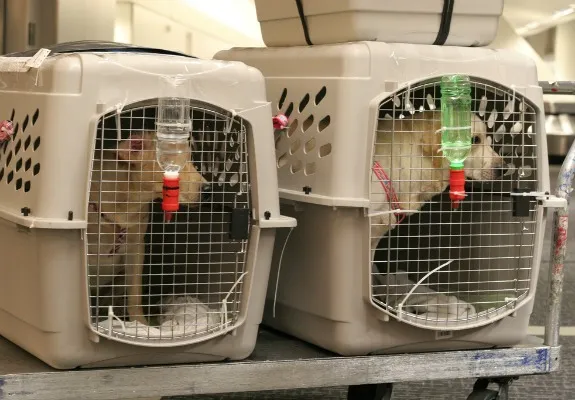 If you think flying is stressful, just imagine how the experience must impact an innocent, unknowing dog or cat when packed away in the cargo hold of a commercial jet. Air travel, in fact, is not just stressful for animals. It can be dangerous, no matter how smooth the landing, timely the departure or friendly the flight attendants. Conditions in the cargo hold of commercial jets are not always friendly; temperatures can fluctuate wildly, noise can be tremendous and air pressure can drop significantly, and pets that are checked into this dark space beneath the passenger cabin sometimes die. In 2011, thirty-five pets died while (or shortly before or after) traveling on commercial flights with U.S. airline companies. Nine animals were injured and two lost entirely. And in 2012, 29 pets died, 26 were injured and one was lost. These numbers should be considered in context; the U.S. Department of Transportation says that two million animals travel on commercial flights each year.
More pets have died in recent years on Delta Airlines flights than on any other airline, according to mandatory incident reports provided by U.S.-based airlines to the Department of Transportation. In 2010, 2011 (PDF) and 2012, Delta Airlines was responsible for 41 of the 97 reported animal deaths. Multiple publications have reported that Delta carries more pets than competing companies, which could explain the seemingly high rate of incidents reported by the airline. A media relations official with Delta Airlines declined to comment for this story.
United Airlines reported 12 animal deaths in 2012 among six airlines that reported incidents.
Almost never is corrective action taken following these incidents. Indeed, fault may often lie with the passenger—such as when animals with pre-existing health problems are checked as baggage.
Kirsten Theisen, director of pet care issues for the Humane Society of the United States, believes air travel is simply too stressful for most animals, especially when they are placed in an aircraft's cargo hold.
"Flying is frightening for animals," says Theisen. "They can sense the pressure changing and they can tell that something is happening, and that's scary. Flying is frightening if you don't know what's happening."
Theisen recognizes that many people today wish to include their pets in family vacations, but she strongly suggests leaving animals at home, in trusted hands, if at all possible. Theisen says reports of pets being lost, injured or killed in transit are increasing, if only because human travelers are increasingly taking their animals along for the ride.
"More and more now, families consider their pets to be members of the family and want to include them on trips," Theisen says. "Unfortunately, airlines don't consider animals a member of your family. They consider them cargo."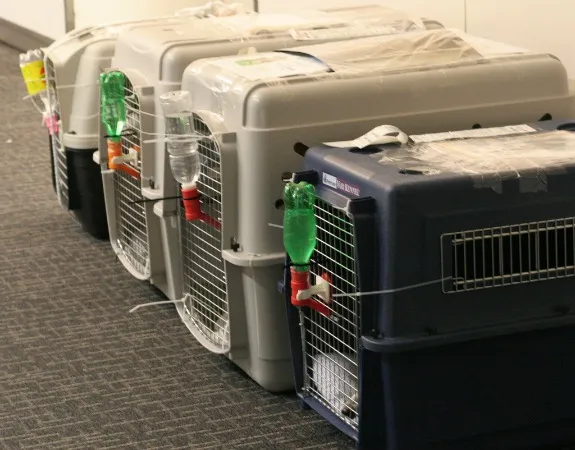 Theisen recommends that travelers with pets "do their homework" before flying. She points to Delta's website, which provides lengthy and detailed information on the possible hazards for pets traveling by plane. Delta, like many airlines now, prohibits pets as checked baggage between May 15 and September 15, when high temperatures in the Northern Hemisphere produce extreme dangers for pets stashed below the passenger cabin. Delta also says it will not carry pets in the cargo hold during periods of extreme weather, whatever the season. The company's website also states that it will not accept animals as checked baggage if the high temperature at any location on a flight's itinerary is forecast to be below 10 degrees or above 85 degrees Fahrenheit.
In other words, just that an airline accepts your animal as checked baggage does not mean that conditions will be comfortable or safe for an animal checked as baggage.
Unforeseen hazards can arise once a plane is loaded and prepped for takeoff. On airplanes that have been delayed after leaving the terminal and parked on the blazing tarmac, temperatures can escalate dangerously. Pets have also died due to low temperatures. In 2010, two dogs and a cat perished due to extreme cold in transit, according to the Huffington Post. One of these animals was a hairless kitten named Snickers. The cat's owner had paid a $70 fee to ensure her pet's swift removal from the plane. However, it reportedly took baggage handlers 50 minutes to remove the kitten's kennel from the cargo hold. Snickers died shortly thereafter.
Nearly all animal incidents reported to the Department of Transportation involve pets in the cargo hold. But in 2012, a pug died inside the passenger cabin on a flight from New York City to Salt Lake City that was delayed before takeoff. KSL NewsRadio of Utah reported that a flight attendant told the dog's owner to keep the pug's carrying case under the seat throughout the 45-minute delay. The dog reportedly began panting in its confined space and, later during the flight, was discovered to be dead.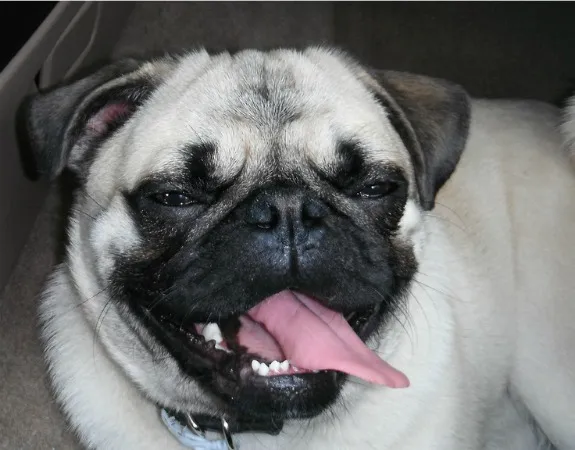 Pugs, in fact, are one of several breeds now prohibited on many airlines because of their natural vulnerability to respiratory stresses. They are among the brachycephalic dogs and cats, commonly called snub-nosed, or pug-nosed. Brachycephaly is considered a disorder in humans and many other species, while for a number of dog breeds, the condition is a natural variation. In addition to pugs, boxers, English bulldogs, American pitbull terriers, chow chows and about a dozen other breeds are brachycephalic. At least four cat breeds—Burmese, Persian, Himalayan and exotic short-hair—may also be defined as "snub-nosed." These animals, more frequently than others, may have breathing problems or difficulties when placed in the stressful conditions of an airplane's cargo hold and face a relatively high risk of in-flight suffocation as a result. Of 189 flight-related animal deaths reported by the Department of Agriculture between June 2005 and June 2011, ninety-eight were brachycephalic breeds, according to The New York Times.
Delta, American, United and many other companies have strict regulations regarding brachycephalic cats and dogs on their flights. A company called Pet Airways launched in 2009 to cater to pet owners, and about a quarter of the airline's animal passengers were snub-nosed breeds. Pet Airways did not last long, however. The company, which received some poor customer reviews on Yelp, was showing signs of financial distress by early 2012, according to the New York Times. The company has since ceased operations.
Owners of non-pug-nosed breeds should not be caught off guard. In February 2011, a 3-year-old Labrador retriever reportedly arrived safe and sound an hour past midnight in Singapore on Delta Flight 281. The dog was placed in a baggage storage area, was reported to be in good condition at 5:35 a.m. but was found motionless in its cage at 6:20 a.m. In late July of 2011, a 6-year-old yellow Lab died while in the cargo hold of a Delta flight from Pensacola to Baltimore, with a stop in Atlanta. On the second leg of the journey, the aircraft was delayed for hours in Atlanta and was eventually cancelled entirely. The dog was later found dead in its kennel. A year later, in September 2012, a 2-year-old golden retriever named Beatrice died of heatstroke on a United Airlines flight from New York City to San Francisco. The dog's owner, supermodel Maggie Rizer, wrote on a blog that the airline acted with dishonesty and callousness after the dog's death—though the airline reportedly refunded the $1,800 that Rizer paid for Beatrice's travel. Still other animals bite or chew themselves bloody, presumably unnerved by the stresses of travel. Still others have been lost entirely—like two cats in 2011 whose kennels were discovered open and vacated upon arrival at their destinations. Neither has been reported found.
Current regulations require that airlines—those based in America, anyway—report all incidents involving animals. But Theisen explains that a troubling loophole excludes from this requirement any animals traveling for commercial purposes. Thus, animals that are injured, lost or killed while in the hands of an airline need not be reported if they were being shipped from a breeder to a retailer, or to a new owner, or to a dog show.
"If your dog is at that moment technically not a pet, then it doesn't need to be reported if something happens to it," Theisen explains. She adds that the deaths, injuries and animals missing numbers reported by the Department of Transportation are certainly not comprehensive and that many incidents slip quietly, and legally, under the radar.
Suggestions to Keep Your Pet Safe When Flying
Visit your veterinarian to be sure your pet is fit to fly.
Don't fly your pet during the hot summer months.
Arrange for direct flights. Transfers increase the chances of delays, which can cause stress to animals contained in the cargo hold, and other mishaps, like a pet being sent to the wrong destination.
If possible (it depends on the animal's size), purchase your pet a space in the passenger cabin.
If you must check your pet into the baggage hold, remind airline staff and baggage handlers that there is a live animal on board to ensure gentle handling. Also ask baggage handlers during your check-in that your pet's cage be placed in a well-ventilated space, and be sure your pet has water.
Don't fly snub-nosed cats or dogs. These animals die on airlines, often of respiratory problems, more frequently than other breeds.
Leave your pet at home if you will be returning soon, and look forward to a happy reunion of wagging tails and hearty purrs.