Is Portland, Oregon the Best City for Bikes in the Country?
With dedicated bike lanes and businesses catering to cyclists, the Oregon city is a true pedaler's paradise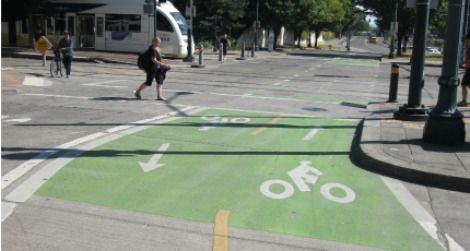 Cyclists become aware that they have landed in a special place as soon as they enter the terminal at the Portland International Airport. Here, a bike assembly station awaits those who have traveled to Oregon's biggest city with their best two-wheeled friend in a box—an amenity I have encountered nowhere else.
As one leaves the airport, signs complete with distances and average pedaling times down to the minute point the way along the best bike routes to the city center and other areas. In the major boulevards, green-painted asphalt marks bike lanes from which motor vehicles are excluded, and stop lights at some busy intersections include bicycle signals, which allow cyclists to cross while the lines of cars patiently wait. And while streetcar tracks are among the most serious hazards to moving bikes in every city, Portland is one of the few that post street signs reminding cyclists of the danger of a wheel slipping into a track. Bike shops are everywhere, thriving in a community where approximately 6 percent (from a 2010 census) of the roughly 600,000 residents commute by biking—the fourth-highest rate in the nation. And even he who lives and bikes in San Francisco, another heavily pedaled city, may easily believe upon rolling out of the Portland airport that he has arrived in the best biking town in America.
But after three days and perhaps 70 miles of cycling around town, I failed to find the main arteries of Portland's cycling culture. I detected it faintly, but I never found the main pulse. I saw a few other urban cyclists and enjoyed several red-carpet rides along the city's acclaimed bicycle boulevards—entire roads essentially reserved for bikes. But I also battled traffic on loud, gridlocked boulevards that could have been the main drag of any American town, and I crossed and recrossed the Willamette River via the snarling, bumper-to-bumper, almost-a-freeway Ross Island Bridge—no fun at all. And I was appalled at the freeways and concrete overpasses that crisscross parts of Portland like giant, tangled braids of electrical wiring. In fact, I felt less and less each day that this city was any more remarkable a cycling haven than San Francisco or Santa Barbara or New York or London.
It turns out I totally overlooked the heart of Portland's biking culture, which is very much alive and welcoming. After leaving town, I spoke with local cycling advocate Ellie Thalheimer, who is also the author of Cycling Sojourner, a guide to cycle touring in Oregon, and co-author with Lucy Burningham of a new book called Hop in the Saddle, a guide to Portland's craft beer scene as seen and tasted from a bicycle. Thalheimer told me that no cyclists except those in a mad hurry to cross the river use the Ross Island Bridge. Several other bridges, like the Broadway, the St. Johns and the Burnside, have bike lanes and, as Thalheimer described, actually sound pleasant and fun to cross. The Hawthorne Bridge even features a new cyclist counter, which detects passing bicycles while excluding autos and displays a daily count as well as the total number of cyclists who have crossed the bridge since the counter was installed about two weeks ago by Cycle Oregon. On its first day in operation, the counter detected 7,432 passing bicycles.
Hundreds of thousands of people in Portland don't ride bicycles, and the stream of bike commuters in town is but a wispy breeze of air in the greater cyclone of howling traffic, billowing carbon emissions and rush-hour gridlock. Yet more people per hundred commute to work by bike in Portland than in almost every other American town. In some neighborhoods, bike commute rates may run as high as 25 percent of the population, according to unofficial counts, and serving all these pedal-empowered people are approximately 60 bike shops. Other businesses incorporate and serve bicycle-based lifestyles—like Apex Beer Bar, where numerous bike racks are filled each evening by pedaling patrons, a bike shop called Velo Cult that serves beer (and which recently held a workshop teaching the yin-yang relationship of yoga and cycling), a pizza place that delivers by bike and a smoothie vendor called Raw Potential that operates out of a bicycle trailer.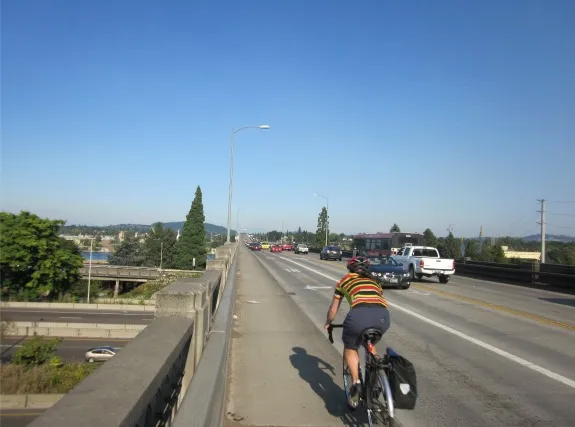 Sound eccentric? Wacky? Just another example of locals' self-aware modus operandi of "keeping Portland weird"? No way. Drive-through fast-food outlets have been a loved component of American culture for decades, and how loudly did anyone question the relevance of motor vehicles in our dining culture? Now, in Portland and other like-minded cities, people recognize the merits of encouraging bicycles in the mainstream of work and play, economy and recreation. Among the many people, places and things that bolster and validate Portland's reputation as one of America's top cycling cities is A Better Cycle, a worker-owned bike shop offering all the usual parts and repairs as well as a free work station with public use tools and a bike stand. I encountered this little glory hole of socialism on Southeast Division Street several days ago as I cruised into town from the airport. It so happened that my bike needed an overhaul, and I was able to use specialized tools to replace my chain rings, chain and cassette—a repair job that cost me only a few bucks into the tip jar and which would have required days of waiting and 40 bucks of labor elsewhere.
Stay tuned for travel updates from rural Oregon as I pedal my way home to San Francisco.