How This Tiny Town Drew World-Class Artists Into the Forests of Finland
Fiskars, Finland — an hour west of Helsinki — was a knife-making village on the decline. Now it's one of the world's most successful artist havens.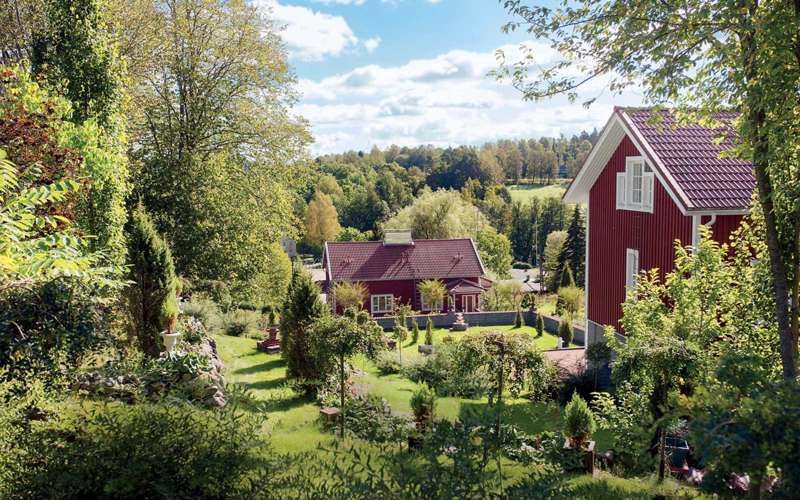 One night in the early 1990s, Ingmar Lindberg, an executive at the Fiskars metal tool company — famous for making scissors, knives, and gardening tools — was lying in bed, drifting off to sleep. But something kept nagging him. For months, Lindberg had been trying to puzzle out how to reinvigorate the small Finnish village where the company was founded in the 17th century. The town had thrived as an industrial and commercial center for more than 300 years, but by the 1980s, after it became clear that the ironworks were too small to support a global business, Fiskars shifted the bulk of its operations to larger facilities elsewhere in Finland and in the Midwestern United States. As a result, many of the factories and homes sat empty and were falling apart.
That night, Lindberg had an epiphany. "I sat up in bed and told my wife I knew what to do," he recalled. "I had to bring new people to Fiskars: designers and artists. So I made an offer to Helsinki's creative community that they couldn't refuse. I offered to rent space at a very affordable price. Once we had a group of about twenty people, I started to get calls from other artists, and it became easy."
More than two decades on, the plan has succeeded beyond Lindberg's wildest dreams. Approximately 600 people live in Fiskars Village, and among them are some of Finland's most respected creative talents. They encompass world-class furniture makers, contemporary glassblowers, innovative jewelry designers, and groundbreaking artists, one of whom builds sculptures out of fabrics like silk and linen. The town is just over an hour's drive west of Helsinki and makes for a lovely day trip from the capital. Travelers can make appointments for tours, check out exhibitions and studios, and buy pieces at the artists' cooperative boutique.
When I visited Fiskars one clear morning, I was immediately captivated by its rural charm. With its cobalt lakes and forests of oak, maple, and white birch, the town feels a world away from Helsinki. The main street is dotted with restored butter-yellow buildings that now house small shops and cafés. Tree-lined paths follow a river that winds through the village, leading to early-19th-century villas and lovely old wooden buildings, including a blacksmith foundry, a granary, and a coppersmith workshop, now reinvented as restaurants and exhibition halls. The artists' homes, mostly rustic, one-story structures painted white and oxblood, are scattered on backstreets or throughout the surrounding woodlands.
One of the first people to move to this creative Eden was Karin Widnäs, an award-winning ceramist famous for her modern tableware, which can be found in some of Helsinki's top restaurants. Widnäs lives about a half-mile from the center of Fiskars on Degersjö Lake. Her triangular, two-story home has a living-room wall made almost entirely of glass, and it looks out at a tangle of birch trees, wild growth, and sky.
"When I moved here in 1995 the village was dying," Widnäs recalled as we sat around her dining-room table drinking coffee. "The knife factory was the only thing still in operation. But three years later, I arranged an international ceramics exhibition, and we got a lot of publicity. It made other artists and designers very eager to move here. They saw we were working together — and working like hell." Widnäs also explained that at first, there was confusion around the new identity of the village and its connection to Fiskars, the business; some people thought the artists were working for the company. "Fiskars owns the buildings, but that's it. We make the town alive."
Later that day, I saw the village in full swing during Antique Days, its largest annual fair. Dozens of tents and stalls were selling a variety of furniture and objects. I set off down a small side street and arrived at the Laundry Café, a red-brick building that has been transformed into a restaurant. Outside, a few locals were seated at tables on either side of the entrance. It was as if a group of 1970s-era New York City artists were all convening at a general store in Vermont.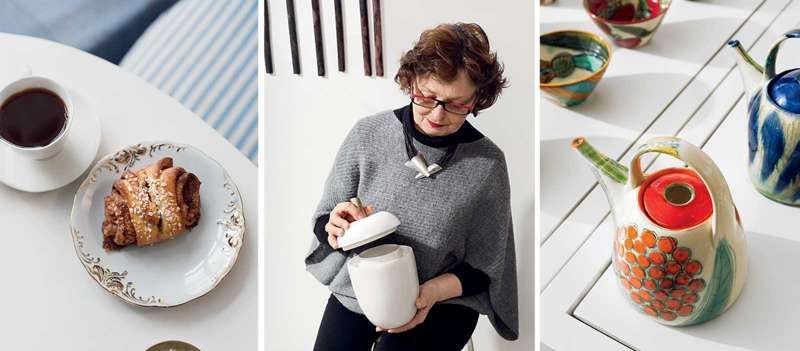 Since the beginning, one of Fiskars's essential but unwritten rules has been that not just any artist or designer could settle here. "When we started, it wasn't very democratic or legal," Lindberg told me, "but if you wanted to move to the village you had to fill out a form describing the work you did and whether you could make a living on it. And if we felt you weren't good enough, there wasn't a place for you."
These days, there are empty plots of land, but no houses or apartments for sale or rent; still, many artists and entrepreneurs are interested in living here, and those who are committed to living in Fiskars full-time stand the best chance of getting in when vacancies arise. A three-bedroom cottage rents for $1,000 a month — affordable compared with Helsinki, but not dirt cheap like in the early days. "We get e-mail almost every week from people who want to move here," said Kari Selkälä, vice president and head of real estate.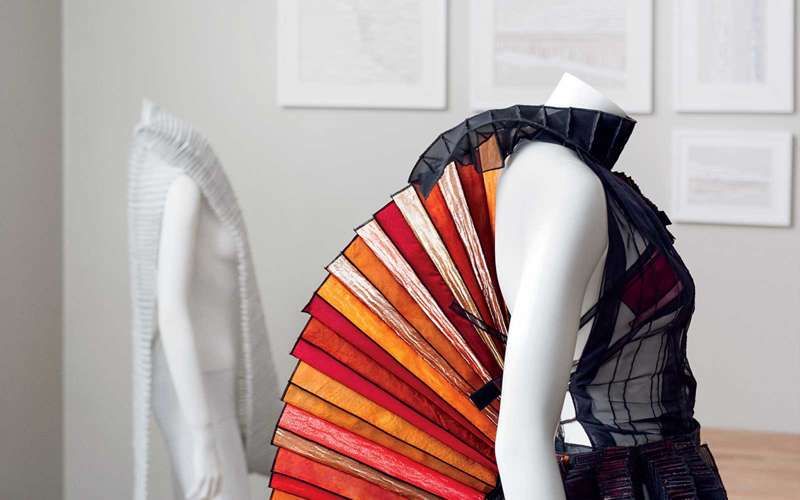 Also crucial to the town's success: the artists have to be able to sell their goods. Enter Onoma, Fiskars's artist cooperative, which currently counts 113 members from the town and has a beautiful, airy shop on the main street. There you will find ceramic tiles by Widnäs; sleek, modern wooden tables by Antrei Hartikainen; and colorful orb-shaped vases by Camilla Moberg. Last year, Onoma brought on Matleena Kalajoki, a Finnish jewelry designer who had just spent six years in London, to market and grow the business. Kalajoki was thrilled by what she discovered. "I was stunned by the density and diversity of talent in this small area," she told me when we met at the Onoma Shop. "And the natural beauty. It is a wonderland. I can't think of a better place to fulfill your creative urges."
The two of us set out on an impromptu bike tour of various artists' studios, weaving through antiques stalls and onto a small road lined with homes and former machinery workshops and production spaces. We passed Nikari, a design studio whose founder built furniture for Alvar Aalto in the 1960s, before arriving at the atelier of sculptor Kim Simonsson, who makes manga-like ceramic sculptures. He echoed Kalajoki's sentiments: "It's so beautiful here it's crazy. We've also got a soccer team, a tennis team, and even a village sauna."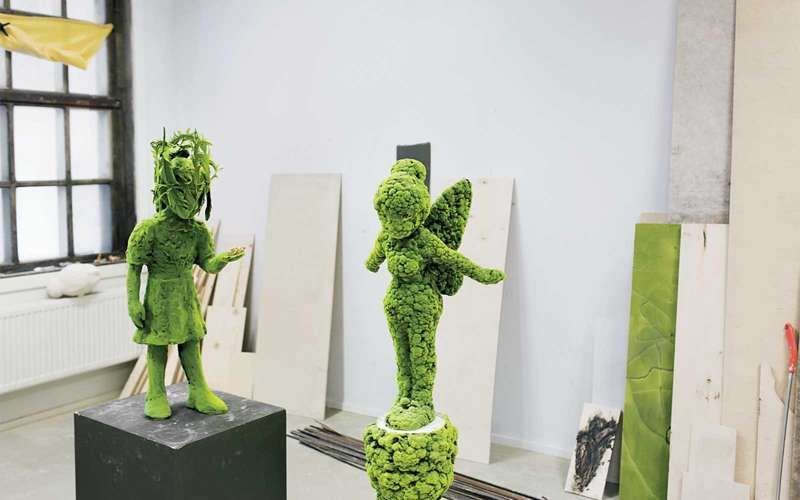 Kalajoki and I then continued on through the surrounding woodlands to a sprawling yellow villa, a space British textile artist Deepa Panchamia shares with several others. "I never thought I'd leave London," said Panchamia as we talked in her light-filled studio. "But here I am, in the forests of Finland, the artist I always wanted to be. In London there were too many distractions; in Fiskars I have endless time to focus and be creative. All my ideas come to fruition."
We ended our tour at Fiskarin Panimo, a brewery and café founded by Finnish chef Jari Leinonen and his partner, Juha Kuronen. The duo's rye-juniper beers and spruce-shoot ales have become so popular that they decided to expand into gin and aquavit, opening the Ägräs Distillery in a neighboring space. Food production is a more recent development in Fiskars, but the village is actively marketing the remaining commercial spaces to chefs and growers.
Though Fiskars Village has generated revenue for the company since the early 2000s, business-minded skeptics still question why Fiskars continues to invest in the town. "They say, 'Why don't you just sell the village and the land and focus on the core business?' " Selkälä said. "But from our perspective, as one of the oldest companies in Europe, we consider the village to be an excellent asset."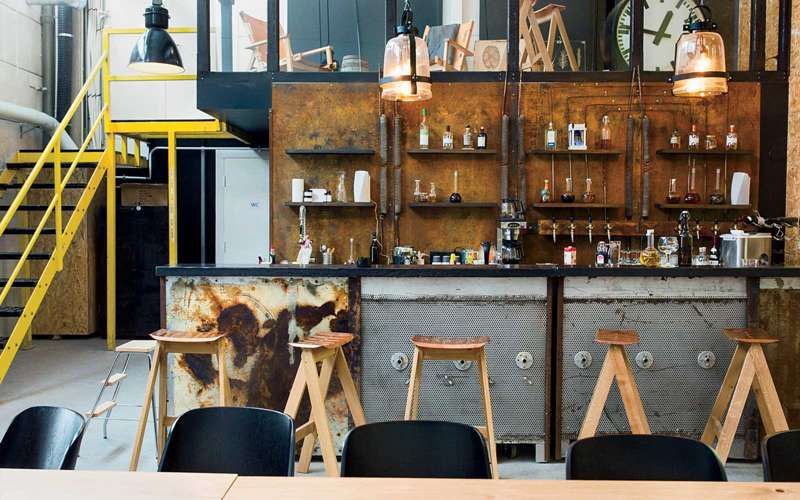 In fact, others are looking to follow Fiskars's lead. Delegations from China and Europe have come to Fiskars in hopes of learning how to replicate the effect in their own countries. But Lindberg believes that the village can't be copied. "Many countries have industrial towns that are dying, he said. "A project like ours seems like the answer, but most of these governments have the same problem — they don't own the real estate, so they can't make key decisions." In the end, Lindberg emphasized, the village was a success because the goal was about community, not profit: "That was the intention. Not to bring tourists. Not to make money. But eventually, it worked out beyond our wildest dreams."
Other articles from Travel + Leisure: