In Search of Florida's Little Europe
Don't forget your umbrella! (And other tips for visiting St. Augustine)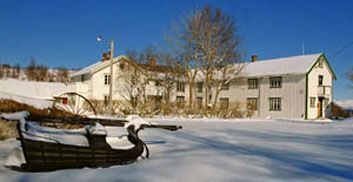 St. Augustine is just off I-95 or, if you're flying, is conveniently served by two international airports: Daytona and Jacksonville. There is no public transportation in the city itself, so if you don't feel like renting a car, private tour companies operate trolleys and horse-drawn carriages. Or, if you'd prefer, you can rent a bicycle or even a motor scooter.
Baby it's hot outside: Summers are hot and sunny with high humidity. Wear sunblock, a hat and loose-fitting clothes. Expect afternoon thundershowers and remember that umbrellas can also keep off sun as well as rain. UV-protective sunglasses are a must. Winter is marked by sudden cold snaps, so bring a warm sweater and long pants.
What To Do
Old St. Augustine Village:
This site has been continuously occupied by Europeans since the 16th century. Today, visitors can see ten historic houses including the Murat House, famed for its residents and visitors, from Napoléon Bonaparte to Greta Garbo.
Hours and Admission:
Open daily from 9 A.M. to 5 P.M. Closed December 25 and Thanksgiving. Admission for adults is $7.00, $6.00 for seniors and $5.00 for children ages 5 to 11. (904)823-9722.
Gonzalez-Alverez House:
"The Oldest House" is one of the country's best documented older houses. Though the original structure burned in 1702, the site has been continuously occupied since 1565.
Hours and Admission: Open daily from 9 A.M. to 5 P.M. Admission is free. 14 St. Francis Street (904)824-2872.
Colonial Spanish Quarter:
Immerse yourself in 18th-century Spanish St. Augustine as craftspeople in period dress demonstrate trades such as blacksmithing, woodworking and lace making. Don't forget to drop by the Government House and the Spanish Military Hospital, historic sites that are just down the street.
Hours and Admission:
Open daily 9 A.M. to 5:30 P.M. Closed December 25. Adult admission is $6.50, $4.00 for students ages 6 to 18, and children under 6 are admitted free. 53 St. George Street. (904)825-6830.
St. Augustine Lighthouse:
 Built between 1871 and 1874, the lighthouse is still in operation today and is open to visitors. Special events, such as this month's Halloween "spook-tacular" featuring candy, cookies, and stories, are open to all comers for the cost of admission. Click here for a current calendar of events.
Hours and Admission:
Open 9 A.M. to 6 P.M. daily. Adult admission to the museum and lighthouse is $6.50, $5.50 for seniors, and $4.00 for children ages 7 to 11. For the museum and grounds, adult admission is $4.00, seniors $3.00, and children ages 7 to 11, $2.00. For safety reasons, children must be at least 7 years old and four feet tall to climb the lighthouse tower. The tower has not been retrofitted for the disabled. 81 Lighthouse Avenue. (904)829-0745.
Castillo De San Marcos:
Built between 1672 and 1695, the Castillo is undergoing renovations but you can still explore it and the grounds.
Hours and Admission:
The Castillo is open 8:45 A.M. to 4:45 P.M. daily except December 25. The grounds are closed from midnight to 5:30 A.M. Children 16 and under are admitted free of charge with an adult. An adult seven-day pass is $4.00. 1 Castillo Drive. (904)825-9506 ext. 234.
Ft. Matanzas National Monument:
Built on the site where French Huguenots were massacred in 1565, this impressive masonry watchtower now stands sentinel over a vast park that is home to numerous endangered species. Fort Matanzas is a pleasant escape for the crowd-weary tourist. Torchlight tours are conducted from 6 to 8 P.M. daily. Advance tickets required.
Hours and Admissions:
Open 8:30 A.M. to 5:50 P.M. daily except December 25. The ferry to the fort leaves the city's visitor-center dock on the half hour from 9:30 A.M. to 4:30 P.M. Admission is free. (904)471-0116.
Anastasia State Recreation Area:
Tidal marshes, hardwood forests, sand dunes and lagoons await. Visitors can visit the abandoned coquina quarries or swim, fish, hike, bird-watch, or surf. Campsites are available for both tents and RVs. Anastasia State Park hosts a Haunted Hayride the weekend before Halloween, along with other seasonal activities. There is no admission fee, but a $1.00 donation to the Friends of Anastasia Citizens Support Organization is encouraged. For other events, call (904)461-2033.
Hours and Admission: Open daily. Campsites are available with a reservation. There is a $2.00 per car daily usage fee. Camping fees are $16.00 per night with additional charges for electricity and pets. (904)461-2033.
Guana River State Park:
Home to a wide variety of endangered wildlife, this 2,400-acre park contains 17 significant historic and prehistoric sites. Visitors can enjoy the beach and the woods. Early morning guided walking tours are offered on selected Sundays each month from September to May. Tour fees are $5.00 per person and include coffee, juice and doughnuts. On Wednesdays during the summer, budding naturalists, ages 7 to 11, can participate in games and classroom activities in a daylong program for a fee of $25.00, snacks and drinks included. Call (904)825-5071 for dates and reservations for both events.
Hours and Admission: Open daily 8 A.M. to sundown, $2.00 a day per car. (904)825-5071.