How Do Death Valley's 'Sailing Stones' Move Themselves Across the Desert?
These mysterious rocks have puzzled scientists for decades—until one geologist found the answer on his kitchen table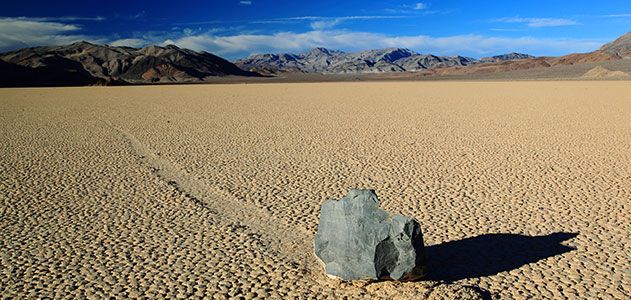 Start at the Furnace Creek visitor center in Death Valley National Park. Drive 50 miles north on pavement, then head west for another 30 miles on bone-rattling gravel roads. During the drive—which will take you four hours if you make good time—you'll pass sand dunes, a meteor crater, narrow canyons, solitary Joshua trees and virtually no evidence of human existence whatsoever.  But soon after cresting the Cottonwood Mountains, you'll come upon a landscape so out of place even in this geologically bizarre park that it almost seems artificial. 
Racetrack Playa is a dried-up lakebed, ringed by mountains, about 3 miles long and flat as a tabletop. During summer, the cracked floor looks prehistoric under the desert sun; during winter, it's intermittently covered by sheets of ice and dustings of snow. But the dozens of stones scattered across the playa floor are the most puzzling part of the view. Ranging from the size of a computer mouse to a microwave, each one is followed by a track etched into the dirt, like the contrail behind an airplane. Some tracks are straight and just a few feet long, while others stretch the length of a football field and curve gracefully or jut off at sharp angles.
Staring at these "sailing stones," you're torn between a pair of certainties that are simply not compatible: (1) these rocks appear to have moved, propelled by their own volition, across the flat playa floor, and yet (2) rocks don't just move themselves.
"It's very quiet out there, and it's very open, and you tend to have the playa to yourself," says Alan Van Valkenburg, a park ranger who has worked at Death Valley for nearly 20 years. "And the longer you stay out there, it just takes on this incredible sense of mystery." The mystery is rooted in an extraordinary fact: No one has ever actually seen the rocks move.
Explanations for the stones' movement have tended towards the absurd (magnetism, aliens and mysterious energy fields, for example). Some present-day visitors apparently agree—Van Valkenburg notes that stone theft is a growing problem, perhaps because of perceived special properties. "I don't know whether people think they're 'magic rocks,'" he says. "But of course, as soon as you remove them from the playa, all 'magic' is lost."
But if they're not magic, what really does cause the stones to sail? In 1948, two USGS geologists named Jim McAllister and Allen Agnew set out to answer the question. They proposed that dust devils caused the strange movement, perhaps in combination with the playa's intermittent flooding. In 1952, another geologist tested this hypothesis as directly as he knew how: He soaked a stretch of the playa and used a plane's propeller to create powerful winds. Results were inconclusive.
In the following decades, theories drifted towards ice, which can occasionally form on the playa during the winter. During the early 1970s, a pair of geologists—Robert Sharp of Cal Tech and Dwight Carey of UCLA—attempted to settle once and for all whether ice or wind was responsible. The team visited the Racetrack twice a year and meticulously tracked the movements of 30 stones, giving them names (Karen, the largest boulder, was 700 pounds). They planted wooden stakes around the stones, surmising that if ice sheets were responsible, the ice would be frozen to the stakes, thereby immobilizing the stones. But some stones still escaped—and despite frequent visits, the pair never saw one move.
Still, ice remained the primary hypothesis for decades. John Reid, a Hampshire College professor, took student groups to the playa annually from 1987 to 1994 to study the stones. Because of the many parallel tracks, he came away convinced that they were locked together in large ice sheets that were blown by strong winds.
But Paula Messina, a geologist at San Jose State, used GPS to create a digital map of the tracks and found that most were, in fact, not parallel. Furthermore, wind-based models were thrown into doubt when researchers attempted to calculate the wind speeds necessary to move the ice sheets. The lowest figures were hundreds of miles per hour.
Enter Ralph Lorenz, a planetary scientist at Johns Hopkins University. In 2006, as part of a project with NASA, Lorenz was setting up a network of miniaturized weather stations in Death Valley. The weather is harsh enough there to serve an analogue for weather conditions on Mars. But then he discovered the sailing stones. "I was intrigued, as everyone is, and I had this instrumentation I was using in desert locations during the summer," he says. "We realized we could use it during the winter and try to understand what the conditions really are at the playa."
As the research team studied weather patterns on the Racetrack, they also looked for rocks that seemed to move on their own in other environments. Scanning the scientific literature, Lorenz learned that the buoyancy of ice helped float boulders onto arctic tidal beaches, creating barricades along the shore. The scientists began putting this idea together with what they saw on the Racetrack. "We saw one instance where there was a rock trail and it looked like it hit another rock and bounced, but the trail didn't go all the way up to the other rock, like it was repelled somehow," says Lorenz. "We thought if there was a collar of ice around the rock, then it might be easy to imagine why it might bounce."
Eventually, Lorenz employed a tried-and-true method for testing his nascent idea: the kitchen-table experiment. "I took a small rock, and put it in a piece of Tupperware, and filled it with water so there was an inch of water with a bit of the rock sticking out," he says. "I put it in the freezer, and that then gave me a slab of ice with a rock sticking out of it." He flipped the rock-ice hybrid upside down and floated it in a tray of water with sand on the bottom. By merely blowing gently on the ice, he realized, he could send the embedded rock gliding across the tray, scraping a trail in the sand as it moved. After decades of theoretical calculations by countless scientists, the answer seemed to be sitting on his tabletop.
Lorenz and his team presented their new model in a 2011 paper. "Basically, a slab of ice forms around a rock, and the liquid level changes so that the rock gets floated out of the mud," he explains. "It's a small floating ice sheet which happens to have a keel facing down that can dig a trail in the soft mud." Calculations show that, in this scenario, the ice causes virtually no friction on the water, so the stones are able to glide with just a slight breeze. The team argues that their model accounts for the movement far better than any other, since it doesn't require massive wind speeds or enormous ice sheets.
Still, says Ranger Van Valkenburg, most visitors to the Racetrack seem to resist this concrete explanation for such a peculiar phenomenon. "People always ask, 'what do you think causes them to move?' But if you try to explain, they don't always want to hear the answers," he says. "People like a mystery—they like an unanswered question."
In a way, though, Lorenz' physical explanation really need not diminish the feeling of awe the sailing stones bring about—it can heighten it. You can get a sense of it by sitting at the playa and imagining the perpetual sailing of the stones over time, stretching into millennia. As human societies rise and fall, and as cities are constructed and then left to disintegrate, the stones will glide gradually around their playa, turning back and forth. Frozen in ice and nudged by the slightest of breezes, they will endlessly carve mysterious, zigzagging paths into the hard flat ground.