How Augmented Reality Is Helping Raise Awareness About One of Armenia's Most Endangered Species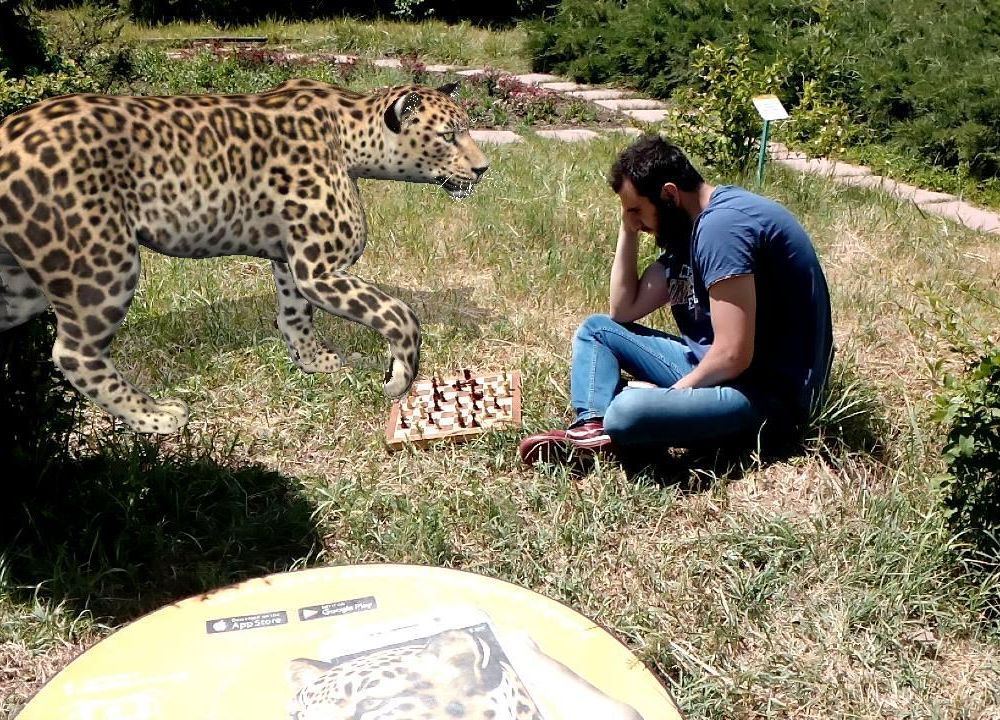 In the early summer of 2017, visitors to Yerevan Botanical Garden in Armenia's capital were likely to come across an unusual sight: one of the country's last remaining Caucasian leopards, patiently awaiting guests on his outdoor perch. Often he'd sit, occasionally he'd pace, and once in a while he'd roar. Despite the animal's sharp teeth and fearsome claws, people stopped to pose with him, pat his back and even challenge him to a game of chess.
Yerevan's 'urban wildcat' was actually a part of an environmental campaign called "Take a Photo with the Leopard," a collaboration between the World Wildlife Fund (WWF)'s Armenia and ARLOOPA, a Yerevan-based augmented reality (AR) and virtual reality (VR) app and game development company. Although the original AR markers—in which people could pose beside a life-size virtual leopard—have since been removed, anyone can still download a free pocket-size version and snaps pics with the animal wherever they go.
Caucasian leopards are the world's largest leopard subspecies by size, and one of the most endangered. Once common in the mountainous regions of the Caucasus, habitat loss and hunting decimated populations. During the Soviet era, the government considered them a threat to farms and livestock, offering a reward of 70 RUB per head for their removal. Today, less than 1,300 individuals are estimated to inhabit a territory stretching across Iran, Turkmenistan, Afghanistan, Azerbaijan and Georgia. Fewer than a dozen remain in Armenia. 
"The Caucasian leopard is an extremely cautious animal, and also one that's verging on extinction," says Arsen Gasparyan, WWF-Armenia's National Coordinator of the Conservation of Leopard in the Southern Caucasus project, "so seeing one in the wild is rare. We wanted to increase public awareness about this threatened species [in a new and inventive way]."
WWF-Armenia first began discussing the idea for a campaign integrating AR technology back in February 2017, commissioning ARLOOPA soon after to bring it to life. "We are known in Armenia as digital magicians," says Arman Atoyan, ARLOOPA's Co-Founder and CEO, "because of our use of cutting-edge tech." After a few brainstorming sessions together they came up with the idea to have a life-size, computer generated leopard accessible in different spots throughout Yerevan. 
In addition the botanical garden, AR markers were placed at other heavily foot-trafficked spots throughout Yerevan, including Yerevan City Center, Tumo Park, the Hilton Doubletree hotel and outside the vegan-friendly Green Bean coffee shop. After downloading the ARLOOPA app onto their smart phones, users could scan the marker and a virtual 3D leopard would appear on their respective screens. The campaign also asked participants to post their results on Facebook, along with a conservation message or interesting details about the animal, in order to be entered into a juried contest. The user who shared the most creative and informative post, as judged by a panel including members of Armenia's Ministry of Nature Protection, ARLOOPA, WWF-Armenia, local journalists and comedians, received a brand new mountain bike.
This app is one of a small, but growing number of augmented reality experiences that conservation groups are hoping will grab the public's attention, increasing awareness for issues threatening species' survival. National Geographic launched a series of installations in shopping malls around the world that brought rhinos to life (among other creatures), and just this month the Cheetah Conservation Fund (CCF), working with app developers Neo-Pangea and Element X, released a new app that allows visitors to interact with the world's fastest land animal. (Just don't get too close or the cheetah will growl.)
For WWF-Armenia, the results of the "Take a Photo with the Leopard" campaign were significant. The campaign reached more than 100,000 people worldwide and generated more than 20,000 scans—results that Gasparyan was extremely happy with, "not only because of the high numbers," he says, "but also because we received very positive feedback over a wide age range. It was one of the most successful awareness raising campaigns WWF-Aremenia has carried out." 
WWF-Armenia first launched its overall Caucasian leopard conservation project in 2002 to help raise awareness for and protect the handful of individual leopards still remaining in southern Armenia. The Caucasian leopard is considered an "umbrella species" by conservationists, meaning that projection of the leopard indirectly also protects the health of the many other species that live in the Caucasus eco-region, including bezoar goats and mouflon, a type of wild sheep.
Together with other conservation groups, WWF-Armenia has helped to strengthen management of the leopard's existing known habits, such as Khosrov Forest—with its dense trees and deep canyons—and establish new protected areas, including Zangezur Sanctuary and Arevik National Park. They also launched an initiative establishing a network of leopard caretakers in five communities adjacent to leopard habitats, such as Syunik Province's Vorotan Canyon. "The caretakers are people from these communities," says Gasparyan, "that make regular visits to the adjacent areas, performing research, observing, installing and gathering data from trap cameras, etc." The project hopes to expand participation through another mobile app, currently in development, that will allow rangers, environmental inspectors, community members and even visiting hikers to anonymously record and report signs of illegal logging and poaching. WWF-Armenia hopes some of the people who experienced the wildcat in virtual form might pitch in.
Encouraged by the success of the Yerevan-based campaign, the United Nations Development Programme Kyrgyzstan commissioned ARLOOPA to create an AR snow leopard for the International Snow Leopard & Ecosystems Forum held in Kyrgyzstan last August, and WWF-Adria, which works to protect biodiversity in Albania, Serbia and Croatia, commissioned a similar AR visualization of a great white shark, a species that many people don't know inhabits the waters of the Mediterranean. Other WWF offices around the world are looking to follow suit with other threatened species ranging from brown bears to Siberian tigers.
Using this type of technology to raise conservation awareness is a relatively new approach, Gasparyan says, "and—like anything new—it's helpful in attracting public interest." So to keep pushing the bar forward, WWF-Armenia and ARLOOPA have come up with the next iteration: "magical" augmented reality T-shirts, each one sporting a leopard that—like its predecessor—can be brought to 3D life through your phone. These types of applications, Gasparyan says, "allow people to connect with information in an interactive way that makes the wildlife feel much more real."