How an Ohio Cow Pasture Gave Rise to a Monument to Aviation History
The National Museum of the United States Air Force in Dayton, Ohio, celebrates 100 years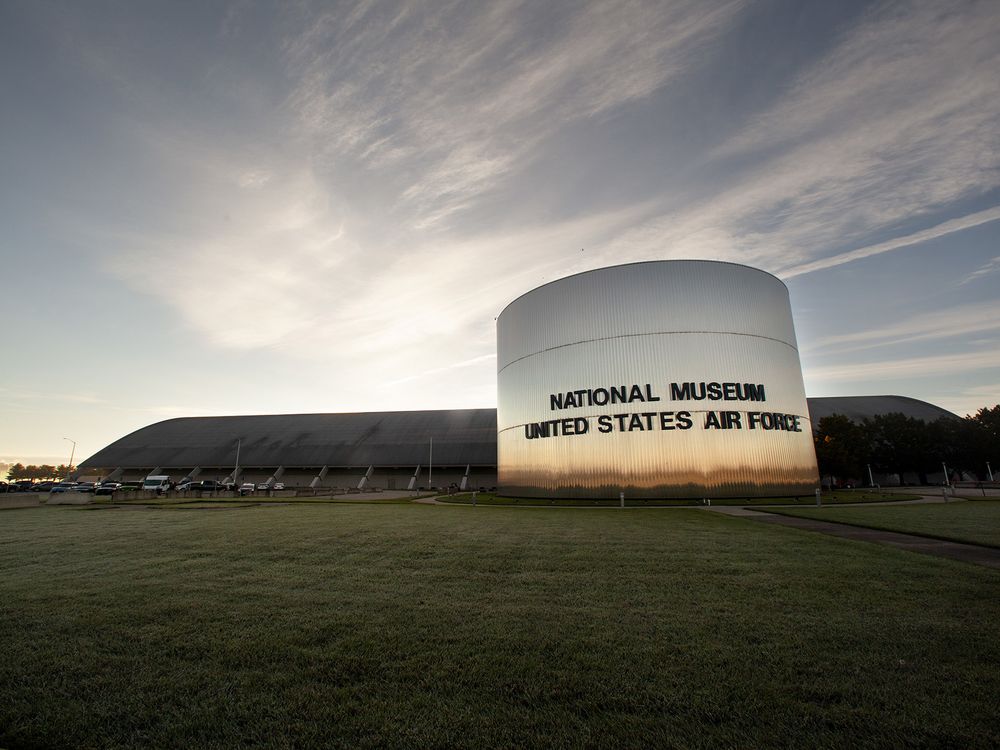 The National Museum of the United States Air Force, the world's oldest and largest military aviation museum, stretches 20 indoor acres across Wright-Patterson Air Force Base in Dayton, Ohio. Located some five miles northeast of downtown, out near the silos and cornfields of Middle America, NMUSAF preserves more than 350 aerospace vehicles and missiles, and thousands of other artifacts.
"The museum is of unparalleled size and scope," says Alex Heckman, vice president of Carillon Historical Park, a component of Dayton Aviation Heritage National Historical Park and home to the Wright Brothers National Museum. "But it's the history and significance of its collections which make it remarkable. From Glenn Miller's summer uniform cap to a taxidermied World War I homing pigeon to the airplane that transported FDR to the Yalta Conference, complete with his special wheelchair lift, there is a national treasure awaiting visitors at every turn."
In celebration of the museum's centennial this year, these ten artifacts show—era by era—how the once small engineering study laboratory near an Ohio cow pasture turned into a world-renowned institution.
Early years, World War I and the Liberty engine
On December 17, 1903, Wilbur and Orville Wright, two brothers from Dayton, Ohio, made the world's first flight on the windswept beaches of Kitty Hawk, North Carolina. The following year, the self-funded brothers, tired of hauling their aircraft some 700 miles on costly research trips, moved their aeronautical experiments from Kitty Hawk to Huffman Prairie, a cow pasture eight miles northeast of their Dayton home at 7 Hawthorn Street.
"The Wrights conducted most of their work at Huffman Prairie," says Doug Lantry, a curator and historian at NMUSAF. "In those days, Dayton was at the middle of industry, transport and access. And the city had a tangible connection to invention and innovation, so the American military placed its research and development arm near Huffman Prairie at McCook Field."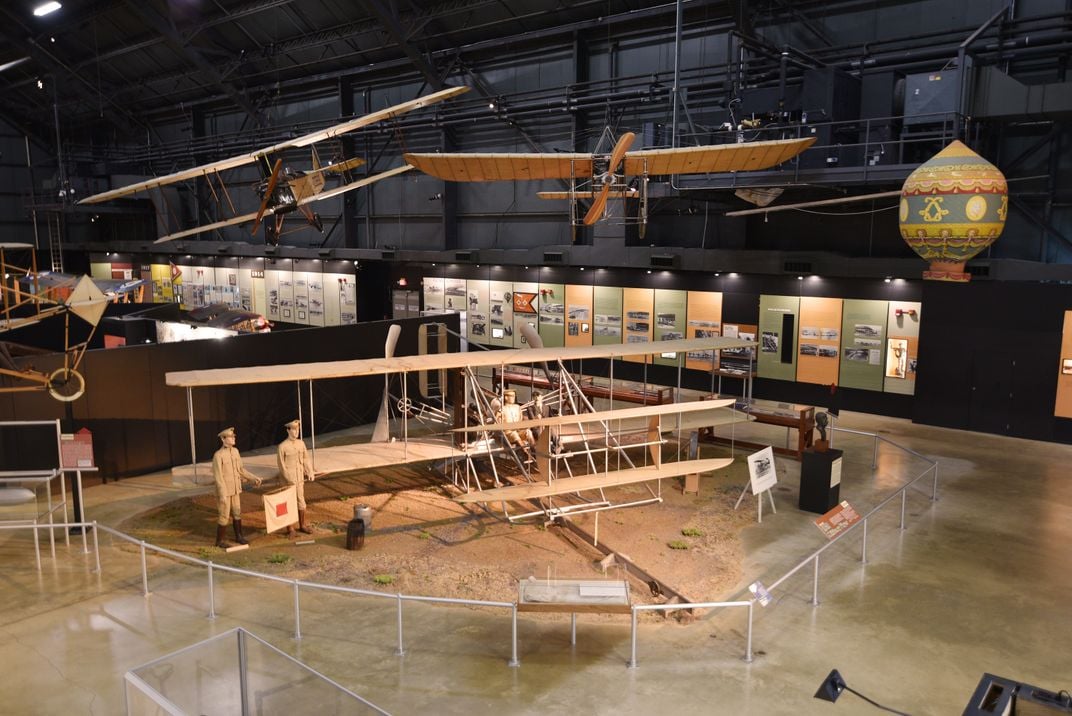 Located some ten miles southwest of Huffman Prairie, McCook Field, dedicated during World War I, was the site of numerous aviation developments: new aircraft, free-fall parachutes, bulletproof gas tanks, controllable-pitch propellers and night-vision cameras.
"During World War I, U.S. engineers and airpower commanders and experts and analysts were sent to Europe to collect aerostructures, engines, instruments, armament," says Lantry. "They collected these items from our allies to study them, to figure out how we could make combat aircraft of our own for the war effort. When these items were brought back to McCook Field, they formed the nucleus of a study collection for engineers."
In 1923, some five years after World War I, this study collection was preserved and became the new Air Force museum at McCook Field. "We have some very old engines, instruments, armament and aerostructures from the earliest days," says Lantry. "1917 and 1918."
But of all the American aerospace technologies developed during World War I, none was greater than the "Liberty" aircraft engine. Developed at McCook Field—only a few miles from where the Wright brothers perfected their airplane—the Liberty was a lighter, more efficient and more powerful engine than its predecessors, allowing pilots to fly higher. For some time, in NMUSAF's Early Years Gallery, a Liberty 12-cylinder, the American engine that helped end the "War to End All Wars," could be found alongside numerous aircraft, engines and weapons.
World War II, the Memphis Belle and Bockscar
Unfortunately, the "War to End All Wars" didn't end all wars. Twenty-three years after Armistice Day, the United States entered World War II. At the heart of that war, amid the deadly skies of the European theater, was the Boeing B-17F Flying Fortress. To finish a tour of duty, B-17 pilots had to complete 25 combat missions—a feat so challenging that only one in four crew members made it out alive. The Memphis Belle's crew was one of the lucky ones. On May 17, 1943, the B-17 Belle completed its final mission, bombing the German Lorient Submarine Base in France; its crew then returned home for a war bond drive across the country, sealing the plane in the American psyche. Thanks to two films—a 1944 William Wyler-directed documentary, The Memphis Belle: A Story of a Flying Fortress, and a fictional 1990 Hollywood movie, Memphis Belle—the plane entered popular culture as an enduring symbol of American valor.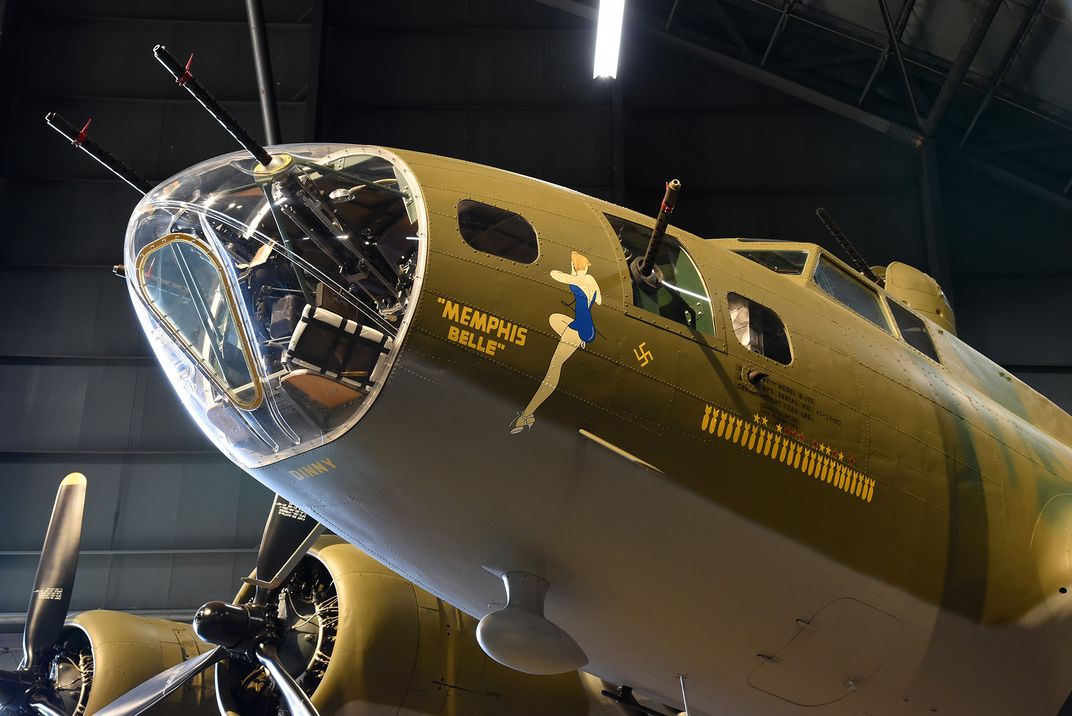 "That airplane is an American icon," says Lantry. "It represents more than 30,000 airmen who died in the skies over Europe. And it's restored faithfully, like no other. It's a cultural and historical touchstone for every single airman and civilian in the Department of the Air Force."
On August 9, 1945, two years after the Memphis Belle completed its final mission, and only three days after the atomic bombing of Hiroshima, Bockscar, a Boeing B-29 Superfortress, dropped the Fat Man atomic bomb on Nagasaki. Both planes are proudly displayed in NMUSAF's World War II Gallery.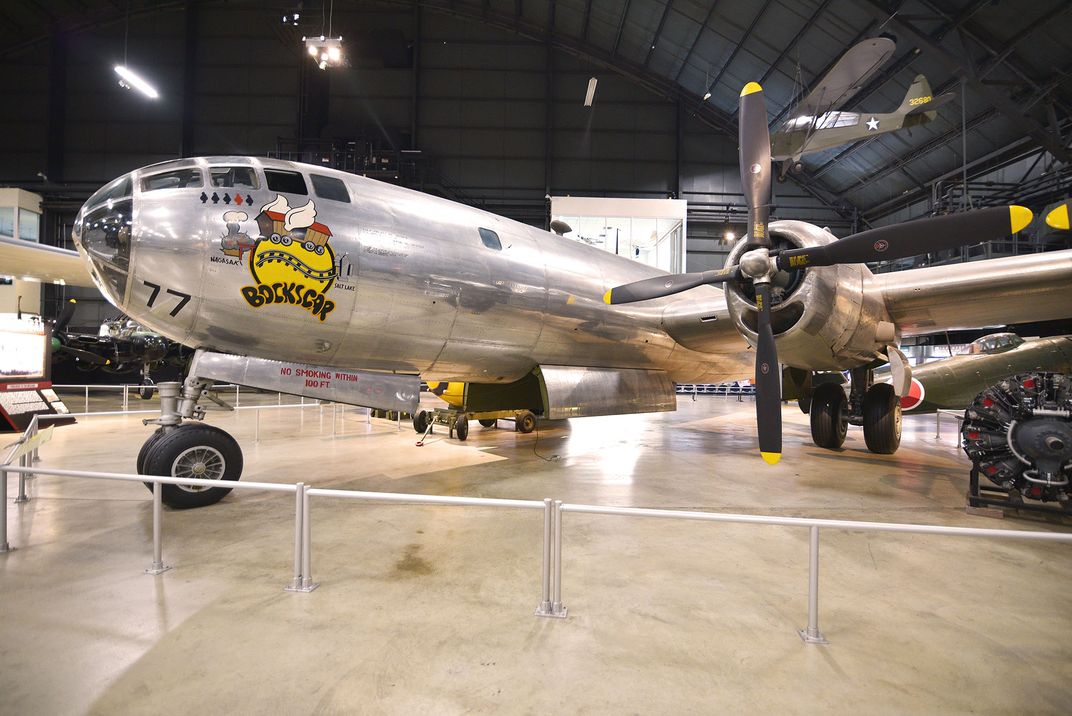 "Bockscar has always been interesting," says Lantry. "But because of the Oppenheimer movie, that plane has become more popular. It's a tangible reminder of the beginning of the atomic age. It tells the story of not just how the war ended, but also how the 20th century gave us the American ascendance, what it all meant to the Cold War, and how it gave us the world we live in today."
Presidential Gallery and JFK's Air Force One
On November 22, 1963, John F. Kennedy's Air Force One, a Boeing VC-137C known as SAM 26000, carried the assassinated president's body from Dallas to Washington, D.C. Aboard this airplane, standing beside Jackie Kennedy, her face locked in shock, Lyndon B. Johnson was sworn in as the 36th president of the United States.
"We have it protected in a way where visitors can actually walk through the airplane," says Lantry. "You can see how it was configured, what it looks like inside and where Lyndon Johnson was sworn in. You can actually stand on that spot."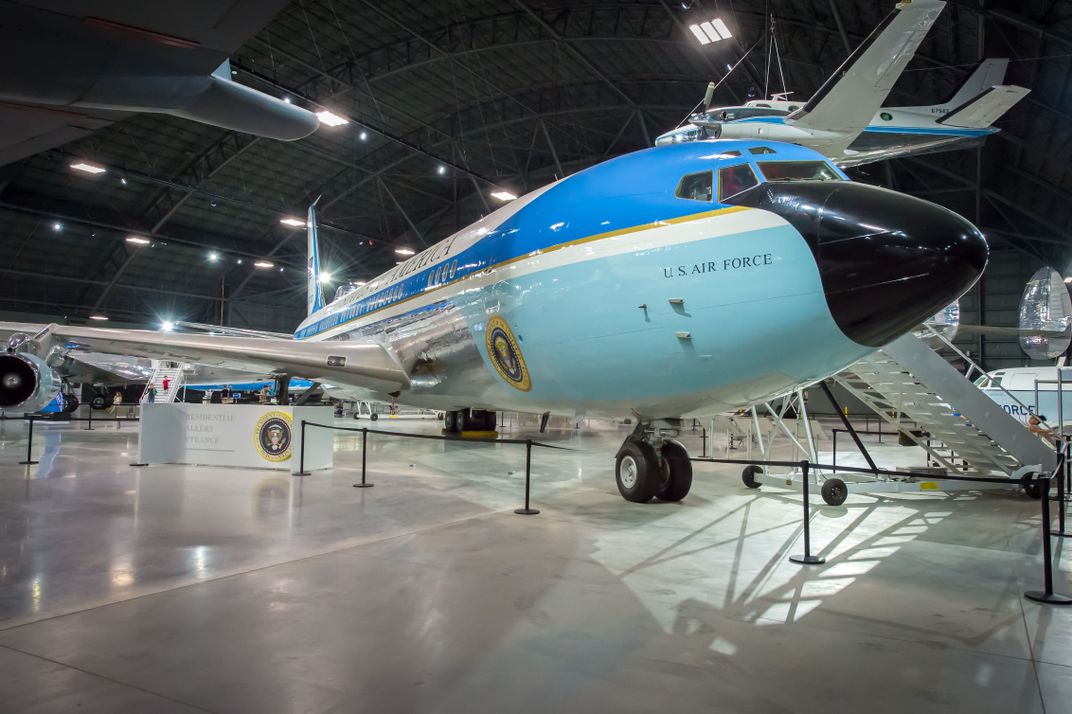 SAM 26000, the first jet aircraft custom-built for the commander in chief, flew eight U.S. presidents: Kennedy, Johnson, Richard Nixon, Gerald Ford, Jimmy Carter, Ronald Reagan, George H.W. Bush and Bill Clinton. Today, the old Air Force One is on display in the Presidential Gallery, a symbol of one of the saddest days in American history.
A wonderland of R&D
A paradise for the technically inclined, NMUSAF includes many of the fastest, biggest and most groundbreaking aerospace vehicles and missiles in history.
The North American X-15A-2, the fastest rocket plane ever flown, was the first piloted aircraft to hit hypersonic speeds: more than five times the speed of sound. Only three X-15s were ever built, and between 1959 and 1968, the plane, launched from a B-52 mothership at 40,000 feet, prepared pilots, including Neil Armstrong, for the conditions astronauts would one day face. "Flying an X-15 is basically like riding a rifle bullet," says Lantry. "It's located in our Space Gallery, but it does double duty as a space artifact and R&D artifact."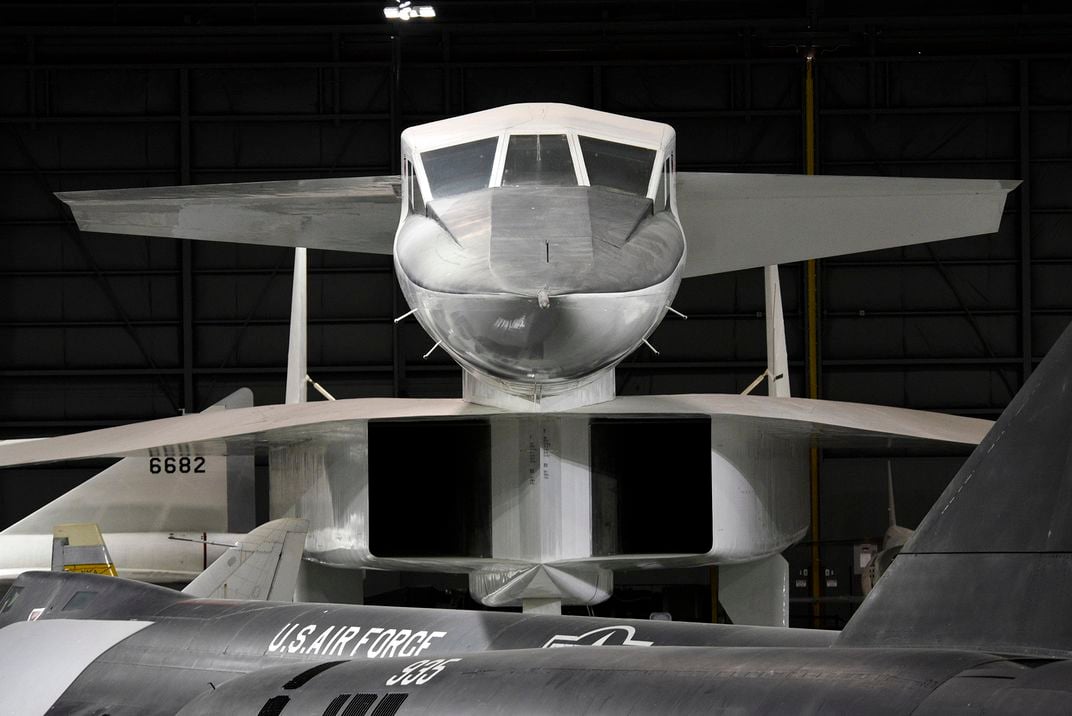 The North American XB-70 Valkyrie, an exotic jet located in the Research & Development Gallery, is the only one in the world. In October 1965, it flew at Mach 3, or three times the speed of sound. "It looks like it could fly today," says Lantry. "But, in fact, it was flying before the original 'Star Trek' TV show went on the air."
From 1964 to 1990, the Lockheed SR-71A, the "Blackbird," was the world's fastest, highest-flying operational aircraft, setting a record speed of 2,193.167 miles per hour and an absolute altitude record of 85,068.997 feet. "The SR-71 is all about superlatives," says Lantry. "It flew the fastest and highest. It had specialized equipment and the most highly trained crews—crews that were specifically chosen for the job."
If the X-15, Valkyrie and Blackbird satisfy visitors' fascination with speed, then the Convair B-36J "Peacemaker," Lockheed Martin Titan IVB rocket and the museum's Missile Gallery satisfy their fascination with size.
Spanning 230 feet, the B-36 carried 86,000 pounds of nuclear and conventional bombs in the period after World War II. Never used in combat, the Peacemaker served as a bulldog, a warning to American enemies, and is displayed in the Cold War Gallery. "That is one big 1950s airplane," says Lantry. "People gravitate toward that plane. They stand under it and marvel at how big it is."
The Titan IVB, the Air Force's largest, most powerful single-use rocket, stretches 204 feet; displayed in the Space Gallery, it once launched satellites into space. "That rocket is absolutely enormous and powerful," says Lantry. "You can walk right under it and get a sense of what it takes to put something the size of a school bus into orbit around the Earth. It's a great springboard for STEM education."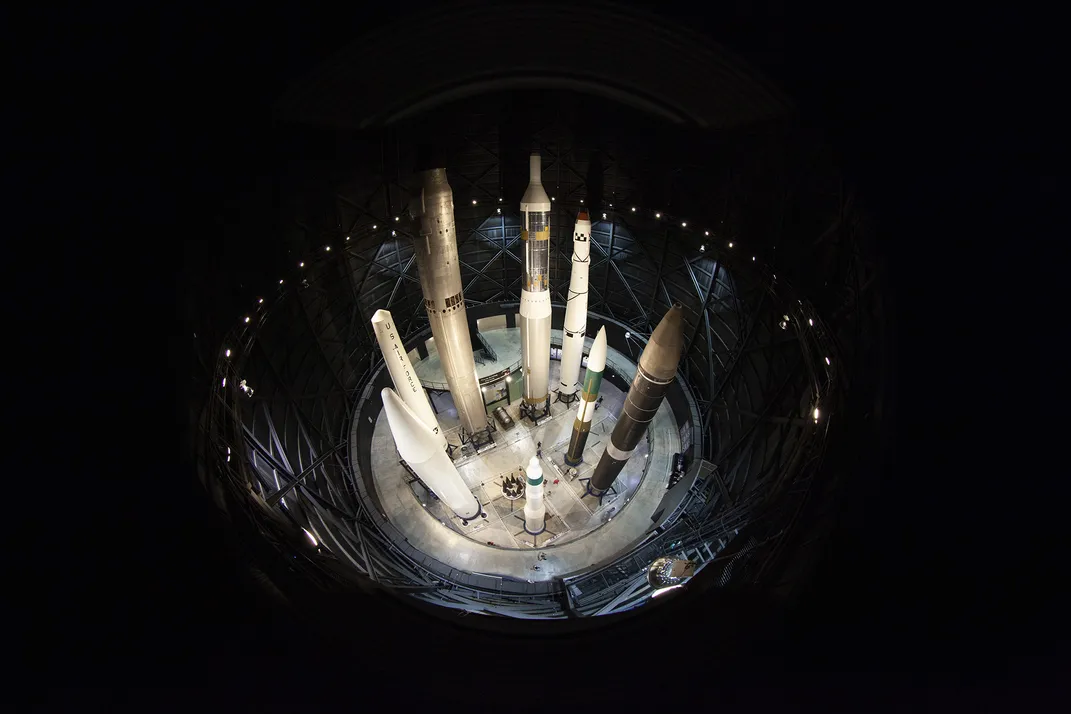 Housed in a silo-type structure, the Missile Gallery displays eight iconic American missiles, including Titan I and II, Minuteman IA and III, Jupiter and Peacekeeper. Visitors can climb toward the top of the 140-foot gallery and, from an elevated platform, stare down at the massive missiles. "It's vertically oriented," says Lantry. "It's the only place in the world where you can see all these missiles in one place."
The future
For the past century, NMUSAF has stood as a monument to American military aviation history, a history that is still being written today. "Our present campus is already huge, but we have a lot of room to expand," says Lantry. "Physical expansion is all part of the future."
And what will the future look like? As visitors wander beneath the wings of the museum, they're reminded that the sky is really not the limit, but rather a boundless realm of possibilities.