Hiking with Your Dog This Summer May Be Harder Than You Think
If you've entertained ideas of boundless romping in the woods with your pet, you may be in for a serious letdown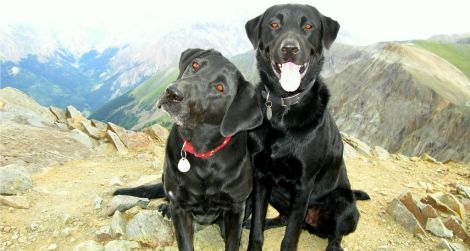 America is, as we're told, the land of the free—and for tail-wagging, four-legged travelers that were born to run, road-tripping across our vast country of fields, mountains, forests and campgrounds might seem like a dream vacation.
But visiting America's most treasured parks and other places of natural heritage is not so easy for people with their dogs in tow. Leash laws and full pet prohibitions are so ubiquitous that for anyone hoping to tour America's national or state parks, it may be easier to check the pets into a kennel before hitting the road than trying to bring them along on vacation.
This seemingly draconian crackdown on man's best friend is not without good cause, however. Off-leash dogs may harass, chase and even attack and kill wildlife of all sizes and sorts. Deer, moose, birds and many other animals are regularly hounded by free-running pet dogs. Just a few examples: In 2010, an off-leash German shepherd killed a pair of fox pups just outside the Trout Brook Valley nature reserve in Connecticut. Also that year, a dog that had escaped its home in rural Colorado was seen chasing elk and harrying the animals into the middle of a river until a wildlife officer shot and killed the pet. Last spring, dogs near Talkeetna, Alaska, attacked and injured a newborn moose calf—a common occurrence in the Far North. In Florida, uncontrolled dogs are a frequent cause of death of the protected gopher tortoise, while in the Southwest, desert tortoises have reportedly been chewed on by free-roaming dogs. Uncontrolled pet dogs have also attacked endangered bighorn sheep in the California desert. Domestic dogs—whether fully feral or simply pets off-leash—cause huge losses for the livestock industry, too. In 2009, dogs killed roughly 60,000 sheep in the United States, according to the Department of Agriculture and the American Sheep Industry Association.
Other times, dogs off-leash are injured or killed. In November, a relatively rare Florida black bear attacked and injured a chocolate Lab that had been let into the woods to run by its owners. A similar encounter with a bear almost resulted in the death of a golden retriever in Massachusetts last year. Mountain lions, coyotes and even deer have also attacked free-roaming dogs. In national forests and lands of the Bureau of Land Management, dogs are often allowed to run off-leash—but hunters may also use these areas. In January, a pair of pig hunters in the Los Padres National Forest near Santa Barbara shot and killed a 40-pound mutt named Billy, who was running off-leash. Pet dogs have also stepped into steel-jawed traps, which can be legally placed on national forest lands in some places, like the Gila National Forest in New Mexico.
The problem is global. Off-leash pet dogs attack swans and deer in England. In parts of Australia, dogs on the loose are one of major the predators of koalas. A poodle recently came trotting home with a mortally wounded kangaroo joey in its mouth. In the 1980s, a single off-leash pet dog in New Zealand killed between 600 and 800 kiwis out of a small population of 1,000 in just six weeks. A recent study in Tasmania found dogs to be the second-greatest source of wildlife mortality after cars.
In the United States, the problem is reportedly growing worse every year. Attacks on other dogs and people occur, too, and for these reasons, authorities have been cinching up leash laws. Virtually no state or national park allows dogs to run off leash—not even in backcountry areas. In San Francisco, the vast urban parkland of the Golden Gate National Recreation Area (GGNRA), for example, has been ground zero of ongoing bickering between leash law proponents and dog owners bent on letting their pets run and romp. The thing is, the park, while potentially a haven for off-leash dogs, is also a refuge for native wildlife—like the threatened Western snowy plover. Numbers of these birds have long nested in the dunes at San Francisco-area beaches and, as discussed in the Outside blog Adventure Ethics, may be chased off by uncontrolled dogs.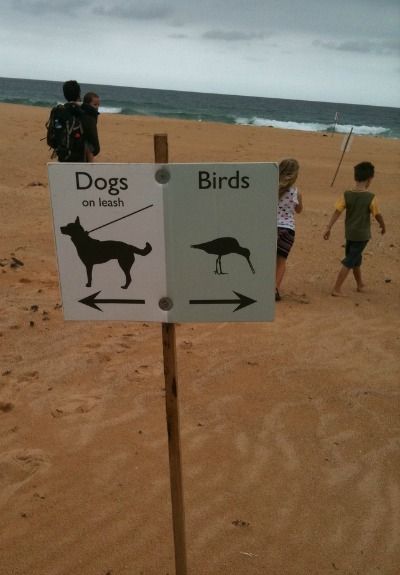 Brent Plater, the executive director of the nonprofit organization Wild Equity Institute in San Francisco, says just last week two goslings were killed by off-leash dogs at Crissy Field, a beach area within the GGNRA. Plater has been working for years with several other groups to help the Park Service develop a leash law plan that seems fair to everyone, and he notes that the GGNRA has "some of the most generous leash laws of all the national parks" in spite of being home to several threatened or endangered species. At this point, Plater feels the best proposal would be to enclose off-leash dog areas with fencing. That, he says, would be "the perfect compromise and solution" to a battle that pits "a handful of dog owners against everyone else."
The controversy, he adds, is not simply about people and dogs and whether both have equal rights on public lands.
"It's about whether we want to take a precautionary approach and avoid problems before they happen by fencing off dog areas, or whether we want to take a reactive approach and punish people after the fact, and hopefully fix the damage cause," he explained.
Julie Young, a federal wildlife biologist and also an assistant professor at Utah State University, has studied the impacts of feral and off-leash dogs in the United States and in Mongolia, where she analyzed the impacts (PDF) of domestic dogs on an antelope called the saiga. Young says the impacts dogs have on wild animals are far greater than most pet owners realize.
"If your dog chases a deer, and it's near a popular trail, it's probably not the first time that deer was chased—maybe not even on that day," Young told Off the Road.
Young says a paper published in 2008 in the Natural Areas Journal reported that off-leash pet dogs in Colorado had driven deer and bobcats away from popular hiking trails where they had once been known to occur. In Utah, Young says, sage grouse and mule deer can be common targets for harassment by dogs. Other times, pet dogs kill livestock—and this, says Young, "can have a secondary effect" of bringing wrongful blame upon coyotes—or wolves—in northern states and Canada.
Maureen Hill-Hauch, the program director of the American Dog Owners Association, takes a surprisingly stern approach to leash laws and believes pet dogs need to be kept on leashes anytime they're outside of a confined private area.
"We're all about responsibility, and a responsible dog owner keeps their dog on a leash and collar," Hill-Hauch said. "If you want to let them run, then let them run in your backyard or at a tennis court, where you can lock the gate." Very few state parks allow dogs off-leash, Hill-Hauch says—"and rightfully so." She believes dog attacks on people and the harassment of wildlife are more than enough reason to require that pet dogs be restrained at all times when on public land.
"My dogs have never been off their leashes," she said.sh laws can be confusing from place to place, but the message is clear at this public park: There may be better places to throw a tennis ball for your pooch. Photo courtesy of Flickr user lukesaagi.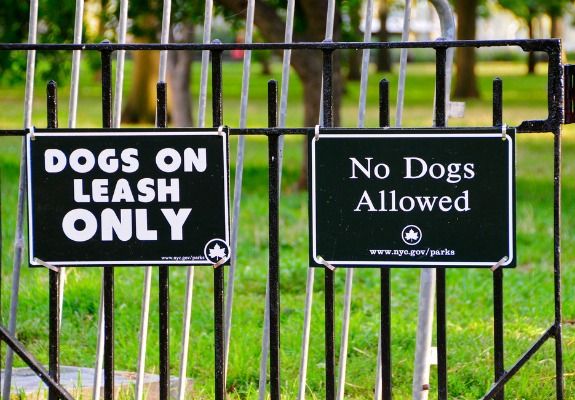 So, where can travelers go with their dogs? Almost everywhere—for dogs are allowed in most parks, state and national. However, rules here are strict and, if you've entertained ideas of boundless romping in the woods with your pet, you may be in for a serious letdown. Consider Yellowstone National Park, which prohibits dogs in the backcountry, on trails and on boardwalks, and requires that they be leashed at all times, if not caged or locked in an attended vehicle. In Yosemite National Park, they are likewise prohibited in the backcountry and most trails. They are permitted on paved trails and paths, and most of the park's 13 campgrounds allow dogs—though only on a leash six feet long or shorter—and, yes, a person must be holding the leash.
Want to go hiking? Figure you'll just tie your dog up in camp for the day? Sorry—but that's generally forbidden. In other words, driving through a park with your dog shouldn't be a problem. But if you hope to fully enjoy the woods and wilds with your best four-legged friend, a national park may not be for you. Note that Acadia, Shenandoah, Grand Canyon, Cuyahoga and Great Sand Dunes national parks have been named as among the dog-friendliest of America's national parks, mainly for their relatively lax leash laws.
Want to go backpacking? Dogs generally aren't allowed in the backcountry of national parks. However, national forest land is often a romping ground for pet dogs. In developed areas and developed campsites, leash laws are the norm, but in the backcountry, your dog can, at last, run free.
Resources on pet-friendly travel destinations provide a rough breakdown of the rules.