Hike the Appalachian Trail
For decades, the backbone of the Eastern United States has given much needed respite for thousands of nature enthusiasts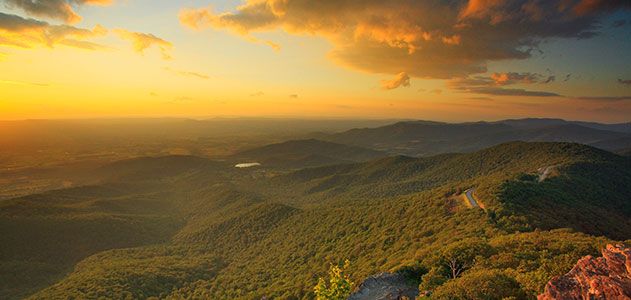 Nature revives us, centers us, quiets us. It allows time for reflection. Hikers of the entire 2,181-mile Appalachian Trail are fortunate individuals, indeed, who take a good long physical, emotional and spiritual journey.
Six years after Cliff Irving hiked the AT in 169 days with his adult son Derrick, he recalls the spell it cast on him. The trip made him further appreciate the beauty of the Eastern wilderness, he says, while it enabled him to experience the kindness of strangers and the friendship of fellow hikers.
The AT is the longest continuous recreational footpath in America. Since its completion in 1937, more than 10,000 hikers have walked it from end to end—either in sections over a long period or "thru," meaning in one continuous trip. The trail beckons hopefully fit, optimistic outdoors lovers who usually travel south to north, beginning at Springer Mountain, Georgia, in the spring and finishing at Mount Katahdin, Maine, in the fall.
Most thru-hikers are younger than 25, but plenty are older and often retirees; the most senior thru-hiker on record was 81 when he completed the trip in 2004. Age, occupation, income and social status quickly dissolve in the woods. Hikers adopt trail names—like Brother Buzz or Cup o' Joe or Snot Rag—further hiding their off-trail identity.
The arduousness of hiking the AT is not to be underestimated. Many enthusiasts overplan and buy more than they can carry. After a few weeks, they shed their fancy gear and learn to live without. As many as three-quarters leave the mountains before they finish; they're tired, hungry, injured, homesick or all of the above.
"Every so often I would say to Derrick, 'I'm looking for that bus,' because if I could have found that bus, I would have taken it home to Cape Cod," Irving told me. His son encouraged him when the going got tough.
Later, Cliff counseled another man, Chef Boyardee, who was also ready to quit the trail. "It's odd to see two guys talking and crying, but it's such an emotional thing," says Irving.
Yet externally, at least, life is stripped to its simplest form. You walk and walk. You eat and drink and sleep. The streams start to look alike, as do the mountains.
Then comes the unexpected: seeing a wet, newborn fawn whose mother is trying to distract a hiker or spotting at arm's length a red squirrel fastidiously cut down and eat a wild mushroom. These are the moments hikers carry out of the woods for a lifetime.