Highlights and Hotspots
Celebrations, ceremonies and competitions sure to delight even the most seasoned traveler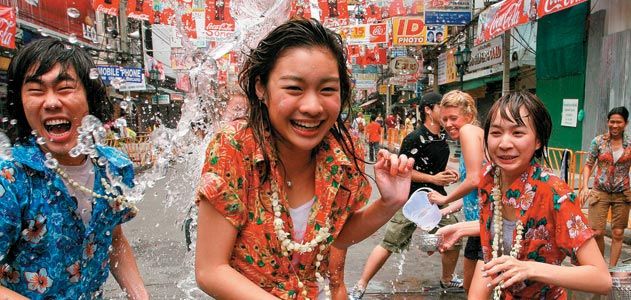 Bhutan
October 9-11
Dzongs (temple-fortress compounds) in the capital of Thimphu come to life with music and dance during the tshechu festival. Monks wearing masks perform dances venerating Buddhist saints.
Cambodia
November 10-16
Two million people will flock to the Tonle Sap River in Phnom Penh for the Bon Om Tuk water festival. Some 450 dragon boats race in honor of an unusual event: the river's current changing direction.
China
August 8-24
The world's top athletes will gather in Beijing for the 2008 Summer Olympics. The city's new National Stadium, the "bird's nest", was built for the Games.
November
More than 200 galleries from around the world will showcase 10,000 works at the annual Shanghai Art Fair, the largest of its kind on the continent.
India
May 13
During Kerala's colorful festival of Thrissur Pooram, two lines of 13 elaborately decorated elephants parade against a background of music and fireworks.
September 12
The harvest festival of Onam, also held in Kerala, is known for its ornate costumes, lavish feasts and intricate, artful pookalam, or flower carpets.
Indonesia
June 17-July 15
A grand parade opens the month-long Bali Arts Festival of dance, theater, visual arts and special events, from gong competitions to fashion shows.
Japan
April 23-May 5
The 2,600 sakura (cherry blossom) trees at Hirosaki Castle in northern Japan are not to be missed. When in bloom, the trees provide a vivid counterpoint to the 17th-century castle and ancient pine trees.
May 11-25
Sumo wrestlers compete annually in six grand, 15-day tournaments, or basho, to determine the champion of Japan's national sport. Fans can view the seconds-long, tense matches at the Natsu Basho in Tokyo.
December 2-3
The town of Chichibu, outside Tokyo, hosts a boisterous parade and fireworks. The highlight is in the evening, when the 33-foot-tall, 10-ton floats are illuminated with countless lanterns.
Nepal
October 26-30
In Katmandu, dogs are adorned with flower garlands and offered special meals during the Hindu festival of Tihar, held to honor animals and the Goddess of Fortune.
Thailand
April 13-15
Prepare to get soaked at the Songkran New Year festival in Bangkok. Water from buckets, pistols, hoses and elephant trunks flies through the air during the hottest time of year. It's believed that the ritual will wash away bad luck.
Vietnam
September 14
Children are celebrated throughout Vietnam during the Tet Trung Thu festival. Proud parents give moon cakes (made of sesame seeds and lotus flowers) to their children, who carry colorful lanterns through the streets.