Here's Where You Can Hike a Glacier (Before They're Gone)
Read on for five of the world's most stunning icecap experiences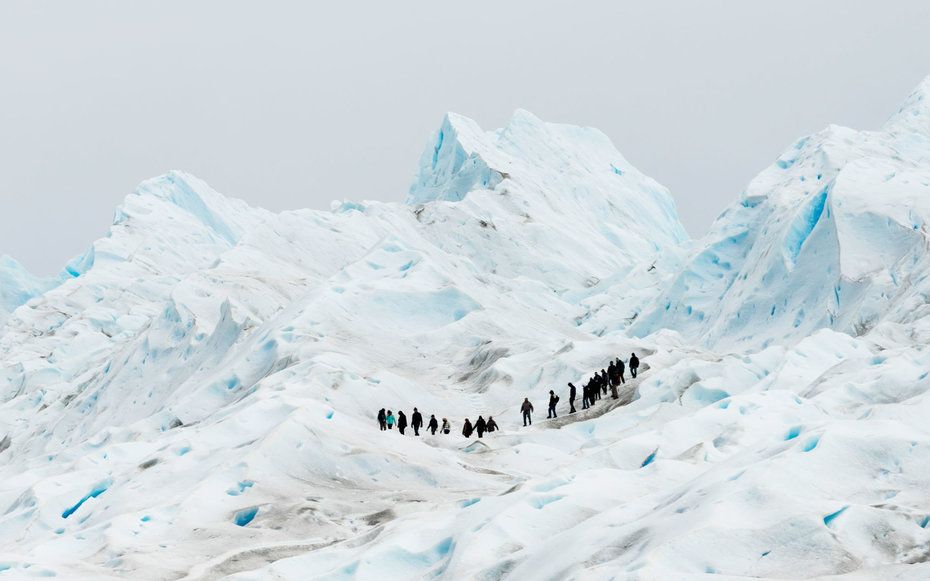 Hiking a glacier is an otherworldly experience, and one you should plan to do sooner rather than later. From the enormous icefields of Alaska to Europe's largest glacier outside Reykjavik—these frozen titans are diminishing, and in some cases, disappearing at a rapid pace.
So much so that while fitting boot spikes called crampons on his group, veteran glacier guide Jóhann Garðar at Solheimajokull Glacier in southwest Iceland explained, "Last year it was a ten minute hike from the parking lot. This year, we have to make our way around the backside of this mountain, 40 minutes, to get to the snout of the glacier." In just 12 months, Solheimajokull retreated almost a kilometer, causing a huge lagoon to form where hikers used to walk. Once on top of the glacier, Garðar showed a corded measuring device revealing the 15 meters of depth Solheimajokull lost in just the past four months.
The ice is retreating in Alaska, too. Seasoned Tatshenshini and Alsek river guide, Mike Neville, has led over 40 rafting trips beginning in Kluane National Park in the Yukon and Northern British Columbia, and flowing into Alsek Lake, a remote jewel of Glacier Bay National Preserve. "Past the confluence of the Alsek and the Tatshenshini, at the first S-curve, we stop at massive Walker Glacier," says Neville. At 33, his time on the river spans less than a decade. "I used to hike with my groups onto the glacier. Now there's a huge lagoon where the toe of the glacier used to be, and what remains isn't hikeable."
In short, if your heart is set on experiencing a glacier up close, consider going soon. Here are five of the planet's most striking to choose from:
Svínafellsjökull, Iceland
Explore stunning ridges, crevasses, and ice formations, all while taking in panoramic views of Europe's largest glacier, Svínafellsjökull in Vatnajokull National Park. End your trek by floating among the icebergs on a boat tour of dramatic Jokulsarlon glacier lagoon. Icelandic Mountain Guides pick you up in Reykjavik or meet you onsite at the Vatnajokull National Park Visitor Center.
The Fox or The Franz Josef Glaciers, New Zealand
On New Zealand's west coast, helicopter to either The Fox or The Franz Josef Glaciers. If money (or a fear of heights) is an object, the latter involves a shorter, less expensive flight. Franz Joseph drops more steeply from the Southern Alps, creating stunning crevasses and caves of famed blue ice. Tours include a free pass to the local hot pools, owned by the Maori tribe. 
Aletsch Glacier Trail, Switzerland
Hike Switzerland's UNESCO World Heritage Aletsch Glacier Trail for panoramas of Europe's largest ice flow. Reachable year round by cable car, this three to four hour trek is surrounded by thirty-two 4,000-meter peaks. The route crosses the Grosses Gufer rock glacier and continues down twisting stone stairs to Rote Chumma, eventually winding it's way to Lake Märjelen. Hotel Eiger is a gem of this Jungfrau region or stay in the region's main town of Interlaken.
Perito Moreno Glacier, Argentina
UNESCO World Heritage-designated Perito Moreno Glacier in Argentina, located 48 miles from the town of El Calafate, is regarded as one of the great marvels of Patagonia. Holding the world's third-largest reserve of fresh water, it's one of only three glaciers in the world growing rather than retreating, for reasons glaciologists are still working out. With pickup in El Calafate, the "Big Ice" experience includes boating across the towering front walls of the glacier, hiking its parallel moraine, then what guides describe as "exploring into the middle of the ice".
Alsek Lake, Alaska
The drama of remote Alsek Lake in Alaska's Glacier Bay National Preserve is reserved for those who commit to a true wilderness odyssey. The world's largest non-polar icecap drapes over The Fairweather Range flowing down to this freshwater lake. Getting there means you've rafted from upstream on the Alsek or the Tatshenshini which merges with Lower Alsek en route to Alsek Lake. Campers pitch tents on the west side of Gateway Knob, as calving glaciers often send mini tsunamis surging up onto the site's east bank. The journey home involves floating a short way alongside building-sized blue icebergs (the biggest in the Preserve) toward the Gulf of Alaska. Fly in and out Whitehorse, Yukon, and enjoy some pampering before and after your expedition at the Northern Lights Resort and Spa.
Other articles from Travel + Leisure: