More Than 250,000 Bibliophiles Are About to Descend on "The Town of Books"
The Hay Festival of Literature kicks of its 30th anniversary festival in Wales
Imagine an old Welsh market town of about 1,500 residents, its narrow streets lined with more than 15 independent, second-hand bookshops amongst various other boutiques, cafes and pubs, all overshadowed by a 13th-century castle.
Now, imagine that very same quiet Welsh town transformed into a bustling city as more than 250,000 bibliophiles descend on the town, seeking out author readings and transforming the cafes into book clubs.
That's just what will happen May 25 through June 4 when the 30th Annual Hay Festival takes over Hay-on-Wye (Hay to the locals) between the borders of Wales and England, on the River Wye near the Black Mountains and Brecon Beacons National Park.
The Welsh town's literary roots go back long before the festival: it was here that Shakespeare finished "Twelfth Night," poet Samuel Coleridge walked the countryside and Reverend Francis Kilvert wrote his diaries.
But the town's modern literary story starts in the 1960s when Richard Booth, an Oxford-educated book enthusiast and self-proclaimed King of Hay-On-Wye, opened the town's first second-hand bookshop and laid out his vision for transforming Hay into a "town of books" that would attract visitors and "give his kingdom an economic foundation." Today, the town supports more bookshops per capita than anywhere else in the world. When asked why Hay has so many bookstores, Peter Florence, director of the Hay Festival, cheekily replied, "Because it's the most civilized place on earth."
It only makes sense, then, that the "most civilized place on earth" should host a magnificent book festival, or so must have thought the festival's original organizers when they gathered around a kitchen table in 1987 and dreamt up the idea. From the first events, originally held in back rooms of local pubs, the festival has transformed into an international event and has even been called the "Woodstock of the Mind" by 2001 attendee President Bill Clinton.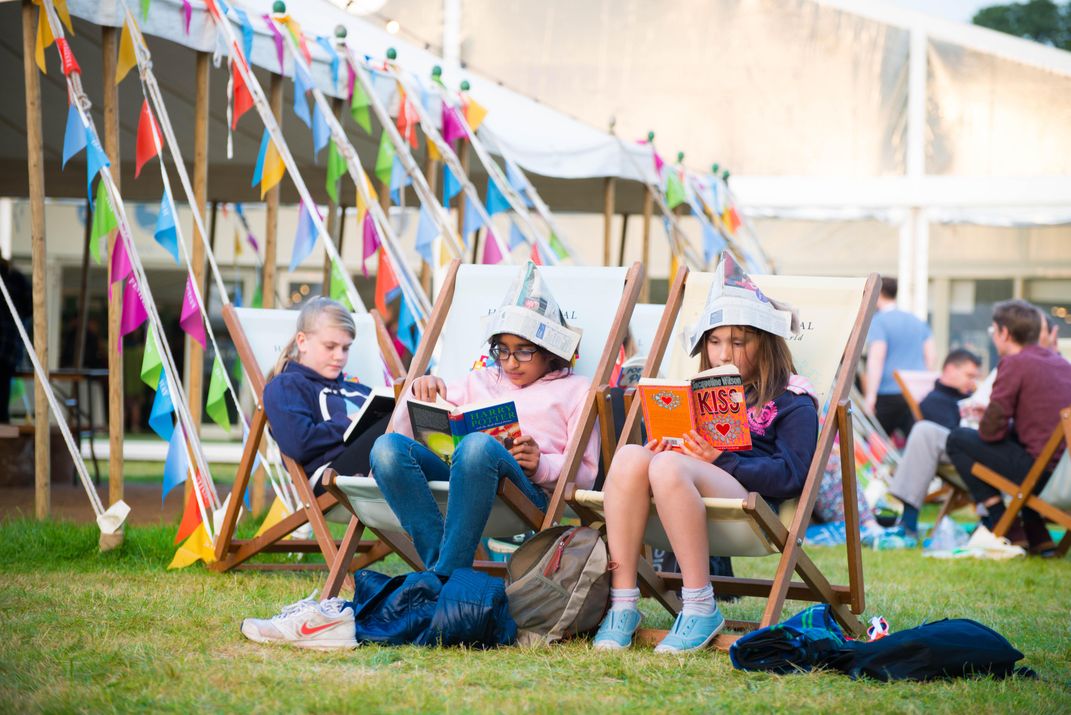 Over the course of the 10-day festival, writers, authors, actors, experts in science and technology and politicians will connect with reading and book enthusiasts to share ideas and stories at 800 different events ranging from interviews with political figures like Senator Bernie Sanders, to talks with activists like Pussy Riot band member Nadezhda Tolokonnikova, who served time in a Russian jail after being convicted of "hooliganism motivated by religious hatred" after a concert in a Moscow cathedral. On the lighter side, Olympic diving medalist Tom Daley will host a dinner made from recipes found in his book, Tom's Daily Plan, including Tom's Ultimate Bacon Butty.
"It's how I refresh what I need to know each year," said Sue Davies of Crickhowell when asked why she attends the Hay Festival year after year. "It's my lifelong education."
Several award-winning and best-selling authors are also slated to talk about their latest releases. New York Times bestselling author Paula Hawkins (The Girl on the Train) will talk about her just-released novel, Into the Water, and Pulitzer Prize winner Elizabeth Strout (Olive Kitteridge, The Burgess Boys) will discuss her new book, Anything is Possible. A program of all of the festival's events and participants is available the festival's website.
Young readers have their own events as well through HAYDAYS, a series of talks and signings with children's and YA (young adult) writers, and fun-filled activities for the entire family, including arts and crafts and drop-in workshops to get the creative juices flowing.
In between events, visitors can take the Hay Bookshop Tour or browse on their own, popping in Richard Booth's Bookshop, the one that started it all, Murder and Mayhem Bookshop, which touts itself as "the most bizarre and outrageously decorated" in Hay, and Bartrums Bookshop, which sells beautiful journals. The Fair on the Square also coincides with the festival in Hay's town center and is where locally grown produce and crafts will be available in a street party setting with live music.
As Florence concluded, "We love stories, and we love to throw a party."
* * *
Tips for Attending:
With the town's population multiplying exponentially during Hay Festival, traffic and accommodations can be challenging. Instead of driving, opt instead to take the shuttle buses that will run from throughout the region to the festival grounds. Or, to make the most of your time and to really see the sights, rent a bicycle from Drover Cycles and pedal your way from one spot to the next; the cycling outfitter offers guided tours of the area, too.
If you can't find a place to stay in town, look further afield. One place to consider is The Angel Hotel in Abergavenny, named Hotel of Year in Wales 2016 and a 45-minute drive south of Hay, or a 22-mile bike ride (grab a lunch-to-go to enjoy at the festival).
Entry into the Hay Festival is free of charge; ticketed events are held in 10 tented venues. A complete calendar of programming is online, and tickets are available for purchase.
In addition to the original Hay Festival in Hay-on-Wye in May into June, the festival goes global: Hay Festival Queretaro, Mexico, September 7-10; Hay Festival Segovia, Spain, September 16-24; European Children's Literature Hay Festival Aarhus, Denmark, October 26-29; Hay Festival Arequipa, Peru, November 9-12; and back to Wales for the Hay Festival Wales Winter Weekend, November 24-26.