Have Kids, Will Travel
"We were travelers. It was in our blood, and the idea that we would ever stop traveling just because we had kids never sat well with us"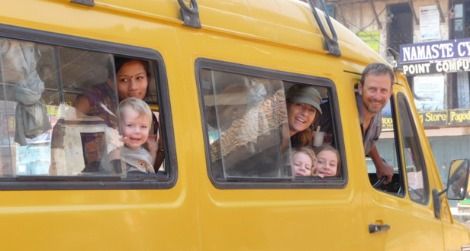 When avid travelers Paul and Denise Lambrecht were expecting their first child, it never occurred to them that their lifestyle of spontaneity would have to end. In fact, it didn't, and in many ways their most rewarding adventures were about to begin. Just three months after their daughter Ruby was born in 2001, Paul and Denise, each 30 and living in rural Sonoma County, California, turned to each other, shrugged and said, "let's leave the country."
So says Paul, who, with Denise, worked seasonally at the time as a teacher with a wilderness living course in Colorado. The Lambrechts rented out their home to generate some income and took flight. They landed in Portugal without plans, with no reservations and with an infant on their backs. They traveled by bus and train, visited beaches and mountains, found cheap lodging each night and generally immersed themselves in the nation's family-based, food-loving, wine-soaked culture. Paul recalls the joy of taking Ruby into village bars and, while ordering espresso and wine, seeing Ruby swept up by strange arms and passed around by the admiring locals. "It was something you wouldn't ever do in most places in America," he says. The family rented a house for a time in Ericeira and eventually migrated eastward and northward. They explored the Pyrenees, settling into a small mountain community called Panticosa for several weeks, and finally moved on to France, which they toured north to south. The trip lasted through the summer.
The Lambrechts had more children—Ruby, 10, Ani, 7, and Noah, 3—and their mobility has not diminished.
"It never felt hard to travel with kids," Paul says. "It just felt like what we would do. We were travelers. It was in our blood, and the idea that we would ever stop traveling just because we had kids never sat well with us."
So they kept moving, and almost every summer for a decade the Lambrechts have voyaged abroad. Three years ago, the family spent six months journeying through Asia. They trekked in Nepal and went as far east as Laos and the shores of Thailand.
Paul hopes his kids are absorbing the important lessons of global travel. "I want them to see themselves as part of a world population and maybe even understand someday how American culture drives a material need that is way out of balance with the rest of the world." Paul believes that he, Denise and the children have developed an appreciation of a life uncluttered by things. He thinks that material possessions like the toys that amass in heaps in many parents' homes can be more cumbersome than the children themselves.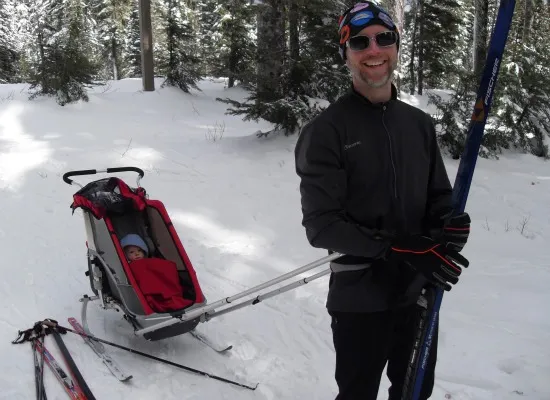 Of course, taking the kids on globetrotting forays isn't possible for all families. But in Portland, Oregon, Barb Myers and Eric Eggers still get outside, often into some fantastic scenery, with their 10-month-old son in tow. This winter, they have been cross-country skiing regularly while towing young Sebastian behind them in a Chariot child-carrier, a versatile contraption that may be fitted with wheels or skis as the terrain and season deem necessary. "It's pretty sweet," Myers says. Though she and Eggers don't move as far or as fast as they once did, Sebastian weighs 23 pounds and may be to thank for improving levels of physical fitness in his parents.
(Then again, the resistance training that Sebastian provides is nothing compared to that of the almost-200-pound sled that Felicity Aston is currently dragging to the South Pole. She recently tweeted that she has been breaking down in tears almost every day, though a more recent tweet buoyantly told of her crossing the 88th southern parallel, putting her 138 miles from the polar research station.)
In the world of parenthood, the most tyrannical dictator may be nap time, which can govern the functioning of an entire household and essentially put its occupants under house arrest. But Myers and Eggers never accepted such shackles; they often just strap Sebastian into the Chariot when he grows drowsy, and as they ski into the woods, the kid conks out. It works perfectly.
"He naps and we ski," Myers says.
Meanwhile, what do the kids take away from experiences afield and abroad? Sebastian, who has slept through many a scenic view and dreamy snowscape in his cozy Chariot, may be too young to remember the joys of cross-country skiing in Oregon, but at some level, Myers and Eggers hope, he's absorbing the experiences.
"The hope is that by being exposed to the outdoors, he'll someday take a shine to all this," she says.
That's what Michael Berg and Laura Cary believe, too. Also of Portland, they have an 18-month-old son named Calder who, from the time he was three months old, has been accompanying his parents on hikes, skiing excursions (with the ever-handy Chariot trailer) and car-camping trips into the primitive woods of the National Forest.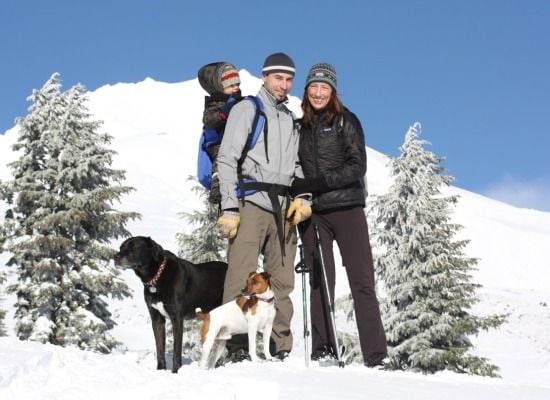 "He's like a sponge at 18 months," Berg says, "and he's absorbing all of this." Cary notes that her own parents took a two-month summer tour through the Alaskan bush when she was just eight months old. It's not an adventure she remembers, but she thinks the trip left a positive print deep within her psyche. "Starting kids in the outdoors early is important because everything they see gets ingrained and impressed into their being," she says.
Cary read an influential book recently called Last Child in the Woods. "It tells about how so many kids are deficient in outdoor experience and activity," she says.
And it doesn't have to be that way. By all accounts, traveling and adventuring with children is rewarding and thrilling, with the odd misadventure arriving with uproarious tantrums and atomic-scale meltdowns—which, of course, will happen wherever a family happens to be. As Michael observes, "our baby, now toddler, will probably have moments of frustration and crying no matter where we are. Being out in the forest just makes it more enjoyable for all of us."