Has Gettysburg Kicked Its Kitsch Factor?
Historian Tony Horwitz travels to the Civil War battlefield and finds that even where time is frozen, it's undergone welcome changes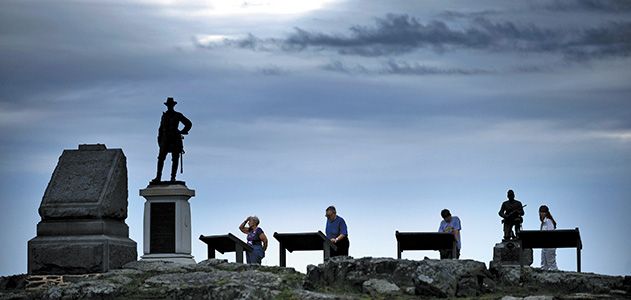 Climbing over a snake-rail fence, Peter Carmichael leads me across a field of grass stubble and gray boulders. On this wintry day in 2013, the field is frozen and silent. But 150 years ago it was filled with the shriek and smoke of the bloodiest battle in American history.
"The Confederates who charged here were mowed down in minutes," says Carmichael, director of the Civil War Institute at Gettysburg College. As evidence, he shows me photographs taken just after the battle of bullet-riddled corpses. Then he walks a few paces and lays the 1863 images on the ground. The field in the photographs aligns perfectly with the one we're looking at in 2013, right down to clefts in individual boulders. All that's missing are the dead. "That's what's so chilling and special about Gettysburg," Carmichael says. "You can almost enter the past. It's like time travel."
Recapturing history with such precision wasn't always so easy at Gettysburg. When I visited as a boy in the 1960s and '70s, the battlefield contours included the Home Sweet Home Motel, a 300-foot observation tower and a Stuckey's restaurant. Until just a few years ago, the battlefield visitors center stood near Gettysburg's "High Water Mark" (the farthest point reached in Pickett's Charge) and within sight of a wax museum, a restaurant called General Pickett's Buffets and a clot of souvenir shops.
Tourist kitsch has always been part of Gettysburg's appeal and much of it remains. But due to an extraordinary rehabilitation of the battlefield in recent years, and nonmilitary sites in and around the town, visiting Gettysburg is a much richer experience than the one many Americans may recall from school and family trips in earlier decades.
This is also a community that takes history seriously while having serious fun. Karin J. Bohleke is a case in point as is her husband, a scholar at Gettysburg's Lutheran Theological Seminary, the cupola of which served as a lookout for both armies in 1863. I met the couple in the ballroom of the Gettysburg Hotel, teaching quadrilles and reels to 50 people practicing for a period ball. "Good Victorian posture!" Bohleke instructs. "And ladies, when you step back, tilt forward on your toes so you won't trip on your hoop skirts."
This casual blend of past and present suffuses Gettysburg, attracting people who love to live history, and not just the Civil War. In warm weather the streets fill with battle re-enactors, Lincoln impersonators, ghost-tour leaders carrying lanterns, and others dressed in everything from buckskins to World War II attire (the summer dress code seems to be "any time but the present"). Residents are so used to this eclectic parade that they don't even blink at buying groceries beside Stonewall Jackson or Clara Barton. "It's the banality of weirdness," says Ian Isherwood, who teaches history at Gettysburg College. "People feel this license to be whomever they want."
A more somber air prevails on the fields and ridges around town, where the Valley of Death and Slaughter Pen speak to the carnage that occurred here in 1863. That summer, following repeated victories in Virginia, Robert E. Lee led his army into Pennsylvania, hoping to gather supplies and crush his demoralized foes by beating them on Northern soil. A Union Army shadowed Lee's, but neither side knew the other's exact position. When units from the two armies collided near Gettysburg, reinforcements quickly converged along the ten roads leading into the town. Unlike most major Civil War battles, which resulted from long campaigns for control of strategic rail or river hubs, Gettysburg was a sudden and improvised clash in and around a rural college town. The three days of fighting caused 51,000 casualties—almost a third of all the soldiers engaged, and more than 20 times the town's civilian population.
Gettysburg turned the Civil War in the Union's favor, and Lincoln's address near the soldiers' cemetery four months after the battle is the most famous in U.S. history.Gettysburg is also the world's largest sculpture garden, with over 1,300 monuments dotting miles of countryside. In short, there's an awful lot of hallowed ground to cover. So it pays to be selective and to exercise some old-school virtues: map-reading, advance study and most of all, imagination. Otherwise, Gettysburg may seem just a peaceful expanse of farmland, marble and mute cannons—the opposite of the violent and deafening scene of destruction the battlefield commemorates.
Fortunately, the Gettysburg National Military Park does a stellar job of interpreting the battlefield, beginning with an introductory movie and museum at a palatial new visitors center. The park service has also just restored Gettysburg's famed cyclorama, a 377-foot circular painting with a viewing platform at the center, so that combat swirls dizzyingly around you. Painted on canvas in 1884, the artwork melds into a 3-D diorama, creating the illusion that you can step off the platform and into Pickett's Charge.
The changes to the 6,000 acres of battlefield park are even more striking because of an ambitious rehabilitation over the past 12 years. Not only have intrusive modern structures and utility lines been removed. The park service (which has a tree on its logo) has cleared woods that weren't there in 1863, replanted orchards that were, and rebuilt miles of the zigzag "worm" fences that formed such a distinct and critical part of the original battleground.
While hard-core buffs might dream of even more—roads returned to wagon trails and planes banned from Gettysburg's airspace—the result is a rare re-creation of the mid-19th century. "We're not doing DNA analysis to determine exactly what type of heirloom apple grew in which orchard," says Katie Lawhon, a park service ranger, "but we're doing what's realistic and sustainable to bring back the 1863 landscape." This has brought environmental dividends, too, including the return of long-absent birds and of a rare mammal called the "least shrew."
The rehabilitation has also drawn attention to parts of the battlefield that were once hard to reach or make sense of because of changes in the land. Most visitors still cluster at famous sites, such as Little Round Top, where Joshua Chamberlain and his Maine men repelled a flank assault, or the Angle, where Pickett's Charge crashed into the Union line. But serious buffs like Peter Carmichael of the Civil War Institute prefer horse and walking trails removed from the tourist mobs. Clutching maps and photographs from the 1860s, he leads me on a narrow path to the base of Culp's Hill, where the fighting was so intense that men battled into the night.
"That's a burial trench," he says, pointing at a depression about three feet deep and six feet wide. "It was filled with Confederate soldiers." Though the bodies were later disinterred and moved to gravesites in Virginia, the land still bears the scars. Carmichael reads letters from John Futch, who saw his brother suffer and die while fighting here. "We lost all of our boys nearly," Futch wrote his wife, declaring himself "half crazy" and desperate to return home. He deserted soon after the battle, but was caught and executed. "Places like this, where you can link the landscape to individuals, remind you that the war wasn't all glory and noble sacrifice," Carmichael says.
After a half-day of battle tourism, I retreated into town, which I'd barely explored on previous visits. One reason: The street closest to the battleground is a gaudy strip that includes the wax museum, a model train museum, Servant's Olde-Tyme Photos and shops peddling cap guns, toy soldiers and paranormal gear for the town's dozen ghost tours. But just beyond this skirmish line of schlock stretches the town's historic heart, a grid of handsome streets and buildings, anchored by Gettysburg College. The bucolic hilltop campus arose before the Civil War on land owned by Thaddeus Stevens, the radical abolitionist played by Tommy Lee Jones in the movie Lincoln. An exhibit on Stevens includes his light brown wig, boots designed for his club foot, a photograph of the black woman he allegedly shared his bed with, and a document quoting Stevens' words shortly before his death: "My lifelong regret is that I have lived so long and uselessly."
Lincoln was likewise modest (and wrong) in declaring at Gettysburg, "The world will little note, nor long remember what we say here." The story of his 272-word address is well told at the David Wills House, a museum inside the home where Lincoln stayed the night before his speech. The grand brick home features the room where Lincoln may have polished his words, and the mahogany bed he slept in. I also learned that the Gettysburg Address was recorded by reporters at the scene, not always with accuracy. One newspaper wrote that Lincoln closed his speech by resolving that, "government for and of the people, born in freedom, might not perish from apathy." Another newspaper considered Lincoln's address a collection of "silly, flat, and dishwater utterances."
Other small museums in town tell of the grim scene that prevailed in Gettysburg during and after the battle. Soldiers fought street to street and snipers set up quarters on porches and in attics, as civilians huddled in their cellars. Bullet holes are still visible in some homes, including one where a 20-year-old woman was shot dead while baking bread and hastily buried with dough on her hands. After the battle, the town became a makeshift morgue and hospital, and the stench—there were an estimated six million pounds of dead flesh, including thousands of horses, decomposing in the summer heat—lingered for months. "I felt as though we were in a strange and blighted land," one resident wrote.
Signs of the slaughter still remained in November, when Lincoln came to dedicate the new soldiers' cemetery at the edge of town. Those hired to gather and inter the dead, at the rate of $1.59 a body, hadn't finished their work; the cemetery was filled with fresh mounds and unfilled graves. So Lincoln spoke from a temporary platform in the adjoining civilian cemetery. No one knows exactly where the platform stood. The soldiers' cemetery is nonetheless a stirring site: a hilltop carpeted with simple blocks of stone, many of them marked "Unknown," since Gettysburg was fought in an era before dog tags. Roughly a third of the Union dead couldn't be identified.
At sunset, I descended Cemetery Ridge—entering a bar that is built into the historic slope. Hence the bar's name—the Reliance Mine Saloon—and its ambience, which is roughly that of an underground shaft: windowless, low ceiling, a few mining tools on the wall. Though it's the rare establishment in town that has no Civil War décor, the Reliance Mine is where battlefield guides, local historians and other buffs go to drink and discuss the 1860s the way others debate sports or politics.
"I'll be here filling beers and listening to arguments over Stonewall Jackson or the difference between tintypes and daguerreotypes," says the bartender, Eric Lindblade. Actually, he doesn't just listen; he participates. "I'm a history dork like everyone else here." In fact, he's writing a regimental history of the 26th North Carolina, one of the units that almost broke the Union line in Pickett's Charge.
The tavern's most famous regular is historian William Frassanito, re- nowned for his groundbreaking analysis of Civil War photographs. His books form a shrine behind the bar and Frassanito holds informal office hours, beginning at 10:30 in the evening. He explained to me why Gettysburg is so visually well-documented: The battle occurred close to photographers based in Washington, and Union forces held the field at the end of combat. "Alexander Gardner and others had access here that they didn't have after most battles," he said.
We closed the bar at 1 a.m. and I marched the mile to my hotel, weighed down by Minié balls a relic shop owner had given me. In the morning, feeling rather battle-weary, I skirted the Civil War in favor of a different century. Just over a ridge from the military park lies the farm that Dwight Eisenhower used as a presidential retreat and a retirement home. It's now a national historic site, managed by the park service, which provides ranger-guided tours.
Eisenhower first visited Gettysburg during World War I and commanded troops training for tank warfare on the field of Pickett's Charge. He loved the landscape and in 1950 bought a 189-acre farm adjoining the battlefield park—the only home he and his wife, Mamie, ever owned. Though the remains of a Confederate soldier were found in the backyard, the farm is otherwise a curious time capsule of cold war America. The Eisenhowers transformed the farm's neglected house into a plain brick Georgian, more suburban than rural and strikingly modest for the Supreme Commander of Allied Forces in World War II and 34th president of the United States.
The interior is likewise unassuming, apart from a formal living room crammed with porcelain, Ming vases, a Persian carpet from the shah of Iran and other expensive gifts (the Eisenhowers were the last White House occupants allowed to keep such gifts without paying for them). Ike considered the living room "stuffy" and preferred the glassed-in sun porch, where the Eisenhowers often ate on TV trays (Mamie liked soaps, Ike preferred "Bonanza" and "Gunsmoke"). He also used the sun porch as a painting studio and a number of his landscapes and portraits hang in the house. But most of the décor reflects Mamie's down-home tastes. Though the daughter of a millionaire, she loved cheap knickknacks, including Hummels, a plate she bought for $2.61 at the battlefield Stuckey's and plastic presidential figurines she collected from cereal boxes.
Downstairs is a kitchen filled with green linoleum and appliances from the "I Love Lucy" era, Ike's den (books, old weapons, fishing flies) and items such as a rotary phone (EDgewood 4-4454) that bring a wave of nostalgia to anyone born before 1960. "A lot of visitors say they feel like they're back in their grandparents' house," ranger Rick Lemmers told me.
But life here wasn't quite so homey as it first appears. During Ike's presidency, particularly during his recu- peration from a heart attack in 1955, the farm served as a temporary White House. Ike met with de Gaulle, Khrushchev and other leaders and was guarded by Secret Service agents (whose headquarters in a milk barn included a safe that held the satchel holding nuclear codes). Ike also turned the property into a major cattle farm, which he liked showing off to world leaders.
The house and gardens, which include Ike's putting green and skeet range, are not only a museum piece of 1950s Republicanism. They also offer panoramic views of the Pennsylvania countryside free of monuments, cannons and tourist buses. I felt a similar sense of escape that afternoon as I drove west from town, past rolling farms, orchards and picture-book barns. About eight miles from Gettysburg, I followed signs leading to the Adams County Winery, one of many vineyards that have sprung up in Pennsylvania in recent years.
Housed in a converted barn, the tasting room has old beams and an ambience very different from the Reliance Mine Saloon I'd visited the night before. Visitors listened raptly as a "wine-tasting associate" intoned: "Pairs nicely with cheesecake....Sweet, with a dry finish....Would you like to sample the chardonnay?"
I did, as well as a wine made from blueberries, another from apples. Not exactly grand cru, but a nice and unexpected break from burial trenches and battle-themed tourism. Then I studied the labels. The blueberry wine was Yankee Blue, another I'd sampled was Rebel Red. A third was named Traveller, after Robert E. Lee's horse.
"We're the official winery of the 150th commemoration at Gettysburg," explained Andy Mello, a wine associate, handing me a fresh glass. He brought out a bottle with a mournful picture of Lincoln on the label. "This is our hallmark wine. It's called Tears of Gettysburg."
I doubt this is what Lincoln had in mind when he urged us, "the living," to finish the work of those who "gave the last full measure of devotion" at Gettysburg. But I still had some Civil War sites to see, and Andy assured me the wine was an appropriate sacrament for my pilgrimage. "Have some of this in your system," he said, "and you'll be ready to go back into battle."