Hallowed Highway
From Gettysburg to Monticello, a 175 mile thoroughfare leads through a rich concentration of national history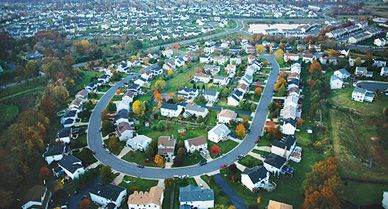 "How do I get to Ball's Bluff—the Civil War site?" I ask a docent at the visitors' center in Leesburg, Virginia. "Oh, it's easy," she replies with a wave of her hand. "You just drive past all the housing until you can't go any farther."
Leesburg, until the late 1980s a sleepy village some 40 miles outside Washington, D.C., has nearly tripled in population—to 36,000—since 1990. I park at the end of a street called Battlefield Parkway, lined with gated communities, and continue on foot down a small dirt track. The trail peters out at a wooded hillside known as the Bluff, site of a little-known but crucial battle. Here, in October 1861, Union troops approached a high bank overlooking the Potomac and stumbled upon a Confederate contingent, 1,709 men strong. Rebel soldiers slaughtered the Union force as they fled over the cliff edge; the corpses, floating downriver to Washington, shocked the North, which had anticipated a short, decisive war.
At Ball's Bluff, less than half a mile from suburbia, the path leads under a canopy of maples near the spot where Union soldiers met their deaths. I sit beneath the trees, the woods around me so quiet I can hear—well before I see—a fawn in the underbrush.
Throughout the mid-Atlantic, places freighted with the nation's history—from legendary sites such as southern Pennsylvania's Gettysburg Battlefield to now-obscure locations like Ball's Bluff—are increasingly threatened by development. Loudoun County, Virginia, home to Leesburg and other expanding Washington, D.C. suburbs, ranks as the nation's fastest-growing county. In nearby Pennsylvania, a proposal calls for construction of a casino and resort complex just outside the Gettysburg battleground.
In 1996, Cate Magennis Wyatt, a former developer who lives in the historic Loudoun County village of Waterford, organized a coalition of politicians, conservationists and businesspeople to save a 175-mile stretch of routes 15 and 20, known as the Old Carolina Road, between Gettysburg and Monticello in Virginia. Preservationists have designated travel along the corridor—containing an extraordinary concentration of Revolutionary War, Civil War, African-American, Native American and presidential history—as a "Journey Through Hallowed Ground."
Almost every step of the way, Wyatt tells me, connects with our past. Near Thurmont in northern Maryland, for example, "the site of the furnace where they were making cannonballs for [the Revolutionary War battle of] Yorktown" can be found right along the road. Richard Moe, head of the National Trust for Historic Preservation, believes this landscape holds more history "than in any comparable space in America."
Last summer, the National Trust placed Hallowed Ground on its list of America's most endangered places. "History is in plain sight," Wyatt says. "Just drive [the route] and you'll feel the same way."
Although Gettysburg Battlefield draws more than one and a half million visitors annually, the town itself still seems like a quaint village. Across from a sprawling museum devoted to the decisive engagement fought here in July 1863—the Union victory is considered the turning point of the war—lies Soldiers National Cemetery, its rolling hills containing the bodies of more than 3,500 soldiers, roughly a third of those killed on both sides. It was at the dedication of this cemetery on November 19, 1863, of course, that Lincoln delivered his Gettysburg Address.
"You feel the great crush of souls here, a residual energy," says Mark Nesbitt, a former National Park Service employee and author of several books on the ghosts of Gettysburg. "There are between 800 and 1,500 bodies unaccounted for here." He fears for the park. "There's no time when there is no traffic. Everyone is using Route 15 as a commuter route."
"It seems hard to believe now, but Frederick [pop. 57,000] was the frontier," says historian John Fieseler, of Maryland's second-largest city. "During the French and Indian War, it was the last point you could go west and still be safe." The town was at the junction of a major route leading west from Baltimore and a north-south trade artery that would become Route 15. Skirmishes between Colonials and Native Americans, in addition to brigands and deadly diseases, posed constant threats. The area, one traveler wrote, was "a wilderness region infested by a semi-barbarian population."
In fact, Fieseler says, it was the local population's fears for their safety that prompted the first protest against the British Crown—a full decade before Lexington and Concord. In 1765, after Britain failed to provide security following passage of a new stamp tax, Frederick's citizens burned British officials in effigy.
Many cities near routes 15 and 20 house Civil War museums, but Frederick, where 10,000 Union and Confederate soldiers were treated during the Battle of Antietam, boasts a museum of Civil War medicine. Amid the gruesome but compelling exhibits—everything from bone fragments to prosthetic limbs and amputation kits—the museum dispels some common misconceptions. Most Civil War surgeons, for example, did not operate without anaesthesia; they used painkillers—ether and chloroform—95 percent of the time. "People think [the soldiers] were all just biting bullets," says the museum's director, George Wunderlich.
Beyond Frederick, Route 15 narrows from four lanes to two, winding through dense forest into the heartland of the Civil War. Another all-but-forgotten struggle took place on a battlefield at Monocacy, Maryland. On July 9, 1864, nearly 6,000 Union forces, many of whom had seen virtually no action, held off 15,000 Confederates making a last-gasp attempt to march on Washington. Today, the site, south of a series of strip malls, is a national battlefield, where trails crisscross green pastures. In 2001, preservationists led a campaign to purchase an additional parcel of land here, in partnership with the National Park Service, for $1.9 million. "Five years ago, we were buying land at $5,000 per acre," says Robert Luddy of the Brandy Station Foundation in Culpeper County, Virginia, another group of Civil War-site preservationists. "Today we're negotiating to purchase a battlefield—at $30,000 per acre. At a certain point, conservation becomes impossible."
After crossing into Virginia, the road widens again, skirting horse farms enclosed in white fences. A 40-minute drive south of Monocacy, on a hill just south of Leesburg, rises Oatlands Plantation, its massive Greek Revival mansion dating from 1804. The estate, once set on 3,000-acres, contained a church, a mill and extensive gardens. Although today reduced to roughly 300 acres, Oatlands nevertheless affords a sense of this hill country as it must have appeared in the 18th and early 19th centuries. New housing tracts, however, flank the surrounding roads. "So much of this landscape is disappearing," says David Boyce, Oatlands' executive director. "But take a photograph from the front portico of Oatlands looking due south—all you can see is pristine rural area."
South of Oatlands, the terrain grows steeper, dotted by 19th-century hamlets and white clapboard churches. In Culpeper, the historic town center is crowded with antebellum cottages. "You have all the styles prevalent in the Victorian era," says local historian Eugene Scheel. "Queen Anne, Italianate, Colonial Revival."
Although architecture constituted a defining passion for Thomas Jefferson, the Francophile third president had another obsession: vineyards. After interludes as an American diplomat in Paris, Jefferson attempted to cultivate grapes at his Monticello estate; he failed to produce outstanding vintages.
But in the past three decades, Virginia vintners, having discovered that cabernet franc grapes thrive in the area's humid climate, have planted extensive vineyards. (Today Virginia boasts more than 100 wineries.) Near Culpeper, off Route 15, signs point the way to Old House Vineyards, which has won awards for its reds. Rows of trellises line the entrance, recalling the approach to a French château. Yet Old House, set on 25 acres, has an unpretentious feel. "We're not a snooty winery," says owner Patrick Kearney, who purchased the farm in 1998. After buying a bottle of red, I notice ads posted for an upcoming local event any French vintner would no doubt disdain: a chili cook-off.
The journey through Hallowed Ground ends in Charlottesville at the University of Virginia, Jefferson's architectural masterpiece, its soaring Rotunda modeled on the Pantheon in Rome. The presence of 20,000 students has transformed downtown Charlottesville into a lively center of restaurants and music clubs along Main Street. Twenty minutes away is stately Monticello and Ash Lawn-Highland, the residence of President James Monroe. Originally a simple farmhouse (Monroe called it his cabin-castle), Ash Lawn was a working farm; its small scale imparts an intimacy not to be found at Jefferson's palatial estate.
The landscape surrounding Monticello, in Albemarle County, is also threatened by development. The Hallowed Ground initiative's Wyatt says the solution is to create a real estate investment trust to attract investors to buy land bound by preservation easements. "Right now, there is only one market for the land, and that's developers," Wyatt says. "We must be as serious about buying land as developers."