Great Walks of the World
The fact that people opt to walk today tells us there is something virtuous and irresistible in the plodding of one foot forward after the other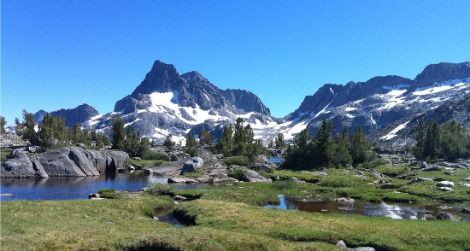 After cycling for weeks, now I'm thinking about walking. Foot travel has been the way of the wayfarer since men and women were still dragging their knuckles. The fact that people still opt to walk today, in the age of the wheel and the combustion engine, tells us there is something virtuous and irresistible in the plodding of one foot forward after the other. And without question, walking works. Using their legs and feet, many people have moved thousands of miles overland, and in many places the trails they wore in the earth are used by modern recreational trekkers who follow in the footsteps of their forebears. Following are five of the world's great walks—with more to come next week.
Appalachian Trail. Leading 2,181 miles through 14 states and the historic forests and backwoods shanties of Appalachia, the Appalachian Trail was conceived in 1921, and by 1937 it was ready for walking. Today, 4 million people walk parts of the trail every year. Those attempting a through-hike number in the thousands, and only one in four finish. From Maine's Mount Katahdin to Georgia's Springer Mountain, the whole package takes as long as six months as hikers accumulate a total elevation gain equal to climbing Mount Everest 16 times.
John Muir Trail. This path through the high Sierra Nevada of California immortalizes the landscape that naturalist John Muir worshiped. And at just 211 miles long through beautiful alpine country, it's both epic and doable. From the south, the JMT begins at the lower 48 states' highest peak, Mount Whitney; crosses mountain passes more than 13,000 feet in elevation; traverses some of the world's most beautiful high altitude wilderness; never touches a road and finally lands hikers in one of the world's most esteemed natural places, Yosemite Valley. The trail generally requires three weeks from start to finish. If you happen to have a little extra time on either side, you could walk from Mexico to Canada on the Pacific Crest Trail, of which the JMT is just a small part.
Coast to Coast Walk. A walk that doesn't demand superb physical condition or half a year to complete, this 220-mile path crosses Northern England and leads through the evergreen verdure of the Lake District, Yorkshire Dales and North York Moors National Parks, from the Irish Sea to the east coast of England. Writer and walking enthusiast Alfred Wainswright devised the trail and suggested that hikers touch their toes in the Irish Sea at St. Bees before starting and step right into Robin Hood's Bay after 10 or 20 days of trudging. Or else it doesn't count.
Great Wall of China. No, you can't really see it from space. That was a myth more or less debunked in the past decade or so by astronauts. However, while the Great Wall of China no longer plays a role in international affairs, it makes one heck of a walking platform. Unlike the heavily trammeled Camino (see below) or Appalachian Trails, the Great Wall demands ingenuity, craftiness and durability in anyone who attempts to plod the length of it, which is broken, crumbled or gone in many sections. Australian Mark Scholinz walked the wall in 2007. He encountered frozen steppe country, wolf tracks, endless hospitality and a whole lot of rice and tea.
Camino de Santiago. Once a path of the pious, this European network of trails converges toward its terminus as it leads many thousands of walkers each year to Santiago de Compostela in northwest Spain. Though founded by deeply religious pilgrims more than a thousand years ago, "the Camino" today is simply a recreational venture for most making the pilgrimage. It is also hardly an adventure anymore, as every step of the way has been walked a million times before, with many miles of pathway paralleling freeways and cutting through suburbs and farmland. One highlight of the trail is certainly the Cruz de Ferra, a 25-foot-tall cross which pilgrims have built by depositing knickknacks and trinkets and stones. Today, the rockpile is is almost 20 feet high, a sacred midden built over centuries. It's truly a wonder just to touch it.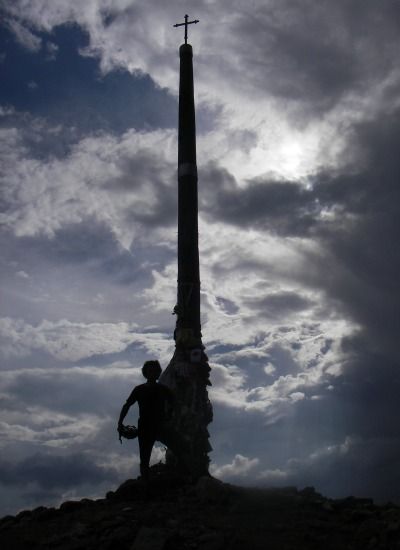 Reading About Walking:
Don't feel like walking the walk? The armchair is one of the comfiest vehicles of travel we have. You'll need a good book, and here are several classics of adventure travel.
The Snow Leopard. In this sober account, we find author Peter Matthiessen to be a man of Buddhism, western science, literature and a love of big cats. In 1972, when biologist George Schaller invited him on a 200-mile trek into the Himalaya to track the rare blue sheep, Matthiessen, now in his mid-80s, accepted, unable to resist the opportunity to see a snow leopard. It was the fall, and their trip led into one of the most mysterious, dangerous yet peaceful regions of the world under blue skies and a warm sun. By November, frostbite and blizzards were ever-present dangers. The two Americans, accompanied by Sherpas and porters, do eventually see the blue sheep, while all along the high and rocky trails lurk the haunting signs of the snow leopard.
Danziger's Travels. English author Nick Danziger points out early in this book that he was not interested in walking a record distance or cycling across a continent when he took up the old trade route of the Asia-to-Europe silk traders. Rather, he utilized whatever local means of travel were available in China, Pakistan, Afghanistan, Iran and Turkey—and often he was walking. Danziger's travels lasted 18 months, for part of which time he went disguised as a Muslim. The book is an adventure account almost as simple as the travel genre gets, but few are better.
The Places in Between. Journalist Rory Stewart walked for 16 months through Iran, Pakistan, India and Nepal in 2000 and 2001. Then, in the virulent months following the September 11 attacks, he found himself facing Afghanistan. The month he spent walking across it would produce, eventually, one of the best modern travel books I've found. Stewart survived on the food and shelter of kind strangers, but many Afghans, hardened by war and the desert, were downright vicious. Stewart was determined to walk, and he firmly refused rides across known danger zones. For part of the way, a trio of Afghan soldiers escorted him. But it's the many miles he walked alone (and with a great shaggy dog adopted along the way) that make readers marvel, at times, that Stewart lived to write about the trip.
A Walk in the Woods. He's pudgy. He's brainy. He has a strange penchant for stupid knickknacks and trivia from his Americana Midwest childhood. And for some reason, late in the 1990s, he decided to walk partway across America. In the end, comic Bill Bryson only completed, in bits and pieces, 800-some miles of the Appalachian Trail, but it was enough to provide him with the fodder he needed to write one of the funniest travel books of our time.