From the Secretary: Guiding Light
New palm-size computers show videos and maps to lead visitors around— even to a good cup of joe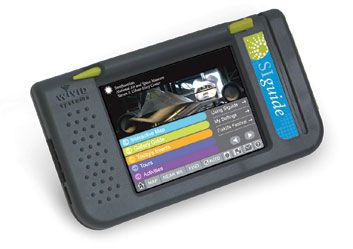 A trusted guide makes travel all the more rewarding. A good one tells us about what we're seeing, makes sure we're well fed and keeps us from getting lost. Starting this summer, visitors can journey through the Castle and the collections of three Smithsonian museums in the helpful company of a personal guide—a hand-held, electronic one. The new SIguides are part of a pilot program designed to better provide visitors with all sorts of information, including where to get a cup of coffee or a bite to eat. SIguides are interactive maps, communication devices, sketchbooks and friendly, knowledgeable companions all in one. When everybody in your group has an SIguide, it's easy to stay in touch, even if you've wandered into different parts of a building, by sending wireless messages to one another.
At the Smithsonian Information Center in the Castle, visitors can try out SIguides for free as they roam around—and learn about—the Great Hall, the Commons, Schermer Hall and James Smithson's crypt. In the museums, SIguides are available for rent. Visitors to the National Postal Museum can choose from several SIguide—led thematic tours that explore the history of the Postal Service. When you see something you want to learn more about after you leave the museum, the SIguide lets you save information in a personal scrapbook, which you can view on a customized, personal Web site.
Many visitors toting SIguides at the National Museum of American History (NMAH) will want to see the ruby slippers that Judy Garland wore in The Wizard of Oz. With an SIguide, you can look at the slippers and, at the same time, watch a video about them. You'll hear a curator tell the story about why the filmmakers decided to change the slippers from silver to ruby-red, an anecdote illustrated with images of the movie's script. The SIguide can even play a clip from the 1939 movie itself. At NMAH's "American Presidency" exhibition, SIguides offer visitors short films to enrich their understanding of the history behind objects such as the portable lap desk on which Thomas Jefferson wrote the initial drafts of the Declaration of Independence. And an SIguide allows you to do something you'd never be allowed to do in reality: you can move the desk around on your SIguide screen and lift its hinged writing board. You can also open the locking drawer that once held Jefferson's pens, papers and inkwell.
At the Steven F. Udvar-Hazy Center, part of the National Air and Space Museum, SIguides show rarely seen historic footage as well as interviews with pilots, designers and engineers. The result is a museumgoing experience that immerses visitors fully in the history of air and space travel. While viewing the Space Shuttle Enterprise with an SIguide, you can watch a video about all the work required to ready the shuttle for display. In an interview featured on the SIguides, a pilot who flew the museum's SR-71 Blackbird, which made the trip from Los Angeles to Washington Dulles airport in 64 minutes, discloses newly declassified information about his top-secret flights.
Every object in every museum at the Smithsonian is full of such stories. The SIguide is just one new and exciting tool for sharing them with visitors. When James Smithson made his bequest to found the Institution, a place he envisioned as an "establishment for the increase and diffusion of knowledge," he could not have foreseen how rapidly technology in museums would develop—from multimedia exhibitions to cutting-edge Web sites to the astonishing little SIguides, each of which has thousands of times more memory than the computer aboard Apollo 11—but is only about 1/250th of its size. Then again, forward-thinking scientist that he was, maybe he imagined it all.