Look Down If You Dare: 14 of the World's Most Terrifying (and Beautiful) Glass Skywalks
A new glass bridge in China is suspended 590 feet in the air — and visitors brave enough to cross it can see all the way down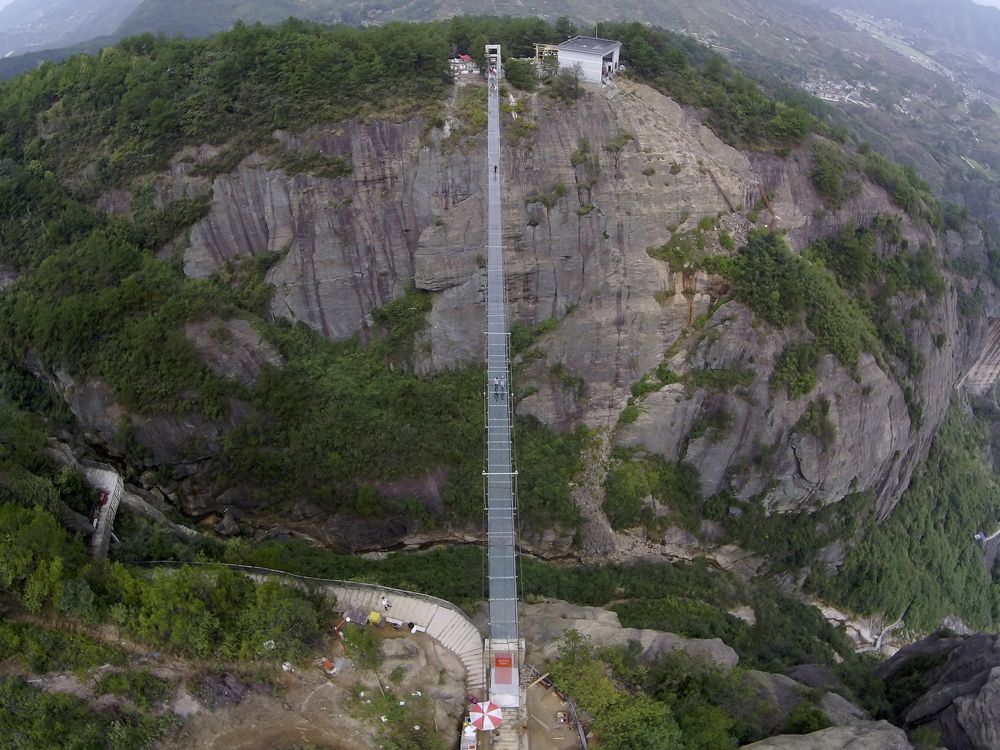 On a ledge hundreds of feet in the air, the best way to avoid anxiety can also be the hardest to stick with: Don't look down. As long as you keep your eyes up, you won't know how high you stand. In recent years, a trend of glass-bottomed structures has swept across the world. So what happens when floors become transparent and the solid ground beneath you no longer obscures your true height? What changes when looking down is the whole point?
Last week, a 984-foot-long glass bridge opened in China's Hunan province, called Haohan Qiao or "Brave Man's Bridge." It is suspended 590 feet above Shiniuzhai National Geological Park between two sheer cliffs. Matt Hickman, an architecture writer at mother nature network, calls it "the biggest, baddest and most immobilizing glass-bottomed suspension bridge in all of China." Some of the first tourists to cross the bridge did so on their hands and knees; even video of their crawls seems harrowing.
The bridge may look scary, but it's safe. Despite a recent report of a crack in another Chinese glass bridge, engineers at Haohian Quiao say their bridge was built to last. Haohan Qiao boasts reinforced panes, which are 25 times stronger than ordinary glass, supporting a tremendous amount of weight. A team of 11 engineers worked on the bridge, which was originally wooden, installing each inch-thick pane onto a reinforced steel frame. "The bridge we build will stand firm even if tourists are jumping on it," a worker told the state-owned China News Service, according to a translation by CNN. 
China is the world's leader in extreme glass walkways. In the last year, glass viewing platforms opened to tourists in Longgang National Geological Park, Wulong National Geological Park as well as the Yuntaishan skywalk, and Haohan Qiao won't be the country's boldest project for long. Another bridge still under construction in Hunan — a 1,410-foot long, 984-foot high behemoth — is scheduled to open sometime this year.
They're not alone. The Grand Canyon Skywalk, a 70-foot-long cantilever bridge suspended above the massive canyon, opened in 2007. A veritable surge of glass tourist attractions followed. At the top of the Willis Tower in Chicago, a small glass case known as "the Ledge" juts out above the Windy City. (That one had a shattered panel, too.) The Aiguille du Midi Skywalk, a glass box hovering above the French Alps, opened in 2013. Glass floors have been retrofitted onto some of the world's most iconic architecture, including the Eiffel Tower and London's Tower Bridge. People have ample opportunity to dare themselves to walk on the sky: in the Canadian Rockies, on the Spanish coast, in Melbourne, in Tokyo, and in Toronto. They all boast hair-raising views — as well as various safety features to keep people out of danger.
So, what's behind the trend? What draws people to these glass-bottomed structures?
"I've been on it thousands of times and my knees buckle," says Randy Stancik, general manager of Chicago Skydeck, the company behind the Ledge. "I know everything about this project. I know how safe it is, but it's not a natural feeling to step out of a skyscraper."
In other words, it's the perfect tourist attraction; all reward and very little risk. These skywalks, sky boxes and sky bridges presents the illusion of danger without the cost of seeking it. Their views can rival what daredevils see when they climb skyscrapers. You don't need a harness or death wish to get in on the see-through action, though. It's as easy as putting one foot in front of the other — so long as you can force yourself to look down.