Hibbing, Minnesota, rises from the Mesabi Iron Range, a mining town built on—and from—rich iron ore. Some 75 miles northwest of Duluth, only 90 miles from the Canadian border, Hibbing is home to the world's largest open-pit iron mine, known as the Hull-Rust-Mahoning, and, in the early 1960s, its ore informed the folk songs of a young Jewish musician named Robert Zimmerman.
Born in Duluth on May 24, 1941, and raised in Hibbing, Zimmerman became obsessed with folk music: vernacular sounds, mother tongues, the music of the people. In September 1959, he left Hibbing for Minneapolis, and upon arriving, quickly changed his name to Bob Dylan. Less than two years later, in January 1961, at age 19, Dylan left Minnesota altogether and hitchhiked to New York City searching for Woody Guthrie—the Dust Bowl songwriter who inspired him to play folk music.
Dylan found Guthrie, only not in New York but at Greystone Park Psychiatric Hospital in Morris Plains, New Jersey, where he was being treated for Huntington's disease. The young musician visited Guthrie's bedside and played him songs. But Dylan wasn't solely seeking his idol's company. He was also chasing fame. So he pitched camp in Greenwich Village, the heart of bohemia, where Guthrie himself once lived, and began playing local coffeehouses. It was the dead of winter, a biting world; worse still, the city's promoters and talent scouts and record labels kept freezing him out. But Dylan struggled on—he believed, so he says, that fate had called him to New York City. "I'd come from a long ways off and had started a long ways down," he wrote in his 2004 memoir, Chronicles: Volume One. "But now destiny was about to manifest itself. I felt like it was looking right at me and nobody else."
Only ten months later, on October 26, 1961, John Hammond, the A&R man who discovered Billie Holiday, Benny Goodman and Count Basie, signed Bob Dylan, then 20, to Columbia Records. "I could hardly believe myself awake when sitting in his office, him signing me to Columbia Records was so unbelievable," wrote Dylan. "It would have sounded like a made-up thing. … It felt like my heart leaped up to the sky, to some intergalactic star. … I couldn't believe it. It seemed too good to be true."
But it was well deserved, as his 60-plus-year career has shown. Dylan has won numerous awards, including 10 Grammys, a 2012 Presidential Medal of Freedom and the 2016 Nobel Prize in Literature for "having created new poetic expressions within the great American song tradition." Many milieus shaped the songwriter, but none more than Minnesota or New York. In celebration of his 82nd birthday this May 24, here are 11 landmark Bob Dylan sites you can visit.
Boy from the North Country
Duluth, Minnesota
On May 24, 1941, Beatty Zimmerman (née Stone) gave birth to Robert Allen Zimmerman (Shabtai Zisel ben Avraham in Hebrew) at St. Mary's Hospital in Duluth, Minnesota, a hilly port city on the western edge of Lake Superior.
When Dylan was 6, his father, Abe Zimmerman, contracted polio and lost his job, and the Zimmermans moved from their top-floor duplex at 519 North Third Avenue East to Hibbing, Minnesota, to be near Beatty's family. But Dylan often returned to Duluth.
Duluth National Guard Armory (1301-1305 London Road)
On Saturday, January 31, 1959, a 17-year-old Bob Dylan watched Buddy Holly, Ritchie Valens and The Big Bopper play the Duluth Armory on their Winter Dance Party, a string of 11 northern tour dates booked during deep winter. Three days later, on Tuesday, February 3, 1959, Holly, Valens and The Bopper boarded a plane that crashed into an Iowa cornfield, killing all three musicians.
"One time when I was 16 or 17 years old I went to see Buddy Holly play at the Duluth National Guard Armory," Dylan said at the 40th Grammy Awards after his 1997 album Time Out of Mind won Album of the Year. "I was three feet away from him, and he looked at me. And I just have some kind of feeling that he was, I don't know how or why, but I know he was with us all the time when we were making this record in some kind of way."
In his Nobel Lecture, Dylan spoke once more of Buddy Holly and the 1959 Duluth show: "Then, out of the blue, the most uncanny thing happened. He looked me right straight dead in the eye, and he transmitted something. Something I didn't know what. And it gave me the chills."
Highway 61
U.S. Route 61 winds from New Orleans through Duluth. The road inspired Dylan's 1965 album Highway 61 Revisited, featuring his greatest hit, "Like a Rolling Stone."
Hibbing, Minnesota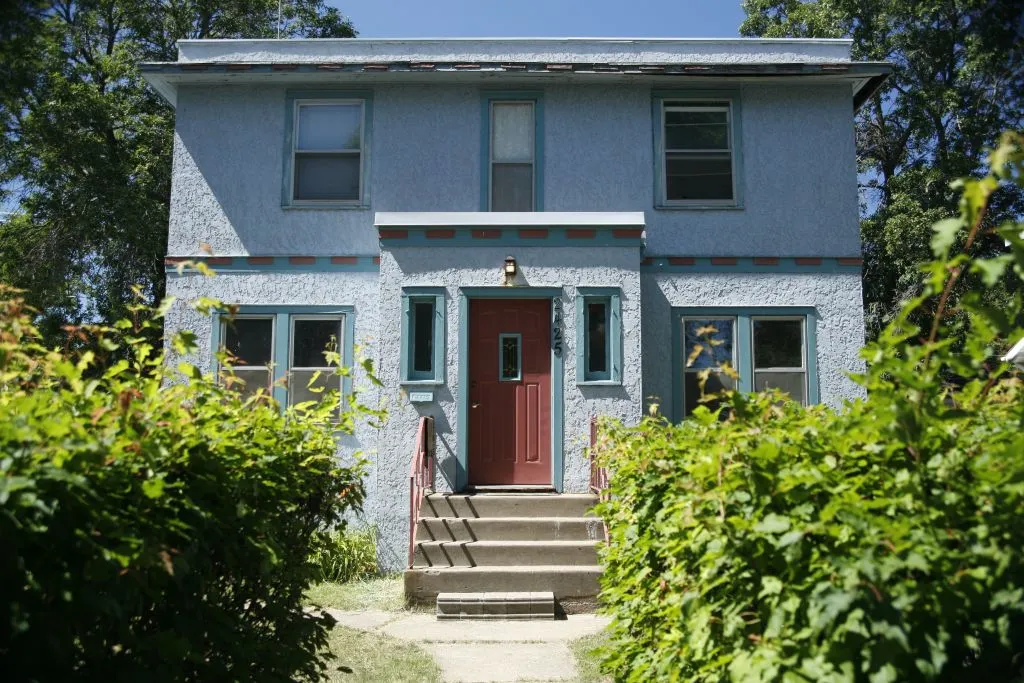 Founded in 1893, Hibbing and the 600-foot-deep Hull-Rust-Mahoning Open Pit Iron Mine, "the Grand Canyon of the North," produced upwards of one-quarter of the country's iron during World War II. Bob Dylan was raised among hard-working miners, the working class, and they found their way into his songs and political ideology.
In Hibbing, Dylan had a typical upper Midwest childhood—fishing, sledding, racing bikes and playing ice hockey. "You could also easily hop an iron ore train," he wrote in Chronicles: Volume One, "by grabbing and then hanging on to one of the iron ladders on either side and ride out to any number of lakes."
Early in his career, Dylan, who has historically messed with the press, would lie about his upbringing, which didn't sit well with some Hibbing residents. In 1969, at the height of his fame, he attended his tenth high school reunion, and, apparently, was met with disdain by some of his classmates. He never returned to Hibbing, at least not publicly, and the city does little to honor its most famous son, though his memory still lingers.
Hibbing High School (800 East 21st Street)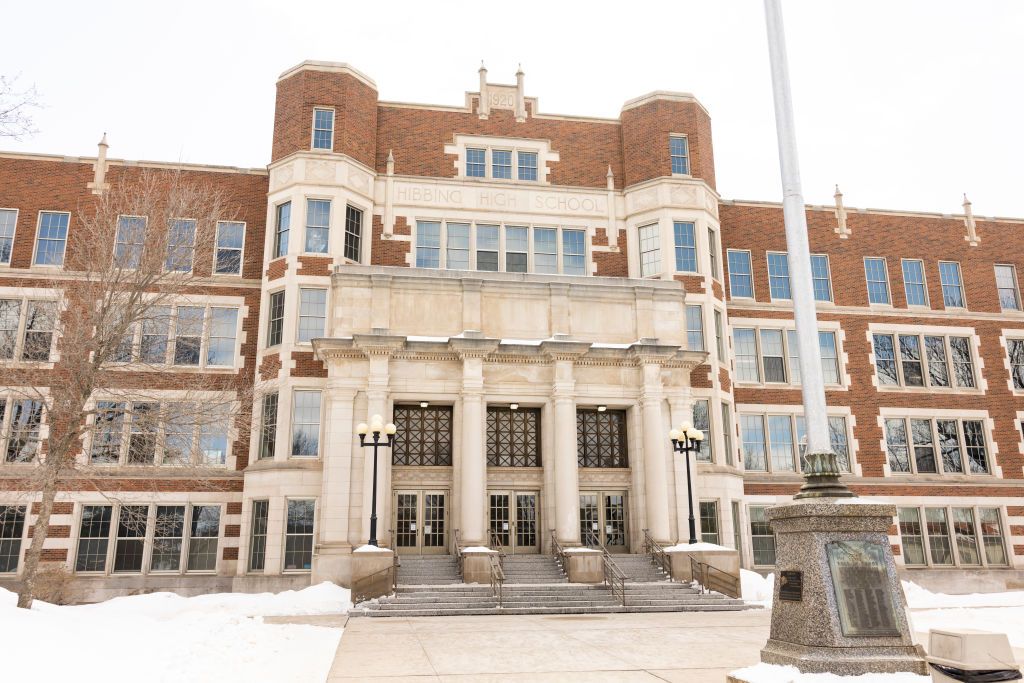 "I am a part of all that I have met."

— The Hibbing High School Class of 1959 motto
Bob Dylan grew up at 2425 Seventh Avenue East, less than half a mile from Hibbing High School, in a two-story Mediterranean Modern home. Built in the early 1920s, Hibbing High looks much as it did when Dylan attended. A member of the Class of 1959, Dylan, who teachers remembered as quiet and reserved, shocked the school when he played Little Richard during a talent show in the auditorium. But not everyone was impressed. According to Dylan's high school English teacher Boniface "B.J." Rolfzen, who was interviewed in Martin Scorsese's 2005 Dylan documentary, No Direction Home, Hibbing High's principal pulled the curtains on his performance, claiming the music wasn't "suitable for the audience."
Androy Hotel (502 East Howard Street)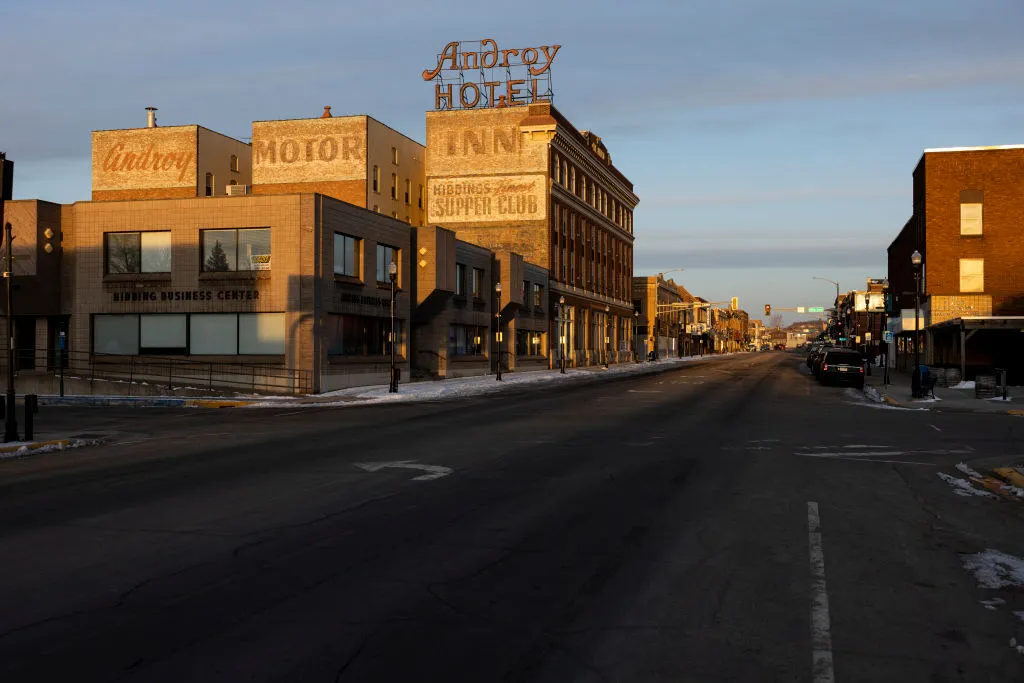 In May 1954, Bob Dylan celebrated his bar mitzvah at Agudath Achim Synagogue, 2320 West Second Street. After the ceremony, around 400 people celebrated the initiate at the Androy Hotel; listed on the National Register of Historic Places in 1986, the old hotel was retrofitted into an apartment complex a decade later.
Hibbing Bowling Center (1929 Fifth Avenue East)
In 1953, the Hibbing Bowling Center was built with 12 lanes. (A pinsetter had to manually reset the pins.) Soon enough, the Gutter Boys, a six-boy bowling team featuring Bob Dylan, became the 1955-56 Teenage Bowling League Champs.
The Twin Cities
In the autumn of 1959, Bob Dylan boarded a Greyhound bus to Minneapolis-St. Paul and enrolled at the University of Minnesota, only to drop out months later. While the songwriter only lived in the Twin Cities for one year, his days there were decisive.
"The first time I was asked my name in the Twin Cities," he wrote, "I instinctively and automatically without thinking simply said, 'Bob Dylan.'"
The Twin Cities is also where Dylan became obsessed with Woody Guthrie. After hearing a collection of Guthrie's records at a friend's brother's house, Dylan became entranced.
"For me it was an epiphany, like some heavy anchor had just plunged into the waters of the harbor," he wrote. "Woody Guthrie had never seen nor heard of me, but it felt like he was saying, 'I'll be going away, but I'm leaving this job in your hands. I know I can count on you.'"
Gray's Campus Drug (327 14th Avenue SE)
After dropping out of college, Dylan bummed around the Twin Cities, playing at the Ten O'Clock Scholar coffeehouse and the Purple Onion pizza parlor, and earning enough money to pay the $30-a-month rent for his apartment above Gray's drugstore.
"Above Gray's, the crash pad was no more than an empty storage room with a sink and a window looking into an alley," he wrote. "No closet or anything. Toilet down the hall. I put a mattress on the floor, bought a used dresser, plugged in a hot plate on top of that—used the outside window ledge as a refrigerator when it got cold."
The Bard in New York town
Rambling out of the Wild West

Leaving the towns I love the best

Thought I'd seen some ups and downs

Til I come into New York town

— "Talkin' New York" from Bob Dylan
In January 1961, Bob Dylan, then 19, moved to New York City and quickly became a fixture in the Greenwich Village folk scene. Later that year, Dylan performed at Gerde's Folk City, America's premier folk club, and on September 29, 1961, Robert Shelton, a New York Times music critic, wrote a monumental review of the show:
"A bright new face in folk music is appearing at Gerde's Folk City. Although only 20 years old, Bob Dylan is one of the most distinctive stylists to play a Manhattan cabaret in months. … Mr. Dylan is vague about his antecedents and birthplace, but it matters less where he has been than where he is going, and that would seem to be straight up."
Upon reading Shelton's rave review, John Hammond, the A&R man, who had only briefly heard Dylan play, signed him to Columbia Records. Dylan couldn't believe it. Hammond's Columbia colleagues couldn't believe it, either, and when Dylan's 1962 debut, Bob Dylan, a hodgepodge of mostly cover songs, failed to perform, they dubbed him "Hammond's Folly." But then something happened. Fate, fortune, whatever you call it, Dylan tapped into something. Starting with his 1963 sophomore album, The Freewheelin' Bob Dylan, he began writing original compositions—haunting songs with premonitory lyrics and ineffable power. And it all started in Greenwich Village.
MacDougal Street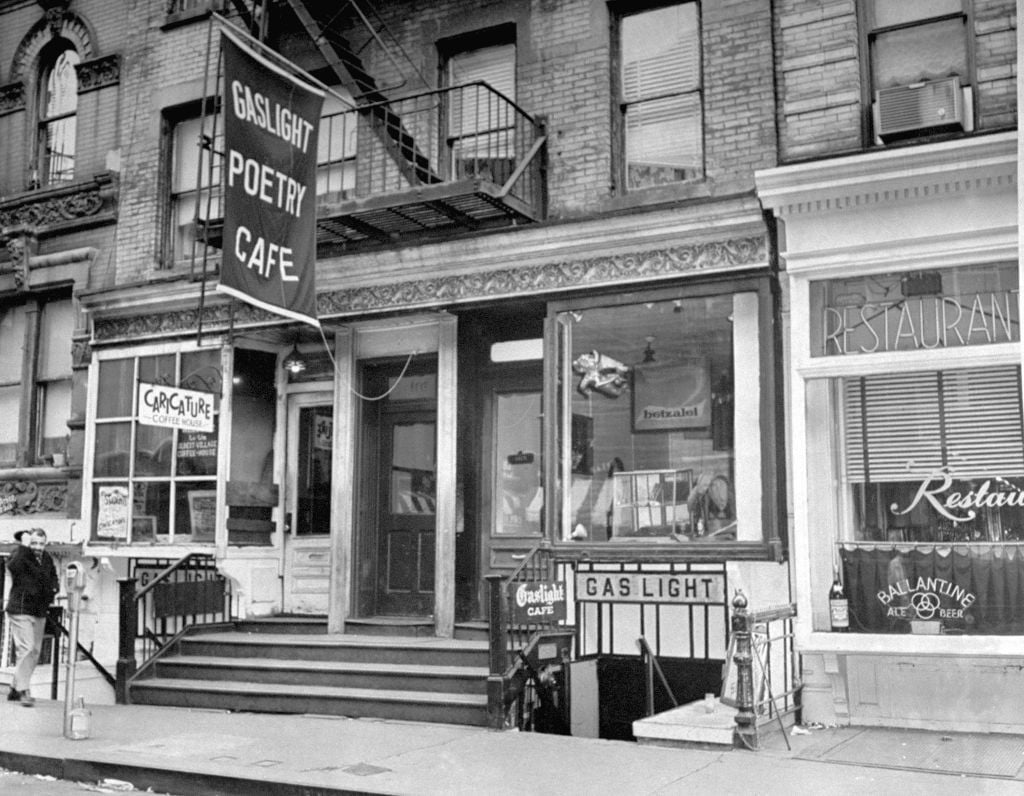 In the 1960s, MacDougal Street, a small artery running near Washington Square Park, was the center of America's folk music revival. Dylan played in and at numerous MacDougal Street institutions, including Izzy Young's Folklore Center, 110 MacDougal, a hangout selling books and records and instruments; The Gaslight, 116 MacDougal, where folk maverick Dave Van Ronk reigned, and which, as Dylan wrote, had "more prestige than anyplace else"; and The Commons, 105 MacDougal, where the then-21-year-old songwriter wrote "Blowin' in the Wind" in only ten minutes. Today, a few MacDougal Street haunts still survive, at least in one form or another.
Cafe Wha? (115 MacDougal Street)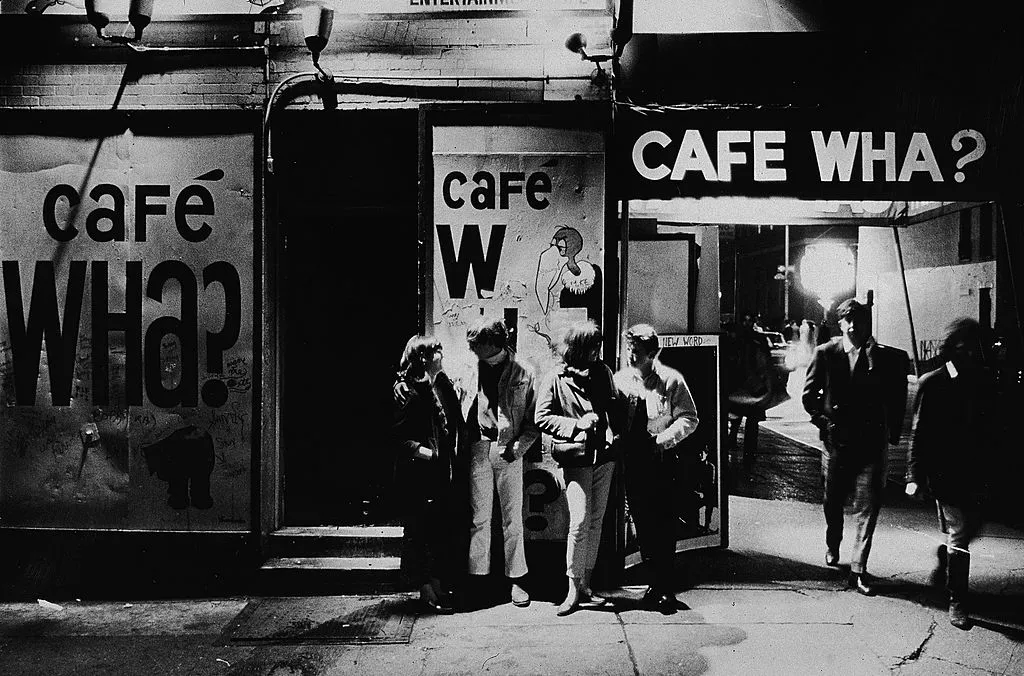 On his first day in New York City, Dylan played the daytime show at Cafe Wha?, a low-lit club that, as he wrote, "featured anybody and anything—a comedian, a ventriloquist, a steel drum group, a poet, a female impersonator, a duo who sang Broadway stuff, a rabbit-in-the-hat magician, a guy wearing a turban who hypnotized people in the audience, somebody whose entire act was facial acrobatics." Opened in 1959, Cafe Wha? closed in 1968, became a Middle Eastern restaurant, then reopened in 1987 under new management. Today, music is still heard at the venue (which also once hosted Jimi Hendrix and Bruce Springsteen), with the Cafe Wha? House Band playing six nights a week.
Caffe Reggio (119 MacDougal Street)
Manny Roth, the founder of Cafe Wha?, fired Dylan for showing up late to three straight performances, so the young songwriter headed three doors down to Caffe Reggio. Founded in 1927, Greenwich Village's oldest cafe no longer offers music, but it does claim the nation's first cappuccino. Replete with antique fixtures and an original 1902 espresso machine, Caffe Reggio feels like a museum—a scene trapped in time.
West Fourth Street
In December 1961, after crashing on couches across Greenwich Village, Dylan moved to his first New York apartment, a third-floor walk-up at 161 West Fourth Street that he rented for $60 a month. Two key sites from Dylan's "Positively 4th Street" days remain.
The Intersection of Jones and West Fourth Streets
Only a few feet from Dylan's first New York apartment is the intersection of Jones and West Fourth Street. In February 1963, Dylan, wearing a light jacket in the freezing cold, and his then-girlfriend, Suze Rotolo, posed for photographer Don Hunstein. Hunstein's image landed on the cover of Freewheelin'; when the album catapulted Dylan's career, the photo was cemented in the annals of music history. Aside from the addition of a few trees, the scene around Jones and West Fourth Streets looks much the same.
The Music Inn (169 West Fourth Street)
Founded in 1958, the Music Inn, a music store next door to Dylan's old apartment, feels more like some strange folk-art installation. Ouds, guitars and setars hang from the ceiling. In the early '60s, when Dylan needed to borrow a guitar, he'd pop in the Music Inn; today, the store—both inside and out—is a relic from that era.
Mermaid Avenue
While Bob Dylan was visiting a convalescing Woody Guthrie at Greystone Park Psychiatric Hospital—"a gloomy and threatening granite building," he wrote, "an asylum with no spiritual hope of any kind"—Guthrie spoke of a box of his unheard lyrics that needed melodies. The box, Guthrie said, was archived in the basement of his Coney Island home at 3520 Mermaid Avenue. Dylan was welcome to them, he just needed to let Guthrie's wife, Marjorie Guthrie, know why he was there. Dylan hopped on the subway at West Fourth Street and rode it to Coney Island, but when he arrived, Marjorie wasn't there, so he headed home, never to return.
Some 40 years later, the late singer's daughter Nora Guthrie approached Billy Bragg and Wilco about setting these same lyrics to music. In 1998, their album, Mermaid Avenue, received a Grammy nomination, proving the power of the folk-music lineage. Woody Guthrie's home was razed, but Mermaid Avenue still cuts through Coney Island.