Farthest South: News from a Solo Antarctic Adventurer
Aston is in no-man's land, where schedules and responsibility carry little relevance, but she is bound by one logistic: "I can't miss the last plane out"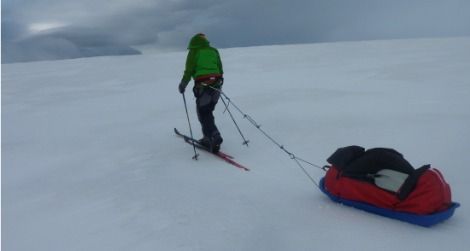 Two nights ago, with her tent staked down and dinnertime approaching, Felicity Aston received an unnerving surprise: Of her three cigarette lighters, not one would produce a flame.
Fortunately, the adventurer—now attempting to ski alone across Antarctica and still 180 miles from the South Pole—brought along plenty of matches, and she needs them. Without a working cook stove, Aston's peanuts, chocolate and even her freeze-dried meals would provide sustenance, but she would have no water, which must be melted from ice. And so she's rationing her matches—which she has counted down to the last.
"I have just enough to get me to the South Pole," Aston told me during a phone chat on Wednesday, while her soup simmered on the pot and the wind wailed outside her tent. It was evening, almost bedtime—though time of day hardly matters in December at the very underside of the planet, where the sun circles the sky just above the horizon and leaves anyone without navigation tools as dizzy and directionless as the whirling wind.
Aston began her journey on November 25 at a latitude of 85 degrees south on the Ross Ice Shelf, and she aims to finish by late January. Completion would make her the first person to cross Antarctica alone and unassisted by anything but bodily power. A Norwegian adventurer named Børge Ousland crossed the continent in the summer of 1996 to 97, but he took advantage of the wind when it blew in his favor by letting out a parachute to drag him forward. Aston is using nothing but muscle power—and muscle she needs. At the outset, the 5-foot-11 Aston had with her about 200 pounds of gear, which she is dragging behind her on two sleds. Her baggage is a no-nonsense assembly of tent, stove, fuel and a carefully rationed two pounds of food per day of travel. The journeyer is also packing along a telephone for maintaining contact with more humanly latitudes. She reserves time slots almost daily to speak with people, often members of the media.
Aston is a veteran of travels in rough places, usually accompanied by others. As her website states, "Felicity has raced in the Canadian Arctic, led a team of women across the inland ice of Greenland, led a record-making International team to the South Pole, searched for meteorite craters in Quebec, skied along a frozen river in Siberia, traversed the winter ice of Lake Baikal, completed the infamous Marathon Des Sables across the Moroccan Sahara and spent three years living and working in the Antarctic." Many of her journeys, she explained to me, have been self-administered tests of her own emotional and physical endurance limits. On this particular trek, Aston may have met her match: solitude.
"I'm learning that I'm not a natural soloist," the 33-year-old Briton said, her voice responding to mine on the slight delay of satellite communication. "Being this alone is a new experience for me."
Aston hasn't seen a soul since she started, since souls don't naturally occur in this land, but at the South Pole she expects to be received by the scientists occupying the location's United States-run research station, home of the South Pole Telescope. Aston is covering about 15 nautical miles per day, she says, and expects to be at the South Pole a few days before Christmas. Then, her journey will continue as she walks on toward a remote outpost called the Union Glacier, served by a commercial aviation operator Antarctic Logistics and Expeditions. And while Aston may be in no-man's land, where schedules, deadlines and responsibility seem to carry little relevance, she is, in fact, tightly bound by one crucial logistic.
"I can't miss the last plane out," she said, explaining that ALE's Ilyushin IL76 aircraft, scheduled to come and go 17 times this year, makes its final departure from Union Glacier this summer on January 26. Aston is already behind schedule, after days of bad weather holed her up in her tent on the Ross Ice Shelf, then slowed her to a feeble crawl on the Leverett Glacier, the wind blasting her from all directions. She has more glacial ice to navigate and more perilous crevasses to dodge or hop before she hits the high polar plateau. From here, a straight shot south will land her at 90 degrees south—not to mention a frigid 9,301 feet above sea level. Aston is keeping on track with GPS and compass, minding the fact that the ever-drifting magnetic South Pole is currently centered over the Antarctic Ocean; she needs no reminding that she is pursuing the geographic South Pole.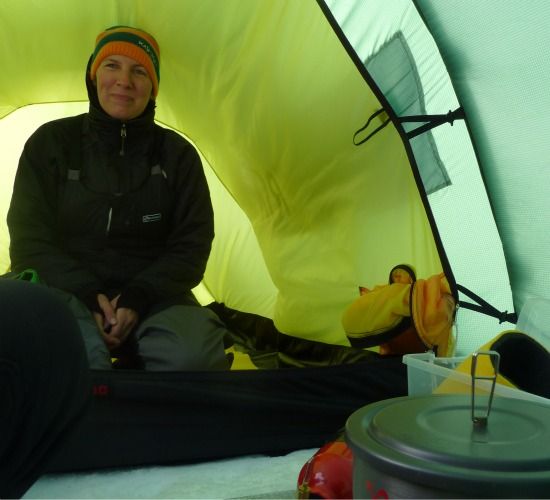 At the outset, Aston was eating about 4,000 calories daily. She is bumping up her measured intake to 4,500 calories to compensate for wear and tear on the body, which, instead of growing stronger under such grueling conditions, may actually grow weaker and increasingly exhausted, she explained. I asked what Aston thinks she'll have for her first square meal back in civilization.
"I'm really missing warm, fresh, puffy bread," she said.
No matter. Aston, one of the toughest people alive, will have her bread when it comes. Meanwhile, every move she makes is a step on thin ice.
"I feel very vulnerable out here," said Aston, her voice beamed from Antarctica through space and down again into my own cell phone. "I've never been so far away from everything. When you're this remote, there's nobody watching out for you, and you have to take absolute responsibility for yourself. It's a very scary feeling."
Aston's attempt to cross Antarctica alone can be followed at the expedition's website.