Faces From Afar: Through Wild Desert and Urban Shantytowns, Two Men Walk the Baja Peninsula
Armed with food, water and a surfboard, two young Americans leave the comfort of home to walk and paddle the length of the Baja California peninsula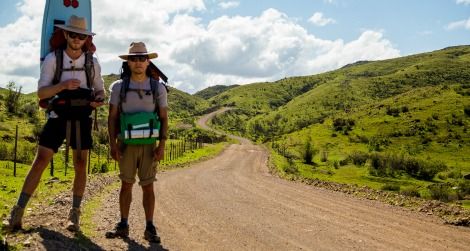 "Faces From Afar" is an ongoing series in which Off the Road profiles adventurous travelers exploring unique places or pursuing exotic passions. Know a globetrotter we should hear about? E-mail us at [email protected].
The desert is simple, honest and frank. It is sparse and stoic, both patient and demanding, and something about this unforgiving environment continually draws people from comfortable, well-watered places into its dangerous heart. Compelled by this old attraction, two young Americans departed in early February on one of the most ambitious walks they will probably ever take, through some of the most barren, the most beautiful and—lately—the most misunderstood land south of the Mexico-U.S. border: Baja California.
Justin DeShields, 26, and Bryan Morales, 25, departed San Diego on February 2. They crossed the border and immediately entered Tijuana, where the two travelers, who had been thinking logistically about desert survival for months, found themselves in a landscape blistered by traffic, freeways and urban shantytowns. They walked parallel to the border westward to the beach, where they officially began their walk. Their plan: to journey unassisted by motor vehicles all the way to the peninsula's southernmost tip before June. DeShields, a documentary filmmaker who has worked with National Geographic, brought along several cameras. With an arrangement to blog for National Geographic, he and Morales—who works as an outdoor educator with urban youth—would document the ecological wonders and crises, the cultural colors and the raw beauty of the Baja peninsula, top to bottom.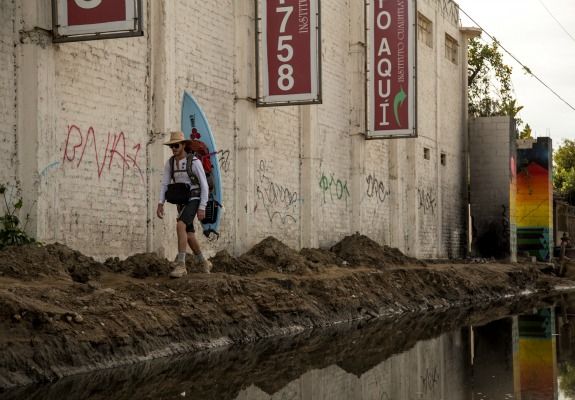 Tijuana was simply an obstacle. Not known as Baja California's proudest asset, it made for a discouraging beginning. Wearing 50-pound backpacks, it took the adventurers several hours to escape the city's grimy, gritty influence. Concrete scribbled with graffiti, homes built of cardboard and sheets, and the din of urban traffic all faded into the distance at last, replaced by the softness of the sand and the drone of the breaking waves. But they hadn't exactly escaped civilization. On the shore, the suburbs continued for many miles—and still ahead was the equally imposing city of Ensenada, located about 80 miles south of the border. On the beach, the pair encountered the obstacles of urban development—sometimes nearly to the waterline.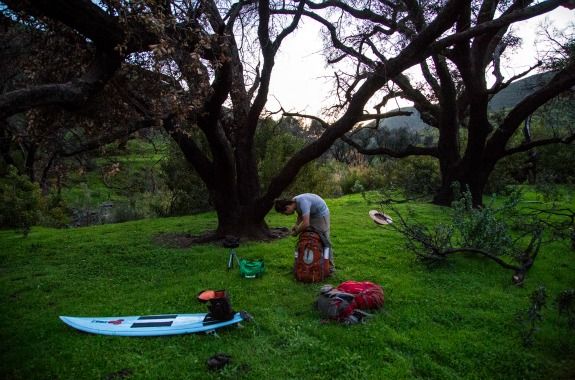 "There were so many private properties that in order to follow the coast, we had to hop fences and walls, and duck through barbed wire," says Morales, with whom I spoke by phone last week. "There were places where we couldn't get around rocky points and had to go back up to the highway, but there was no access." So the two hurried through yards, alleyways and vacant lots, not always sure if they were trespassing or not, but certain of at least one thing: that they needed to move southward if they hoped to ever escape the northern peninsula's development and reach the unspoiled desert for which Baja is famous.
For Morales and DeShields, the privatization of the public coastline became one of the most disturbing and frustrating aspects of their journey.
"The thing that worries me is that the coastline is being bought up by Americans or other foreigners, and as a result Mexicans are losing their land," Morales says. "If they don't have land or access to the water, how can they come to cherish it and enjoy it as we have? They certainly won't be able to afford to buy it back."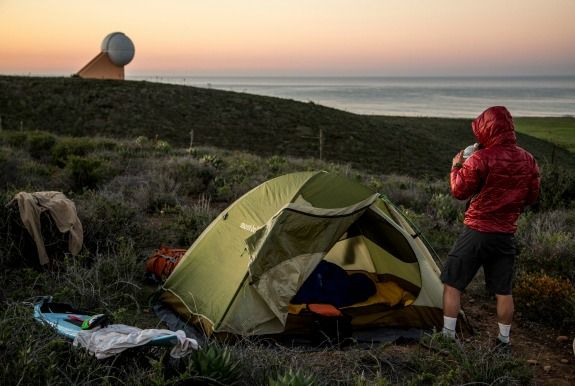 Though void of cacti and shrubs and open hillsides, this urban region was something of a desert, for most of the residences in places were entirely abandoned, Morales says. They passed vacant hotels and condos and the shells of empty buildings. The beach town of Rosarito—a thriving and popular destination for tourists as recently as six or seven years ago—has died. "It's literally a ghost town now," Morales says. He attributes the emptiness of this once-peopled land to "fear of violence, rape, robbery and even the police." Parts of Mexico have experienced high crime rates in recent years, covered widely by the media. Morales believes such violence, civilian deaths and tourist holdups have unfairly impacted Baja, which has remained, to a large extent, off the path of criminals.
But the hospitality of Baja's people defied every stereotype about the dangers of traveling today in Mexico. The two encountered kindness and generosity at every bend in the beach, in each town and in each remote fishing camp where they stopped to ask for water. The commercial lobster season had just ended, on February 16, and so these camps were often all but uninhabited. Usually, one man—maybe two—would come out to greet the Americans, along with his barking dogs. Many strangers invited them into their homes for food, coffee and beds.
"Down here you find an experience that, in the States, is hard to come by," Morales says. "There is a low standard of living, and people have almost nothing. They literally make houses out of our garbage—old garage doors, trailers, billboards—and yet these people are incredibly generous. They invite us into their homes, feed us, share what they have."
The two camped most nights on the beach, often tucked up against the cliffs in their tent to keep out of sight of passersby, and by day they walked, often on concrete and asphalt, other times along the beach, each carrying 50-pound backpacks loaded with camping equipment, cameras, a water desalinator and—for the odd hour of recreation—a surfboard. Finally, after 200 miles and three weeks of struggling through the development of northern Baja, Morales and DeShields found the solitude and silence of the desert. Here began the joys and hazards of classic wilderness exploration. Many times, the pair journeyed inland to avoid treacherous cliffs and waves. Once or twice they almost ran out of water. They showed up half starved and delirious in a fishing camp one hot day. In a land of sand, sun and solitude, they ate what they could. Peanut butter and jelly on tortillas were a staple—though strangers who greeted them in the road spiced up their diets with tortillas and bowls of beans. Often, the desert didn't even look like one. The rains of December had had their lingering effect, turning what is known to be one of the most dry and bitter landscapes into scenery as green as Teletubby Land. Locals even told them that the desert flower blooms of the moment had not been seen in nearly a decade.
On March 19, they arrived in Guerrero Negro, a dusty desert city mostly unremarkable except as a chief destination for tourists hoping to watch gray whales, which enter the nearby Ojo de Liebre and San Ignacio lagoons to give birth. From here, the pair walks south. They will remain on foot as they pass San Ignacio Lagoon and walk inland around its shoreline. The plan is to then cut east, across the mountainous peninsula, and descend back to sea level at the date palm-studded oasis town of Mulege. Morales and DeShields intend to finish their journey on stand-up paddleboards, moving smoothly along the tranquil shoreline of the Sea of Cortez, all the way to San Jose del Cabo. Their journey can be followed via their blog "What is West?"