Explore Taiwan's Unique Themed Restaurant Culture
Themed restaurants take Taiwan by storm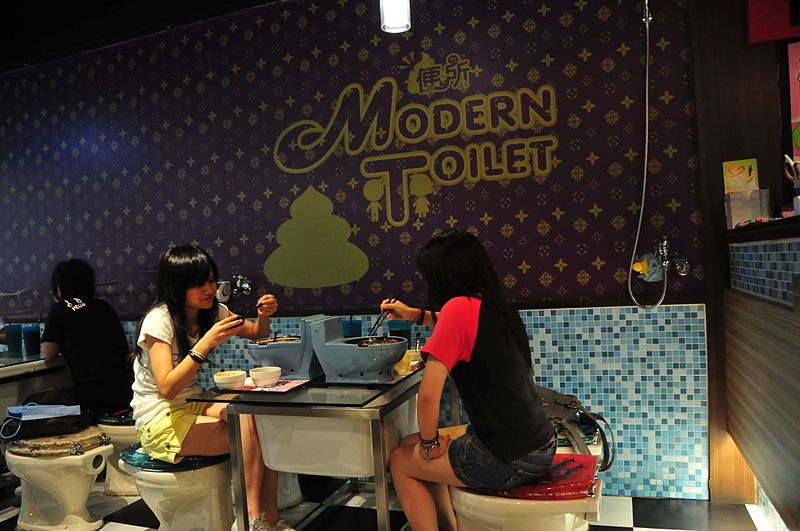 At the Star Tower Restaurant in Taipei, guests are doing more than just eating in a rotating restaurant with great views of the city. They're also learning about the central core of the building—a giant incinerator for the garbage dump below, and the restaurant sits at the top of the smokestack.
But this is far from the most unusual restaurant in Taiwan. Restaurateurs in the country have a penchant for picking a unique theme and carrying it out through the entire restaurant, food and decorations included.
"Some restaurants transfer the serious atmosphere of particular places like the toilet, hospital, and aircraft cabin into a fun and totally different mood," Katherine Cheng, a spokesperson for the Taiwan Tourism Bureau, told Smithsonian.com. "And this arouses people's curiosity to visit. People go to these novel restaurants not only for exploring a new thing but also to connect with their friends and the whole society."
Although some of the best have come and gone—like DS Music Restaurant (themed like a hospital) and A380 Sky Kitchen (themed like the inside of a jetliner)—these six are open now for that completely unique dining experience.
Modern Toilet, Taipei
This restaurant chain launched in 2004, inspired by one of the owners' experience sitting on the toilet and reading a manga, Dr. Slump. Ice cream came first—a big pile of chocolate served in a squat toilet bowl—but the concept has grown to include more than a dozen full-service restaurants.
Every seat in Modern Toilet is a non-working toilet. All the food—dishes like "poop meatballs" and "stuffed brown sugar poop pancake"—comes in toilet- or urinal-shaped dinnerware, drinks are served in toilet-shaped cups, and glass tables are placed atop washtubs.
Rilakkuma Café, Taipei
One of the newest theme restaurants in Taipei, this one caters to an adorable stuffed bear named Rilakkuma. His little face dons framed photos on the walls, tiny cakes, rice molds, pudding, bread bowls and more.
One thing to note before going: Yelpers say there's a cover charge that equals the purchase of one drink—so no matter what you buy, if you haven't ordered a drink, you've not met the minimum.
Five Dime Driftwood Restaurant, Taipei
This restaurant is a trip into one woman's imagination, where diners are greeted by two giant aboriginal figures made from driftwood and eat immersed in artistic creations. It's like walking into a painting and staying for a while.
Artist Hsieh Li-shiang conceived the idea while walking on the beach. She saw a piece of driftwood next to a sand dollar and used that scene as inspiration for the name and interior. Everywhere you turn, there's another artsy architectural element—from tables made of driftwood to giant indoor landscapes with trees and a pond.
See-Join Puppet Theater Restaurant, Taipei
Hand puppets are a traditional type of entertainment in Taiwan, and See-Join celebrates that in every aspect. Puppets displayed on shelves surround the dining area, artwork featuring the puppets can be found at many tables, and interactive shows are ongoing at the puppetry theater in the restaurant. You can even test out the puppets yourself, but be careful—some of them are fire-breathers.
During dinner, either enjoy the show and the scenery, or take lessons how to properly use the puppets. Portions are big, so you'll have plenty of time to play.
Hello Kitty Kitchen and Dining, Taipei
Cue the heart-eyed emoji; everything at this restaurant will cause cuteness-induced swooning. Hello Kitty makes an appearance on everything—from dishes to shaped cakes to her face perfectly toasted onto a piece of bread. And Hello Kitty herself is there too, walking around and interacting with customers.
The restaurant's interior design echoes the food's cuteness. All the booths are pink (matching the walls, chairs and light fixtures) and shaped like the bow atop Hello Kitty's head.
Carton King, Taichung
Not every restaurant is as up-front as Carton King—the website declares that "the food may not be fantastic, and it can be a little pricey"—but food isn't necessarily the main focus here. At Carton King, everything in the restaurant is made of corrugated cardboard. Diners sit on cardboard chairs and eat out of cardboard bowls on cardboard tables. Drinks are served in cardboard cups.
And if you're worried about the strength of furniture made from mere cardboard, fear not. The restaurant routinely brings out the 220-pound chef to test the furniture—and a waitress sits on his lap for extra weight.