Explore Port-au-Prince's Triumphant Art Scene
Haiti's capital city may still be recovering from the destructive earthquake that struck in 2010, but its art community is thriving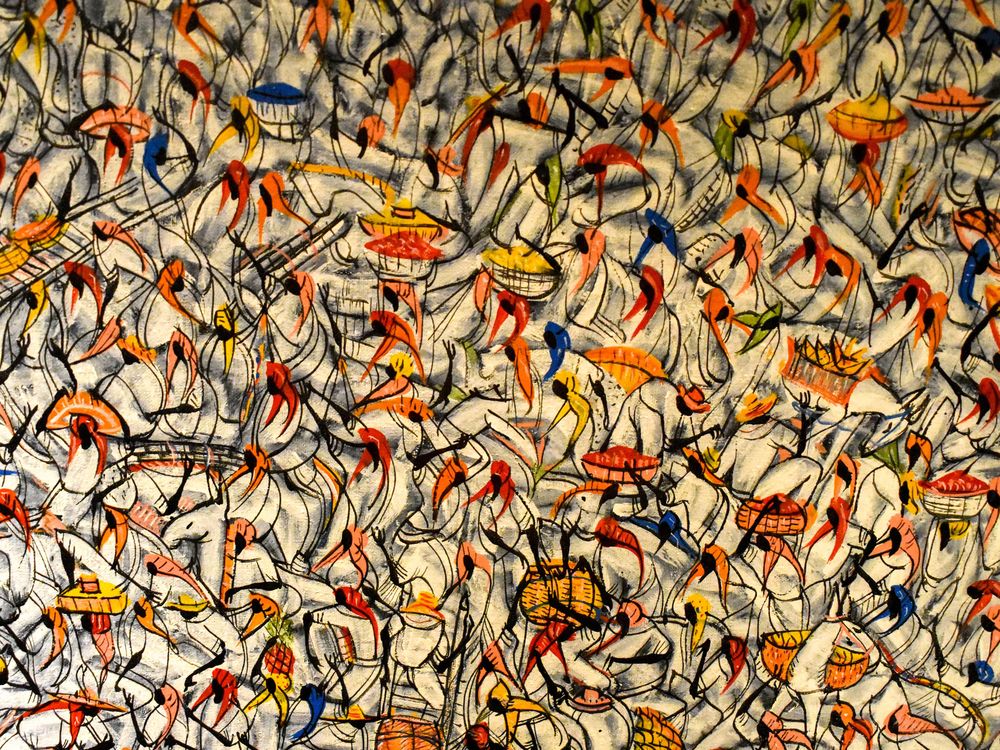 In the 1940s, a watercolor painter from the United States, DeWitt Peters, moved to Port-au-Prince, Haiti. When he arrived, he observed the sprawling amounts of local art—adorning everything from walls and sidewalks to the local taxi buses called "tap-taps." The Indigenist movement was in full swing in Haiti; local artists were making both a name for themselves in the country and helping establish the nation's identity as separate from the United States' occupation through the art they created.
At the time, though, Haitian artists hadn't considered that they could make money from their art. The small nation didn't even have its own art museum yet, so Peters opened Le Centre d'Art, an art gallery and school to encourage and promote local untrained artists, in 1944. Artists already popular in Haiti, including Hector Hyppolite, the Voodoo artist colloquially known as the "grandfather of Haitian art," made their way to the center and took up residence there; the center provided government-funded equipment and materials many artists couldn't afford.
Locally, the work produced at the center became well known, bringing in more students, most of whom were low-income locals. The government paid salaries to all the teachers, among them Peters and other accomplished Haitian artists of the time. And internationally, Haitian art took hold thanks to tourists visiting the small nation, spreading the word and bringing work back home. New York's Museum of Modern Art was the first major museum to acquire a piece of Haitian art: René Vincent's 1940 painting Le combat des coqs (Cock Fight). The museum bought it in 1944 through Peters' work as an art dealer in Haiti; the purchase was made just before he opened the center. One of the first major Haitian art collectors was U.S. poet Selden Rodman. Since then, international leaders and celebrities, including the Kennedys (who collected paintings by Prefete Duffaut) and the Clintons (who collect Haitian paintings and metalwork), and thousands of others have collected Haitian art created by Laurent Casimir, Jean-René Jérôme, Edouard Duval-Carrié, Hector Hyppolite, Philomé Obin, and more.
When a magnitude 7.0 earthquake hit Haiti in 2010, museums, cathedrals, art galleries, even Le Centre d'Art crumbled to the ground, destroying valuable art. Haitians began to work around the rubble, rebuilding and even creating art pieces out of crumbled walls. (An exhibition called "PÒTOPRENS: The Urban Artists of Port-au-Prince" is currently on display at the Museum of Contemporary Art North Miami, highlighting a group of artists that make sculptures out of earthquake debris.) The Smithsonian Institution offered assistance as well, by way of the Haiti Cultural Recovery Project, which not only rescued Haitian artworks, but also helped to rebuild Le Centre d'Art.
Now, nearly a decade later, the art scene is thriving, particularly in Port-au-Prince, just 16 miles west of the historic quake's epicenter. According to Lorraine Mangones, the executive director of FOKAL, Haiti's main cultural and educational foundation, Le Centre d'Art recently received an investment to construct a new art center and next year will begin having Caribbean artists-in-residence. Plus, repairs are underway to reopen the Museum of Haitian Art of St. Pierre College, which had about 9,000 visitors per year before the earthquake; a single room has reopened to display prized Haitian art for now.
These six spots in the capital area will show you the best of Haitian art.
Le Centre d'Art
Le Centre d'Art was the first art gallery in Haiti, opening more than 70 years ago as an art school and display place for art of all types. When the earthquake hit in 2010, the building was completely destroyed. An art school and gallery, with sculptures throughout the grounds, took its place in 2014, and with the Smithsonian's help, the school was able to save more than 5,000 pieces of art. Le Centre d'Art has a close relationship with the Louvre as well, and even sent its archivists to be trained at the French institution. The Louvre maintains a collection assessment of the artwork at Le Centre d'Art and runs a three-year internship program in conjunction with the school to continue the assessment and help with communications.
Galerie Monnin
A Swiss couple—Freda and Roger Monnin, who actively participated in the Port-au-Prince art scene since they settled in the city in 1947—opened Galerie Monnin downtown with European art in 1956. The gallery began to build a collection of sacred voodoo art in the late 60s, when the second generation signed on to help run the business. Since then, the gallery has opened in a new location in Pétionville and runs an art school as well. The collection has grown to include a consistent high-end exhibition of voodoo art, in addition to showcasing both Haitian art and artwork from artists-in-residence, including Greek painter Lilika Papagrigoriou and British artist Sally Leonard.
Galerie D'Art Nader
This isn't only the largest art gallery in the Caribbean, but also one of the largest Haitian art collections in the world. The Galerie D'Art Nader in Pétionville is owned by Georges Nader, Jr., who took over when his father, Georges S. Nader, retired as an art dealer. Nader the elder opened the original gallery in downtown Port-au-Prince in 1966, but it crumbled with the earthquake. Everything that could be salvaged (about 3,000 paintings, 1,800 of them damaged, of nearly 15,000) moved to the Pétionville location. Now the gallery's collection has more than 17,000 pieces of mostly modern art from the 1940s on. The family is planning to build a national art museum where they will exhibit 1,000 hand-picked pieces, painted by the most renowned Haitian artists—though as of yet the art list and timeline are still undisclosed.
El-Saieh Gallery
This gallery was originally opened by Issa el Saieh, a prominent musician that introduced big band music to Haiti in the 1940s and '50s. In the 1960s, el Saieh was imprisoned by Haitian president Papa Doc's regime; according to his son—who runs the gallery now—el Saieh was held in a cell for 22 days without the ability to stand up straight or sit down fully. Once he was released (the exact reason behind his imprisonment is unclear), he opened El-Saieh Gallery, which was the second art gallery to open in the country. It instantly became a gathering space for the artistic luminaries of the time. Now, the gallery overlooks the port and boasts a large cross-section of traditional and modern Haitian art, including Vodoo sculpture by local woodcarver and artist Guyodo and colorful paintings by André Normil, an influential Haitian artist who created depictions of Noah's Ark, paradise and Carnival.
Ghetto Biennale
This isn't an art gallery, but rather an event. Since 2009, the Ghetto Biennale has run every two years, hosted by the artists collective Atis Rezistans. The next installment is this year, from November 29 to December 20, with works focusing on the Haitian Revolution. The Biennale is a chance for urban untrained artists to showcase the artwork they've created, and for local artists to collaborate with international ones—for example, for the 2017 Biennale, local artist Love Leonce worked together with Chicago-based artist and curator Sabrina Greig on a collaborative printmaking workshop for locals and visitors. Other collaborations have included a California-based tattoo artist creating tattoos drawn by local artists, a music composition by British musician Bill Drummond performed by 100 local Haitians, and two European artists enlisting the help of Port-au-Prince residents to create a building from trash. The event is held in two different neighborhoods, Lakou Cheri and Ghetto Leanne. Themes for the event revolve around migration and freedom, and past participants have included filmmakers, lecturers, musicians, writers, architects, photographers and other artists.
Marriott Port-au-Prince
Hotels throughout Port-au-Prince often tend to double as art galleries, with local artists creating many of the pieces on display. The Marriott Port-au-Prince was one of the first. The hotel hired local artist and art curator Philippe Dodard to stock the property with art. "I took art from both modern artists in Haiti and street artists," says Dodard. "The art scene suffered after the earthquake, but it allowed street art to rise up again. Now I'm concerned that Haiti will be rebuilt with large buildings with no character reflecting Haitian culture." For his part, he's doing his best to avoid that fate with the Marriott. Pieces on display include everything from decorated vases and wall tiles to voodoo flags and fiber art. Dodard himself designed the massive iron panels in the lobby.