Explore China's Ancient Water Towns
The Venice of the East sits just 30 minutes by train from Shanghai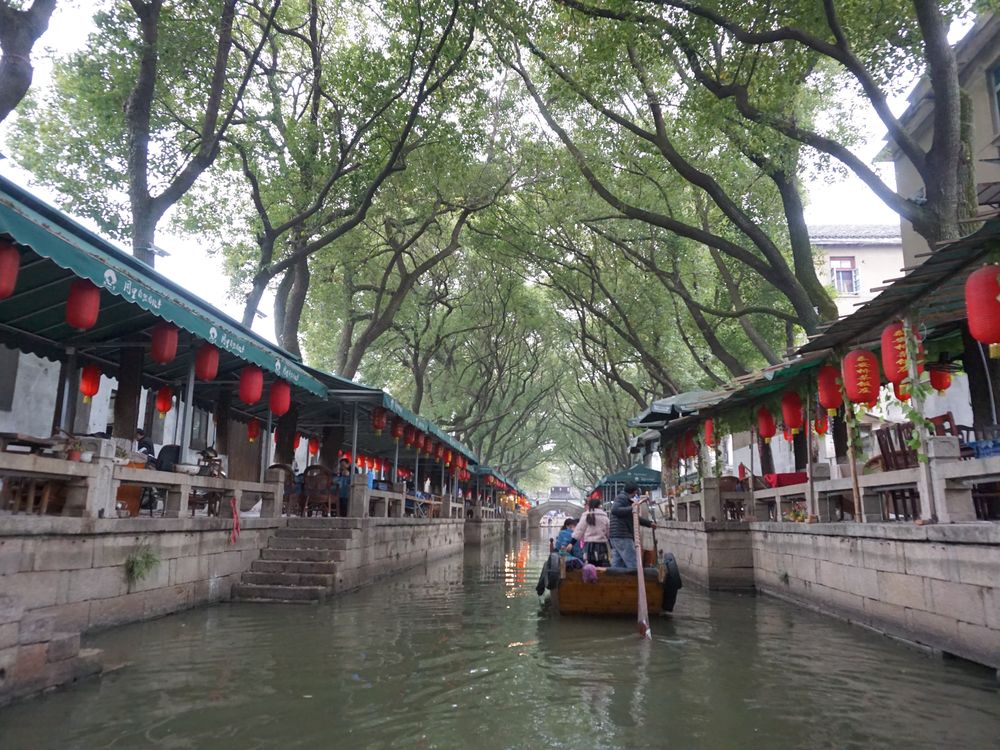 Surrounded by rivers, lakes and canals, three parts of China comprise a "golden triangle" of historical towns that mostly run on the water. Shanghai, Suzhou and Hangzhou form this pyramid-shaped area known as the "Venice of the East," filled with thousands of years of history and cities built around complex canal systems. Here, locals and tourists still get around by hand-controlled boats—and sometimes, the captain will even serenade you with a traditional Chinese folk song. Here are eight ancient water towns to visit.
Nanxun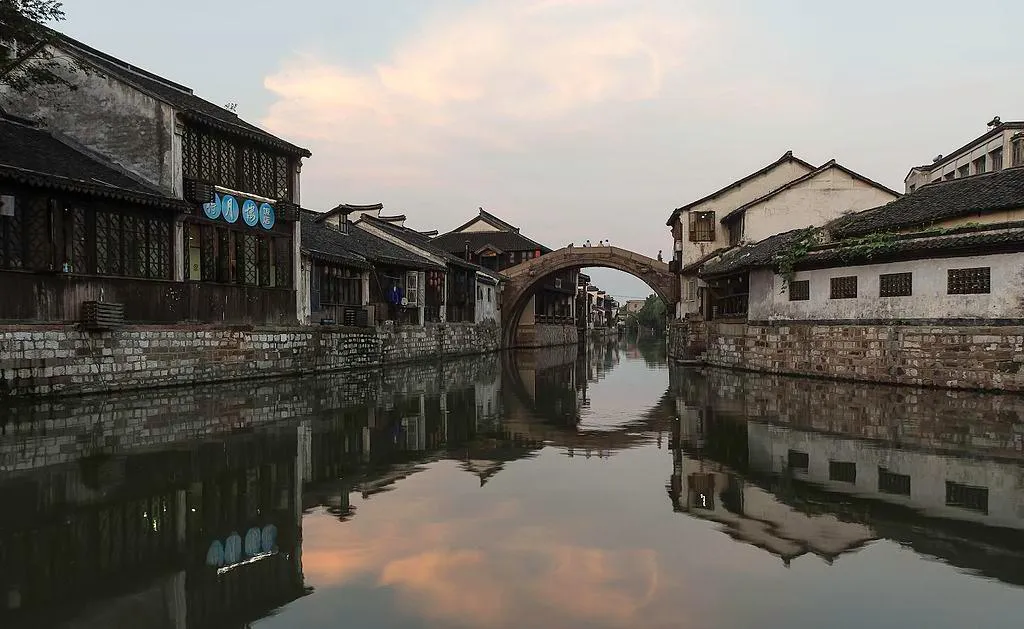 Escape the tourism crunch of Shanghai in Nanxun, about 70 miles to the west. This water town is a bit different from others in the area: it typically draws smaller crowds and the architecture is a unique mix of traditional Chinese and Western. As you walk along the ancient canals, you're likely to see locals out playing cards or having some tea. The town dates back to the Chunyou Period of the Song Dynasty, between the years of 1241 to 1252. Today, it's considered to be the epicenter for weddings on the canals—10 ferries travel through town on the water for a wedding, decked out in red flowers and ribbons, with the bride and groom standing on the first ferry in the line.
Tongli
Thirty minutes from Suzhou by car, you'll find one of the most well-known water towns in China: Tongli. It's considered a miniature Venice, with nearly every building on or by a canal. The town itself is composed of seven islets, separated by 15 canals and joined by more than 40 bridges—plus, five lakes surround the town itself. Tongli is more than 1,000 years old, and the oldest bridge in town dates back to the Song Dynasty, which began in the year 960. Visitors here should check out the wedding museum, which has antique Chinese wedding clothes and items on display, then head to the Moxibustion Institute for a session of heat- and incense-based massage therapy.
Xitang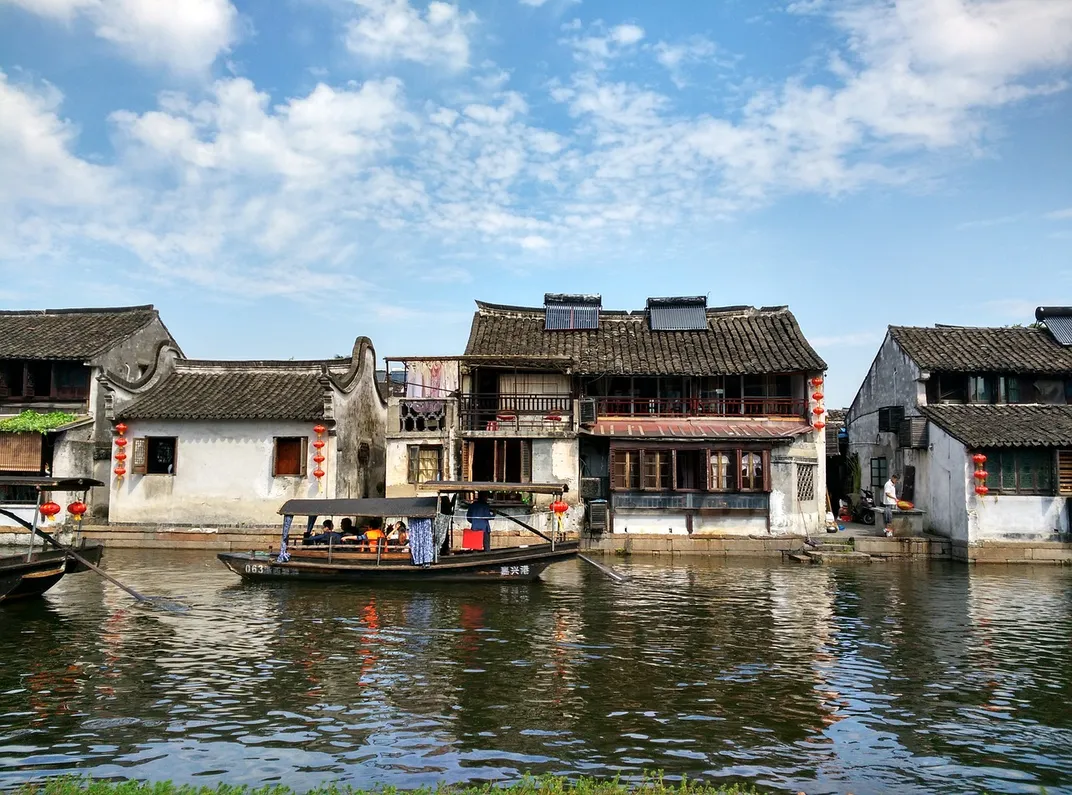 Xitang separates itself from other water towns in the area with langpeng, sheltered waterside streets, allowing locals and guests to comfortably walk alongside the canals even during the rainy season. It takes about an hour to drive there from Shanghai, but those making the trip will be rewarded with a less commercial vibe and plenty of great photo opportunities, among other draws you aren't likely to find in other water towns—like fishing with locals on the canals, having dinner on a boat, and browsing museums for wood carvings and decorative tile-ends. Xitang is truly ancient, dating back to the Warring States Period of 476 BC to 221 BC.
Wuzhen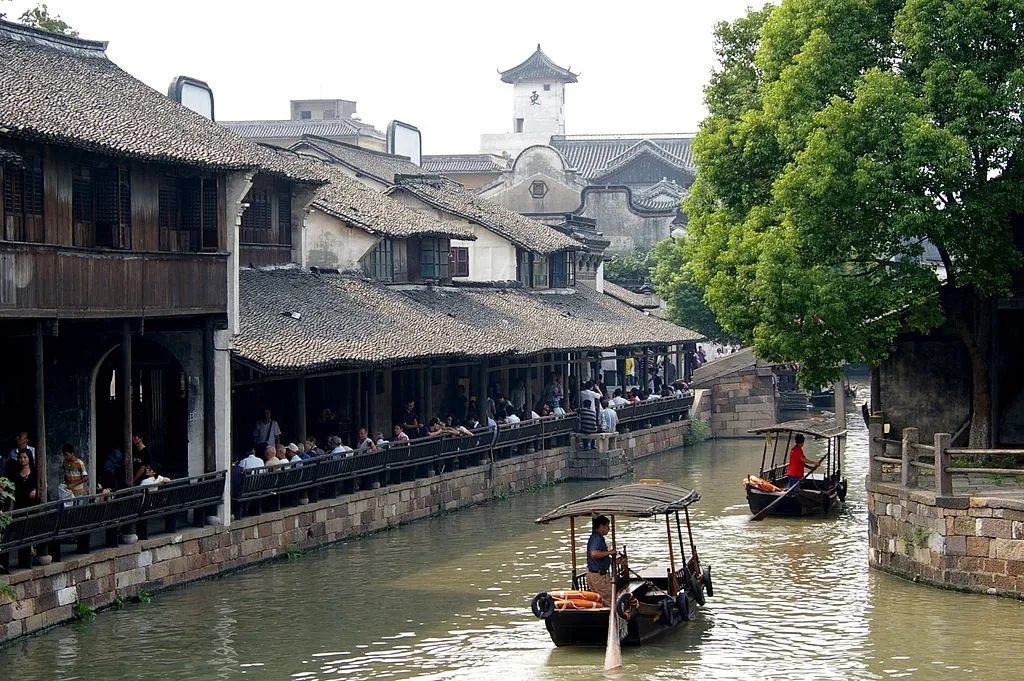 This town is about 90 miles from Shanghai and sits along the Grand Canal—the longest canal in the world at 1,104 miles, and once the main trade route connecting Hangzhou and Beijing. In 2013, a massive, multi-year renovation of the 1,300-year-old town finished; the updates had begun in 1999. Now about 1.5 million visitors come to Wuzhen every year, observing traditional architecture and temples while relaxing in five-star resorts at the day's end. About half the buildings in town are still-standing structures from Wuzhen's past, and the other half are new, reclaimed, or updated.
Zhujiajiao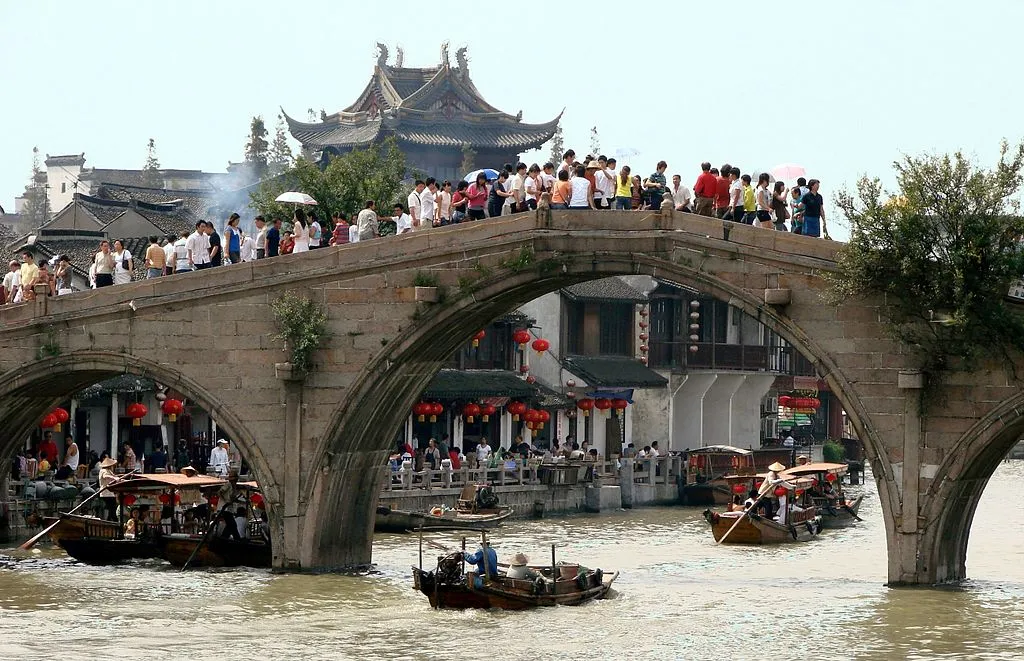 Easily accessible by public transportation from downtown Shanghai, Zhujiajiao is one of the best preserved ancient water towns in the region. It dates back about 1,700 years and was, at one point, a flourishing rice market town. Visitors can now see one of the largest gardens in southern China, the Majia Garden, and more than 10,000 buildings original to the Ming and Qing Dynasties (1368 to 1911). Get there soon, though—locals are concerned the history and culture of the area is threatened already with the 2012 construction of a large mall and entertainment complex in town.
Qibao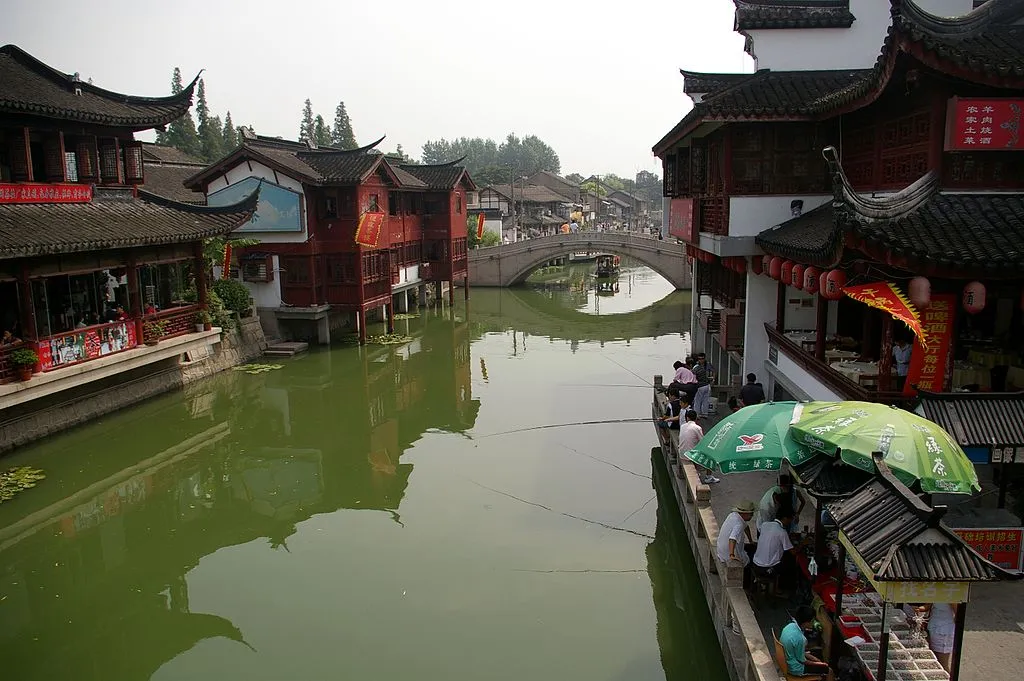 Located only 10 miles from downtown Shanghai, this is also an easily accessible water town for a day or weekend trip. Qibao was built around water as well as a temple dating back to the early 900s. The town's name means "seven treasures," and those treasures are thought once to have been housed in the temple: an iron Buddha, a bronze bell, a gold script lotus sutra, a 1,000-year-old catalpa tree, a pair of jade chopsticks, a jade axe and a gold cockerel. For a truly local experience, catch a shadow play (a play in which puppets' shadows are cast onto a screen), or visit the cricket fighting museum to witness a live bug fight.
Luzhi
Use Suzhou as a base to visit this water town—it's only about 10 miles away. There's about 2,500 years of known history here, once as a small village called Puli before becoming the bustling town it is today. Puli was actually a recluse poet named Lu Guimeng (also known by the courtesy name Luwang). He retired in the town, and it was named for his pseudonym, Mr. Pu-Li. The town is known for its bridges, many original to the dynasties in which they were built, earning Luzhi the nickname "Museum of Chinese Ancient Bridges." Along with the original bridges, many of the buildings are original, as well—not rebuilt as in many of the other ancient water towns.
Zhouzhuang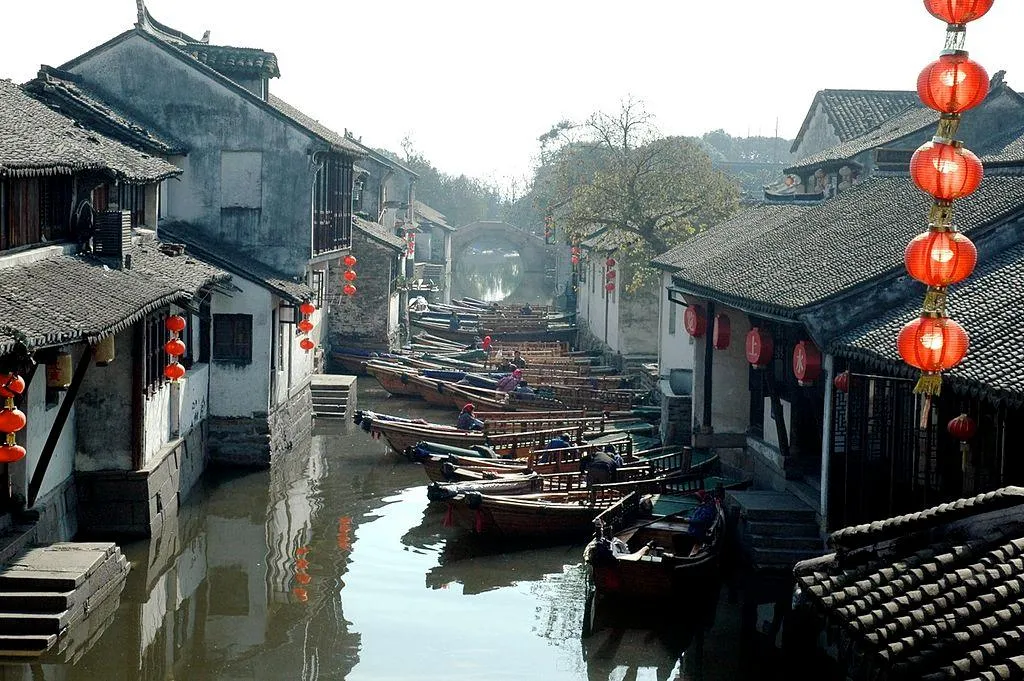 This is the most famous and most commercialized ancient water town in China, situated about halfway between Shanghai and Suzhou. The architecture here dates back more than 900 years, with about 60 original brick archways and 100 original courtyards. More recently, an antique-shaped tower called Quanfu Temple was built in 1987—climb to the top to get the best view of the ancient town. Or for a more authentic experience, visit Chengxu Taoist Temple, built between 1086 and 1093; it's one of the most famous Taoist temples in the area.