Explore Austria's Underwater Hiking Trails
Catch it if you can—scuba season is short in this crystal-clear, temporary lake
Situated at the base of the Hochschwab Mountains in the southeastern state of Styria, Austria, Grüner See, or Green Lake, is unlike any other park in the world. During the colder months, it's a hiker's paradise—miles of trails snake across the base of the mountain range's rambling foothills. But come springtime, a flood of melted snow cascades down the mountain range, submerging the basin-like area and transforming it into a crystal-clear, 40-foot-deep lake. For several months out of the year, a scuba mask and flippers become more appropriate than a pair of hiking boots.
The geological phenomenon has been naturally occurring for centuries and has been a secret getaway for in-the-know scuba divers, photographers and locals for decades. But only in recent years has this otherworldly body of water grown in popularity. Today, it's a curiosity that lures adventure-seekers from around the world to its calming shores.
Because Grüner See is the result of snowmelt, its clear waters reveal a surreal scene below. Divers and swimmers can view the park's many wooden benches, bridges, and pathways beneath the water's surface, giving the lake an Atlantis-like feel. The meltwater also takes on an emerald-green hue thanks to the park's ample grasses and other vegetation, which continue to thrive under water.
One local resident who feels the pull of Grüner See's chilly waters each spring is professional photographer and scuba diver Thomas Aichinger, who has been diving for more than 25 years. He's been visiting the lake since he was a child, and has built up a collection of wanderlust-inducing photographs that would cause any nature-starved city dweller to book the next flight to Austria.
"You feel like you're swimming in a bottle of water—the lake is that clear," Aichinger tells Smithsonian.com. "But you have to be careful, because if you scrape the bottom of the lake with your flippers, you can kick up sand and then have zero visibility."
Aichinger recommends wearing the appropriate gear when diving, which includes a wetsuit, as the water temperature rarely climbs above 40 degrees Fahrenheit.
"When you're diving, you feel like you're flying," he says, "since you're swimming above the park's submerged benches and bridges."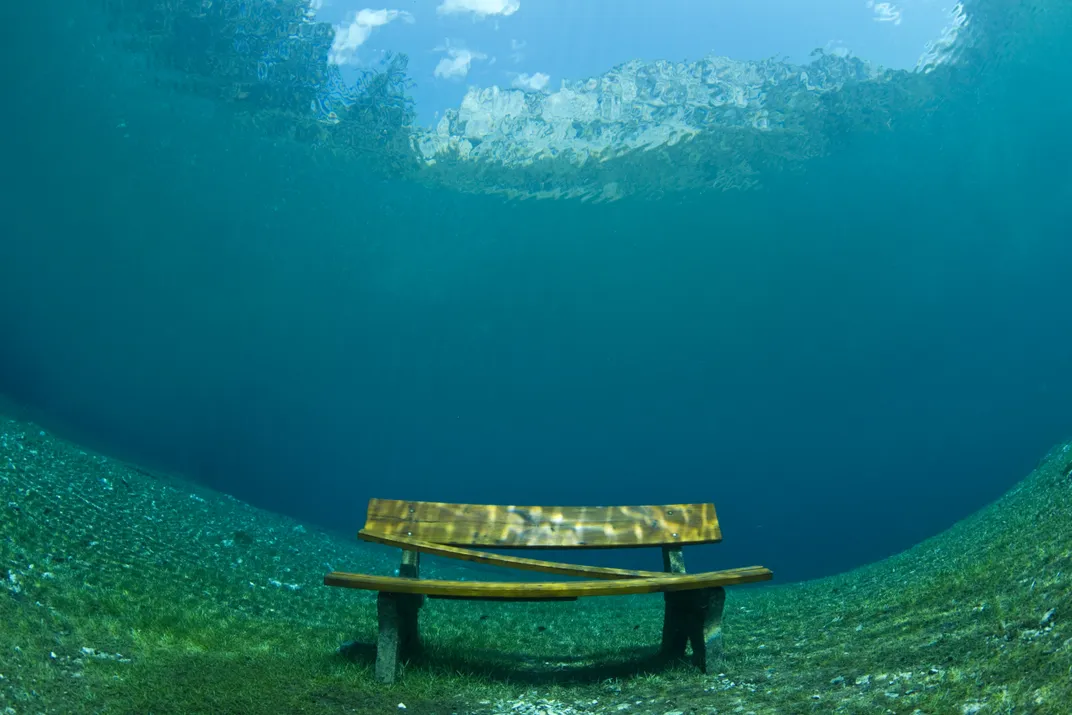 The window of opportunity for travelers to see this geological phenomenon is limited to a few short weeks and usually occurs during the spring and summer months, beginning in late April or early May. Come July, the water has started to recede, causing the lake to disappear just as quickly as it formed, leaving behind nothing more than a mirage.
For travelers who want to keep their feet on solid ground, there are several hiking trails and overlooks around the perimeter of the lake that don't get flooded out, making it an ideal place to relax or have a picnic. For hikers, the best time to visit is during the fall or winter, when the water level drops to reveal several miles of trails. The park is also a popular spot for cross-country skiing in the wintertime when the area is blanketed in snow.