Beautiful Photos from America's Six Least-Visited National Parks
These parks are less popular, but no less spectacular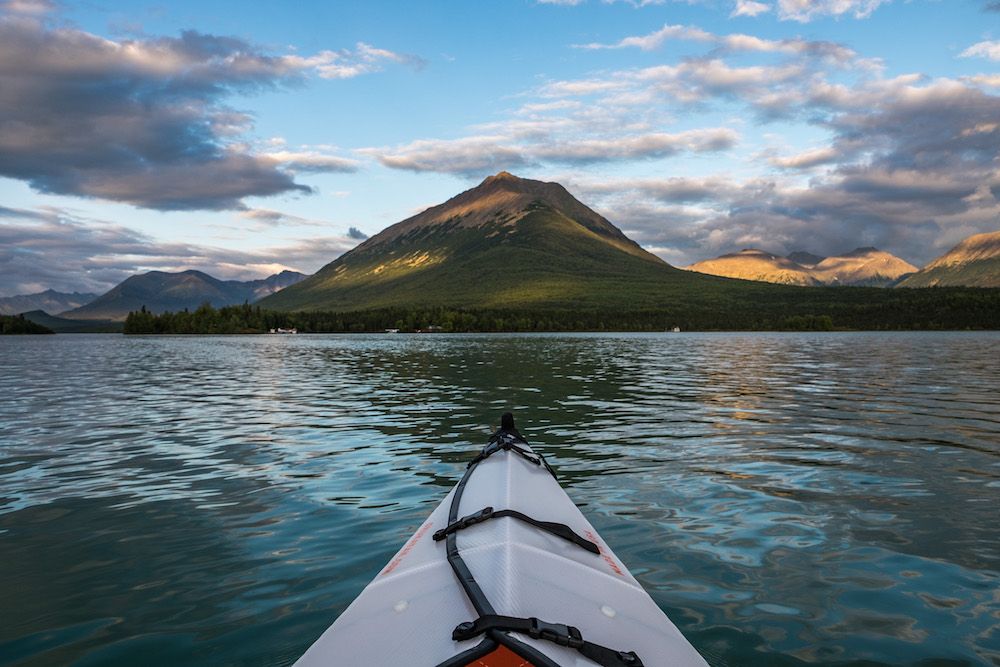 For most people, visiting one or two national parks a year is considered a tremendous feat. For Jonathan Irish and Stefanie Payne, though, that wasn't enough to satiate their curiosity about America's elaborate national parks system. Armed with an assortment of Fujifilm X-series cameras and an Airstream trailer, the couple embarked on an epic journey they've dubbed The Greatest American Road Trip as a nod to the National Park Service's Centennial. Their mission: visit all 59 parks in just 52 weeks.
"We decided to dedicate a year and do a project that was really special," Irish tells Smithsonian.com. "We both grew up exploring the national parks, and wanted to see if it's actually possible to visit all of them in a year. Our goal is to not just step a toe into each park, but to get into the heart of it by camping and taking long hikes."
After more than a year of hashing out the logistics, Payne quit her job at NASA and joined Irish, a professional freelance photographer, on an epic journey across the nation. And although they've explored iconic areas like Great Smoky Mountains National Park and Grand Canyon National Park, the country's two most-visited parks, the less-popular ones turned out to be some of their favorites.
Despite several flat tires and constantly contending with spotty Wi-Fi and cell phone service, Smithsonian.com managed to connect with the couple to get the inside scoop on their adventures in the NPS's six least-visited parks—and why each should be at the top of your bucket list.
Location: Alaska
Annual Visitors: 10,745
"We knew from day one of the project that Gates of the Arctic was going to be one of the greatest challenges to do and do right," Payne tells Smithsonian.com. "It's incredibly remote (there are no established trails in the park) and therefore it's hard to both get to and explore. We only saw two souls during our 82-mile float down the Noatak River, which is very much the heart of the park." The river surprised Payne for a reason other than its beauty—grizzly bears on the river banks were curious about the visitors, but not aggressive. "They just aren't familiar with human beings," she explains. "That idea boggles my mind—unfamiliar humans. And I thought we were everywhere!"
For Irish, the appeal of Gates of the Arctic is exactly what might make it daunting to a less seasoned visitor—what he calls its "real wilderness experience." The park has no maintained trails, is the second biggest national park at 13,238 square miles and can only be accessed via bush plane, he explains. "You could literally spend months exploring it without seeing another person," he says. The pair chose to explore Gates of the Arctic with a six-day float on the Noatak River, a Unesco-designated Biosphere Reserve and one of the NPS's Wild and Scenic Rivers. "We spent our days paddling through some of the most beautiful and scenic land you can imagine," he reminisces. "Rarely have I ever felt so remote or alone in the wilderness."
Location: Alaska
Annual Visitors: 17,818
Lake Clark is also only accessible by plane, but Payne says it was well worth the inconvenience. "It's very wild, just like all of the Alaska national parks, and the wildlife viewing is exceptional," she says. Brown bears wandering right next to their camp was reason to visit in and of itself, she says, but the experience of flying into and out of Lake Clark was memorable, too. "You'll travel by bush plane, which gives a unique glimpse into the rugged wilderness—braided rivers, lush tundra, jagged mountain peaks and the impossibly blue Lake Clark," she says. Another highlight was Proenneke's Cabin, "a historic homestead engineered immaculately with ingredients grown in the Lake Clark wilderness."
"When I think of Lake Clark, I mostly think of coastal brown bears (grizzlies)," Irish adds. "This park is where we had more intimate encounters with bears than any other park on our trip. I was photographing a sow (mother bear) and two cubs fishing for salmon in a stream, when all of a sudden we turned around and saw that another brown bear, which probably weighed 1,200 pounds or more, had quietly sneaked up behind us, sat down about 15 feet away and had been watching us [the entire time]." The experience was unnerving, but Irish says that it's also part of Lake Clark's charm. "You can have that intimate experience with the bears and yet be completely safe," he says. Another highlight was kayaking on Turquoise Lake in the interior of the park. "We had to take a float plane to and from the lake and basecamp for three days," he recalls, "but we had this beautiful alpine scenery all to ourselves."
Location: A remote island off the coast of Michigan in Lake Superior
Annual Visitors: 18,684
"Visiting Isle Royal feels like an adventure from the very beginning," Payne says. "To get there you have to cross Lake Superior by ferry or seaplane, and as soon as you land, with mainland Michigan gone from your sight, you get the sense that you're truly off the grid." If she were a Midwesterner, she says she would consider it the best place around for adventures like hiking, camping and kayaking. From the couple's basecamp at Rock Harbor Lodge, the park's only lodging option, "we could drop down to the dock to fish, hop in a canoe and catch the Aurora Borealis—this is a prime viewing spot during the summer." They even visited the home of the longest continuous predator-prey study in the world, the Wolves and Moose of Isle Royale. "It was amazing to put on my thinking cap and learn about the northern wildlife habitats in an area that I'm not too familiar with," she says.
Irish was also amazed by the park's proximity to cities all over the Midwest. "It's a surprise to me that more people don't visit this awesome national park," he says. "[It] seems like it would be a haven to anyone within a few hundred miles." Highlights included backpacking the entire 40-mile island, taking photos on its rugged coast and checking out the Northern Lights.
Location: Washington
Annual Visitors: 20,677
North Cascades may be relatively unknown, but for Payne it was like coming home. "Washington is my home state, so I know this park in an intimate way," she explains. There she found the beauty she fell in love with in the past: "walls of trees; rocky, mountainous peaks; waterfalls for days; and vibrant, turquoise-blue alpine lakes." Together, they hiked to Thornton Lakes, slept beside a serene lake and took plenty of scenic drives. "I love photographing the roads that meander wild," she says. "For me, a trip along the North Cascades Scenic Byway (State Route 20) is a must to take in those sweeping views."   
"The Pacific Northwest forest is my happy place," agrees Irish. "I love the old-growth forests covered in vines and ferns. I doubt there is a place in the world with more shades of green." He recommends watching the sunset at Picture Lake, which reflects views of Mount Shuksan in the distance. "It's simply breathtaking, and very easy to access," he says. 
Location: Alaska
Annual Visitors: 37,818
"Before we started this project," says Payne, "I was most excited to go to Katmai." A long-time Brooks Falls Bearcam fan, she's been "mesmerized" by witnessing bears catch salmon in plain sight. From their home base at the Katmai Wilderness Lodge on the Shelikof Strait, the couple explored large stretches of the coast by boat and on foot accompanied by bear naturalists. "Having that expertise to access while in the field adds so much to an experience," she says. (Guides also know the ways of bears, which can increase safety for visitors.) One highlight was a day trip to Brooks Falls, where they watched bears eat their fill despite being fat with berries and salmon. "They looked so tired of eating," she recalls.
"Katmai can be tough and expensive to get to," admits Irish, "but for those who make the effort, it's incredible." But the park's iconic bear-riddled salmon run has its downsides—crowds. "I'll never forget the first moment I saw the salmon jumping up the river, with bears circling all around—I almost cried," he recalls. "However, I prefer the outer coast, where the bear concentration is still high but the crowds are lower." He recommends exploring by boat to get a closer view of the bears on the park's east side.
Location: American Samoa
Annual Visitors: 13,892
Later this year, Payne and Irish will visit one of America's least-known and most remote national parks—the National Park of American Samoa. "It's hard to imagine that one of the national parks is closer to Australia than it is to the mainland United States," says Payne, who anticipates that its tropical terrain will be a welcome respite after so much time on the road. Expectations are high for Irish, who has visited the park before. "I loved the dramatic cliffs and coastlines," he recalls. Though he calls American Samoa "busy and crazy," in his opinion, full of bustling roads overrun with cars, stray dogs and pedestrians, he consider the park "a peaceful shelter" from the chaos nearby. "Most people have an idyllic impression of the South Pacific islands, and the park is probably the only place on the island where one can find that serene nature that is natural to the environment," he explains.
Correction: The article previously stated that Gates of the Arctic National Park is the largest national park. This was incorrect. Alaska's Wrangell-St. Elias National Park & Preserve is the largest national park at over 20,000 square miles.