Endangered Site: Historic Route 66, U.S.A.
The 2,400-mile highway was eclipsed by interstate highways that bypassed neon signs of roadside diners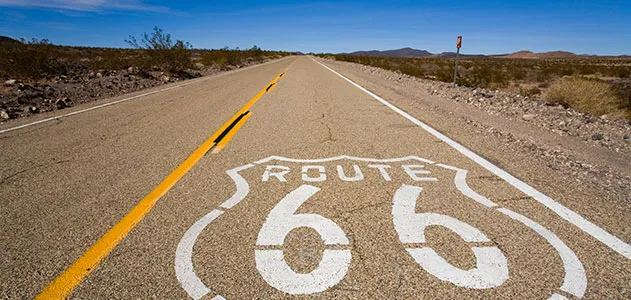 Writing about the Joad family's journey from the Dust Bowl of Oklahoma to the promised land of California in The Grapes of Wrath, John Steinbeck famously called Route 66 the "mother road." But today it's more of an impoverished great-grandmother.
The 2,400-mile highway, which starts in Chicago and passes through Missouri, Kansas, Oklahoma, Texas, New Mexico and Arizona before ending in Los Angeles, will turn 83 this year—and it's not aging gracefully. Derelict gas stations, restaurants and trading posts, often vandalized, line its rural stretches, their neon signs long since dimmed. Developers are bulldozing quirky motels to make room for generic high-rises. And in places where traffic was once so thick it took ten minutes for a pedestrian to cross the road, you can spread a cloth and have a picnic, says Michael Wallis, a leading advocate for the preservation of the route.
Soaring automobile sales, coupled with the Federal Aid Highway Act of 1921—which called for the networking of roads—provided the impetus for the highway. Cyrus Avery, an Oklahoma state highway official, and Springfield, Missouri, entrepreneur John Woodruff mapped out Route 66's diagonal course based on existing trails blazed by Native Americans, explorers and soldiers. And though it wasn't the first or longest of its kind, Route 66 was the shortest, most temperate year-round stretch between the Midwest and the West Coast. During World War II, soldiers hitchhiked on it. After the war, Americans took to the highways as never before, and a distinctive roadside culture—diners, motor courts and kitschy tourist traps—grew up along Route 66 to cater to them.
"It became a stage on which Americans acted out their aspirations," says Roger White, curator of road transportation at the Smithsonian's National Museum of American History. Dubbed the "Main Street of America" by Avery, it inspired Bobby Troup's song "Get Your Kicks on Route 66" (recorded by Nat King Cole and, later, the Rolling Stones), Jack Kerouac's beatnik bible On the Road, the 1960s television series "Route 66" and, most recently, Pixar's animated film Cars.
Route 66's popularity led to its downfall, with traffic swelling beyond its two-lane capacity. In 1956, legislation created the Interstate System, and over the course of three decades, five separate interstates bypassed segment after segment of Route 66. Its signature black-and-white shield markers were taken down, and in 1985, Route 66 was officially decommissioned.
But Route 66 would not go quietly. "I got tired of people talking about the road in the past tense," says Wallis, who, in 1990, wrote Route 66: The Mother Road, a seminal biography of the highway. Today, 85 percent of Route 66 remains drivable, and some businesses thrive among the casualties. Ted Drewes Frozen Custard stand is still serving up cones in St. Louis; Stanton, Missouri's Meramec Caverns still gives tours; and the famous Wigwam Motel in Holbrook, Arizona, still offers a night's stay in a 30- by 16-foot concrete wigwam. "It's a labor of love, these motels," says John Lewis, an owner of the Wigwam. "I don't think the guests fully realize the effort it takes to keep these things going."
Driving a stretch of the route between Albuquerque and Gallup in the late 1980s, New Mexico Senator Pete Domenici was saddened by the deteriorating filling stations and shuttered mom-and-pop stores. He introduced a bill to preserve the highway. Authorized in 1999, the Route 66 Corridor Preservation Program has been involved with 86 projects, including the repair of Lewis' wigwams. But while the legislation authorized the program to receive up to $10 million over the course of its ten-year life span, actual appropriations have been averaging around $300,000 a year, which is reduced by more than half by the salaries of two staff members and travel and administrative costs. "It's done some wonderful things," says Kaisa Barthuli, the program's manager. "But folks are a little discouraged." And the ten-year preservation effort is scheduled to end this year. A proposal to extend the program is part of an omnibus bill that is not expected to pass. "We're keeping our fingers crossed," says Barthuli. "We have a lot more work to do."
Most supporters of the preservation of Route 66 agree that the highway needs money, awareness and a national voice that can speak and act on its behalf. The World Monuments Fund named Route 66 to its Watch List of endangered sites in 2008, and the National Trust for Historic Preservation included its motels on a list of "America's 11 Most Endangered Historic Places" in 2007. Wallis and others, including representatives from the eight state Route 66 associations, are in the process of forming a national nonprofit called the Route 66 Alliance to help with fundraising.
"It's a tremendous cross section of American history along those 2,400 miles," says Barthuli. "If we lose those stories, we're really losing a sense of ourselves."