Easy Riders
For whistle-stop campaigning or just rolling down memory lane, nothing could be finer than your own railroad car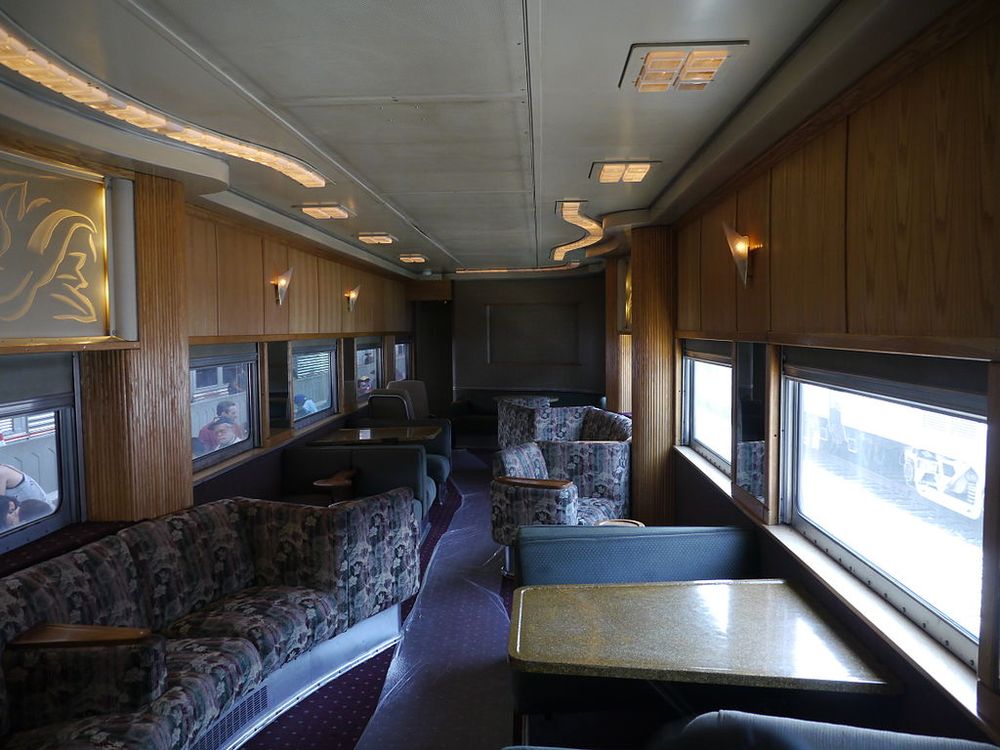 At the end of a string of sleek silver Amtrak coaches that have just pulled into the Manassas, Virginia, station, a man wearing a weathered porter's hat climbs down from the open rear platform of a green-and-blue car from another era. A woman rushes up to him and asks for help with her bags. But Dante Stephensen isn't a porter. He's the owner of the 78-year-old railroad car, and he has stopped at the station only to collect two guests before heading to Washington, D.C., 30 miles away, for a gathering of the American Association of Private Railroad Car Owners (AAPRCO).
For the next two days, Stephensen and a dozen other private railroad car owners will talk informally with members of Congress, Transportation Department representatives and Amtrak officials about safety regulations and equipment, federal appropriations and other matters affecting private rail car operations. "If they don't roll, we don't roll," says one private car owner, referring to the fact that the cars must be hooked up to Amtrak (or VIA Rail Canada) trains in order to travel around the country. About 150 private rail cars are certified—meaning that they have passed rigorous inspection requirements and thus can be linked to trains that travel up to 110 miles per hour. (Uncertified cars are restricted to local routes.)
Most private rail car owners love to show off their historic vehicles. During an evening reception at Washington's Union Station, 250 invitation-only guests amble through eight restored cars eating hors d'oeuvres prepared in the tiny galleys. The cars, though only ten feet wide, can be opulent, with brocade sofas, pianos, marble sinks, drapery, even chandeliers and fireplaces. Most owners set their dining tables with china and crystal and employ chefs to prepare meals.
"A private car is not an acquired taste. One takes to it immediately," Mrs. August Belmont Jr., grande dame of New York City's Belmont banking dynasty, quipped nearly a century ago. From the late 1800s to the 1930s, private cars were the vehicle of choice for bankers, railroad barons and other wealthy Americans. The Chapel Hill, a lavishly restored car at this year's Washington gathering, was built in 1922 for stockbroker E. F. Hutton. Stephensen's car, the Survivor, was owned originally by department store magnate F. W. Woolworth; Cary Grant is said to have courted Woolworth heiress Barbara Hutton in it. Private railroading's golden era was ended by the Great Depression, airplane travel and Americans' growing love of the automobile. By the late 1950s, the number of private cars in use had dwindled to fewer than a dozen.
As rail travel declined in the 1960s, railroad companies began selling off cars to museums and collectors. Subsequently, the creation of Amtrak, the federally subsidized rail system, in 1971, boosted private car usage by granting linkup privileges. Over the years, Amtrak's relationship with car owners has sometimes been tense, as everything from the colors that the historic cars can be painted to what age to ban them from the tracks was negotiated.
Some private cars are jewel boxes on wheels. The San Marino, a 1916 Pullman-built car, looks stately in a red coat of paint with gold stripes. The rear platform's candy-striped awning and polished brass railing add a dash of old-fashioned charm. The 82-foot-long car is partitioned into eight rooms. Built for railroad man and art collector Henry Huntington, it still has its original Black Forest walnut paneling, brass beds and nickel-silver sinks, ornate fixtures that were standard in the luxury cars that George Pullman first began producing in the 1860s. "From a railroad lover's perspective it chokes you up," says Dean Levin, the car's owner since 2003 and a financial specialist from New Orleans. "It belongs in a museum."
Levin, 37, jokes that he comes from a two-car family. In 1985 his father, Bennett Levin, bought the Pennsylvania 120—built for Pennsylvania Railroad executives in 1928—and the family spent six years restoring it. After three trips in the San Marino, Dean Levin says, "It's like traveling in your own home."
For Stephensen, a 69-year-old Atlanta restaurateur, his car is his home. When not hooked up, it sits on a track spur on a secluded two-and-a-half-acre wooded site in Atlanta. The car's interior is comfortably cluttered. "It was definitely dowdy Victorian," says Stephensen, who shares his quarters with his dog, Sasha, and cat, Spider. "I've made it kind of eclectic Victorian." Blue velvet drapes flanking ornate leaded windows exist happily with cabinets of curios and railroad memorabilia—hats, conductors' uniforms and bandannas from around the world, and a collection of model steam engines. Lining the paneled corridor leading to two bedrooms are photographs of Stephensen with Jimmy Carter, Senate Majority Leader Bill Frist, Henry Kissinger and other notables, many of whom have traveled with him in the car. Sasha, a big, friendly Samoyed, is curled under a table. Acquiring the Survivor in 1982 fulfilled a dream, says Stephensen. "I used to see these old cars going by on the rear of the more elegant trains when I wasn't even wealthy enough to buy a coach ticket. It's a childhood thing, and it's been with me my whole life." He was 9 years old when he first tried to get a job on the Chicago & Northwestern Railway that ran by his Winnetka, Illinois, home. He was hired at age 15 to help with track maintenance, and later worked as a fireman, switchman and brakeman. Attending Carleton College in Minnesota in the 1950s, he hopped freights for cross-country trips (which once landed him in jail overnight).
Diane Elliott, AAPRCO's executive director, attributes her members' interest to "love of railroading, being exposed to it when they were younger, enjoying preservation and the history associated with it." Today's owners include corporate executives, dot-com entrepreneurs, publishers, doctors, dentists and at least one airline pilot. Cars cost from $35,000 for a rusty relic to half a million dollars or more for one that is Amtrak-ready. Only ten or so change hands every year.
Many of today's vintage cars have presidential connections, harking back to the days of whistle-stop campaigning. Harry Truman and three other presidents rode the Missouri-Kansas-Texas 403, a 1913 private car now berthed in St. Louis. Franklin Roosevelt and John F. Kennedy traveled in Bennett Levin's Pennsylvania 120, now based in Philadelphia. Thousands of people lined the tracks from New York City to Washington, D.C. as the 120 carried the body of Robert Kennedy in a 21-car funeral train in 1968. John Heard, owner of the Georgia 300, a 1930 Pullman on display at Union Station, armor-plated its platform and bulletproofed its windows when it was chartered for Bill Clinton's four-day trip from West Virginia to the 1996 Democratic Convention in Chicago. The 300 was also part of George H.W. Bush's 1992 campaign train and is to be the last car in John Kerry and John Edwards' campaign trip from St. Louis to Winslow, Arizona, scheduled for August. The historic cars evoke tradition and "make a great photo op," Elliott says of their appeal to politicians.
Chartering helps offset operating expenses. Owners say they can spend $10,000 to $50,000 a year to store a car and keep it in running condition. Amtrak, in addition to doing annual inspections, checks each private car on every trip. If a problem is uncovered, a car is uncoupled from the train for repairs, which can cost thousands of dollars. "A lot can shake loose because of the constant movement," says Elliott. Even when there are no mishaps, Dean Levin estimates that a one-way trip from New Orleans to Washington, D.C. can cost $2,000.
At the Union Station gathering, the rail car owners acknowledge the steep price of their hobby, but mostly they talk of the pleasures of owning vintage railroad cars. "It's a bit of fantasy," says Stephensen, "and a labor of love."