Drive the Road to Hana
The zigzagging road may take long to traverse for only being 52 miles long, but the eye candy alone makes it worthwhile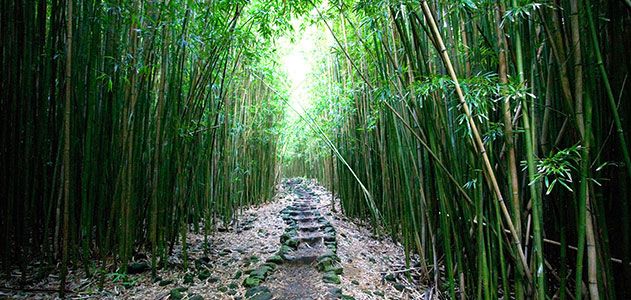 The 52-mile, serpentine Road to Hana on Maui's eastern coast is consistently ranked as one of the most scenic drives in the world. But, with over 50 bridges (many one lane) and 600 curves, it is no cakewalk to drive. "You know that yellow line down the middle of the road that's supposed to separate it into two sides?" says Ward Mardfin, treasurer of the Hana Cultural Center. "We use that like an airplane. You center your car on that and go right over the middle of it."
It can take upwards of three hours to navigate the road, built in 1926, from Kahului in the north to Hana in the south. (Be sure to fuel up in Paia, the last sizable town before the highway.) But the slow pace is to tourists' benefit. On the lush jungle road, it just means more time to stop and smell the ginger blossoms.
Away from Maui's congested resort areas, the Hana Highway, says Nav Singh, chief of interpretation and education at the nearby Haleakala National Park, is "where you get to see some of the more natural aspects of the island." Around mile marker 17 is a turnoff for the Kenae Peninsula, a rugged coast of black lava rock. "If James Michener's Hawaii made an impact or if Gauguin's paintings in Tahiti draw you to the Pacific, you'll just fall in love with the place," says Mardfin. He first visited the area in 1961, at age 17, and returned two to three times a year thereafter until 2001, when he became a full-time resident of Hana. Closer to the town of Hana is a black sand beach of crushed volcanic rock in Wai'anapanapa State Park, where there are caves and water-spouting blowholes in the rocky cliffs. In the Kipahulu section of Haleakala National Park, ten miles past Hana, there is a trailhead to Pipiwai Trail. Five years ago, I hiked two miles up to the 400-foot Waimoku Falls, swimming afterward in tiered pools, fed by waterfall after waterfall, in the lower Oheo Gulch. The Road to Hana, says Singh, is "one of the few places where you can actually almost experience waterfall fatigue."
At Kipahulu, drivers can either turn back north or continue on in a circular route. Before deciding, be sure to thoroughly read your rental car agreement, advises Singh. Past Kipahulu, the landscape changes quite abruptly from jungle to desert and, though hard to believe, the road gets even dicier.