Destination America
Hotspots and Highlights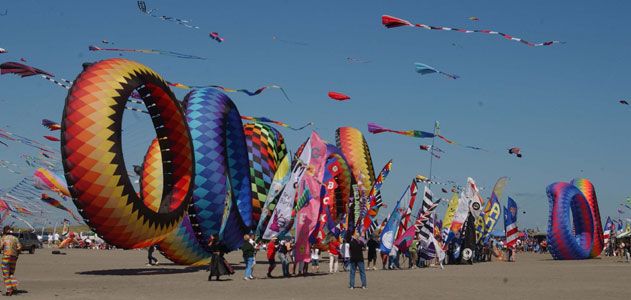 The Chicago Blues Festival
Chicago, Illinois
June 5 to 8
Texas guitarist Johnny Winter opens four days of performances showcasing such greats as guitarist B.B. King and singer Koko Taylor.
International Festival of Arts & Ideas
New Haven, Connecticut
June 14 to 28
Music, dance, theater and speakers from around the world open in many venues, including the New Haven Green, a public space laid out in 1638.
Juneteenth Celebration
Houston, Texas
June 19
On June 19, 1865, two months after the Civil War ended, a Union general traveled to Texas and declared slaves there to be free. This year's celebration includes zydeco, blues and gospel concerts.
North American Indian Days
Browning, Montana
July 10 to 13
Tepees rise on the Blackfeet tribe's powwow grounds for a parade as well as drumming and dance competitions.
The California Rodeo
Salinas, California
July 17 to 20
Nearly 1,000 contestants test their skills in challenges that include calf roping, steer wrestling and bareback riding.
Festival Betances
Boston, Massachusetts
July 18 to 20
Dr. Ramón Betances strove to end slavery and Spanish colonial rule in 19th-century Puerto Rico. Some 1,700 miles to the north, Boston's Latino community celebrates his heroic efforts with ethnic music, dance and food.
Targhee Fest
Grand Targhee Resort, Alta, Wyoming
July 18 to 20
Stars include singer-songwriter Emmylou Harris, blues great Taj Mahal and singer-songwriter Lyle Lovett, performing in the shadow of the Grand Teton.
Uptown Art Fair
Minneapolis, Minnesota
August 1 to 3
Some 350 artists set up a street market to peddle crafts from paintings to glass sculpture and jewelry.
Washington State International Kite Festival
Long Beach, Washington
August 18 to 24
On a half-mile stretch of coast, kites of every stripe swoop overhead. One event features a synchronized demonstration known as kite ballet.
The Hood to Coast Relay
Mount Hood to Seaside, Oregon
August 22 to 23
For the first relay in 1982, eighty runners raced in teams from the flanks of Mount Hood to Portland and the Pacific Ocean, covering nearly 200 miles. The race now attracts thousands who run "the mother of all relays."
Frog Festival
Rayne, Louisiana
September 5 to 7
In the 1880s, the "frog capital of the world" shipped these amphibians to fine eateries from New York to Paris. Harking back to that quirky history, an old-fashioned frog racing and jumping contest is still going strong.