This Photographer Captures the Beauty and Drama of East Greenland at Winter's End
Danie Ferreira shares his experiences documenting one of the world's coldest climates on the heels of Greenland dogs
This article is part of a series highlighting photographers who have submitted to Smithsonian.com's annual photo contest.
Temperatures below 40 degrees Fahrenheit aren't for everyone. But the harsh conditions of the Arctic are where Cape Town-based expedition photographer and video producer Danie Ferreira feels most in his element.
"In South Africa we've got a golden hour, maybe an hour at sunrise and maybe an hour at sunset," says Ferreira. "In the Arctic and Antarctic, it's at least two to four hours depending on what time of the year you're there. I'm talking about just after winter. You have this beautiful twilight that lasts forever. One can just make magic in it I've found."
Back in 1984, Ferreira spent fourteen months in the Antarctic working as a meteorological observer for South African National Antarctic Expedition. Almost three decades and a career in television later, he decided to leave the corporate life and revisit his passion for documenting the world's most extreme climates.

From 2015 to 2016, Ferreira traveled to remote communities in Norway, Greenland and the Canadian High Arctic to capture the working relationship between man and the Greenland dog for his documentary Ice Dogs. One of the world's oldest breeds, the Greenland dog has been trusted by some of the world's most preeminent polar explorers, including Robert Peary, one of the first men to make it to the North Pole, and Roald Amundsen, who led the first successful expedition to the South Pole.
Ferreira's recent submissions to our annual photo contest offered a window into his experiences in Greenland. In one image taken in March 2016, a dog stares off into the distance, snow from a blizzard whipping wildly around it.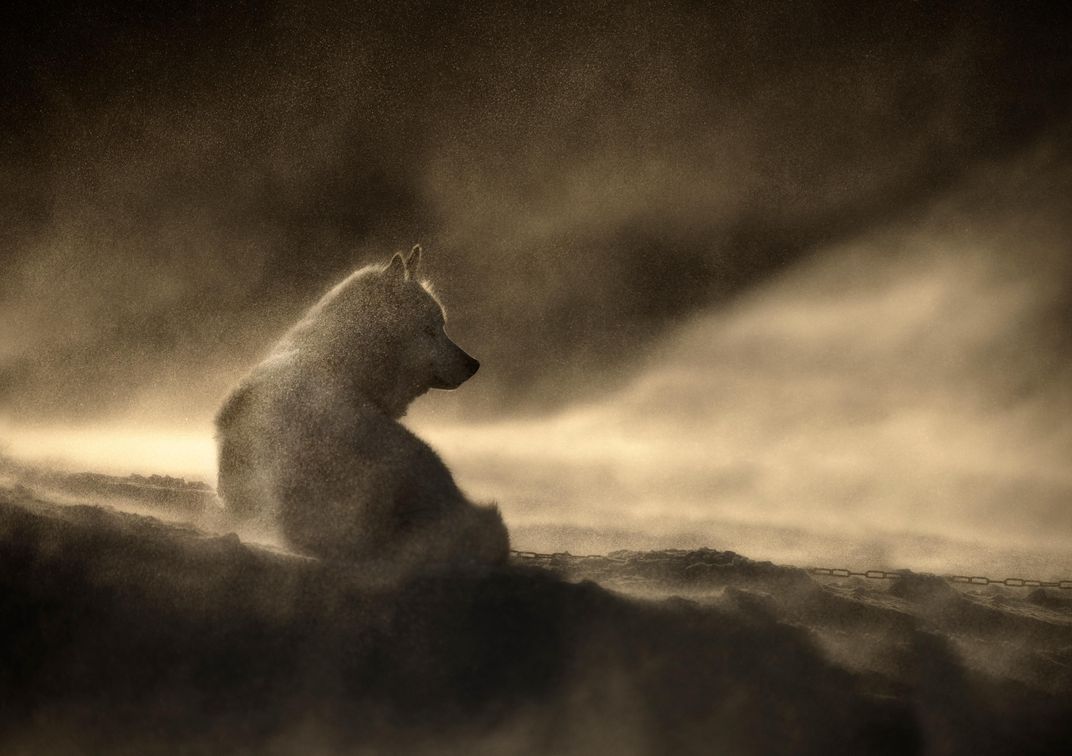 Ferreira and his daughter had joined local Inuit hunters on one of the first hunts of the season through Jameson Land near Ittoqqortoormiit, East Greenland, and captured the image in the early morning from inside an isolated hunters' cabin.
"The sky is clear, but the wind is howling," he writes. "My 18-year-old daughter could barely stand up straight. The snow stung like sand in a sand storm, but this Greenland dog just lay there in peace."
Chief among memorable moments from his expeditions was watching the dogs pull people and gear over snow and ice for hours on end, from the high country in search of musk oxen to the coast in search of seals. "It's amazing to see these animals work, to experience their work ethic," Ferreira says. "A working team of Greenland dogs exhibits a collective intelligence, like a flock of birds, as if sharing one mind."
In another image, snow swirls around a mother polar bear and her cub in the blue twilight.
Earlier that day, Ferreira and his team had spotted a set of polar bear tracks.
Remaining alert, they followed the tracks and, as the light was beginning to fade, spotted a female bear and her cub roughly three hundred feet away on an ice slope above them. Using a 1000mm lens, Ferreira set up a long exposure and captured the moment when the mother revealed her cub to the hunting party.
In March, the Arctic still has absolute day and absolute night. "The period in between I find mesmerizing," says Ferreira. "The snow is at its most beautiful. The elements are expressive. It's passion, and it's drama."
Though rewarding, photographing the earth's polar extremities comes with its share of challenges.
Before flying to Greenland, Ferreira and his daughter headed to Geilo, Norway, for a week of extreme ice training, which involved sleeping out in the open and learning how to stay warm.
While keeping warm is imperative in such extreme conditions, the camera equipment needs to stay cold. "What's really challenging is that your gear must remain outside, and it can't move into a tent or into a hut," says Ferreira, who carried his equipment in a wooden sled. "It's got to remain ice cold outside because the minute you move it in, it fogs up, it then freezes and ultimately your lens will break."
Getting your nose stuck to a camera is another hazard of the job. "That's quite a challenge," says Ferreira with a laugh.
Transitioning from the corporate world to expedition work presented Ferreira with a lot of unknowns. However, a phrase shared with him by a man he met in Svalbard, Norway, has carried him through both tough times and conditions: "The light you need is there."
"You have the answers, it's all out there. You just got to go and find it," Ferreira explains. "[The words] spoke to my emotional condition and also my need and passion to find the perfect light. Either you've got to wait for it, or you've got to hunt for it."
Ferreira is currently working on a book about his experiences at both ends of the planet and preparing for an expedition to the Antarctic in November. There are still many polar destinations he hopes to visit. At the top of his list is Lake Baikal in Siberia to experience its infamous black ice.
"For as long as the earth has cold places, I'm in transit," he says.
Submit now to our 16th Annual Photo Contest!
We discovered Danie Ferreira's work through his submissions to our photo contest. Join now to become part of our photo community!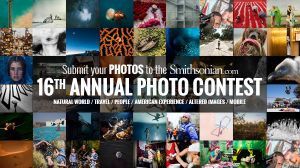 Submit now to our 16th Annual Photo Contest!