Cruise to Alaska
Visiting the 49th state by sea means you're in for scenic grandeur and grand hotel comfort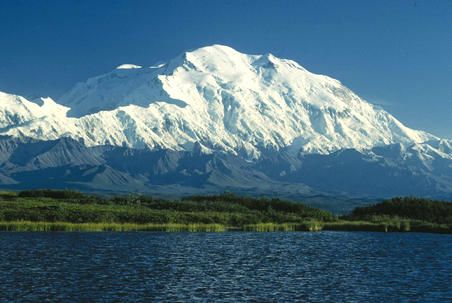 Hans van Biljouw, the captain of the motor ship Volendam, is as jolly as Santa Claus, but even he goes quiet as the big ship heads toward Snow Passage in darkness and fog. "It's only about two cables wide there," he says quietly as he stands on the bridge, watching the pilot give instructions to the man at the helm. A cable measures 608 feet. The Volendam is 106 feet wide and 780 feet long. At 60,906 tons it is considerably bigger than the ship that was once the symbolic apex of technology, the Titanic. But it is going to go through a very small place.
Snow Passage is a pinch of deep water between rocks, a gap among islands in Southeast Alaska's Inside Passage. Here, wind-whipped tides can build seas big enough to capsize small boats and currents strong enough to drive big ships aground. But though the radar screen shows rock closing in on each side, we can't see anything out the slanted windows of the bridge but black fog.
"Did the Dawn Princess say anything about fog when she went through here?" Captain van Biljouw asks the pilot. The answer is no. The captain says nothing. Everyone is silent.
The big Holland America Line ship shudders with power. It is racing at its target like an arrow shot at a keyhole. All five of its huge diesel engines roar, pouring out 43 megawatts, enough power for a city of 44,500. Its two electric propulsion motors are using 26 of those megawatts to drive the ship. The ship is going almost full speed—22 knots (about 25 miles per hour)—trying to get to the pass while the tide turns, to avoid dangerous currents. But except for the hum of electronic equipment on the bridge and the occasional blast of the ship's horn as a warning to anyone else moving in the fog, there is no sound. Eight people stare out at the night, and wait.
Almost no one else on the ship knows what is going on. It is shortly before 5 A.M. All but a few of the 1,479 passengers are asleep. They have no idea of the tension on the bridge, and they will never learn of it. That protection is part of the package. The huge business of cruising, one of the fastest-growing pieces of the booming travel industry, is built on the intricate elaboration of the illusion that, for a week or two at least, complete comfort and security can be had on earth.
I am on board with my wife, Suzanne. We're on a cruise from Vancouver, British Columbia, to Glacier Bay, Alaska, and back. We chose to take a seven-day cruise to Alaska because that's one of the most popular single venues in the industry. Every year more than half a million tourists take cruise ships through the Inside Passage. We're here on an unusual assignment, which is both delightful and unsettling: to revel in the illusion and to look behind it. The story begins, like every ship, with the cutting of steel.
A pond burns in Finland
In a vast building in Turku, Finland, a pond was burning. The pond was a tank about 2,500 square feet. Deep in the tank intense blue fire danced, and streams of silver bubbles rose to the surface, where they burst into smoke and steam that was whisked away by fans. The pond looked as if it were burning because steel plates two-thirds of an inch thick were being cut underwater by computer-controlled plasma cutting devices. This was the beginning of a cruise ship.
Turku is the home of one of two shipbuilding facilities owned by Kvaerner Masa-Yards. It is one of the few shipyards in the world where big cruise ships are built, though the Volendam, it happens, was not built there. I was there to look at the genesis of all this luxury. There, in the steel-cutting rooms, were the plates for a ship that will eventually be one of the biggest cruise liners.
"The first cruise designs were based on ferries," said Kaj Liljestrand, a naval architect and executive vice president of Kvaerner Masa-Yards. "At that time the perception was that only retired people were cruising. It was considered boring for young people."
Kvaerner Masa-Yards' first large cruise ship, built for Royal Caribbean, was called Song of Norway and was launched in 1969. It was an 18,416-ton ship, big for its day. (In the world of shipping, a ton in this case means 100 cubic feet of enclosed space.) It originally carried 880 passengers.
At that time, about half a million people went to sea on cruises every year. But today the industry has grown to some 250 operating ships. It serves about 10 million people a year and generates an estimated annual gross revenue of $13 billion. Since 1980 the North American cruise industry has grown by an average of 8.4 percent per year, but that seems to be accelerating: in 2000 alone there was a 16 percent increase in the number of passengers over 1999.
Today's boom is credited to many things, from the television series The Love Boat, which originally ran from 1977 to 1986, to the increased capacity on cruise ships. Other reasons cited are that the baby boomers are getting older and that people have more disposable income; that more younger people are interested in leisure and that cruising is simply one of the least stressful vacations around. "All you have to do is show up," one frequent passenger told me. "They do all the rest." As a result, cruises have become one of the most profitable parts of the travel industry. This has led to a boom in cruise-ship building. And, because cruise passengers seem to make more demands as they grow in number, the boom has led to all sorts of innovations.
More elegant and far more varied in attractions than the Titanic...
The progression of these demands is represented in a chart of "Musts and Wants" that Liljestrand and several others at Kvaerner Masa-Yards showed me. In the 1970s people required only one thing of the ships they boarded: safety. They wanted value for their money. In the early 1980s they needed safety and reliability; they also started to think about what Kvaerner Masa calls "special attractions"—things like Las Vegas-style shows, and fitness centers. In the 1990s the needs list grew to include "environmental friendliness," and people also wanted "impressive design." Now the wants list has grown to include multiple choices of things to do or places to eat on board, and at the top, the idea that a cruise should be a unique experience.
"We've studied everything from submarines to airships," Liljestrand said, "and anything in between that floats." The result is ships that are even more elegant and far more varied in their attractions than the Titanic.
For me, however, as for most people, the first impression of the ship was its size. Out on the upper decks we were ten stories above the water. Down among the cabins, several decks of halls stretched away into a distant haze of identical doors, like halls of mirrors.
Suzanne and I had boarded this ship in Canada because of a U.S. law that forbids a ship such as the Volendam, which wasn't built in the United States and isn't owned and crewed by Americans, from picking passengers up in one U.S. port and dropping them off in another.
As the ship motored northwest between Vancouver Island and the British Columbia mainland, the landscape became wilder: a few fishing boats, a couple of tiny logging towns, an Indian reserve on an island.
I woke early and went out onto the deck, all but alone at 6 A.M. The air was cold. Wraiths of moonlit cloud draped the forested shoulders of mountains. I leaned on the rail looking out at the rugged world sliding past and thought again about Finland.
The yard by the office of the Kvaerner Masa-Yards in Helsinki looked as if it had been hit by some bizarre kind of earthquake that scattered chunks of apartment buildings all over the place. The chunks were pieces of cruise ships, called blocks, each several stories high. Men clambered over them, installing pipes and cable tracks, before the blocks were welded together to make a ship. "It's like Lego pieces," said Henrik Segercrantz, also a naval architect, who was my guide. "This is how we build ships."
Those blocks can sometimes weigh more than 400 tons each. A cruise ship is made out of some 100 of them. Air-conditioning ducts, insulation, machinery and even stairways are installed in blocks before trucks larger than train cars carry them to a vast indoor dry dock and overhead cranes lift them into place. When I watched one being installed on a ship, it was impossible to imagine that this was the beginning of luxury.
Luxury in plastic-wrapped boxes
Outside, however, luxury was waiting in plastic-wrapped boxes. The boxes were staterooms, manufactured in a nearby plant and trucked here. They would be popped into the blocks when the blocks were ready. To me these boxes sitting on the dock were a testament to the extraordinary precision of modern engineering. The builders of the boxes had absolute faith that the slots they were going into were all going to be the right size. As they waited on the dock, the nearly completed staterooms already had mirrors on the walls, and there were hair dryers in the drawers.
 In their designs, Kvaerner Masa-Yards architects try to give balconies to as many of the staterooms as possible. They have managed to design and build two cruise ships in which as many as 70 percent of the staterooms have a little porch overlooking the water.
We did not have a balcony, but the outside deck was a fine, breezy place to be as the Volendam started up the Inside Passage to Alaska. It's a labyrinthine path through an archipelago clothed in inscrutable forests of western hemlock and Sitka spruce. The ship turned left at the end of Vancouver Island and then headed north among those woods in mist, and the forests seemed as silent and full of secrets as time itself.
That night we ate a typical meal of Alaska king crab legs, salad, baked stuffed prawns Del Rey on spinach fettuccine, and chocolate cake with our assigned tablemates: Michelle and Rob Rone, from Texas, and Randal and Jan Hundley, from Arkansas. Rob, a tall, young salesman, said they'd gone on the cruise because "I like to be pampered." Randal, a wry and cheerful cardiologist, had bid on the trip on the spur of the moment at an art center benefit auction. "We always wanted to go to Alaska," he said.
In the past, meals on cruise ships were usually set up as ours were: you were assigned to a table with a few other passengers. It forced socialization and was easier for the cooks. That's all changing. "Choices" is a catchword in cruise marketing. On the Volendam you can also dine at a cafeteria on the Lido Deck or make a reservation at a more intimate restaurant called the Marco Polo. On other ships, even more dining options are offered, and some have developed marketing relationships with onshore restaurant chains.
Recreational choices, too, have come a long way from shuffleboard. Now there are huge fitness centers and spas where you can buy a massage, a seaweed wrap or a course of therapeutic vitamins. There are also multiple swimming pools, jogging tracks, paddle-tennis courts, miniature golf courses, video-game parlors, art auctions, first-run movies, karaoke machines and—on the biggest ships—ice skating rinks and rock climbing walls.
Some of the real advances in cruise liners, however, are not visible to passengers. These are technical developments so fundamental and innovative that people and designers from all over the world, including the United States, have visited Kvaerner Masa-Yards to check them out.
This innovation comes in two parts. First, most new cruise liners are what are called "diesel-electric ships." This means that instead of running propeller shafts directly, via a reduction gear, from the enormous diesel engines, the shafts are connected to electric motors that get their power from diesel-driven power plants. These plants, not much different from generating stations onshore, just provide electricity, and it's up to switches whether the power goes to propulsion or services. This allows flexibility in the amount of power generated, as well as in things like choosing whether to make the ship cooler or make it go faster, and in deciding where to put the engines to provide the best balance and the most living space. "On these ships," said Captain van Biljouw, "when you ask for the power, you have the power."
The second innovation, which derives from the first, is a revolutionary idea called the Azipod. This is a huge thing that looks almost exactly like the little motor and propeller combination on the end of an electric outboard trolling motor, except for two things: first, an Azipod weighs 200 tons and is bolted on under the ship; second, instead of pointing aft, as on an outboard, the propeller on the Azipod usually faces forward, as on an aircraft engine.
Because an Azipod can turn a full 360 degrees on its mount, it does away with rudders, which means less drag and far greater maneuverability—all of which equals more efficiency. It can save up to 10 percent of the hundred tons of fuel or more that a midsize cruise ship burns each day.
"One Meter Ahead"
Innovations like rotating Azipods, which the Volendam doesn't have, and powerful side thrusters built into bow and stern, which the Volendam does have, make these cruise liners so maneuverable that a ship can pull up beside a dock and just sidle into place. On the Volendam bridge one day, when we were docking, I heard Captain van Biljouw tell his bridge crew: "One meter ahead." The ship was moved one meter. The captain chortled. He turned to me and said, "Piece of cake."
Azipods and side thrusters, plus advances in electronics, have led to what seems to me a marvelous technological irony. The largest ships in the fleet, the 140,000-ton Voyager-class ships Kvaerner Masa-Yards is building for Royal Caribbean, can be entirely controlled on the bridge by a single joystick that is far less impressive than the one I use to blast aliens on my home computer.
One of the docks the Volendam sidled up to was the first port of call: Juneau, Alaska. There was only one other cruise ship in port. That was unusual. In the peak of summer there are often more—sometimes as many as five at a time.
The number of ships has led to a common cruise ship—port of destination conflict. Juneau is Alaska's capital, but it's a small town of roughly 30,000 people. When several thousand tourists rush ashore each summer day, intent on getting something Alaskan out of a nine-hour visit, they have an impact. They have changed the waterfront into a froth of jewelry and trinket shops, and have filled the skies with helicopters. Cruise ship passengers are offered long menus of things to do onshore, and helicopter rides to glaciers are among the most popular. About 35 helicopters are based in Juneau all summer. To help pay to mitigate cruise ship impact, the city of Juneau recently passed an ordinance imposing a fee on cruise lines of $5 for every passenger they bring to town.
That may be just the beginning. Alaska's governor, Tony Knowles, has been calling attention to discharge of polluted wastewater by cruise ships in Southeast Alaska. A report summary on tests paid for by the cruise industry and conducted in Alaska last year on the outflows of 21 large cruise ships stated that the ships' marine sanitation devices "are not working well at producing an effluent that meets the standards set by EPA."
Pollution in general has been a stain on the cruise industry. A number of cruise lines have pleaded guilty to charges of dumping oil or garbage against regulations.
Aware that their clientele is sensitive to environmental issues, cruise lines are making efforts to look very green. In spite of the complaints from Alaska, recycling and sewage control equipment on modern ships is more rigorous than in some coastal cities. On the Volendam, some of the efforts were vivid.
One morning when I went to the deserted Lido Deck at six, I saw a crewman hosing it down. I thought he was sloshing the debris of the previous day's party over the side, but I was wrong. In the scuppers were small traps that caught bits of food and plastic. When he was finished hosing, the crewman scooped handfuls of trash out of the traps and put them in a bucket. "If he'd put anything over the side, anything," Frits Gehner, the ship's hotel manager, said later, "he would have faced severe disciplinary action."
As the ship moved north, the days lengthened. "In Alaska," the captain said happily, "you have to sleep fast." People started to get into little habits. Jan and Randal Hundley ran on the treadmills every morning and could usually be found in the Java Cafe about two in the afternoon. In Skagway the weather held fine and there were more shore excursions. The Rones rode bicycles on the hillside roads above the trail where gold miners had struggled on their way to Dawson City in the Yukon in the late 1890s. We took a train up the old White Pass & Yukon railroad line to the Canadian border and back, and met a group of six women from Florida and New York, who were traveling on the Volendam without their husbands and were having a great time, except for one thing. "I haven't seen many whales," said one of them.
"Come see and feel and hear this ice"
The next day, still sunny, saw the journey's highlight, Glacier Bay National Park and Preserve, just northwest of Juneau. "Put on all the clothes you brought with you," said a woman's voice on loudspeakers throughout the ship, "and come on outside and see and feel and hear this ice." The voice was of a National Park Service naturalist named Dena Matkin. The ice was the sheer and craggy face of the Johns Hopkins Glacier.
Glacier Bay is one of the largest national parks in the United States. With 3.2 million acres it's a million larger than Yellowstone. But it has only 400,000 visitors a year compared with Yellowstone's 3.1 million. And 85 percent of the visitors to Glacier Bay come by cruise ship.
For a fee, the U.S. National Park Service brings naturalists to the ships. Ours boarded in the morning and took over the ship's microphone. The naturalists, who were clearly in love with their stunning park, had a little game to ease the monotony of saying the same things day after day. They bet Matkin, who had the day's public address chores, that she wouldn't be able to include in her narration words that aren't normally part of a naturalist's talk. Today the words were "acrimonious" and "filibuster." Matkin grimaced. Filibuster?
The ship moved slowly into an area sprinkled with icebergs and edged by the wall of ice. We were at the head of the Johns Hopkins Inlet, where the glacier meets the deep water.
Then something I did not expect happened. Hundreds of passengers emerged onto the forward decks, which faced the ice. Many wore tartan deck blankets wrapped around their shoulders to ward off the chill. They stood there watching the glacier where it had carved away the side of a hill. "There," said Dena Matkin on the loudspeaker, "you can see the acrimonious relationship between ice and rock."
The ship was about a quarter of a mile from the ice front. Crew members worked their way quietly among the passengers, handing out cups of Dutch pea soup. Once in a while the glacier gave off a crack like the shot of a rifle. Less often a small piece of ice calved off its face and kicked up a small wave. Streaks of sunlight touched distant ridges. Two bald eagles landed on a chunk of ice near the bow of the ship and appeared to be sharing a fish. But other than that almost nothing moved. Yet the people watched, rapt. For 15 minutes, 30 minutes, an hour.
I wandered among the passengers. Randal and Jan Hundley were there on one of the higher decks, just watching. So, it seemed, was almost everyone else. When a small piece of ice bumped against the hull and I heard its faint clang, I realized that everyone was being intentionally quiet. No voices were raised. People murmured to each other. It was as if the people of the Volendam had suddenly become aware of the world that exists apart from them, and they were in awe. As we left Glacier Bay, the loudspeakers came on again, and Dena Matkin won her bet. "I can't filibuster you anymore," she said.
That night a group of Tlingit dancers came on board from a nearby village and gave a demonstration of their cultural traditions. It was rough around the edges, but as authentic as the ice. The huge crowd in the theater loved it. But then we unloaded the naturalists and the dancers and turned for home. We would stop once more, at Ketchikan, where the weather was still so good that the bright little town looked Mediterranean.
Even Snow Passage turned out to be an anticlimax. The fog lifted just as we swept past the rocks at 14 knots, and the captain said, "That is the magic of the power of a captain, to make the fog lift." The fog closed back down.
Don't forget the Baked Alaska
Near the end of the trip, as the ship moved through quiet waters next to Vancouver Island, the crew conducted a ritual in the dining room that is common to many cruises. With great ceremony, they carried in Baked Alaska desserts festooned with sparklers.
A number of recent news stories about working conditions on some cruise ships have brought controversy to the lower decks. The registration of vessels to "flag of convenience" countries like Liberia and Panama allows cruise companies to avoid both some taxes and laws relating to crew welfare. So crew members recruited from developing nations where pay scales are very low are often asked to work long hours for very little money. However, crews have recently become more organized, and now about 60 percent of the cruise lines have signed agreements with the International Transport Workers Federation, which represents 600,000 sailors and other seafaring workers worldwide. These agreements have improved wages, living conditions and medical coverage, and they let passengers feel better about conditions for the people who serve them. Holland America is one of those companies, which may be one reason why our cabin steward and waiters seemed particularly cheerful in their work.
The Volendam raced at full speed back down the coast of Vancouver Island in order to get through another tight spot called Seymour Narrows at slack water, when there is minimum current. Then, ahead of schedule, the ship coasted the last hundred miles at five knots. It was still sunny. We disembarked in a flurry of bags and good-byes. The next day we took a ferry to Victoria. As we got off the ferry, we saw people we knew. It was the group of six enthusiastic women without their husbands from New York and Florida. They had gone across to Victoria to watch whales.
We had only known them a few days, but we laughed and hugged. "We saw lots of whales," said one of them. Suddenly we were nostalgic, and I realized that the illusion that cruising gives you is not just of comfort and serenity but of community. A cruise ship is like that perfect small town where you wish you had grown up, where the cookie jars were always open, everyone liked you and the authority figures did just what you asked.
In Finland, cold winds swirled the sky with cloud. With Henrik Segercrantz, I went on board today's pride of the cruising industry. It was the 137,300-ton Explorer of the Seas. Now in service, she carries more than 3,000 passengers and 1,000 crew. More than 50 new cruise ships will be launched in the next few years. One of them will be even larger: the Queen Mary 2, scheduled to launch in 2003, will be 150,000 tons, and will be able to cruise at 30 knots—7 knots faster than our Volendam. Though not all cruise ships are big—a whole niche exists for smaller vessels dedicated to adventure trips or local voyages—an end to growth at the large end is not in sight. "There is always something you must have in the back pocket for the next generation," said Kaj Liljestrand. "If you ask me will there be bigger ships, I would say yes. Why should they stop?"