Could Erfurt Be Germany's Most Magical Christmas Town?
A Christmas pyramid, a 65-foot tree, a 14th-century bridge and a market serving mulled wine and drinking chocolates are among Erfurt's festive offerings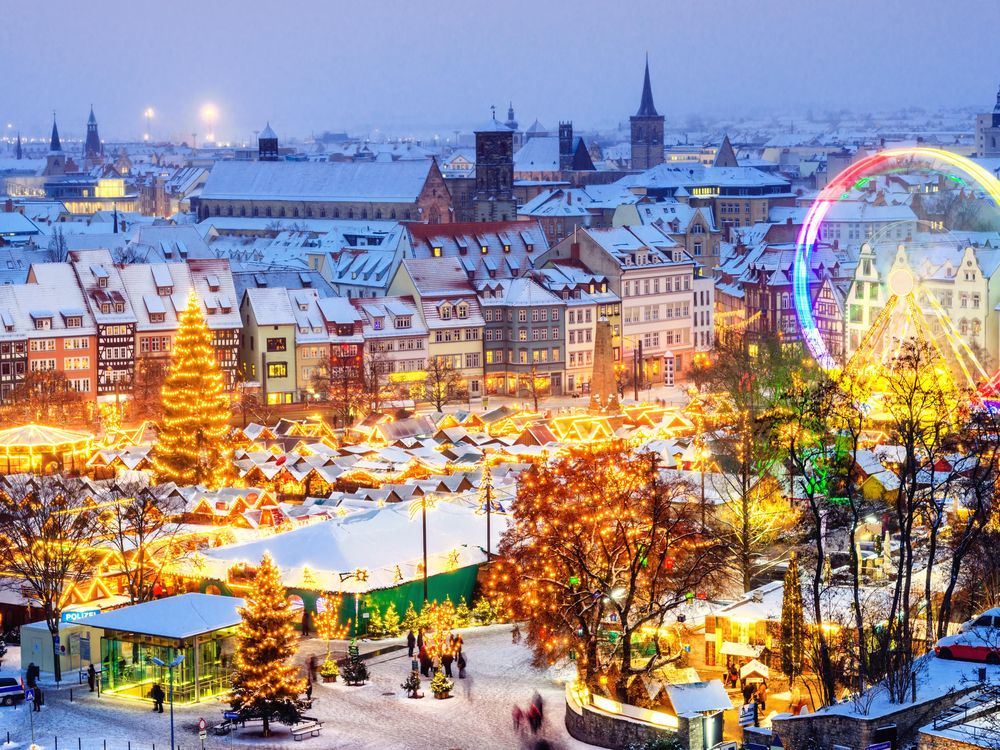 It only takes a couple of euro to bring the tale of Snow White to life in a window along Erfurt's Krämerbrücke, or Merchant's Bridge—a medieval stone arch bridge that happens to be the lengthiest continuously inhabited bridge in Europe, and the only remaining inhabited bridge north of the Alps. For several minutes, viewers get a glimpse into the life of the young maiden through the evil queen's magic mirror and a wondrous display of mechanical puppets. There's the queen disguised as an old woman, offering Snow White an apple; the seven dwarfs working away in a diamond mine; and even Prince Charming looking upon Show White in her glass casket. This stunning interactive art piece is the work of self-taught puppeteer Martin Gobsch, one of numerous artisans who both make and sell their wares along the Krämerbrücke—itself a prominent Erfurt attraction. In many ways Erfurt feels very much like its own fairy tale—a sensation that only intensifies during the Christmas season, when the city's holiday market simply magnifies Erfurt's already imaginative spirit.
Erfurt is approximately 180 miles southwest of Berlin—an easy two-hour train ride—and is the capital of greater Thuringia, a central German state that's known by many as the country's "cultural heart." Its city center is a maze of narrow cobbled streets, open squares and jubilant beer gardens, with a mix of medieval, Baroque and Neoclassical architecture that's both colorfully painted and extremely well-kempt. The Gera River and its verdant banks serve as the city's main artery, and a few blocks to its west, the two churches of Erfurt Cathedral and St. Severus—overlooking Erfurt's Domplatz (Cathedral Square) from atop a 70-step hillside—provide one of its most breathtaking views.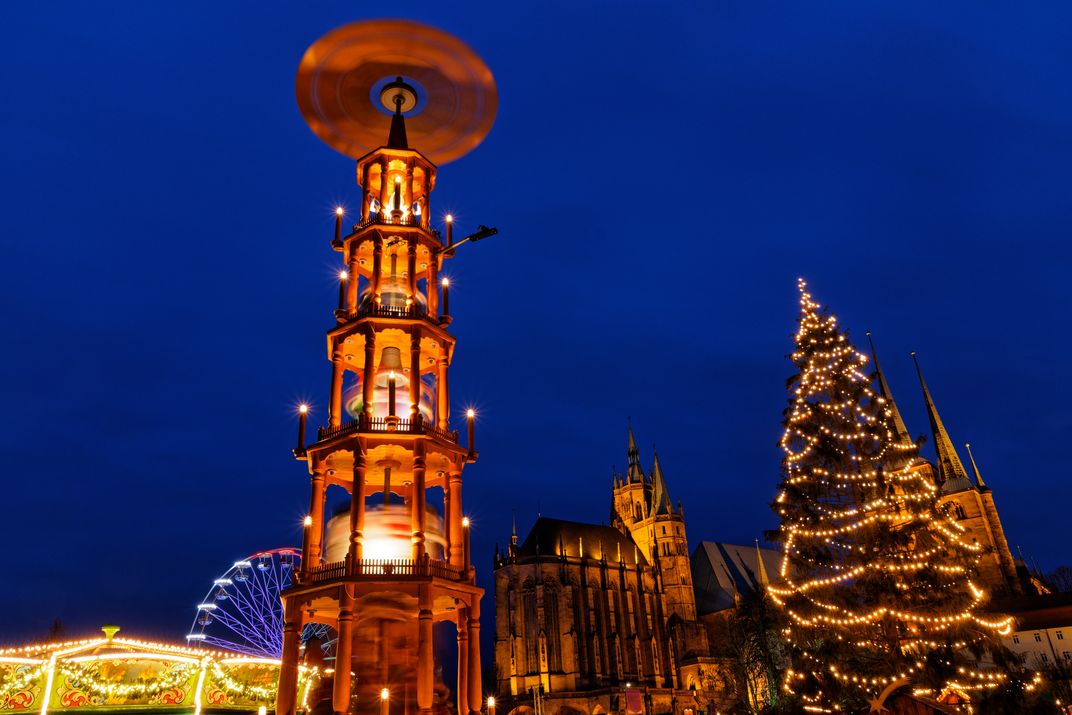 Despite the city's picture-perfect appearance and fascinating history (Erfurt is, after all, home to one of Europe's best-preserved medieval synogogues, and it was in this city that Martin Luther, Founder of the Protestant Reformation, became a priest), it is not a typical destination for U.S. tourists. There aren't any regularly scheduled English-speaking walking tours and many of the restaurants' menus are strictly in German; still, the city is easy to navigate, and is so rich in sensory offerings—from steaming cups of drinking chocolate from Erfurt's own Goldheim chocolatier, to the visual delights of Gobsch's mini-marionette window displays (in 2017 for example, Gobsch created a second window, closer to Domplatz, based on Homer's Odyssey), to the chiming sounds of Erfurt Cathedral's Maria Gloriosa bell—that it is considered to be a hidden gem.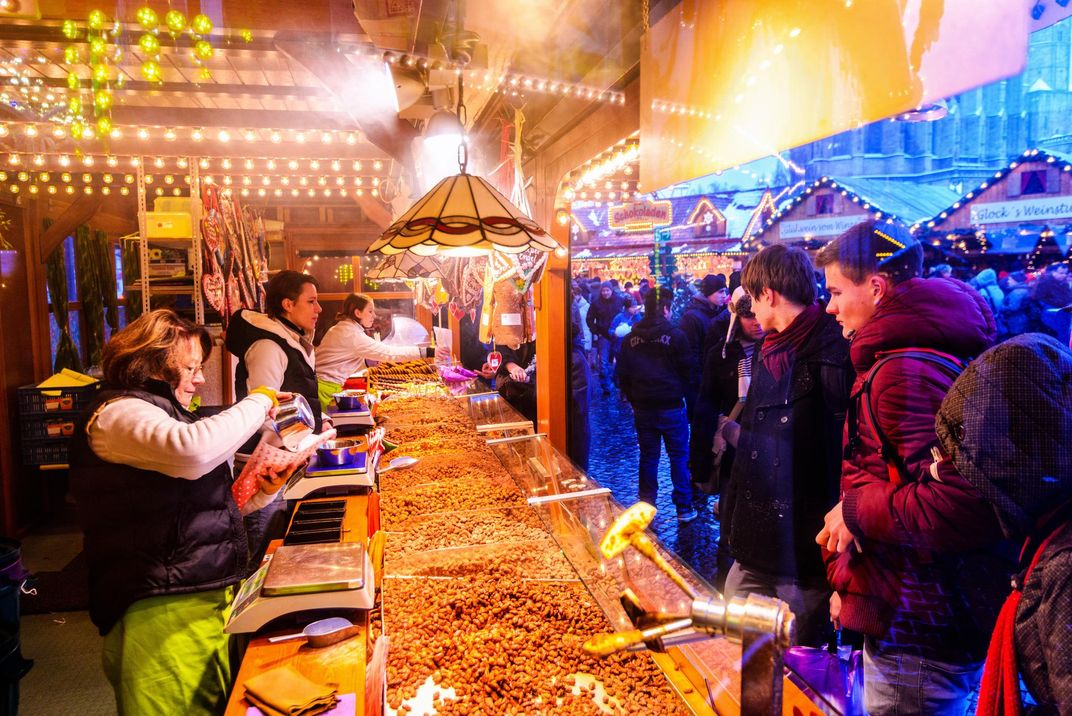 "A main reason Erfurt's city center is today so pristine [has] a lot to do with its 20th century history," says Maria Gehrmann, an Erfurt native (and a personal friend—in fact, the reason this author ended up in Erfurt in the first place). Allied bombings destroyed comparatively little of the city during WWII, and Erfurt's historic center was left largely untouched during its days as part of the German Democratic Republic (GDR). After German reunificaction, Erfurt received substantial subsidies that have allowed it to both restore and continuously renovate its historic structures.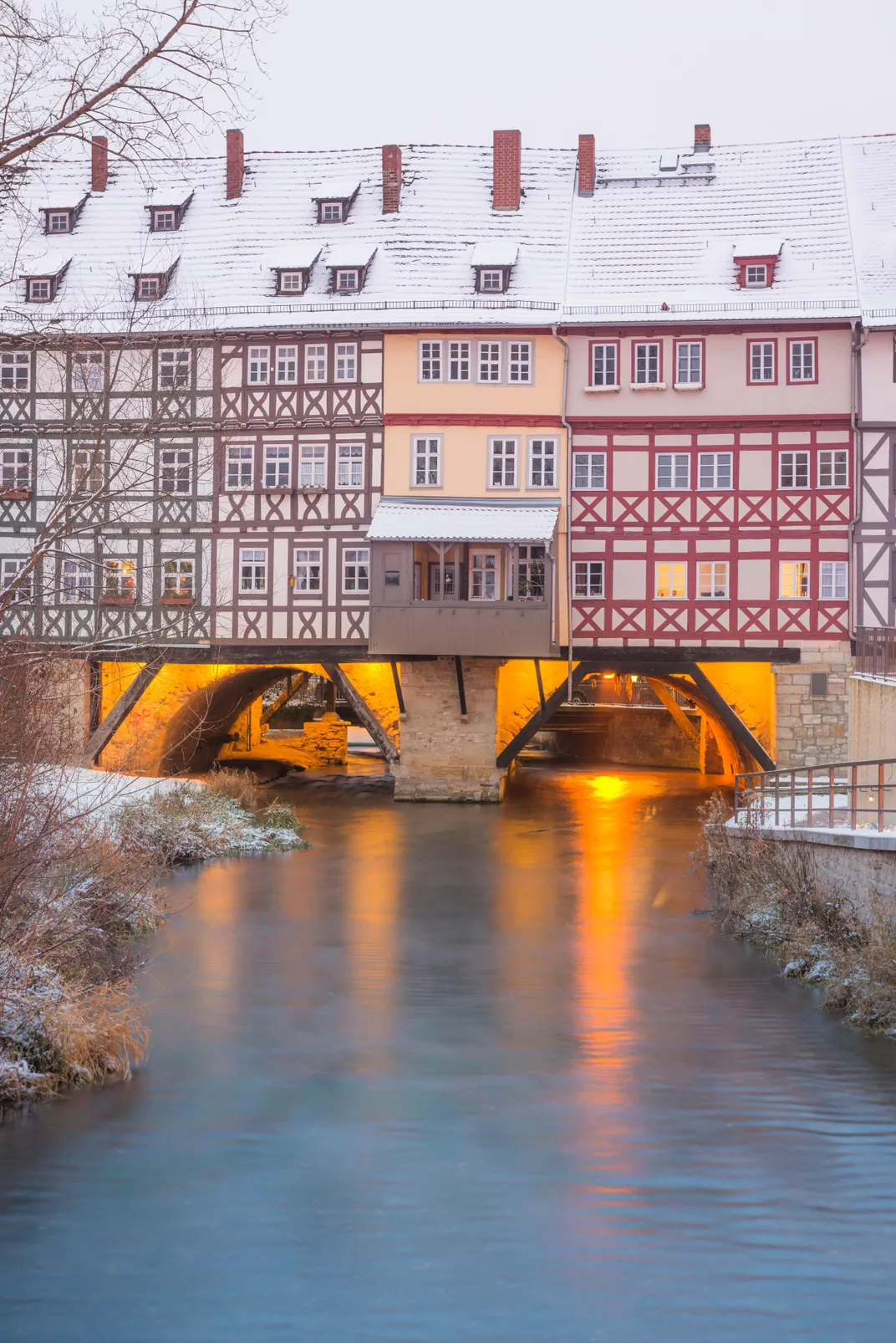 The Krämerbrücke is a prime example. Built in the early 14th century as part of the Via Regia trade route and maintained continuously since 1990, the bridge is a draw for locals and tourists alike. Half-timbered two- and three-story homes topped with pitched roofs (and the occasional weather vane) line both sides, creating a vibrant village-like throughway that houses welcoming cafes and curated artisan storefronts selling everything from wood carvings to tiny animal figurines made from Thuringia glass. On one end of the bridge stands the church tower of St. Giles, while Gobsch's workshop is closer to the other. Many of the artisans reside within the buildings' upper stories.
Erfurt is also the home of German national public children's TV network KIKA, and characters from the network's shows exist in sculpted form throughout the city center, lending a more modern layer of whimsy to an already whimsical place. The goateed Unser Sandmännchen ("Sandman")—a gnome-like figure first created to showcase the Socialist technological advances of the GDR—sits on a bench just north of the Krämerbrücke, donning his signature red jacket and hat while awaiting a bit of company, while the aptly named Captain Bluebear and his striped-shirt cohort Hein Blöd occupy a rowboat above the Gera River, attempting to navigate its meandering waters. Among the most popular characters is Bernd das Brot, a furrow-browed loaf of bread that, in this author's opinion, looks a bit more like "a piece of burnt toast" (Maria agreed with a laugh). His likeness stands outside the city's visitors center and has developed its own cult following.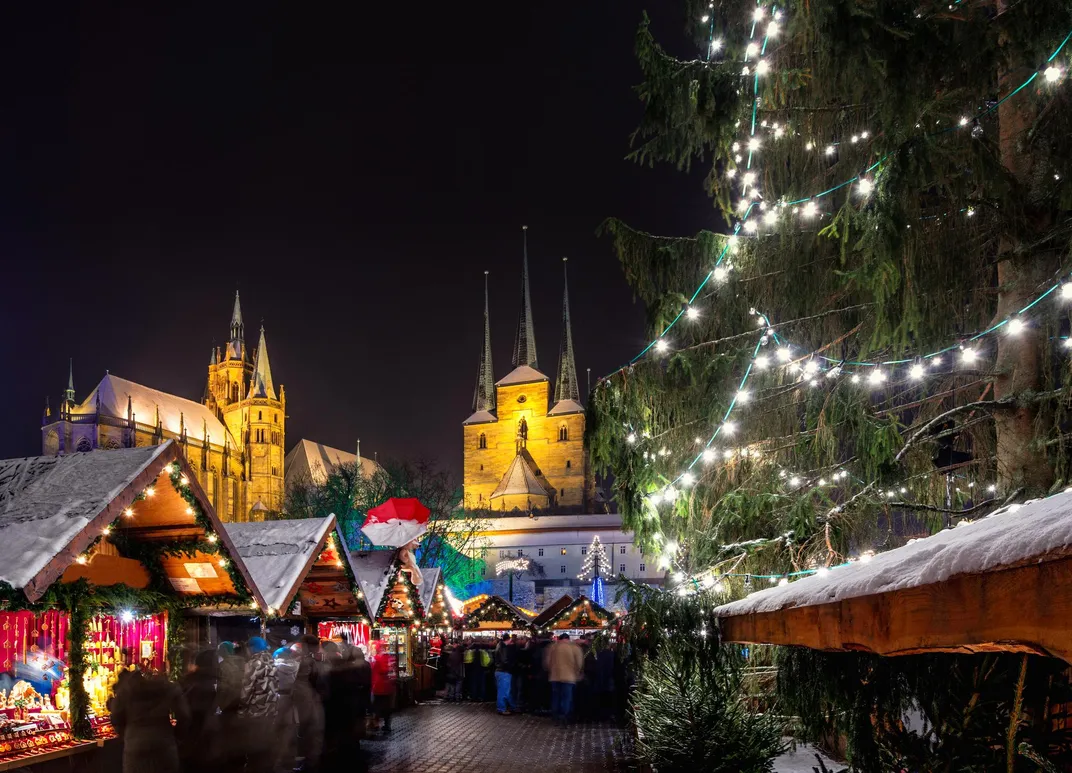 With so much artistry already on display, it's little wonder Erfurt's Weihnachtsmarkt (or "Christmas Market") is considered by so many to be, simply put, magical. Though it is spread throughout the city center, with market stalls in Willy-Brandt-Platz and Fischmarkt Square, it's the Domplatz that hosts the bulk of this city's holiday cheer. A towering Christmas pyramid—the kind that originated in Germany's Erzgebirge (or "Ore Mountains")—greets revelers at the Domplatz entrance with a rotating and tiered display of individual holiday themes and 30 nearly life-sized wooden figures. The market also boasts a life-sized nativity scene and a 65-foot-tall holiday tree.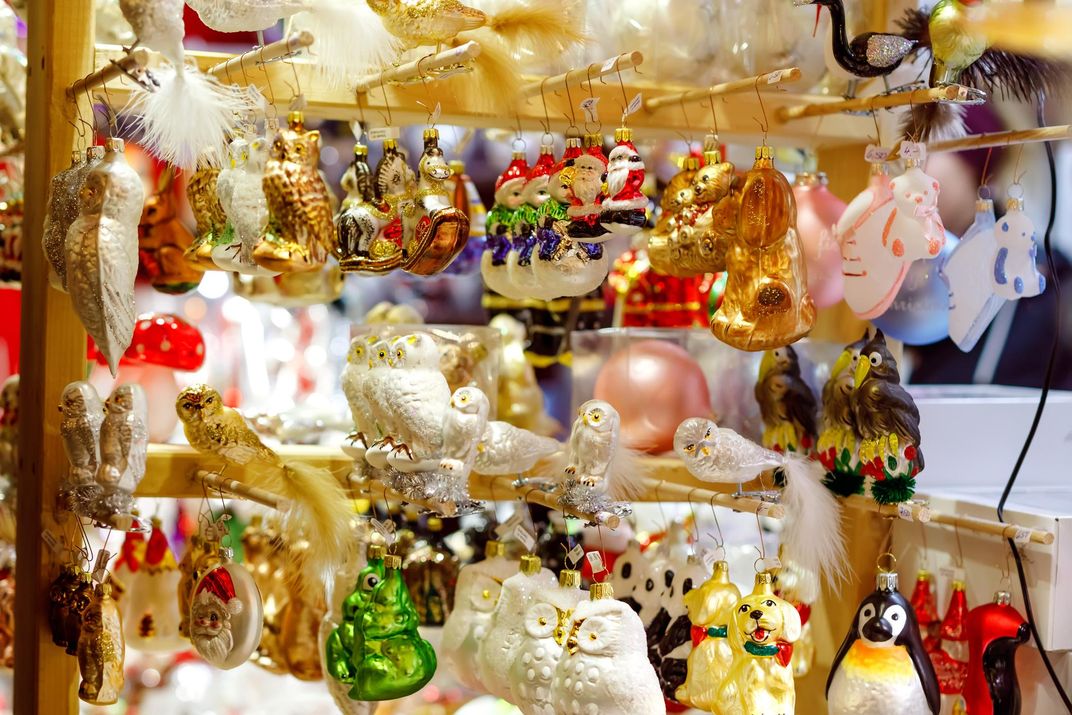 Once inside, visitors could spend hours perusing the market's many light-strewn wooden huts in search of regional handicrafts, such as wooden Erzgebirge candle arches and scarves dyed with woad—a blue textile dye that's been cultivated in the Thuringian Basin since the Middle Ages—as well as a superb sampling of local delicacies. One of the market's most popular treats is its Erfurt Schittchen, a German stollen or fruit bread filled with raisins, almonds and lemon, as well as some rum. You'll also find candied apples, Thuringian bratwurst and piping hot mulled wine served in mugs adorned with Puffbohne, an Erfurt mascot derived from the city's cultivation of broad beans. Along with a Ferris wheel and carousel, kids can explore the market's Enchanted Forest, a petting zoo filled with fairy tale scenes, such as Cinderella and The Princess and the Pea, that beloved local artists Hannelore Reichenbach and Kurt Buchspiess helped design. Tucked away in the vaults below the cathedral hillside is a holiday floral extravaganza, brimming with everything from advent wreaths to decorated holiday trees; back outside, the candle-lined steps of the cathedral serve as a stage for Erfurt's alphorn players, who perform festive concerts (and create a unique sound) using their distinctive alpine horns.
When it snows during the market, as it sometimes does, I'm told Erfurt becomes even more enchanting. "It's almost too pretty sometimes," says Maria. For visitors hoping to see for themselves, the Erfurt Weihnachtsmarkt runs from late November through December 22.