Colombia Dispatch 9: The Story of Medellin
The Colombian city of Medellin is synonymous with the drug trade, but city leaders are hoping to keep the peace by building up communities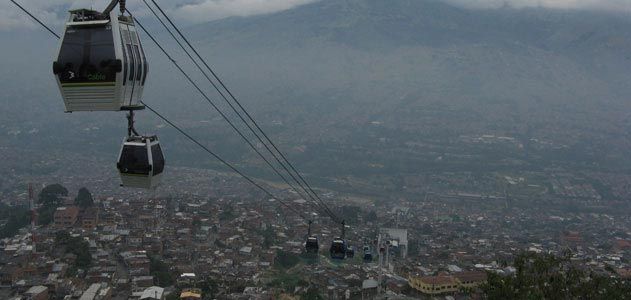 Medellin has undergone an amazing transformation in the last 5 years. In the 1980s and '90s, Colombia's second-largest city was a war zone known as one of the most violent cities in the world and the center of Pablo Escobar's drug cartel. Police were afraid to enter many areas as street gangs and guerrilla and paramilitary groups fought for control of neighborhoods.
Military crackdowns in the early 2000s quelled the violence, and peace agreements with illegal armed groups came about in late 2003 through a demobilization process that gave amnesty to most combatants who laid down their arms. Murders in the city of about 2 million are now down from a peak of 6,349 in 1991 to 653 in 2007.
In recent years, the city government has invested heavily in its poorest neighborhoods that creep up the steep Andean slopes. A comprehensive plan spearhead by Sergio Fajardo, mayor of Medellin from 2003 to 2007, focuses on keeping the peace through education and community-building instead of military force. Its goal is stopping the desperation that first led many of Medellin's youth into violence.
As a first step, the city worked to transform a mountainside of poor neighborhoods plagued by violent conflict. Ski-lift style gondolas carry commuters more than a mile down the steep slope to a metro stop, drastically reducing travel time and cost to downtown. Parks provide a place for children to play and neighbors to meet. A former dumping ground for bodies is now a terraced plaza. New bridges run across canyons and streams that were once boundaries for turf wars, linking neighborhoods once torn apart. Boys play soccer on a newly paved street.
And high on the hill sits one of Medellin's new "library parks," a large modern building that offers free computer centers, a comprehensive library and daycare. On the Saturday morning I visited, it was full of children sharing books, browsing the Internet and playing games. The area's first banks have popped up to offer micro credit loans for starting small businesses. And bright orange signs and billboards all around Medellin proclaim that "violence will not return to my city."
I headed on the city's squeaky-clean metro rail to Juan Bobo, a neighborhood of 300 families that was once one of Medellin's most dangerous spots. Margarita Rivera works here for the city's firm for urban development. She tells me that until 2005, shanties cobbled together from scrap wood lined dirty paths and crowded up against the muddy banks of a stream. Since its recent metamorphosis, it's been renamed Nuevo Sol Del Oriente (New Sun of the East). Now a neat concrete sluice directs the stream's waters. Gleaming stairs and pathways lead to small plazas and new houses and apartment buildings offered to residents in exchange for their shanties.
Rivera introduces me to Henry Antonio Pinella, a 39-year-old longtime resident of the neighborhood. He tells me about the region's dark period in the 1990s, when paramilitaries walked on the rooftops while patrolling his neighborhood. To maintain control, they imposed strict curfews and shot anyone outside after dark. Sometimes they dropped large rocks onto passerby instead of wasting bullets, Pinella tells me, crossing himself as he talks. "We were living in very difficult conditions, now it's 100 percent better," he tells me. Motioning to the new apartments, he says, "We never thought we would have this."
But change wasn't easy. During construction, residents had to move in with relatives or to temporary housing provided by the government. Distrustful of the government because of past corruption, many didn't want to leave. But Pinella jumped at the chance of a better home, and worked with government representatives to organize residents. "A lot of people here thought I was crazy," he says. "I was walking around with a megaphone calling people."
Though crime rates are much lower than a few years ago, Medellin still struggles with gang violence. And human rights organizations, including Amnesty International, have criticized Colombia's demobilization process. They say it allows crimes to go unpunished and has failed to effectively dismantle paramilitary groups.
But locals in the neighborhoods I visited say the city's transformation is unbelievable. Ana Sofia Palacio, a resident of the neighborhood for 34 years, proudly shows me her new modest brick apartment. "This is a palace that they've sent me," she says. Before the changes, people socialized less frequently, both out of fear of violence and a lack of public places to meet. "Now we are like a family," she says.