Colombia Dispatch 7: Turning Guns into Guitars
Musician Cesar Lopez invented a new type of guitar, made from the shell of an automatic weapon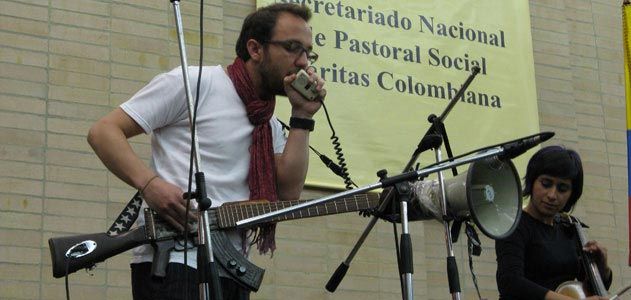 Colombian musician Cesar Lopez had a moment of inspiration in 2002 when he noticed a soldier in Bogota holding his rifle the same way Lopez holds his guitar. "They are two objects that you carry the same way," he says, "But they mean two completely different things."
He decided to take weapons that had been used by guerrilla and paramilitary groups in Colombia's conflict and turn them into something positive. Lopez collaborates with luthier Alberto Paredes to create an unlikely guitar with a body made out of an inoperative gun. He calls it an "escopetarra", a hybrid between the Spanish words for guitar and shotgun. It's an instrument of peace, Lopez explains, that symbolizes a metamorphosis he hopes Colombia will undergo.
"A weapon represents intimidation, destruction, and death," he says. "A guitar means life, creativity, construction. They unite to create an object that symbolizes transformation. It's a symbol that anything can change."
The instrument has made a big impact. Lopez has now produced 17 escopetarras out of rifles and AK-47s, all weapons once used by illegal armed groups in Colombia's conflict and turned into the government voluntarily as part of the country's peace process. He's given them to everyone from Latin rock stars to museums. There is even one hanging at the United Nations building in New York.
I met up with Lopez at his home in Bogota, Colombia's capital, right after he played his escopetarra for diplomats and Bogotá's mayor at the launch of 2008's Peace Week. He lets me play his escopetarra, made out of an AK-47 that once belonged to paramilitary soldiers. The gun has been stripped of its innards, replaced with an electric guitar pickup and volume controls. The metal barrel is hidden inside the guitar's warm wooden neck and can never fire another shot. While Lopez says the instrument has a "history of pain," he makes it sing beautifully.
In 2006, Colombia's United Nations office against drugs and crime named Lopez its official "messenger of non violence." For this post, Lopez and his escopetarra travel around Colombia and as far away as the United States and Singapore to broadcast his message. He holds workshops in prisons and among youth living in poverty. He often brings the strange instrument to groups of former paramilitary and guerrilla soldiers who are trying to reintegrate into society. "You realize how they think," he says, "Some need to feel a weapon. Some have this idea that a weapon gives them power or makes them more brave or worthy. Sometimes through one conversation we knock down all of those beliefs."
Rehabilitating demobilized soldiers, scarred by violence and desperation, is key in Colombia's efforts to establish peace within its borders. The escopetarra is a metaphor for the process. "It has a great impact on demobilized fighters," Lopez tells me.
After years of violence and killing "they ask themselves whether they will be able to transform themselves and start a decent life. The escopetarra is an example. These guys were weapons too, and they have to learn how to deactivate that."
They usually start off holding the escopetarra like a gun, with finger on the trigger, but end up strumming the guitar and creating music. "Finally they realize that this is an exercise about transforming one thing into another," Lopez says. "If this weapon can change it's natural structure into something creative, then people can too."