Which of America's Most Precious Historical Sites Are Threatened By Climate Change?
A new report warns that rising sea levels could destroy many of the nation's important—and beloved—locations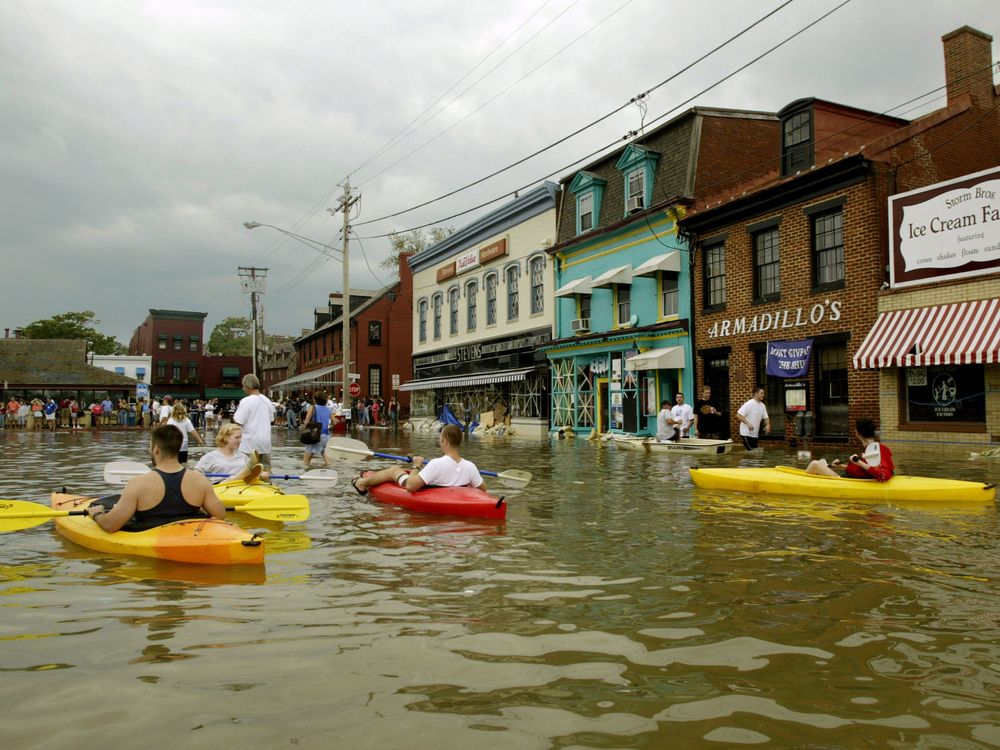 A new Union of Concerned Scientists report warns that if climate change continues unchecked, Americans might have fewer historical sites to be proud of. The report, which UCS says is the first to really delve into the impact of climate change on cultural and historical sites, lists 30 at-risk sites currently threatened by the changing climate, and looks at 17 case studies, from Jamestown to the Statue of Liberty, where rising sea levels and more frequent and intense weather events (like hurricanes, floods and fires) are threatening to erase the locales from the map.
"Most communities in America have some kind of historic site. These are places that people have heard about, they visit, or they want to visit. These are places that people either know about, or have seen or care about," explains Adam Markham, Director of Climate Impacts for the UCS. "Our interest was in making this issue of climate change relevant to people who maybe haven't thought of it much before—tourists who want to visit parks, people who care about historic preservation, people who are interested in history."
One of the oldest sites threatened by climate change listed in the report is Jamestown, the first permanent English colony established in America. The waters around the colony have been rising at twice the rate of the global average, causing shoreline erosion that has allowed river water to seep into the soil beneath the island. This puts a wealth of buried artifacts at risk—and it is causing archeologists to completely reevaluate how they excavate the site. Instead of leaving the artifacts in the ground to be excavated at a future date, when improved technology would lessen the risk of causing damage to delicate artifacts, archeologists are now worried that they might need to remove artifacts sooner—potentially damaging their lens into the earliest piece of American colonial history in the process. But the archeologists are running out of time to make their decision—according to the UCS report, Jamestown is likely to be completely submerged by the end of the century.
"I think climate change is going to transform the way that people think about managing archeological and cultural resources over the next couple of decades," Markham explains.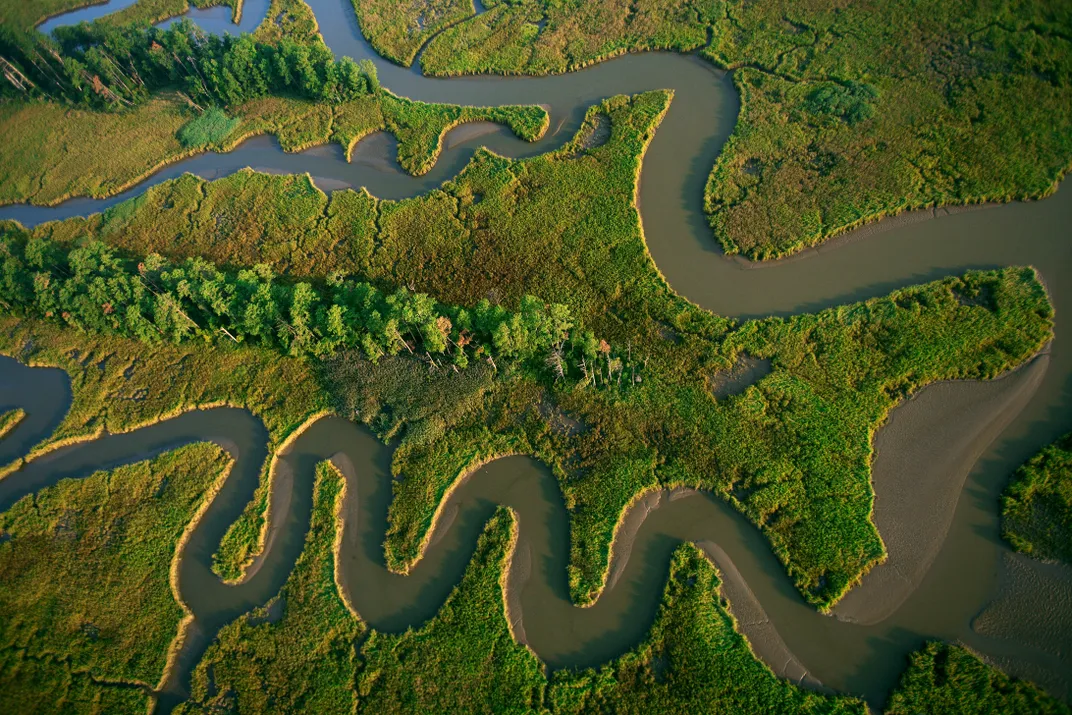 Annapolis, Maryland, just up the coast from Jamestown, boasts the largest collection of 18th-century colonial era buildings in the country, but as sea levels continue to rise, the threat of a major storm event hangs heavy over the coastal town. Annapolis is home to a wealth of American history: it served as the capital of the United States after the Revolutionary War; the Treaty of Paris, which ended that war, was ratified in the State House in 1784; it also served as host to the Continental Congress in 1783 and 1784. But it's also a town with a history of facing brutal storms—in 1775, a hurricane damaged the State House's wood dome. Centuries later, 2003's Hurricane Isabel caused $120 million in damage—and while it's impossible to connect a single storm event to climate change, scientists have noted that warming ocean temperatures could make the occurrence of extreme weather events, such as hurricanes, more frequent and intense.
"One of the legacies of Isabel was our Market House, which had been in place for over 180 years," explains Lisa Craig, chief of historic preservation for the city. "In essence, Hurricane Isabel inundated the house, and we were dealing with the issue of how to rehabilitate that building, and it hasn't been until the last six months that it has been fully open and operational." For a town that welcomes around 4 million visitors each year, it's difficult to let historic buildings lie unused and damaged by storm conditions or nuisance flooding, which Craig notes has increased in recent years, causing over a month's worth of flooding each year around Dock Street in Annapolis' historic district.
"It's hard to repopulate a business location," Craig explains. "When those uses disappear, when those businesses go away, when you have to bear the significant cost of retrofitting a building to meet new flood standards—when you have to do that, it takes a toll not only on the building, but the economy of the community."
Spurred by their experience with the Market House and increased flooding, Annapolis has been working to institute a plan to deal with, and mitigate, damage caused by climate change. Their Cultural Resource Hazard Mitigation Plan will survey 140 at-risk buildings in the historic district, and work to create a plan to better prepare those buildings for flooding—or the eventual big storm.
"Incrementally, piece-by-piece, we're putting together the toolkit for owners to, on their own terms, put together a response strategy," Craig explains. "We are a resilient community that has been around for hundreds of years. We are fully aware of the impact of sea-level rise, and we are taking responsible steps to address that."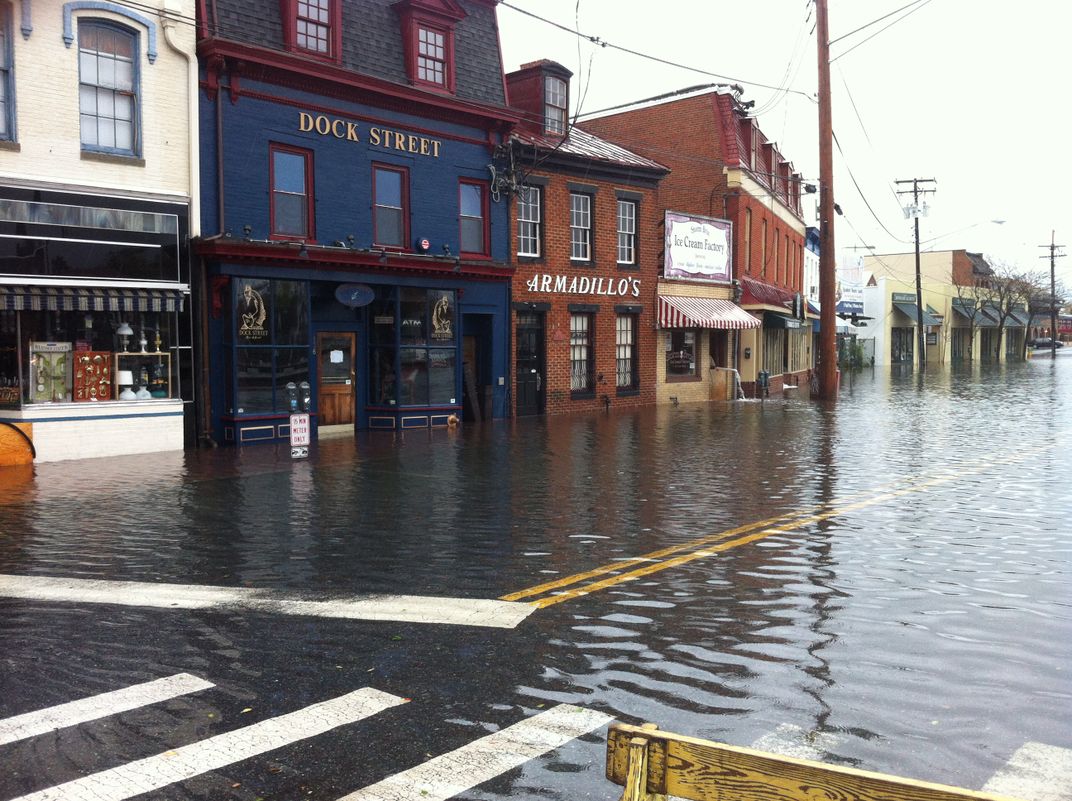 Boston isn't usually among the locations discussed when climate change effects are discussed, but the UCS report warns that the city's historic district—including Faneuil Hall and the Blackstone Block Historic District, home to the Union Oyster House, the oldest restaurant in Boston—could be in serious trouble thanks to rising sea levels. Though the city mostly dodged the worst impacts of Hurricane Sandy in 2012, environmental officials warn that damage from the storm could have been much worse.
"We had very little damage, but five hours earlier or later it would have been dead on [with high tide] and we would have been facing what New York faced," explains Nancy Girard, commissioner of the city of Boston's Environment Department. "We are very, very concerned about some of these historic buildings because they are right in the path [of flooding]."
Faneuil Hall is especially at-risk due to its proximity to the bay—and its age. Girard notes that for a building as old as Faneuil Hall (which is where Samuel Adams and others planned the Boston Tea Party), structural mitigation techniques would be difficult. "We can't elevate those buildings, and they have basements," she explains. "We'd have to sandbag them."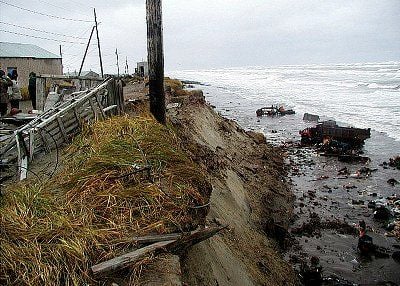 But it's not America's colonial history that's threatened by the effects of climate change. As the report notes, archeologists who study prehistoric America are seeing its negative impacts as well—and some worry that climate change might rob us of the chance to answer one of American archeology's most interesting questions: When, and how, did life come to the New World?
Most theories point to the idea that all Native Americans are descended from Siberians who crossed the Beringia land bridge between 26,000 and 18,000 years ago, but the debate is far from settled, which means archeologists are still hoping to dig up evidence in the frozen expanses of Alaska, where some of the earliest signs of life in the Americas has been found. "With those really old sites—the ones that really capture people's imagination—we haven't been able to do that much work across the entire area," explains Shelby Anderson, an Assistant Professor in the Anthropology Department at Portland State University. "There are surely many old sites dating from, we think, some of the earliest migrations to the New World, and probably many more sites we haven't even found yet."
But archeologists are running out of time to explore these sites. As global temperatures rise, the permafrost that has preserved potential remains is beginning to thaw, eroding archeological sites in the process. "We're losing the chance to find new sites, to investigate the few known sites and some of those could be really key to answering the questions about human migration to the New World," Anderson says. "You're completely losing the opportunity to answer that question."
Historical Sites Listed in the UCS Report:
Alaska: Alaska Native Villages and National Parks on the Northwest Alaska Coast—Cape Krusenstern National Monument; Kivalina; the Bering Land Bridge National Preserve; Shishmaref
California: Groveland Hotel, Groveland, California; Cesar Chavez National Monument, Keene, California
California, Florida, Virginia and Texas: NASA Sites in Virginia, Florida, Texas and California
Colorado and New Mexico: Mesa Verde National Park; Bandelier National Monument; Santa Clara Pueblo
Florida: Historic State Park, St. Augustine, Florida; Shell Mound Sites in Southern Florida
Hawaii: Pu'uhonua o Hōnaunau National Historical and Koloko-Honokohau National Historical parks, Hawaii's Big Island
Maryland: Harriet Tubman Underground Railroad State Park, Maryland; Annapolis' Historic downtown and the U.S. Naval Academy, Annapolis, Maryland
Massachusets: Faneuil Hall and the Blackstone Block Historic District, Boston, Massachusetts
South Carolina: The Old and Historic District in Charleston, South Carolina
Virginia: Jamestown, Virginia; Fort Monroe, Virginia
Sites That Have Already Taken Steps To Become More Resilient to Climate Change:
New York: The Statue of Liberty (Liberty Island) and Ellis Island, New York
North Carolina: Cape Hatteras Lighthouse, North Carolina