Seven Places Reinventing the Christmas Tree
From rocket gardens to tumbleweeds, here are some of the most imaginative holiday trees in the United States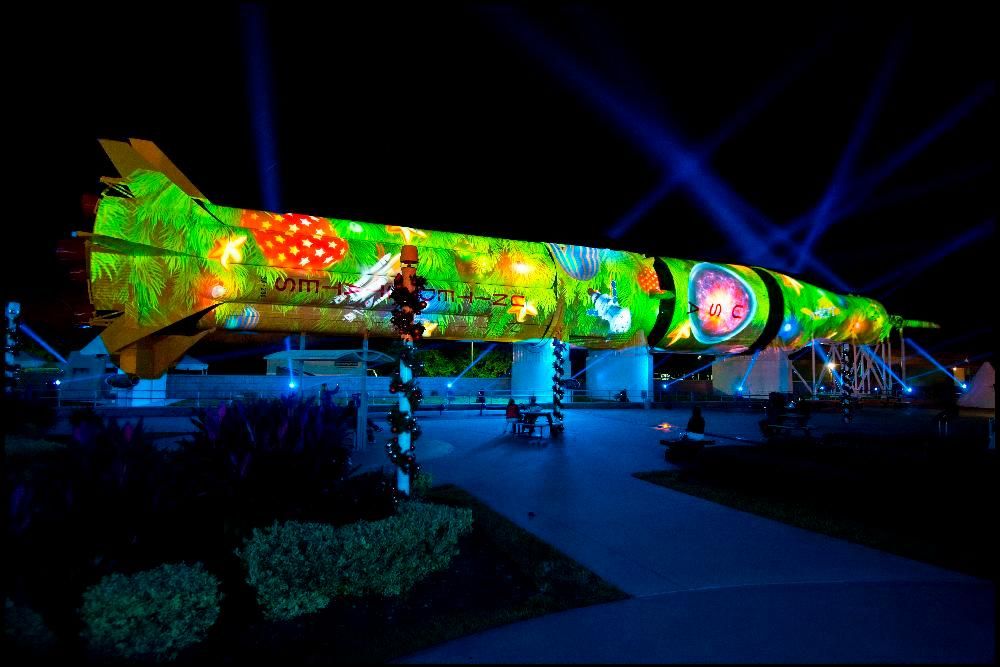 It's beginning to look a lot like Christmas as people deck their halls with fir, pine, spruce and other popular conifers. But for some, having a lush evergreen as their holiday showpiece just isn't enough. Across the country, people are innovating by taking their holiday decorating skills to the next level and using whatever materials are abundant in their local areas. From dusty tumbleweeds in Arizona to rusted lobster pots in Massachusetts, welcome to the United States of Christmas Trees.
Tumbleweed Tree, Chandler, Arizona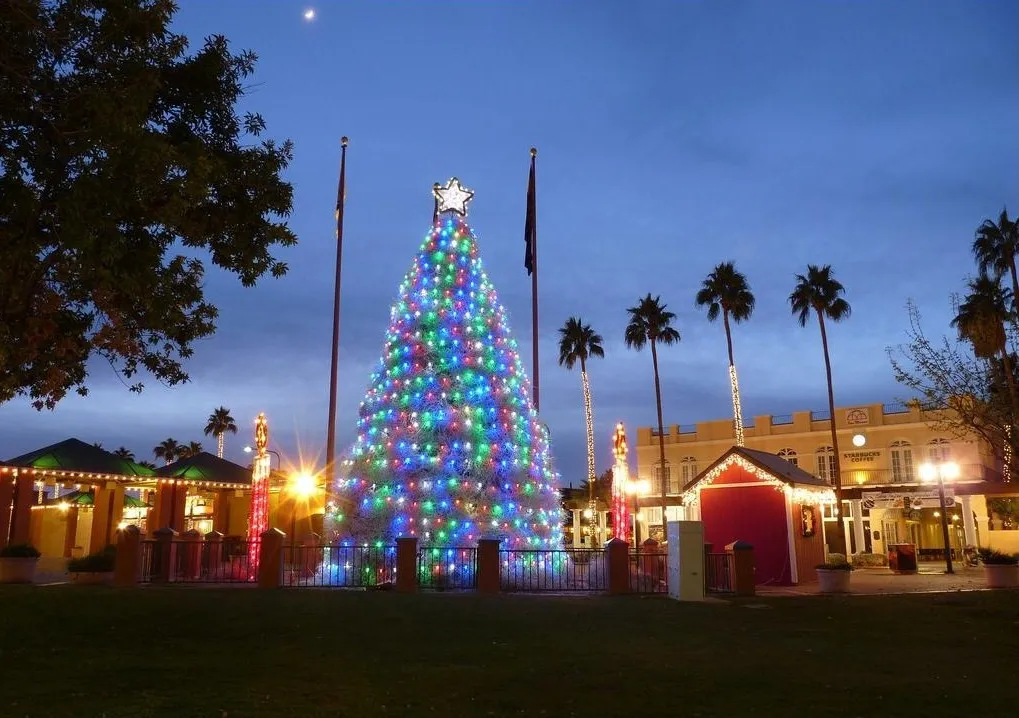 For the past 61 years, the citizens of Chandler, a suburb of Phoenix have been kicking off the winter holidays with a celebration under the twinkling lights of an enormous tumbleweed Christmas tree. Each autumn, city workers begin foraging the Sonoran Desert with pitchforks in search of the dried up plants that have detached from their roots, a common sight in these parts—and a familiar set piece to any true spaghetti western fan. Once they've amassed enough, the workers use wire frames to connect the tumbleweeds into the shape of a Christmas tree, and then spray the whole thing with flame retardant, paint and handfuls of glitter. Topped with a star and 1,200 holiday lights, this year's tree will include close to 1,000 tumbleweeds and tower over 25 feet in height.
Singing Christmas Tree, Muskegon, Michigan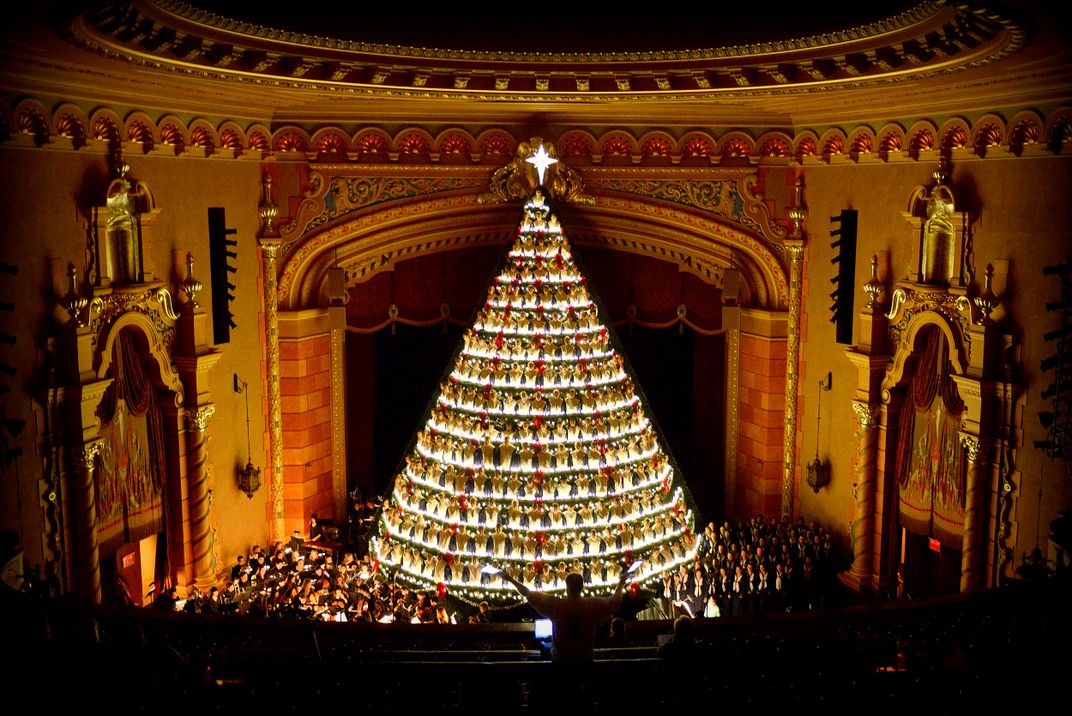 Each year for the past 32 years, members of the Mona Shores High School choir in Michigan unite their small community in song during the annual candlelight a cappella Mona Shores Singing Christmas Tree concert. Standing 67 feet in height, it takes a team of 200 volunteers to build the giant "erector set" framework of steel. Once built, it can hold between 240 and 275 singers, and is decorated with 25,000 lights and 5,000 linear feet of greenery. It's a sight to behold from anywhere in the crowd, but the best seat in the house undoubtedly goes to the vocalist at the top of the tree, who is known as "the tree angel."
LEGO Tree, Winter Haven, Florida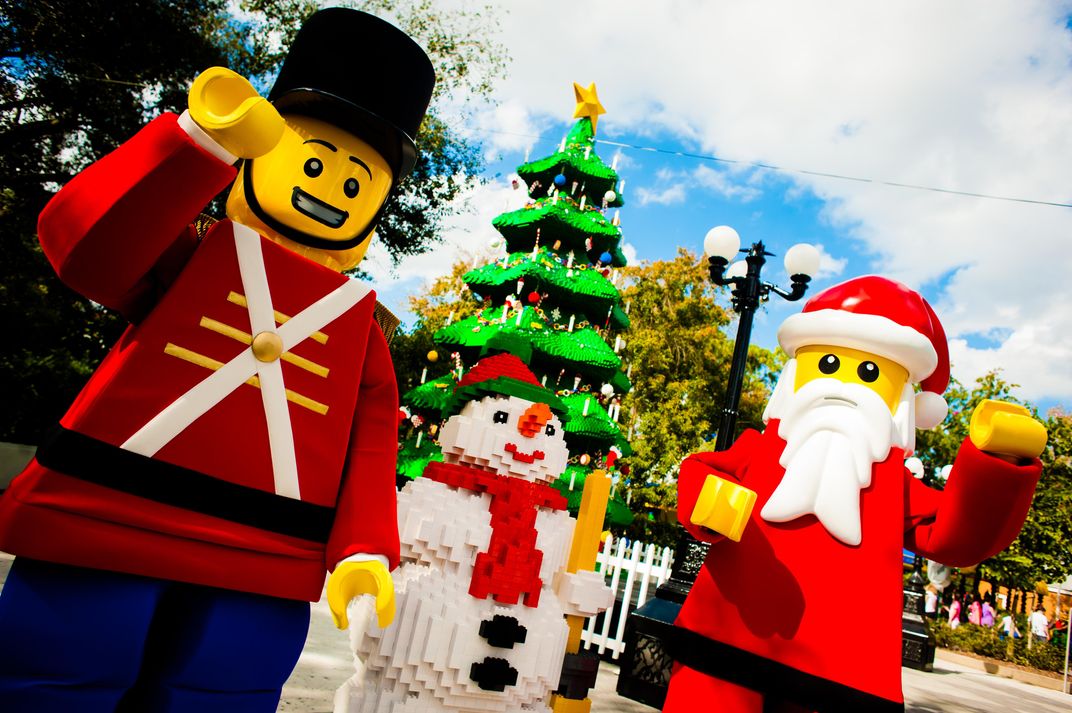 Over the years, many children have attempted to build a Christmas tree using only their LEGOs—but perhaps none of their creations has been as monumental as the one at LEGOLAND Florida Resort, located 50 miles east of Tampa in Winter Haven. Named the Christmas Bricktacular, the theme park's annual holiday celebration includes a 30-foot tall Christmas tree made out of 270,000 LEGOs and DUPLOs (basically extra-large LEGO bricks). It takes a half-dozen workers several months to build the massive conifer, along with a LEGO Santa and a LEGO Toy Soldier.
Glass Plate Tree, Corning, New York
If there's one material that The Corning Museum of Glass has in abundance, it's glass. So it's no wonder that for nearly a decade, the Upstate New York-based museum has created a 14-foot Christmas tree out of colorful blown-glass ornaments—2,000 of them, to be exact. Each year the tree is complemented with other glass holiday wonders. This year, look for a full holiday meal cooked up out of glass and a life-sized glass snowman and family.
Lobster Pot Tree, Provincetown, Massachusetts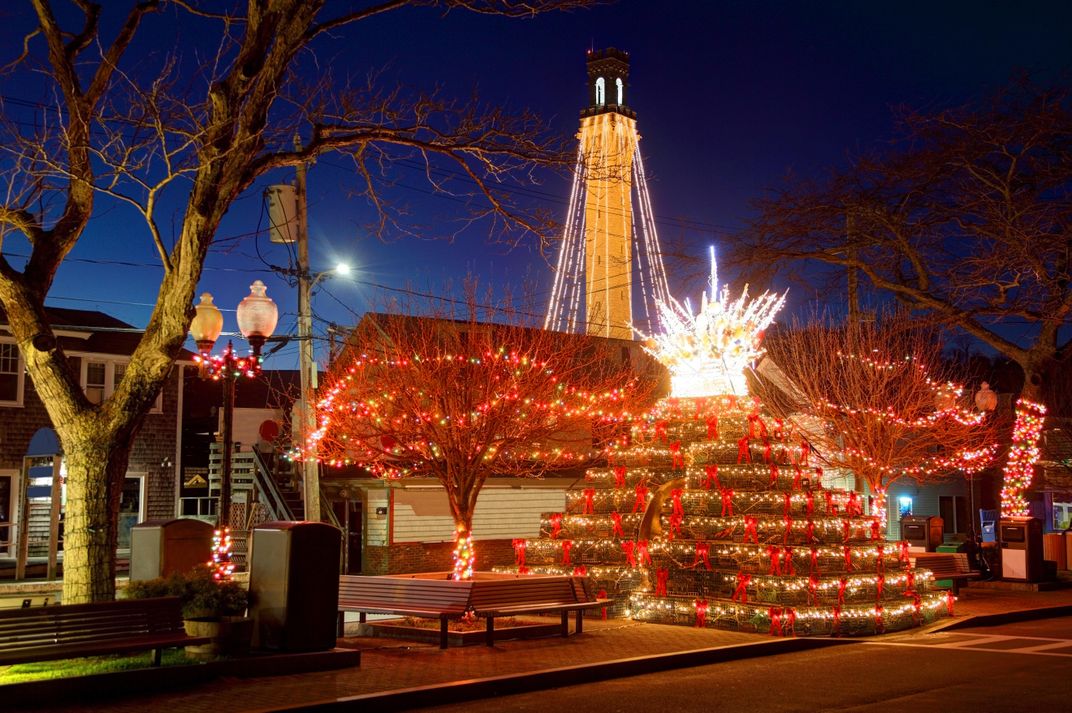 As many seafood lovers agree, winter is an ideal time to eat lobster—and the waters off of Massachusetts have plenty of the delicious crustacean to go around. Located at the very tip of Cape Cod, the community of Provincetown celebrates all things lobster by creating a Christmas tree using more than 100 lobster pots, the cages used by fishermen. Stacked on top of each other, volunteers trim the tree with 120 bows, 46 plastic lobsters, 58 buoys and 3,400 LED lights. 
Shopping Cart Tree, Santa Monica, California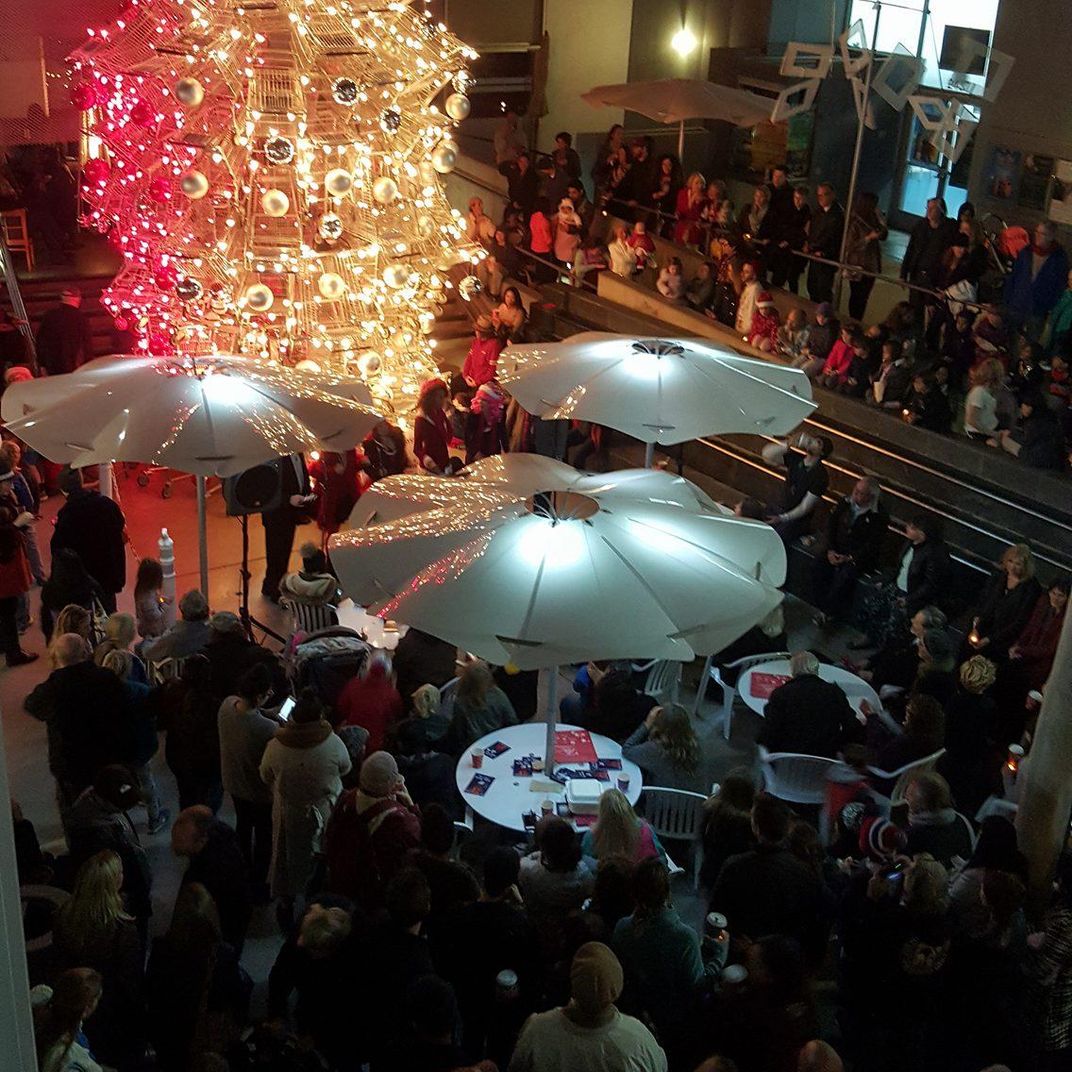 Carefully balancing 86 metal shopping carts, one on top of the other, is no easy feat, but artist Anthony Schmitt has been up to the task every winter for over 20 years. Using hose clamps, Schmitt and a team of workers build their 34-foot rendition of a traditional Christmas tree at Edgemar shopping center in Santa Monica. And they're not alone in the feat; others have taken a shot at building shopping cart replicas in places as far flung as Michigan and Montreal, Canada. As they say, imitation is the sincerest form of flattery.
Holidays in Space, Titusville, Florida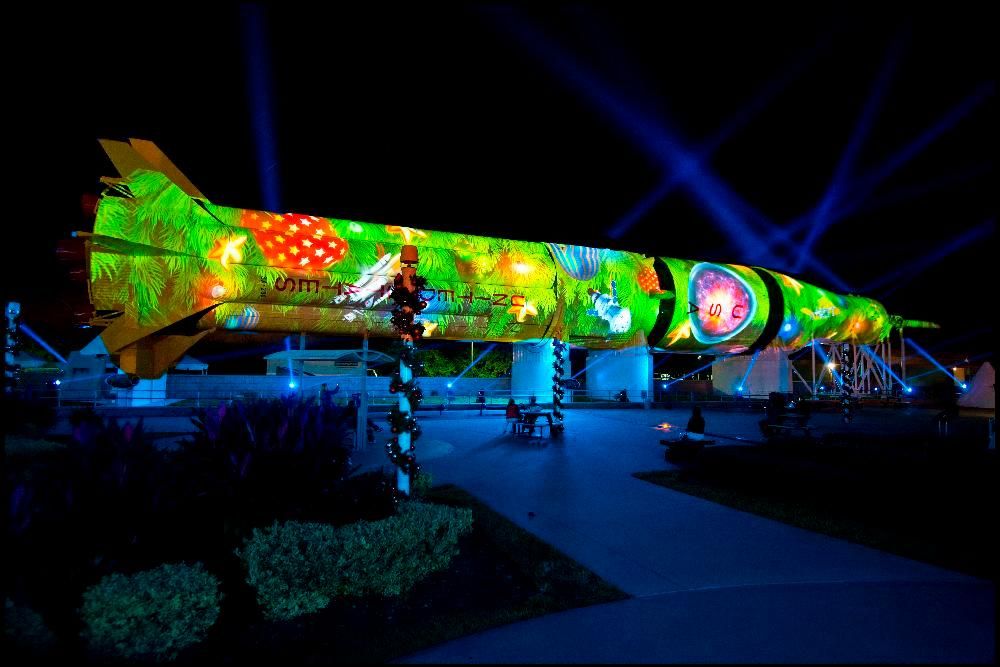 No where else on Earth will you find a garden made out of rockets, unless of course it's at the Kennedy Space Center Visitor Complex near Orlando. And come Christmastime, the center spruces up its collection of missiles, sounding rockets and space launch vehicles for Holidays in Space, a custom light display that blends Christmas photos with historic launch footage and videos captured by the International Space Station. This year's event begins December 14 and runs every evening through December 30, except for on Christmas Day.