Celebrate the 150th Anniversary of the Transcontinental Railroad by Sleeping in a Train Car
These authentic cabooses, mail cars and train cars from U.S. railways have been converted to sleeping quarters for train fanatics
The country's first transcontinental railroad began in the mid-1800s with a single man and his obsession. Civil engineer Theodore Judah devised a way to connect the train lines on the West Coast and the East Coast with one long route along the 41st parallel through Nebraska, Wyoming, Utah, Nevada and California. He was so obsessed with it, in fact, that people started to call him "Crazy Judah."
Luckily for Judah, he found support from a storekeeper, several investors, and even President Abraham Lincoln. They worked together to determine an alternate route (his original idea would tunnel through multiple mountains, something the country hadn't yet done), and he and his backers incorporated the Central Pacific Railroad Company.
President Lincoln signed the Pacific Railway Act in 1862, which gave two companies land grants and government bonds to build railways to the middle of the country from the fringes: the Central Pacific Railroad from Sacramento, California, on east and the Union Pacific Railroad from Council Bluffs, Iowa, towards the west. The act touched off a race to the middle when both railroad companies were finally laying track in 1865.
The two railroad lines met at Promontory Summit, Utah, on May 10, 1869, with locomotives meeting nose-to-nose to signify the joining of the tracks. It was a nationwide celebration—right as a last golden spike was hammered in place, announcement of the railroad's completion went out via telegram. In San Francisco and Washington, canons were fired, while throughout the rest of the country, bells rang and fire whistles screamed. A trip across country to California, which once took six months, now only took three-and-a-half days.
The transcontinental route opened the country to expansion; mail, supplies and trade items could easily be shipped in a matter of days. Population and cities began to boom along the tracks. Railroads became a symbol of progress and prosperity as they began to branch out around the country. A second transcontinental railroad, the Southern Pacific railway, was completed in 1881, becoming the first year-round all-weather route.
While much of the original transcontinental railroad tracks are still in use, the complete, intact line fell out of operation in 1904, when a shorter route bypassed Promontory Summit. In 1942, a ceremonial "undriving" at the golden spike spot took place and the rails themselves were pulled up and recycled for use in the war.
Train cars, which once serviced the transcontinental railroad and other railways throughout the U.S., have had a number of different fates. Some are on display in museums—right now the only surviving train car from Promontary Point is on display at the Nevada State Railroad Museum. Generally, though, they ended up stored by the railroads, destroyed or sent to junkyards for train enthusiasts to purchase. Buyers used them to make homes, churches, restaurants, bookstores and even artificial reefs. But it seems most popular to repurpose them into hotels.
Celebrate the first transcontinental railroad's 150th birthday by staying overnight in one of these cabooses and rail cars from rail systems throughout the country's past.
Two Rivers State Recreation Area; Waterloo, Nebraska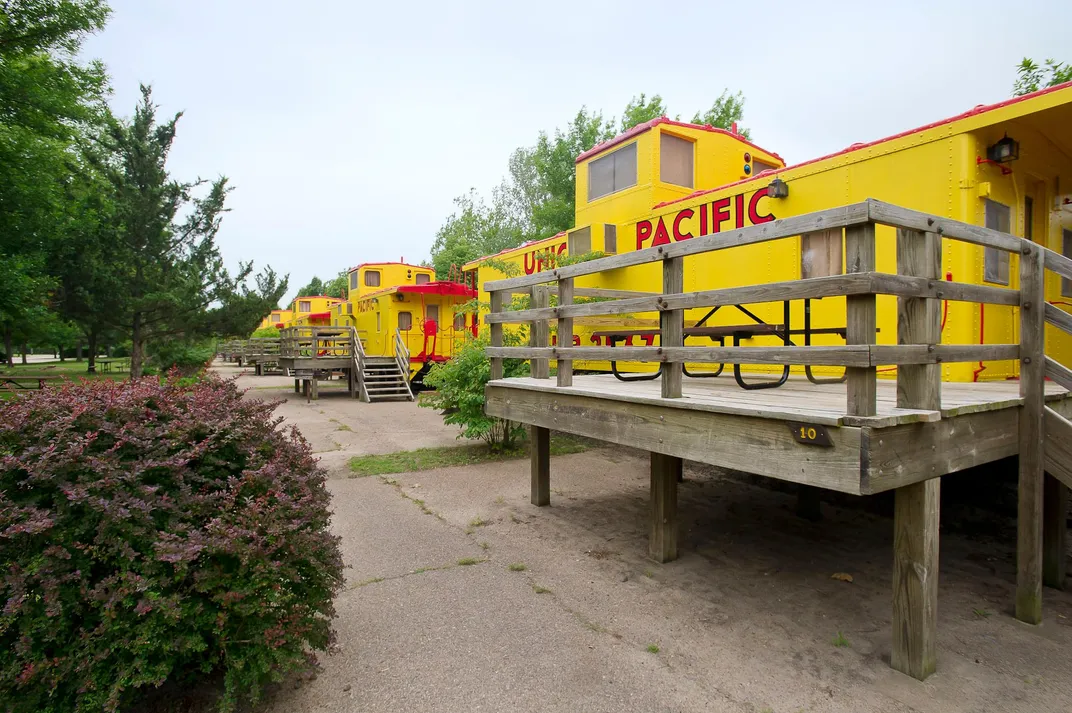 About 45 minutes west of Omaha, Two Rivers State Recreation Area is a haven for fishers, hikers, campers and train enthusiasts. Alongside the Platte River, ten red and yellow Union Pacific cabooses are permanently parked on actual rails from the original line. They were donated to the Nebraska Games and Parks Commission in 1984, and the then-director Eugene T. Mahoney oversaw their restoration and development into lodging. Each air-conditioned caboose now has enough space to sleep six people: two bunk beds in the back and two mattresses in the caboose's cupola. There's also a dining space, a full kitchen, modern bathrooms and a deck complete with a picnic table, grill and fire pit.
Chattanooga Choo Choo; Chattanooga, Tennessee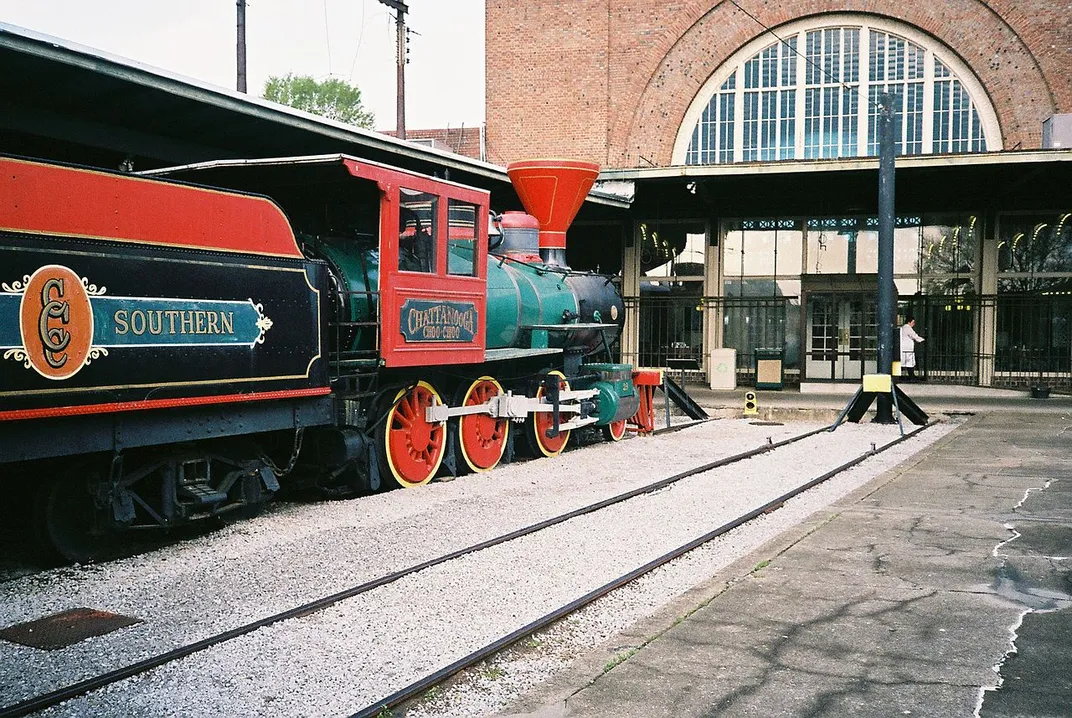 In 1941, the Glenn Miller Orchestra introduced the world to the Chattanooga Choo Choo, not just as a song but also as an important part of the railway system throughout the United States for people that didn't know about it. At that point, Chattanooga had already been a rail hub since the 1800s, a place nearly every train had to pass through on its way down to Atlanta. Two major train stations were built to help ferry passengers through: Union Station and Terminal Station. Union was torn down in 1973, and Terminal was ready to face the same fate were it not for a group of businessmen inspired by Miller's song. They bought the terminal, remodeled it and opened it as a unique vacation experience. In addition to a regular hotel, the Chattanooga Choo Choo offers a selection of restored Pullman train cars dating back to the 1930s as lodging opportunities.
Northern Rail Traincar Inn; Two Harbors, Minnesota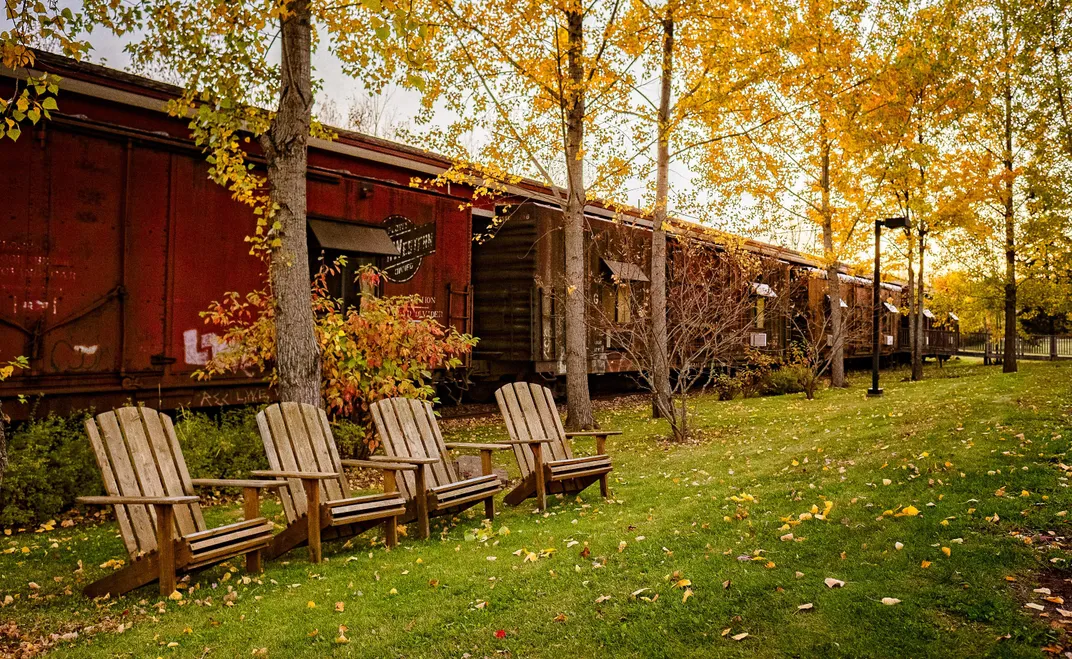 In 2002, the Northern Rail Traincar Inn opened in Two Harbors, along the shore of Lake Superior. Then-owner Linda Ehlenz was inspired by a trip to California where she stayed overnight in a renovated caboose. It made her feel like a child again, Northern Rail's current owner Cyndi Ryder explains, and Ehlenz wanted to share that joy with other people. In December 2001, Ehlenz bought 10 boxcars, all built between 1960 and 1972 and formerly used as insulated cars to transport perishable loads like fruits and vegetables, from an Iowa scrap yard. They made their final rail journey to Two Harbors, where train tracks were laid on the inn's property, to accomodate the boxcars as 10 fully outfitted hotel rooms.
Izaak Walton Inn; Essex, Montana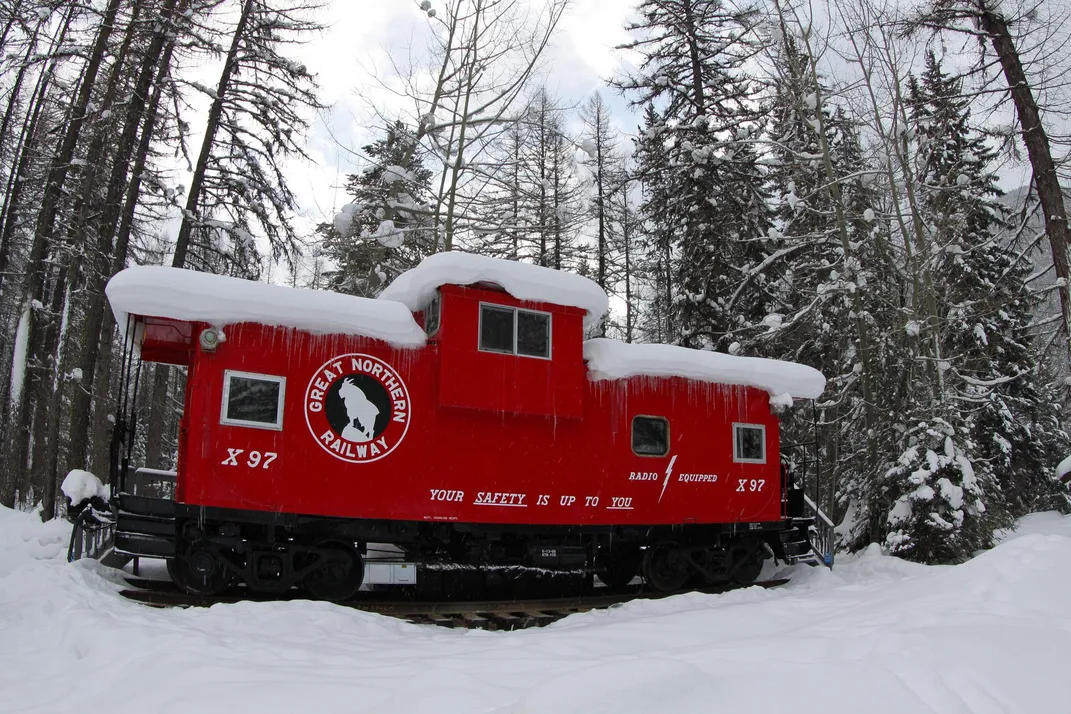 The Izaak Walton Inn was originally built in 1939 with two main purposes. One, it was meant to provide respite to working railroad men on the Great Northern Railway—to that end, the hotel was constructed right next to a rail yard. Two, owners hoped the Inn would become a luxury resort and entrance to nearby Glacier National Park. The Great Depression killed that dream and the hotel remained the same size it is today, still sitting next to an operating rail yard. Now, though, there are a number of cabooses and railroad cars turned into hotel rooms that are also available for visitors. Five cabooses are on the property; the oldest dates back to 1895. Four luxury railcars are available as well. As an added bonus, thanks to its location near active rails, an Amtrak train can bring guests right to the property.
The Red Caboose Motel and Restaurant; Ronks, Pennsylvania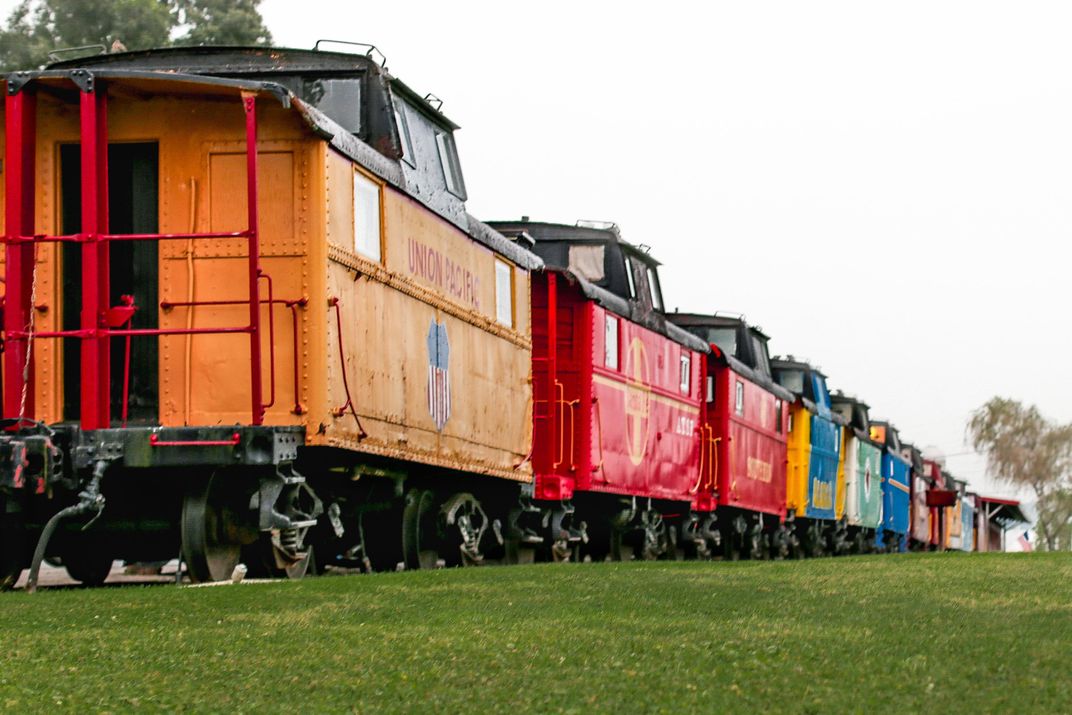 In 1969, hotelier Donald Denlinger placed a bid on 19 decommissioned Pennsylvania Railroad cabooses—and six months later, he discovered he won them all. That was the start of the Red Caboose Motel, which officially opened on Mother's Day in 1970. From that original 19, the motel has grown to include 30 cabooses, a mail car and a baggage car. All have been repainted bright colors (originally they were all red) to reflect the color schemes of the most famous railroads in American history. The on-site restaurant is also a remodeled passenger car. The property boasts several unique amenities: a viewing tower, a miniature riding train and a petting zoo. Because of the motel's location in Amish country, guests can also take buggy rides around town.
Livingston Junction Cabooses; Eureka Springs, Arkansas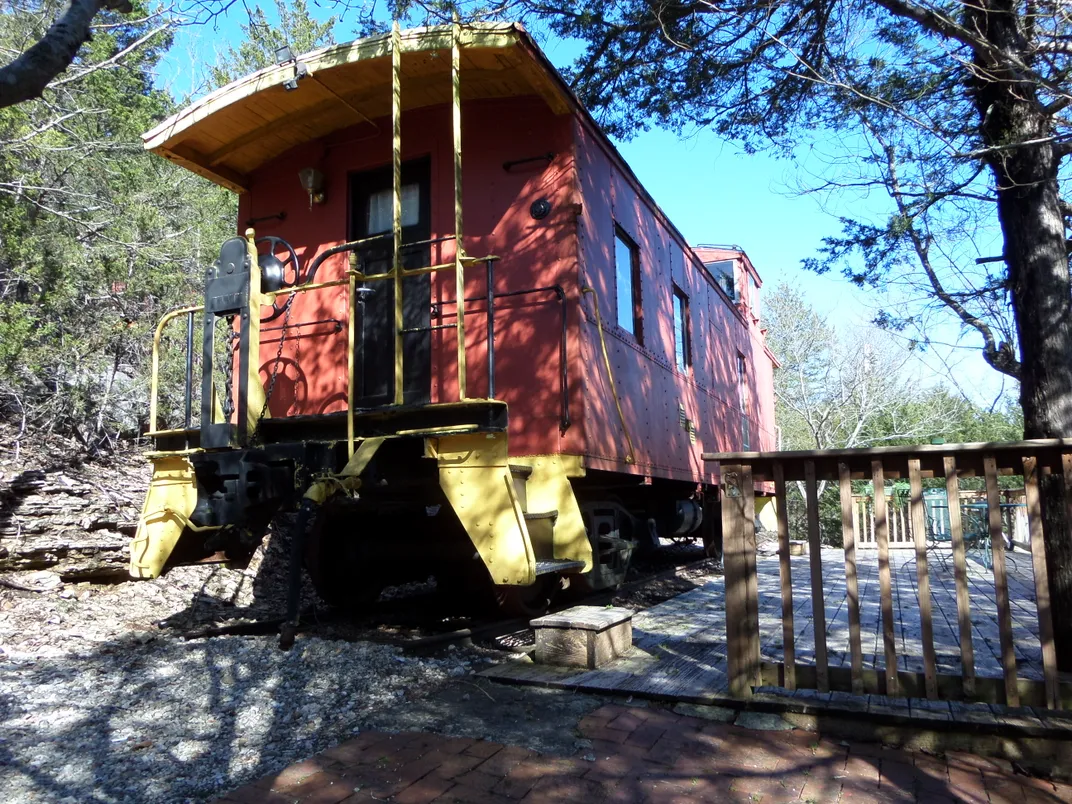 The three caboose hotel rooms at Livingston Junction sit just up the mountainside from the railroad spur, originally on the Missouri and North Arkansas Railroad, where trains headed south from Seligman, Missouri down to Harrison, Arkansas, or over to Eureka Springs. It's still in use, too, but now by the Eureka Springs and Northwest Arkansas Railway excursion train steam engines. Guests staying in one of the cabooses have a great view of the train as it passes. The cabooses, all from the Burlington Northern Railroad, have different themes inside: Victorian, Old West or Traditional Country. Each one has a private driveway, an outdoor hot tub, a large furnished deck, a hammock and a grill.
Featherbed Railroad Resort; Nice, California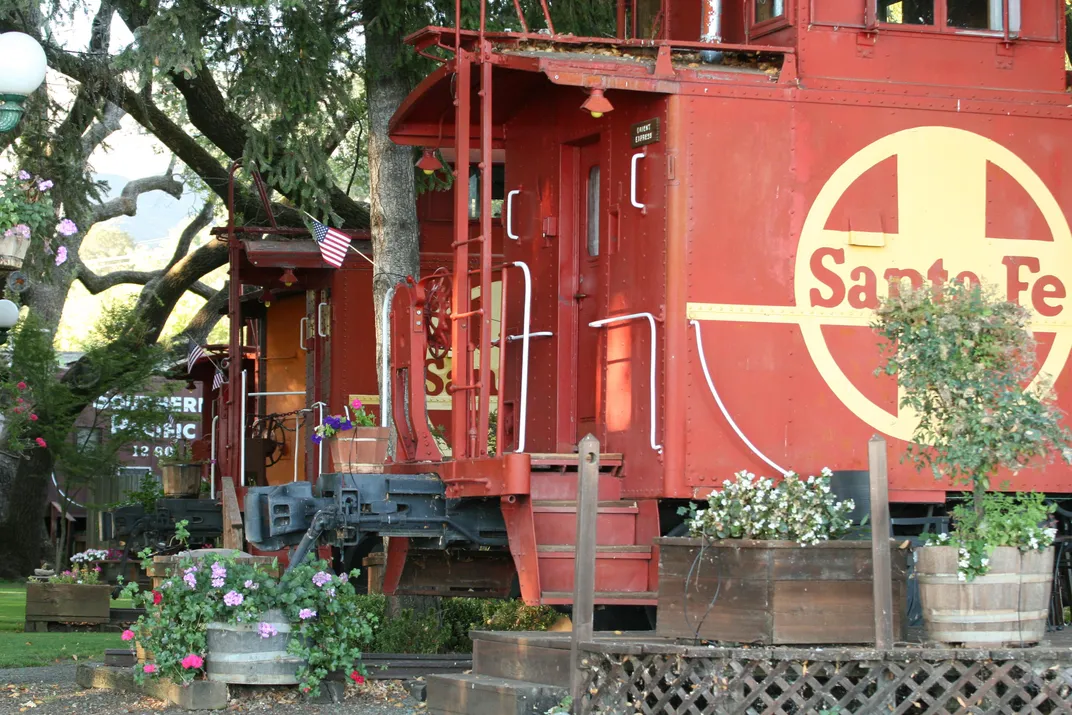 In 1988, railroad enthusiasts looking to purchase cabooses were in luck; many railroads were retiring and selling them because computerized end-of-train devices were now doing all the work a caboose would do and more. The owners of Featherbed Railroad Resort took advantage and purchased nine cabooses from the Atchison, Topeka and Santa Fe Railway and the Southern Pacific Railroad, moving them to the shore of Clear Lake in California's wine country and converting them into hotel rooms. Each themed caboose accommodates two guests and comes with a goose-down featherbed. Guests are also welcome to use the private boat launch, beach and pier on the property. Paranormal fans, you'll want to make sure you stay at Featherbed—the Casablanca and Wine Country cabooses are supposedly haunted.
To commemorate the sesquicentennial of the first transcontinental railroad, the Smithsonian's National Museum of American History is displaying artifacts in "Forgotten Workers: Chinese Migrants and the Building of the Transcontinental Railroad," on view from May 10, 2019, through spring 2020.