Cassadaga: America's Oldest Spiritualist Community
The mystics of the Florida village offer a connection to the spirits living among us and a portal into America's religious past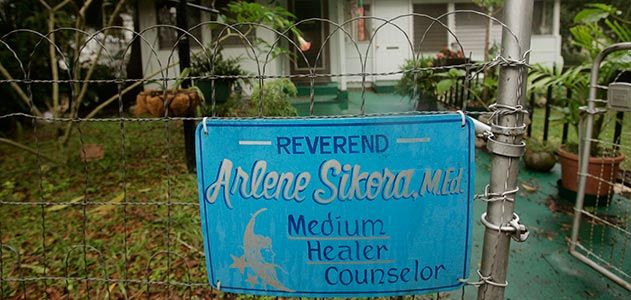 Seated across from the medium, eyes closed, my hands in hers, I listen as she prays for a healing white light to fill me, for the spirits and guardian angels always surrounding me to share their guidance.
I am anxious and skeptical about this encounter. Will my reading consist of sweeping generalities applicable to anyone? Is this for real? The medium releases my hands and sits back in her chair. When she begins to describe the swirl taking place in my brain, I am amazed.
"You go over every word in your mind before you put it down," says the medium, the Rev. Arlene Sikora, 70. "You just want it just so, and you want your people to feel what you're feeling, and you want them to see what you're seeing."
I've come to see Sikora and write about Cassadaga on assignment from Orlando, where I live an hour's drive away. For many, this Central Florida hamlet represents not a destination but a guidepost. Cassadaga is considered the oldest active religious community in the Southeast, its few dozen century-old cottages home to some 200 mediums and Spiritualists who share a Christian belief in eternal life but who also believe they can communicate with the spirits through readings and séances. Visitors come here because they are curious. They hope to reconnect with deceased loved ones or seek physical or emotional healing.
Spiritualism has only 500,000 followers in the United States today, but when Cassadaga was established in the 1890s the faith was common. In Cleveland, Ohio, for instance, most congregations were Spiritualist, says Phillip Lucas, a professor of religious studies at Stetson University in nearby DeLand specializing in new and minority religions. It was an era when to some, science seemed out to undermine faith, and Spiritualism sought to provide scientific evidence of eternal life through the contact mediums made during readings and séances.
During one séance in Iowa in the 1870s, a man named George Colby was told he would establish a Spiritualist community in the South. A spirit guide named Seneca led him to Cassadaga's current lakeside location where underground rock alignments generate magnetics and harmonics that benefit the mind and body, says the Rev. Ben Cox, pastor of Colby Memorial Temple, a Spiritualist congregation that can draw 150 people on Sundays, half of them visitors. A few years later a group of wealthy women from New York's Lily Dale Spiritualist community, which sits on the brim of Lake Cassadaga, approached Colby about creating a wintertime Spiritualist community in the South.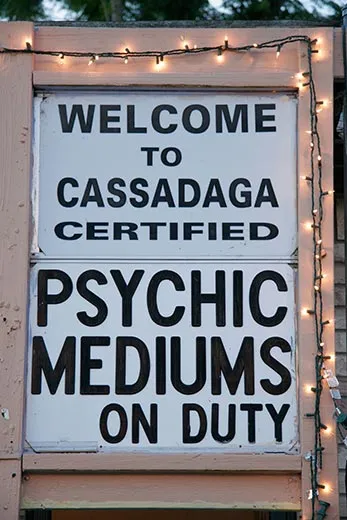 Today, Cassadaga is the nation's only year-round Spiritualist community. Through the years the town endured friction with local Baptist churches but experienced a renaissance during the 1960s with the popularity of New Age influences. Cassadaga still looks much as it did a century ago, its cottages mingled among moss-draped trees. Colby Memorial Temple dates to 1923 and Cassadaga Hotel to 1927.
Locals talk of the spirits as though they were neighbors. Visitors attend Sunday services and sign up for readings and healings at the town's bookstore, where message services are led by mediums and student mediums who connect with the spirits and deliver their messages to congregants. Mediums also still perform séances.
Regina Sprague, 32, arrived in Cassadaga from Palm Coast an hour away hoping to reconnect with her dad, who died suddenly. During a message service a spirit advises her through a medium that she should get ready for a journey. Afterward Sprague is emotional. She believes the spirit is a grandmother whom she never knew, but for whom she is named and always has considered a guardian angel. She feels shaken but reassured, she says.
Cassadaga is still a "very significant spiritual center in the American South, where alternative religions are not as accepted and respected as they are in other parts of the country," says Lucas, co-author of Cassadaga: The South's Oldest Spiritualist Community. So it's sort of a metaphysical mecca in Central Florida. People who are not satisfied with conventional Christianity are very much drawn to a place like Cassadaga."
Sikora has been a medium since she was 28. As a child she saw her deceased grandmother at the foot of her bed every night, she tells me after my reading. Her parents told her she was dreaming, and she tried to put it out of her mind until she discovered Spiritualism as an adult through a friend. Medium work is draining, she says. It can be exhausting knowing everyone's business, and she makes a point of forgetting everything after each reading. She gathers her information from an individual's spirits and her own spirit guides, as well as from an individual's aura and the earth vibrations he or she exudes.
During my reading Sikora describes my interests and family with surprising detail, and I leave wondering whether she really did connect with my deceased grandmothers. She is no fortune-teller, though. Mostly she discusses who I am, not who I will become. Was it for real? I don't know. But sometimes this is all the direction one needs.