A Carpet of 750,000 Flowers Blooms in Belgium
To celebrate the 50th anniversary of Turkish workers' migrating to Belgium, a colorful flower carpet has bloomed in Brussels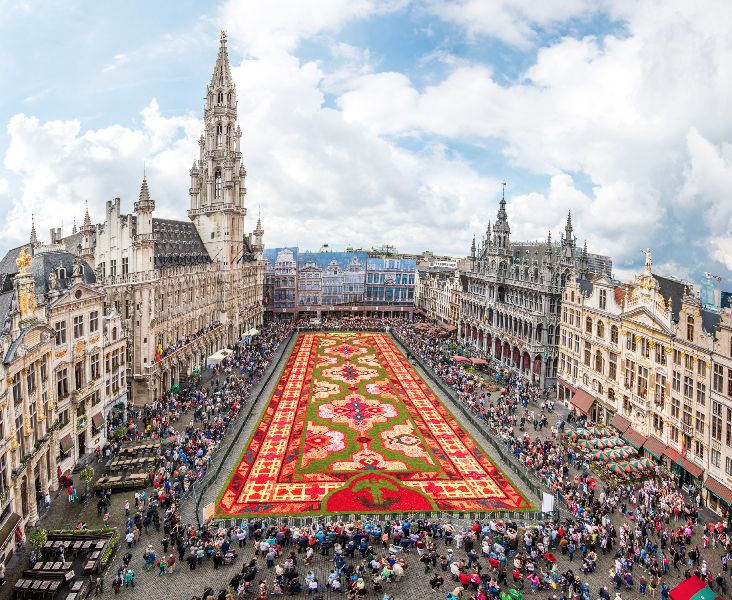 Through August 17, those visiting Brussels, Belgium, will be able to see the plaza in front of the city's iconic Grand Place transformed by a bright carpet of flowers. The transformation takes place every two years, and this year's carpet, which measures 82 feet across and 250 feet lengthwise, was assembled August 14 by a team of 100 workers.
This year's event is specially dedicated to the 50th anniversary of the migration of Turkish workers to Belgium—in 1964, Turkey and Belgium entered into a bilateral agreement which allowed Turkish citizens to come to Belgium as "guest workers." Today, more than 230,000 Turkish citizens live in Belgium. Of those, an estimated 25 percent live in Brussels, the country's capital. In a nod to Turkish culture, the carpet, which is made up of 750,000 flowers, depicts traditional patterns found in Turkish kilims. 
But while the pattern might reflect Turkish culture, the carpet's material—begonias—is a direct nod to Belgium. Though the plant is native to the West Indies, Belgium has been growing and exporting begonias since the 1860s—each year, the country grows around 60 million plants, of which 80 percent are exported.