Canada - Nature and Scientific Wonders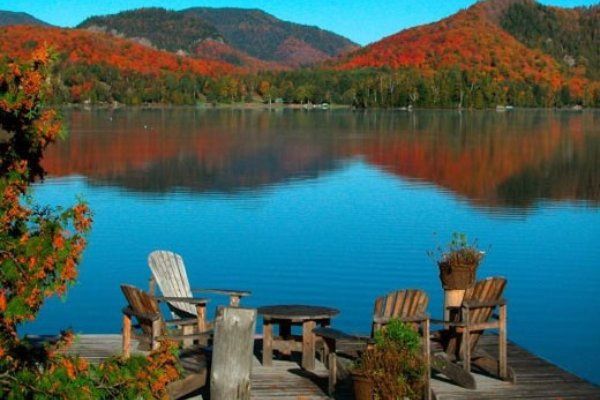 Alberta
Dubbed "Canada's Rocky Mountain Playground," Alberta has spectacular views from ski slopes, hiking trails and waterways. Emerald Lake in Yoho National Park, with its clear green water, views of the aurora borealis and four United Nations Educational, Scientific and Cultural Organization (UNESCO) Natural World Heritage Sites offer Alberta visitors awe inspiring sights throughout the province. The Canadian Rocky Mountain Parks, one of the four UNESCO sites, includes the playgrounds of Banff, Jasper, Kootenay, and Yoho. Wood Buffalo National Park, another Heritage Site, boasts the largest inland delta in the world, a nesting ground for the whooping crane, and the largest population of wild bison in North America. Waterton Glacier International Peace Park combined with Montana's Glacier National Park in 1932 to create the first International Peace Park; Alberta's third UNESCO site, it is home to an extraordinary variety of plant and animal species.
Perhaps the most fascinating of Alberta's sites is Dinosaur Provincial Park. The fourth UNESCO site in the province, it is in this park that more than 300 dinosaur skeletons have been recovered—some dating back as far as 75 million years and representing 35 species. Many of the pieces found in the park are on display at the Royal Tyrrell Museum of Palaeontology, roughly a two hour drive from the park.
British Columbia
Anyone looking for a truly off-the-beaten path experience should take in the Cariboo Chilicotin Coast, where the region's grasslands, forests, mountains, glacier-fed lakes and valleys have remained virtually unspoiled. This area is home to Tweedsmuir, British Columbia's largest provincial park at 2.4 million acres and comprising pine forests, waterfalls and the volcanic Rainbow Mountains.
British Columbia shares the Canadian Rocky Mountain Parks UNESCO site with neighboring Alberta, but with 54 provincial, national, and regional parks within its borders, BC has plenty of offer nature lovers—living up to its nickname, "Super, Natural"—including quite a few hot springs. The Kootenay Rockies' hot springs are renowned for their high mineral content and picturesque surroundings. Northern BC's springs include both the Liard River Hot Springs Provincial Park, which is considered one of Canada's largest hot springs systems and features two pools with temperatures ranging from 107 to 125 degrees, and the Mount Layton Hot Springs, a natural, non-sulphur spring that has been developed into a family-friendly destination. The Harrison Hot Springs, outside of Vancouver, have been popular since the 1800s and are now cooled with fresh water to make them more bearable for guests. For a secluded hot springs experience, try Hot Springs Cove in Maquinna Provincial Park, which is accessible only by boat or float plane.
Manitoba
Home to an extensive park system of its own, one of Manitoba's unique projects is the Alonsa Conservation District, which includes an extensive fish hatchery project, a variety of walking trails, a water management program as well as tree planting and maintenance projects.
Pisew Falls Provincial Park affords views of Pisew Falls, where the Grass River falls nearly 43 feet, then changes direction and shoots through a gorge. An observation platform overlooks the falls and a short trail leads to the Rotary Bridge, which overlooks the Grass River, and to a walk leading to Mantiboba's highest fall, Kwasitchewan Falls.
The Alfred Hole Goose Sanctuary and Visitor Centre teaches guests about four species of Canada geese through exhibits, an interpretive program and, during the summer, observation of up to 150 birds.
New Brunswick
New Brunswick's Bay of Fundy gives visitors a plethora of fantastic views. At Cape Enrage, the view from the top of 150-foot cliffs has been called the best in Canada, but don't miss the Reversing Falls where, twice a day because of a tidal oddity, the St. John River flows backwards. Two restaurants overlook the water and a visitor information center explains more about the Reversing Falls.
In Lamèque, the Ecological Park of the Acadian Peninsula includes an arboretum with thirty native species, an Interpretive Centre that explores the fragility of the ecosystem and a boardwalk leading to a nature trail. A telescope on the boardwalk gives guests a chance to take a closer look at the wildlife.
Newfoundland and Labrador
With a significant amount of open space housing bears, moose and caribou, waters home to dolphins and 22 species of whales and bald eagles soaring overhead, the whole of Newfoundland and Labrador is something of a nature preserve.
The province is also a berry paradise and visitors can pluck blueberries and raspberries to enjoy on the spot. For those with a more adventurous palate, Newfoundland and Labrador is best known for its partridgeberries and bakeapples; known elsewhere as cloudberries, bakeapples can be spotted by their orange and red color and resemble raspberries in their shape, although the texture and taste are quite different.
Northern Canada
The main attraction in northern Canada is the aurora borealis and Aurora Village in the Northwest Territories, located directly under the Aurora Oval, is purported to be one of the best places in the world to view the show. The Village, open November to April and August to September, hosts guests primarily in heated tipis, where visitors learn about the aurora borealis—both the science and legends surrounding the northern lights—and how best to capture the phenomenon in pictures.
In the Yukon Territory, another site worth seeing is the Midnight Dome outside of Dawson City. The overlook affords a dramatic view, but none more spectacular than at midnight on the summer solstice, when the sun dips just below the before rising again almost immediately.
Nova Scotia
Cape Breton Highlands National Park in Nova Scotia is the province's largest protected area and is home to a number of endangered species that receive special attention to ensure their survival. The park, which was established in 1936, offers visitors 25 hiking trails, campsites and an Information Centre; Cape Breton Plateau is the most prominent element of the park, the edge of which features steep cliffs dropping to the ocean below.
Nova Scotia has also established 11 scenic travelways, leading visitors through some of the most spectacular scenery the province has to offer, heavily featuring coastal roads and sights.
Ontario
Ontario Parks, a branch of the Ontario Ministry of Natural Resources, has a must-see list within the parks, including Kakabeka Falls, where water drops more than 130 feet over some of the oldest fossils in the world. Ouimet Canyon, with its rare collection of plant life also makes the list, as does Sleeping Giant, part of Sibley Peninsula, where natural rock formations resemble a sleeping person.
Of course, no discussion of Ontario's offerings would be complete without Niagara Falls, where visitors continue to be stunned by the sheer enormity and power of the Falls. Flowing at roughly 35 miles per hour, the water is a major source of electricity for the area. The Falls are approximately 12,000 years old and, over the years, stories of people surviving a fall over the edge have become legendary; a few are true, although no one recommends trying as it is incredibly dangerous. Niagara is also home to a butterfly conservatory, parks, campgrounds, and golf courses.
Prince Edward Island
Prince Edward Island National Park on the north shore, along the Gulf of St. Lawrence, became a national park in 1937 and now protects sand dunes, beaches, salt marshes and red sandstone cliffs. It is the cliffs that many remember about their time in PEI, averaging 20 feet, with some reaching heights of 50 feet. The Greenwich Interpretation Centre offers visitors exhibits on the area and there are regularly scheduled activities throughout the summer months. For those who would rather wander on their own, picnic areas dot the coastline.
Quebec
More than 650 species make their home in Quebec's protected land—including the humpback whale, great blue heron and moose—and the province lays claim to 27 national parks.
One of Quebec's more unique projects is the Saguenay–St. Lawrence Marine Park, the first Quebec park with a maritime component. The park operates to conserve the marine ecosystems within its borders, raise public awareness and encourage scientific research. As part of its conservation efforts, a number of regulations have been established, such as mandating safe observation distances for boats so they do not harm the animals, a limit on the number of boats around a particular animal, the length of time boats may linger around animals and maximum speeds on the water within the park.
Other sites worth a visit include the Parc national de Miguasha for its fossils dating back as far as 360 million years, Parc national des Hautes-Gorges-de-la-Rivière-Malbaie for its deep valleys, Saguenay for its fjord and Gaspésie, with 25 peaks reaching more than 3,200 feet.
Saskatchewan
With 100,000 lakes and rivers, Saskatchewan is a water-lover's paradise and opportunities for sailing, canoeing, windsurfing, houseboating, rafting and any other aquatic adventure abound.
For those who would rather stay on dry land, Grasslands National Park gives visitors a chance to see sage grouse, white-tailed deer, rattlesnakes, black-tailed prairie dogs and burrowing owls in their habitats. Prince Albert National Park houses elk, moose, deer and black bear, Saskatoon's Meewasin Trail is an excellent place to spot white pelicans and the whole of Saskatchewan witnesses waterfowl migration, including swans, sandhill cranes, ducks and whooping cranes.