Cajun Country Highlights & Hotspots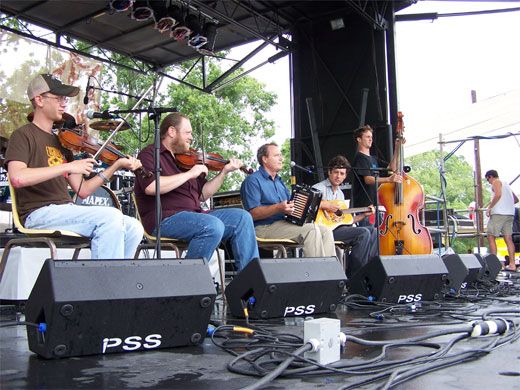 May

Breaux Bridge Crawfish Festival: Crawfish eating contests, cooking contests, and crawfish races May 4 through May 6, 2007 at Parc Hardy in Breaux Bridge, Louisiana. For more, go to www.bbcrawfest.com.
Zydeco Extravaganza: Twelve hours of nonstop Zydeco Music in Lafayette, Louisiana, May 26 through 27, 318-234-9695, 800 346-1958.
June

Ville Platte Smoked Meat Festival: Cajun bands and a smoked meat cooking contest at the Ville Platte Civic Center, Louisiana, June 23 through 24, 337-363-6700.
Church Point Buggy Festival: Accordian music and the official crowning of the buggy king, June 1 through June 3 in Church Point, Louisiana. For more, go to www.churchpointbuggyfestival.com.
July
Cajun French Music and Food Festival: Dance the Cajun two-step and then help yourself to boudin balls and jambalaya at the Burton Coliseum in Lake Charles, Louisiana July 21 and 22.
For more, go to www.tourlouisiana.com/cajun_music_festival.htm.
Swamp Pop Music Festival: Hear Louisiana's rockin' fiddler, Waylon Thibodeaux and others at the Lamar Dixon Expo Center in Gonzales, Louisiana, July 20 and 21. For more, go to www.swamppopmusicfest.com/home.php.
August
Louisiana Shrimp and Petroleum Festival: Oil and water mix well, August 30 through September 3, when citizens of Morgan City, Louisiana honor the workers of the seafood and petroleum industries. For more, go towww.shrimp-petrofest.org.
Gueydan Duck Festival: Compete in a skeet shoot or a duck-and-goose-calling contest, August 23 through August 27, in Gueyden, Louisana.
For more, go to www.duckfestival.org.
September
Rayne Frog Festival: Find music and fun, September 7 through 9, in the Frog Capital of the World, Rayne, Louisiana, 337 334-2332. For more, go to www.rayne.org/index.htm.
Zydeco Festiva: Events include a 5K fun run, the King and Queen Ball and a Zydeco jam session, on Saturdays, August 18 through September 1 in Lafayette, Louisiana.